Overview
SMS in Ometria is enabled through our partnership with Twilio - you will need an account with Twilio in order to use Send SMS.
This page explains how to get started with your Twilio connection to enable SMS automation campaigns in Ometria.
Before you begin
First, contact your customer success manager to discuss your contract with Ometria and how to get started with sending SMS.
Review SMS automation campaigns overview and Preparing your contacts database for SMS.
Once you're ready, you'll need to set up an account with our SMS partner, Twilio, and buy a phone number from them.
This will be your 'from' number when sending SMS campaigns.
You'll need to set up both a live account and a test account in Twilio for testing and previewing your SMS automation campaigns.
Note: Make sure to purchase a number for the correct region (e.g. UK or US, depending on your location). If you want to send to multiple countries (e.g. UK and US), you need to buy multiple phone numbers and use Twilio's messaging service.
You will need your auth token and account SID for both your live and test accounts in Twilio:
Sending to multiple countries from one brand name
We recommend you use an alphanumeric sender ID, as this allows you to send SMS messages to supported countries from a personalised sender ID (e.g. a business or organisation name), instead of your E.164 formatted Twilio phone number.
Twilio's user guide on setting up an alphanumeric sender ID
Setup steps
Complete Twilio's alphanumeric sender ID registration form.
Log into the Twilio Console and set up a Messaging Service.
Add your sender ID to the Messaging Service:

From the Sender Pool screen, click Add Senders.
Enter your sender ID details and select Alpha Sender from the Sender Type dropdown list. If you are sending to US numbers, you should also enter your long US number here.
Check that the aphlanumeric sender ID displays in your Sender Pool list.

Note: If you use an alphanumeric sender ID, you must use an unsubscription link to handle opt-outs, as the reply keywords such as STOP will not work.
Click here to find out more about opt-out options for SMS.
Setup steps
In Ometria, go to Settings and select the Connections tab:
Click Add new connection, then select Twilio:
The Create new Twilio connection window displays:
| Field | Description |
| --- | --- |
| Connection title | Enter a name for your connection, e.g. 'SMS Twilio'. |
| Account SID | Enter the account SID for your Twilio live account. |
| Auth token | Enter your auth token for your Twilio live account. |
| Account SID (test account) | Enter the account SID for your Twilio test account. |
| Auth Token (test account) | Enter the auth token for your Twilio test account. |
Once you've completed all the fields, click Connect.
Ometria fetches your number from Twilio and activates your connection: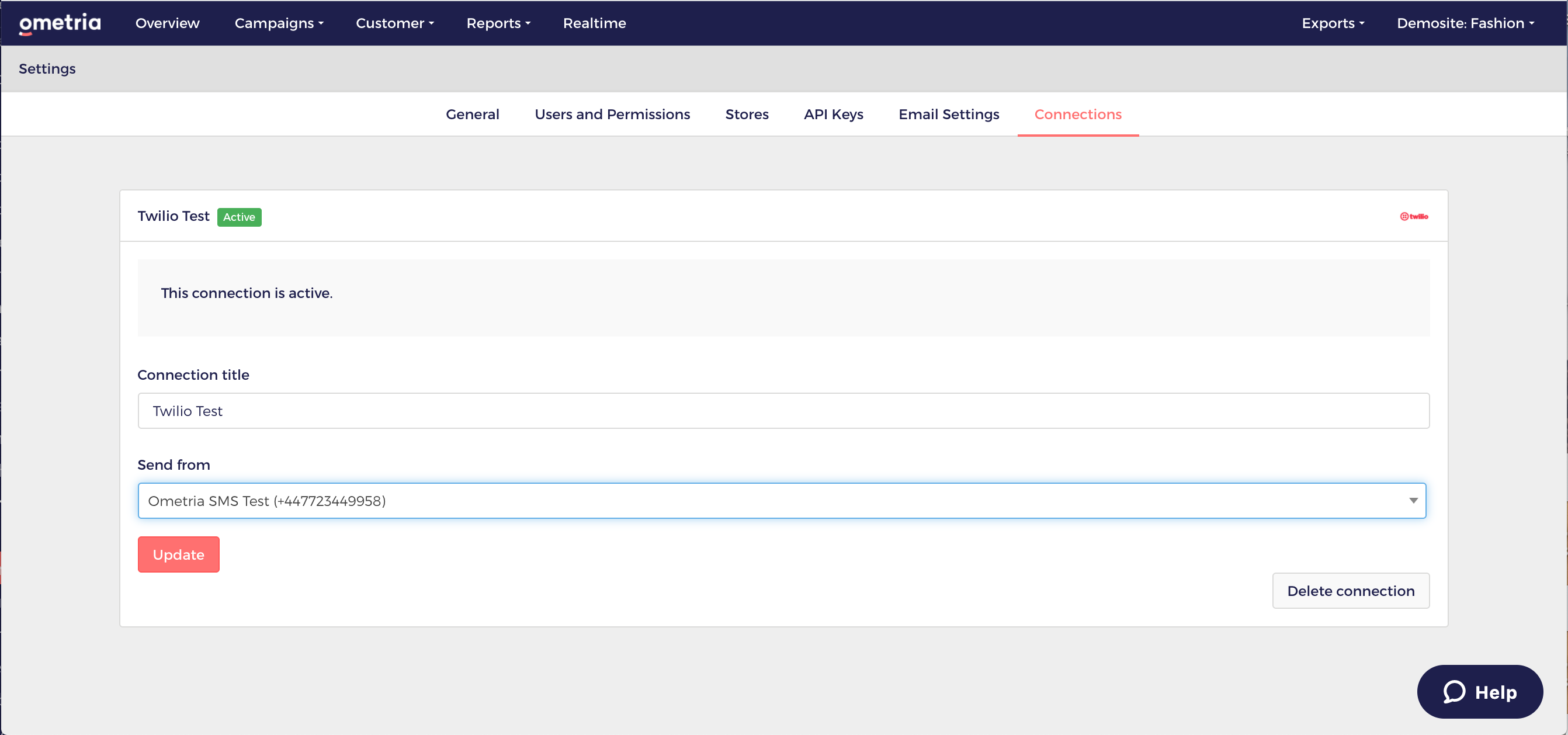 This window lists all of the numbers and messaging services you have bought from Twilio. We recommend that you select the messaging service you added your alphanumeric ID to from the Send from dropdown.
You can also see the friendly from 'Name' your contacts will see when they receive your SMS - Ometria pulls this from the information in your Twilio account.
If any further changes happen in your Twilio account, e.g. you've purchased a new number or changed your default number, click Update.
You can remove the connection at any time by clicking Delete connection.
Next steps
Now you've set up your connection with Twilio, see Managing SMS marketing preferences.
After that, you can start creating SMS automation campaigns.