This article explains how to use the Overlay builder to create a website overlay.
Note:
Before you start, make sure you have
raised a request
to our support team so that they can prepare the necessary custom field for your account.
Go to Campaigns > Website Overlay
Subscribe form
Set up your subscribe form using the fields available:
Field
Description
Title

This is the header for your overlay.

Enter a message that will attract new subscribers, like an exclusive offer, free content or a discount for signing up.

E.g. 10% OFF YOUR FIRST ORDER!

Use the Text Style button to change the size and line height (spacing) of your text.

Content

Use this box to expand on the main message, e.g. minimum spend or how often you will contact them.

Use the Text Style button to change the size and line height (spacing) of your text.

Placeholder text

This is the text that displays in the submission field of the overlay before the visitor enters their email address.

Use this field to provide an example of the information they need to enter here, e.g. 'Email' or 'yourname@email.com'

CTA text
Enter the 'call to action' text here, e.g. Join, Subscribe, Sign up, etc.
Privacy policy text
Required field that gives your visitors the opportunity to understand how you are using their data.
Privacy policy URL
The URL on your website where your privacy policy is hosted.
Next you can customise your overlay subscribe form:
Block name
Description
Font
Select one of the 16 available web safe fonts.The font you choose will be applied to all of the text in your subscribe form.
Colours
Enter the hex code or use the colour picker to define colours for the following:

CTA Background - the call to action button
CTA Text - the text on your CTA button
Title - the header text
Content
Privacy policy
Background - the background colour of your overlay.

Background image

Image size:

Height: 350px
Width: 500px

Click Browse image to choose a background image from your files. The image displays behind the text on your form.

You can use our Best practice example - .psd as a template - this is safe for devices with a view port width of 360px or more:

blue area - text safe area
grey area - the positions of your form elements; inputs, button and privacy policy.
white area - extra design space.

💡 Pro tip: If you have a custom font on your website, you can use this field to upload an image of the text instead of entering the Title and Content.

Alt text

Include a description of your background image for accessibility.

This is great for site visitors with visual impairments who may be using screen readers to navigate.
Success message
The success message displays when your visitors enter their email and sign up successfully.
You can edit two blocks in the success message:
Field
Description
Title

Use this field to acknowledge that their subscription was successful, e.g. 'Thank you for signing up!'

Use the Text Style button to change the size and line height (spacing) of your text.

Content

Use this field to provide further instructions as required, e.g. 'Check your inbox'.

Use the Text Style button to change the size and line height (spacing) of your text.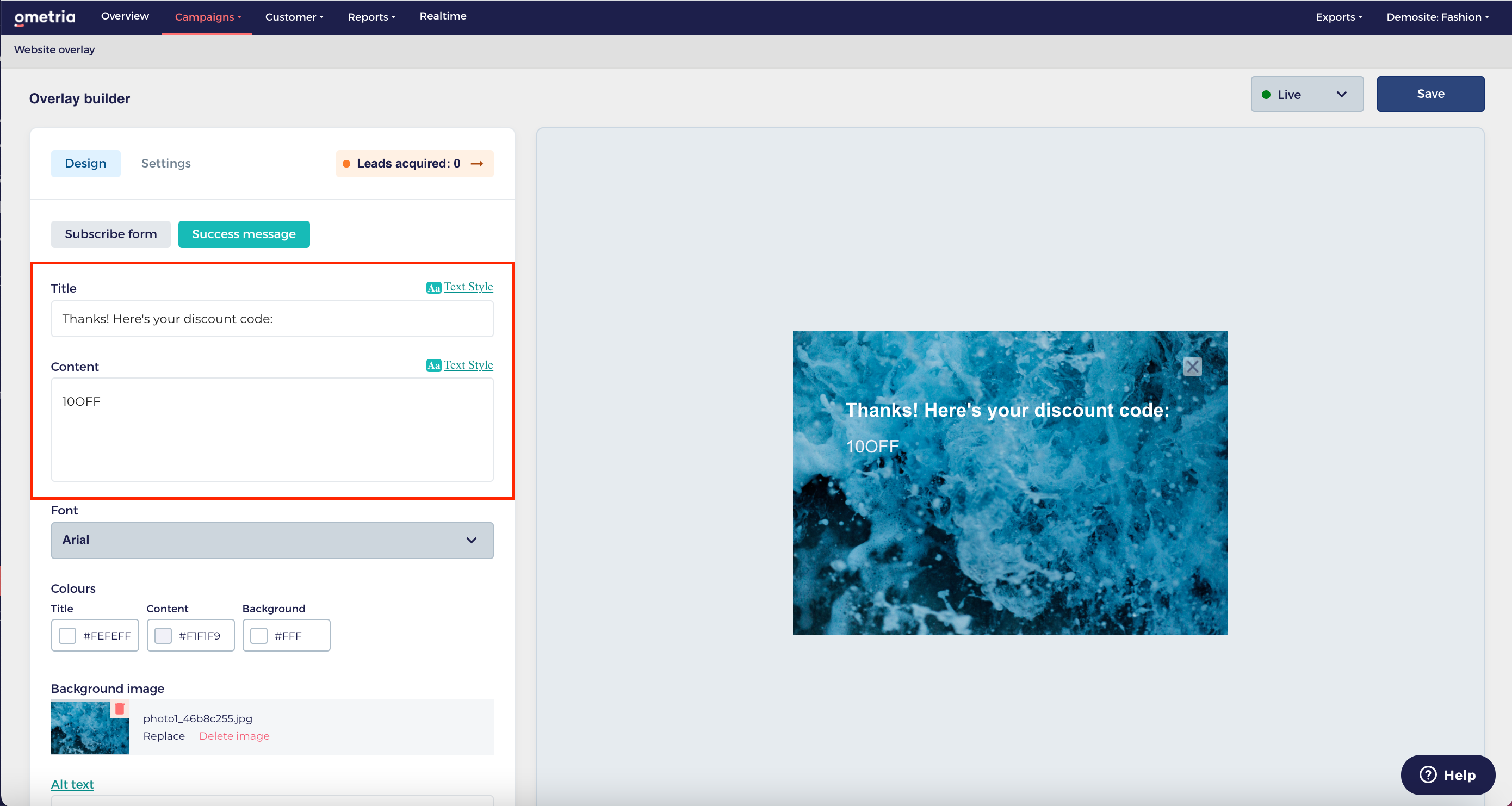 Next you can customise your overlay success form:
Block name
Description
Font

Select one of the 19 available web safe fonts.The font you choose will be applied to all of the text in your success form.

Colours
Enter the hex code or use the colour picker to define colours for the following:

Title
Content
Background - the background colour of your overlay and success message.

Background image

Click Browse image to choose a background image from your files. The image displays behind the text on your form.

Image size:

Height: 350px
Width: 500px

💡 Pro tip: If you have a custom font on your website, you can use this field to upload an image of the text instead of entering the Title and Content.

Alt text

Include a description of your background image for accessibility.

This is great for site visitors with visual impairments who may be using screen readers to navigate.
Settings
The Settings tab defines when, where and how you want your overlay to display to visitors on your site: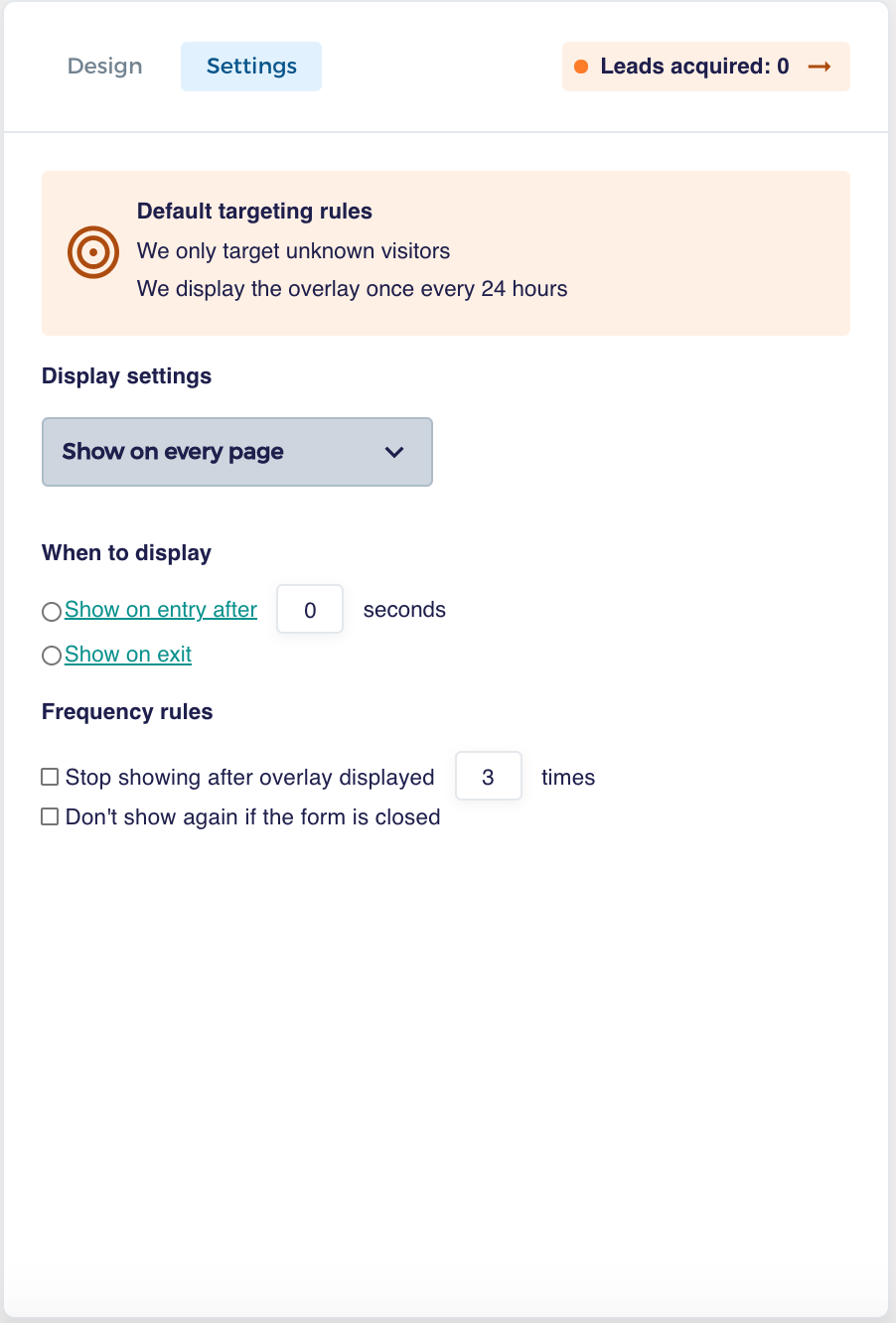 First, choose your Display settings.
Select from the dropdown to either:
Target or exclude pages (e.g. product pages or shopping cart), or;
Show on every page.
If you choose to target or exclude pages, you can specify them using the Contains/Doesn't contain filters: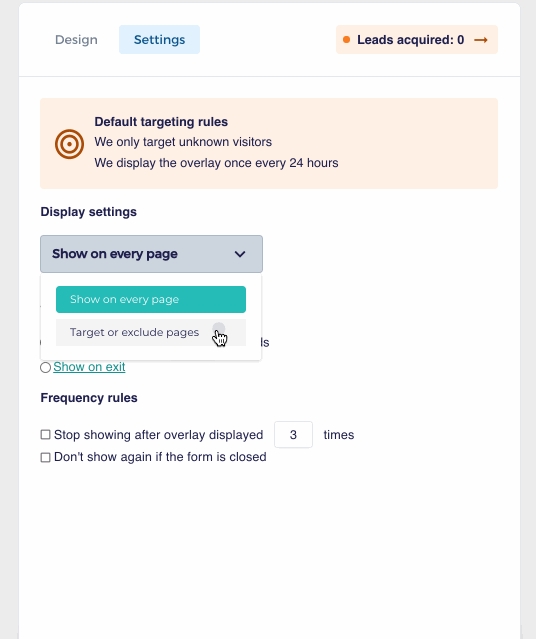 If you include more than one option, Ometria uses AND logic. In the example above, the overlay will show on both the earrings and rings pages.
If you want to show your overlay on all pages and exclude only a few of them, use the Doesn't contain option.
Next, define When to display.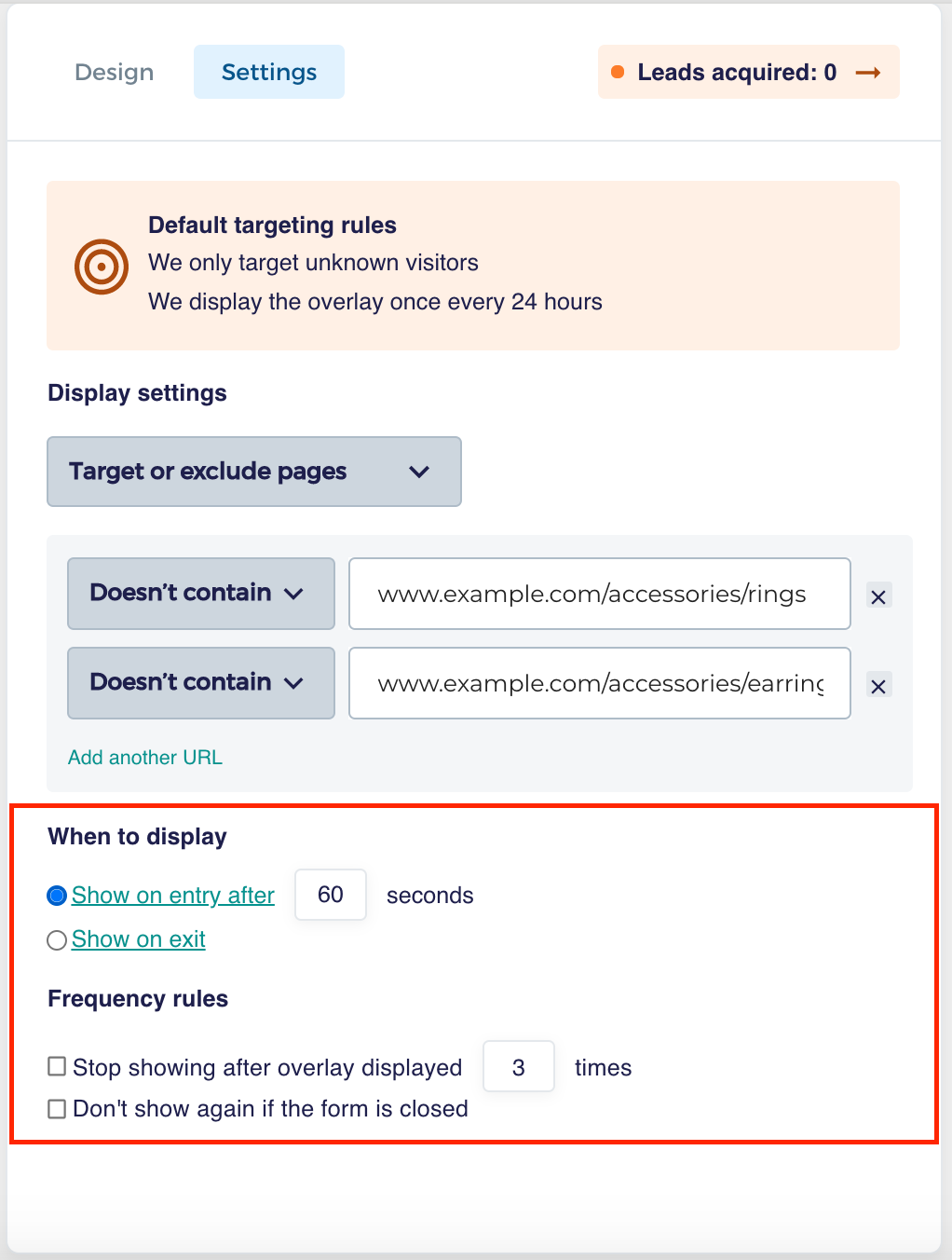 Select either:
the Show on entry after x seconds option and set how many seconds after the page has loaded that the overlay should display, or;
the Show on exit option to display the overlay when a visitor is leaving the page - on desktop this means the visitor's mouse leaves the window, on mobile this means the visitor is scrolling upwards quickly.
💡 Pro tip: Timing is important; you don't want to show your overlay too soon or too late. Check your Google Analytics to see the average time your visitors spend on the page(s) you plan to display your overlay on, or on your website overall, and set it for 10-20 seconds before that average.
Next, set your Frequency rules, i.e. when to stop showing your overlay to visitors. Both of these settings are optional:
Stop showing after overlays displayed x times
Don't show again if the form is closed
Remember: Your overlay will appear only once every 24 hours, so if a contact visits, leaves, and visits again the next day, they can only see the overlay a maximum of two times.
Once you're happy with your overlay setup, click Save.
The overlay campaign will automatically be in Paused mode.