The Settings tab defines when, where and how you want your overlay to display to visitors on your site: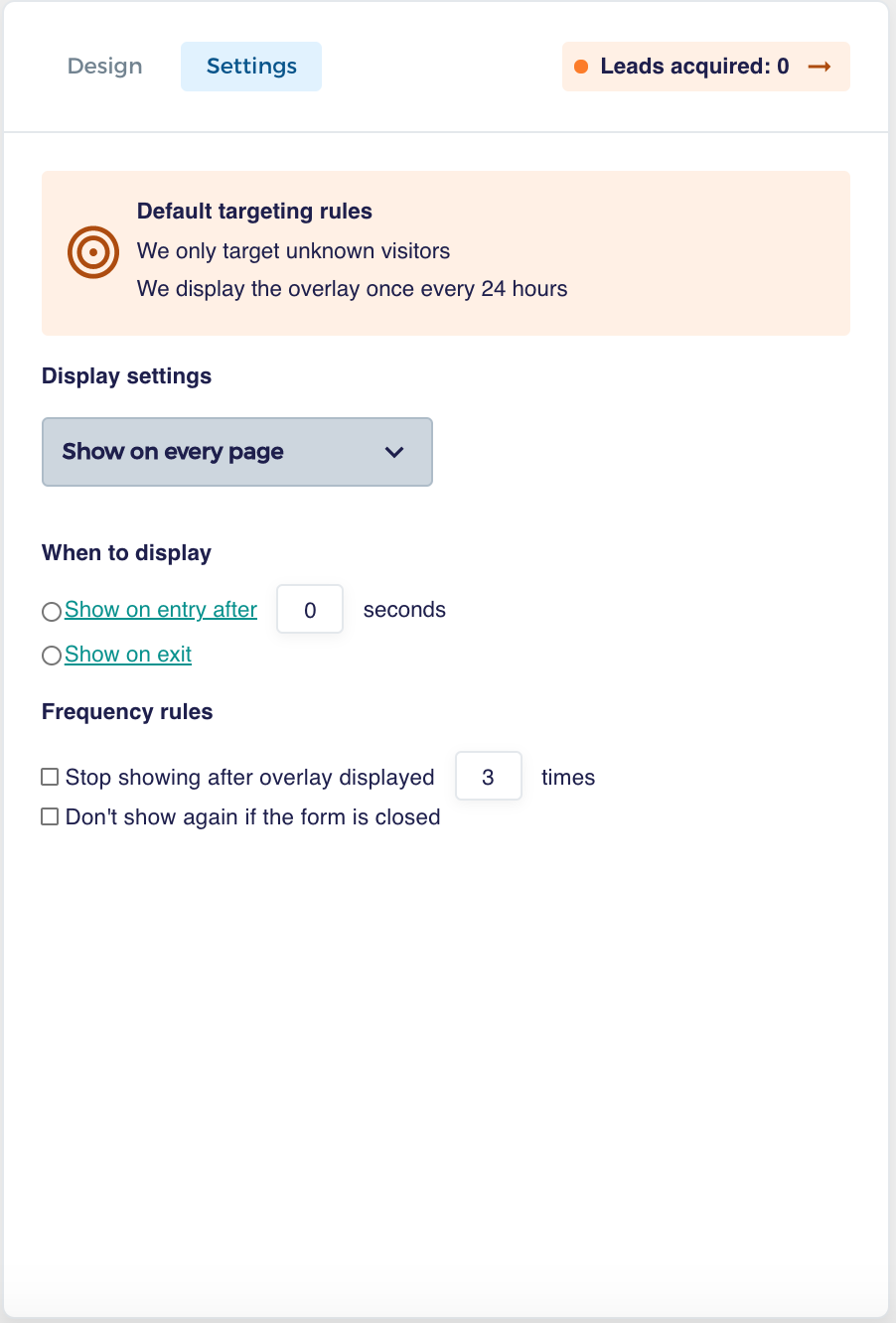 Display settings
Select from the dropdown to either:
Target or exclude pages (e.g. product pages or shopping cart), or;
Show on every page.
If you choose to target or exclude pages, you can specify them using the Contains/Doesn't contain filters: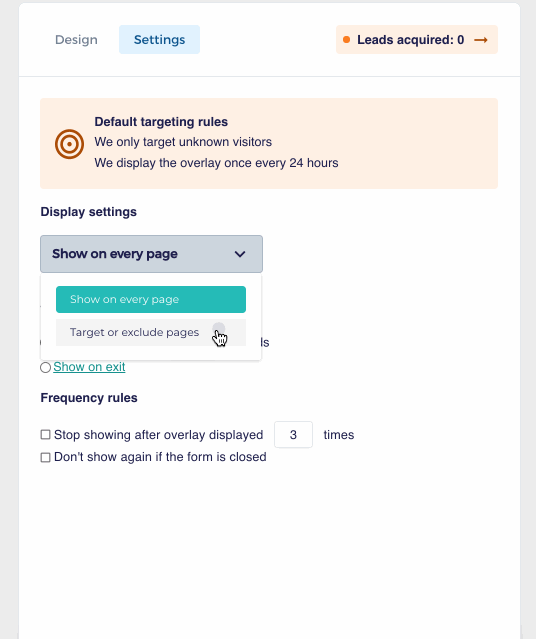 If you include more than one option, Ometria uses AND logic. In the example above, the overlay will show on both the earrings and rings pages.
If you want to show your overlay on all pages and exclude only a few of them, use the Doesn't contain option.
When to display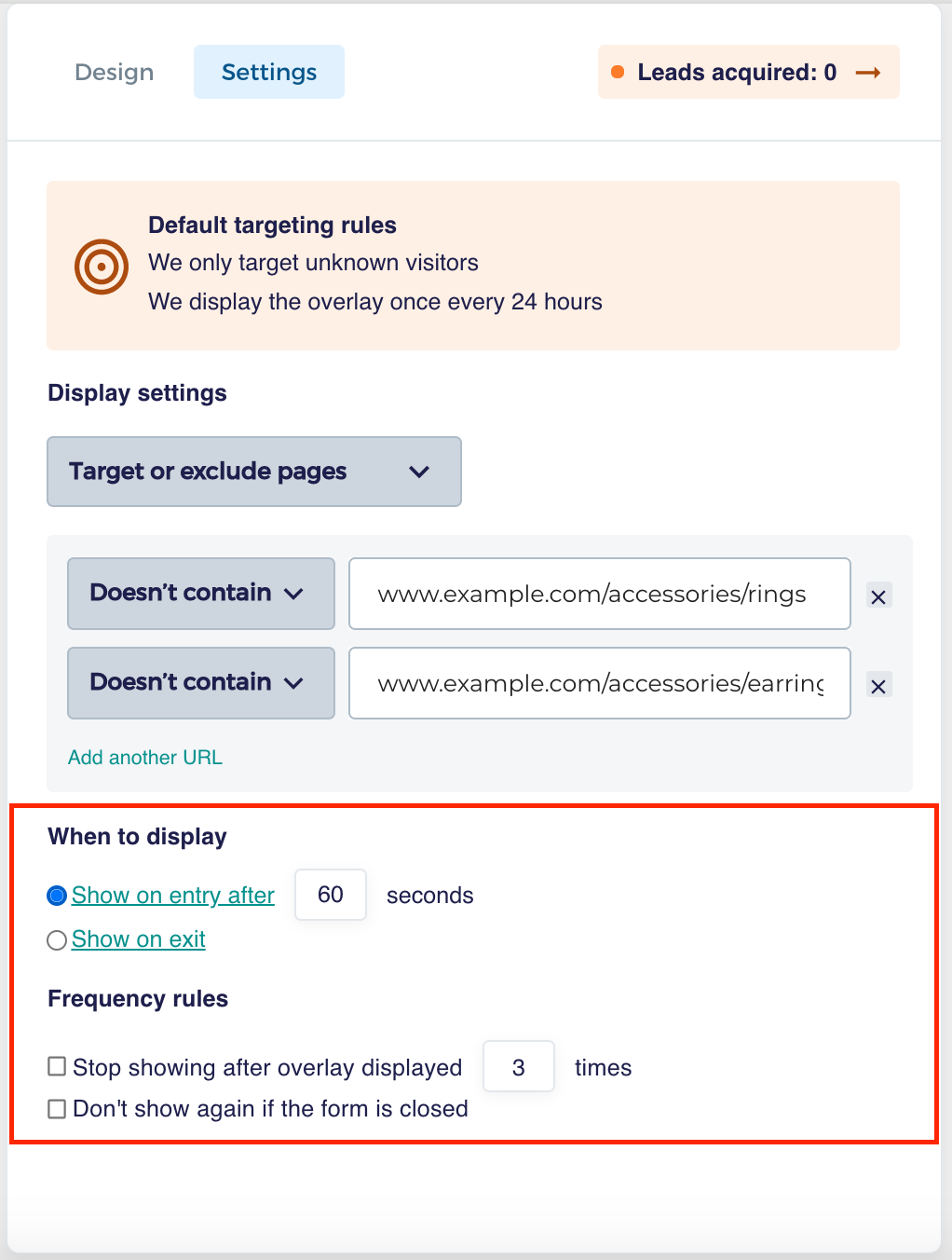 Select either:
the Show on entry after x seconds option and set how many seconds after the page has loaded that the overlay should display, or;
the Show on exit option to display the overlay when a visitor is leaving the page - on desktop this means the visitor's mouse leaves the window, on mobile this means the visitor is scrolling upwards quickly.
💡 Pro tip: Timing is important; you don't want to show your overlay too soon or too late. Check your Google Analytics to see the average time your visitors spend on the page(s) you plan to display your overlay on, or on your website overall, and set it for 10-20 seconds before that average.
Frequency rules
Next, set your Frequency rules, i.e. when to stop showing your overlay to visitors. Both of these settings are optional:
Stop showing after overlays displayed x times
Don't show again if the form is closed
Remember: Your overlay will appear only once every 24 hours, so if a contact visits, leaves, and visits again the next day, they can only see the overlay a maximum of two times.
Once you're happy with your overlay setup, click Save.
The overlay campaign will automatically be in Paused mode.