The Ecommerce KPIs panel in the overview dashboard provides a quick view of all your key ecommerce metrics in one place.

Select the time period for your KPIs (key performance indicators) and the stores you wish to report on using the dropdown lists:

Next, select your KPIs:
KPI

Description

Valid orders

Number of valid orders placed.

This figure can change over time if orders are refunded at a later date, and 'valid orders' always reflects the data your ecommerce store sends Ometria, and which order statuses you assign as valid.

E.g. some retailers choose not to count orders as valid until they are shipped.

Valid tracked orders

Number of valid tracked orders placed.

Valid tracked orders are orders made online, which JS tracking picks up and pushes to Ometria.

It's usual for this number to be lower than the number of 'Valid orders' for various reasons, e.g. orders placed through a call centre or in offline stores, would not be counted as 'tracked'.

Attempted orders

The total number of orders attempted - valid or not, including failed payments and refunds.

Total revenue

Total (gross) value from valid orders placed.

Total tax

Total amount of tax from valid orders placed.

Total shipping

Total shipping costs from valid orders placed.

Total discount

Total value of discounts on valid orders placed.

Total items sold

Total number of items sold within all valid orders.

Average order value

Average revenue per valid order placed.

Average items per order

Average number of items per valid orders.

Visit conversion rate

Proportion of unique visits to your online store that have resulted in an attributed order being placed.

Ometria does not include untracked orders in this metric.

Visits

Total number of identified visits made to your online store.

This number reflects all identified visits, not unique visits - e.g. if the same contact visits your site 4 times, it will count as four visits.

Page views

Total number of page views across all visits.
Note: The figures in the three 'visits' KPIs - Visit conversion rate, Visits and Page views, will never be an exact match for other tools like Google Analytics.
The KPIs displayed are based on events that happened within your selected time range, regardless of a specific campaign.
For example, total revenue is a revenue from orders that were placed within that date range regardless of which campaign they are attributed to.
The visits KPIs in Ometria are intended only for trend analysis and a high-level overview of how you are performing.
For detailed visitor analytics (rather than customer analytics) and conversion metrics, we recommend you use a tool like Google Analytics.
See also: Why are my Ometria revenue figures different from Google Analytics?
The KPIs you select display as tabs above the graph.
Select each tab to view the associated graph and hover over the value to see the detail: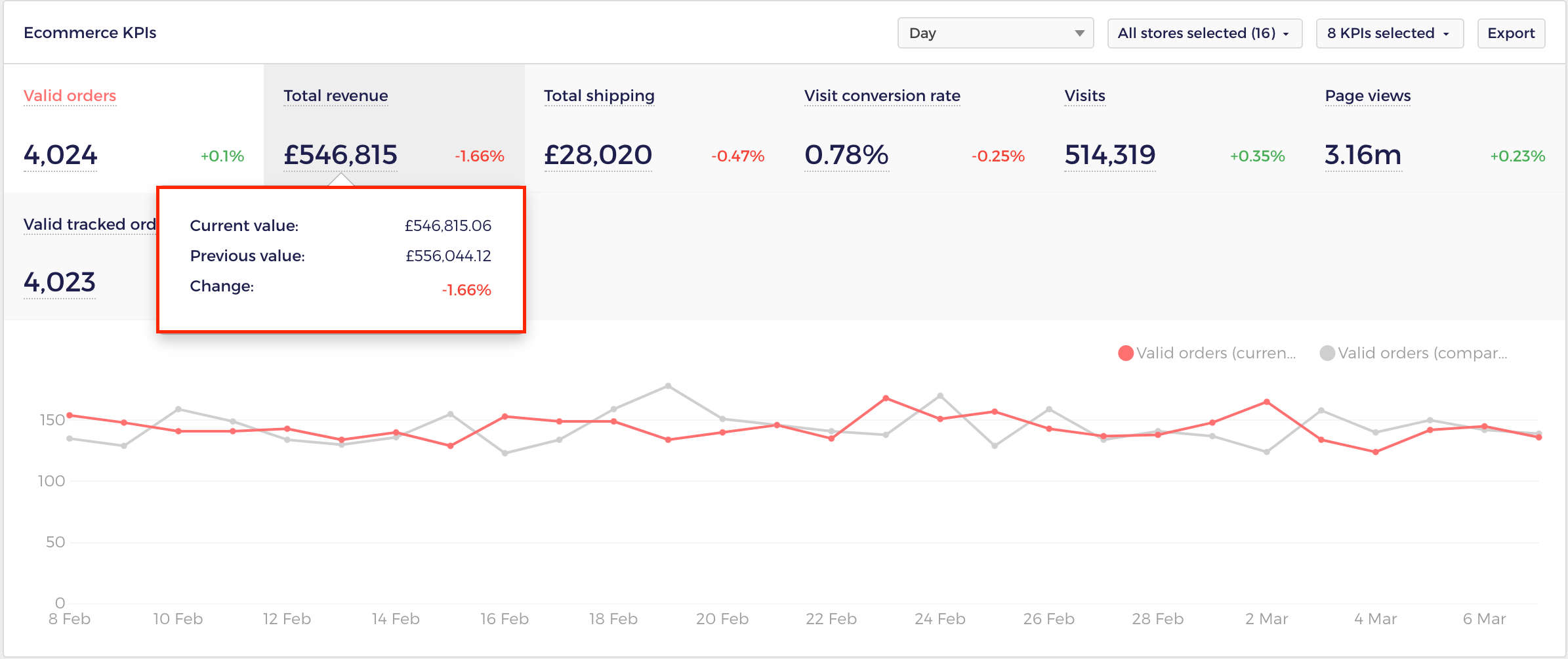 Previous value provides a comparison for the date range preceding the range selected.
E.g. if you selected the last 28 days as your date range, the Previous value is the value for the 28 days before that.