Audit logs help companies monitor user activity and keep track of potential security breaches or internal misuses of information.
Ometria's audit log records the following activity per Ometria account user:
Authentication activity
Report generation and data export
All activity in the the users and permissions area
The audit log helps you track who did what, where they did it, and when.
Note: If your business has multiple Ometria accounts (e.g. for different stores), you will need to check the individual log for each account.
Navigation
Go to: Your account > Security
You have access to the last 30 days of activity by default.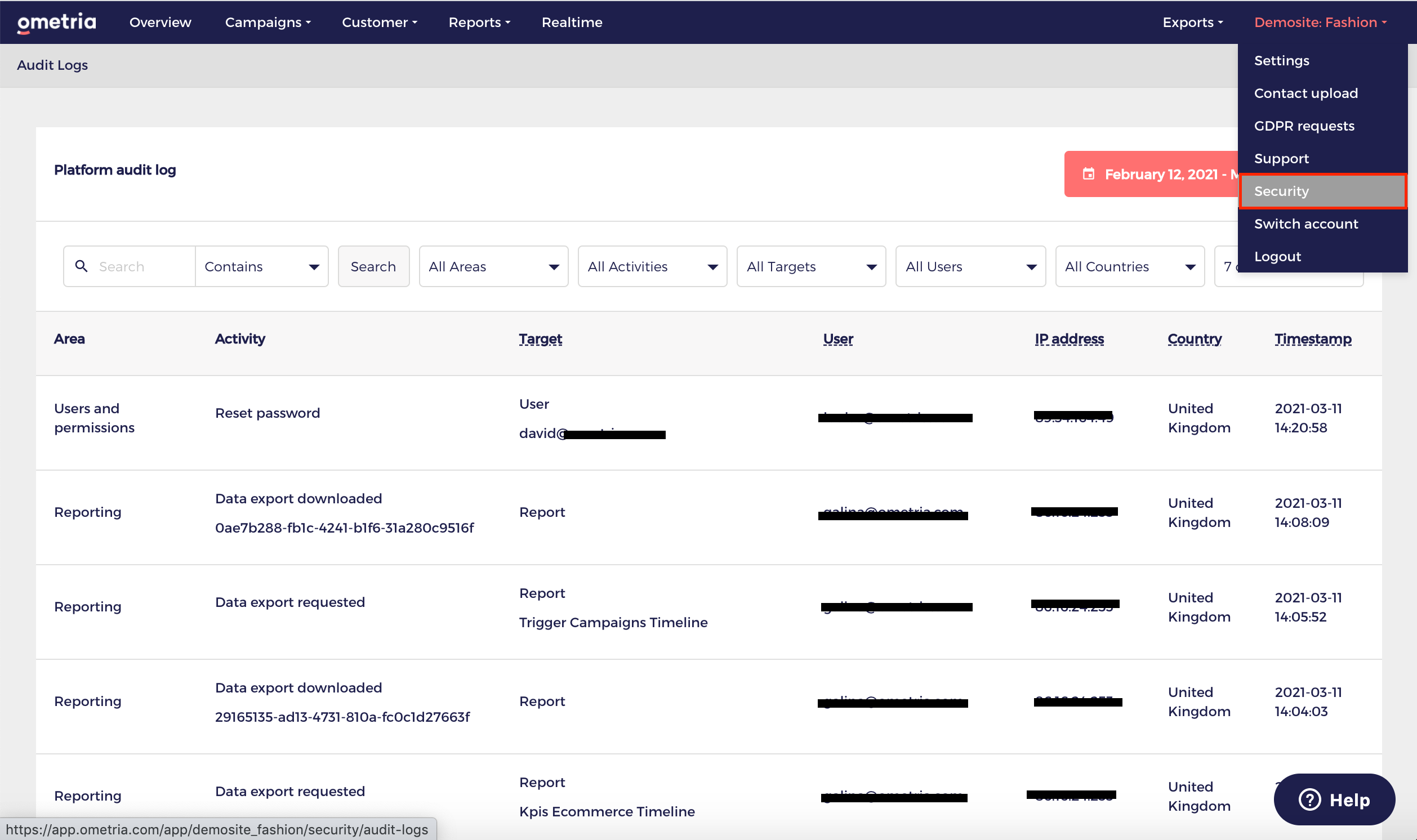 Narrow down your date range using the following filters:
Today
Yesterday
Last 7 days
Last 28 days
Custom range

Note: The Last 7 days and Last 28 days ranges include 'today'.
Search and filter
You can search for specific activity, targets and IP addresses, and you can filter the log by a number of conditions:

Field

Description

Search

Enter a target user or activity type to search and use the dropdown options:

Contains - to search for the phrase you entered
Does not contain - to exclude the phrase you entered

Note: The search field is case sensitive, we recommend searching keywords, e.g. Cohort, Products, Kpis etc.

Areas

Select the areas you want to view.

Activities

Select the activities you want to view.

Target

Select from:

User - for activity targeting a user account (e.g. a change in their permissions)
Report - for activity in a report (e.g. generation and export)

Users

Select the users whose activity you want to view.

Countries

Select the countries which the IP addresses belong to.

Columns

Select the columns you want to display.
Areas and activities
The Area column indicates where in the platform a logged event happened.
The Activity column provides details about the specific action the user performed, e.g. Added permissions, admin, export.
Authentication
Authentication events are to do with logging in and out of Ometria, as well as password changes.
| | |
| --- | --- |
| Activity | Description |
| Logging-in | A entered their username and password and successfully accessed the Ometria platform. |
| Resetting password | A user clicked on the Forgotten password? link on the login page. |
| Failing password | A user entered the wrong password on the login page. |
| Changing user password | A user changed their password. |
| Requesting password reset link | A user clicked on the Reset Password button on the Reset your password page. |
Users and permissions
Users and permissions events are to do with any changes to a user's access rights in the platform. These changes can only be made by an administrator from Settings.
| | |
| --- | --- |
| Activity | Description |
| Creating users | An admin user created a new user in the Users and permissions area. |
| Deleting users | An admin user deleted an existing user in the Users and permissions area. |
| Adding permissions | An admin user added new permissions to another user. |
| Removing permissions | An admin user removed permissions from another user. |
| Requesting password reset link | An admin user requested a password reset link on behalf of another user. |
Reporting
Reporting events are to do with report generation and export in the platform.
API keys
An API key is a unique identifier used to authenticate a user, developer, or calling program to an API.
API keys in Ometria are hidden unless a user chooses to view them.
See: API keys
| | |
| --- | --- |
| Activity | Description |
| Created an API key | A user created a new API key, including the name of the key, e.g. "Magento 2 integration". |
| Viewed an API key | A user clicked Show key against an existing API key. |
| Revoked an API key | A user revoked (i.e. disabled) an API key. |
Custom fields
Custom field events relate to any changes made to your custom fields.
The field category is listed along with the event, i.e. contact or order.
| | |
| --- | --- |
| Activity | Description |
| Created custom field | A user created a custom field. |
| Custom field archived | A user archived a custom field. |
| Custom field unarchived | A user unarchived a custom field. |
Frequency capping
Frequency capping in Ometria means setting a limit on the number of communications a contact receives per day and per week.
| | |
| --- | --- |
| Activity | Description |
| Frequency capping modified | A user made changes to your frequency caps. |
Target
The target is the user or component (e.g. report) which has been acted upon by the User.
| | |
| --- | --- |
| Type | Description |
| User | The user affected by the activity e.g removing or adding permissions. |
| Reports | The report which has been either generated or downloaded. |
User
The user is the person who performed the activity.
E.g. If sarah@fashion.com changed bill@fashion.com's user permissions to include 'can export data', Sarah is the user and Bill is the target.
Note:
Ometria users (i.e. Ometria employees) will not display in your audit log.
Click here
for Ometria's privacy policy.
IP address
The IP address from which the activity originated. An IP address is a unique number linked to all online activity for this contact.
Country
The country location of the IP address - either as registered by the ISP or the organisation responsible for the IP address (e.g. your company).
Note: Be aware that there is no way to report the location of a person based on their IP address with 100% accuracy - the value in this field is our best effort to identify the country.
Timestamp
The time and date the activity took place, displayed in UTC.
Common questions
How realtime is the data in the audit logs?
Activity displays in the audit logs within five minutes of being performed.
How far back in time can I look?
You can see activity for the past 30 days.
You can also only look back at data from the moment the audit log feature was enabled for your account.
For example, if you had the audit logs enabled on 1st July 2020, you cannot see data from June 2020.
Who has access to the logs?
All users with the administrator role.
You can revoke access to the audit logs by changing a user's role from Administrator to User in Settings and permissions.
See: How to change an Administrator role to a User role
Can an admin user delete or edit the logs?
Ometria's audit logs are read-only; nobody can delete or make any changes to the information.
Can I export the data in the logs via CSV or API?
The data in the Audit Logs screen is not currently exportable or accessible via the API.
If you would like to see this feature in the future, contact your customer success manager with your feedback.