Audit logs help companies monitor user activity and keep track of potential security breaches or internal misuses of information.
Ometria's audit log records the following activity per Ometria account user:
Authentication activity
Report generation and data export
All activity in the the users and permissions area
Coupon pool creation
The audit log helps you track who did what, where they did it, and when.
See also:
Note: If your business has multiple Ometria accounts (e.g. for different stores), you will need to check the individual log for each account.
Go to: Your account > Security
You have access to the last 30 days of activity by default.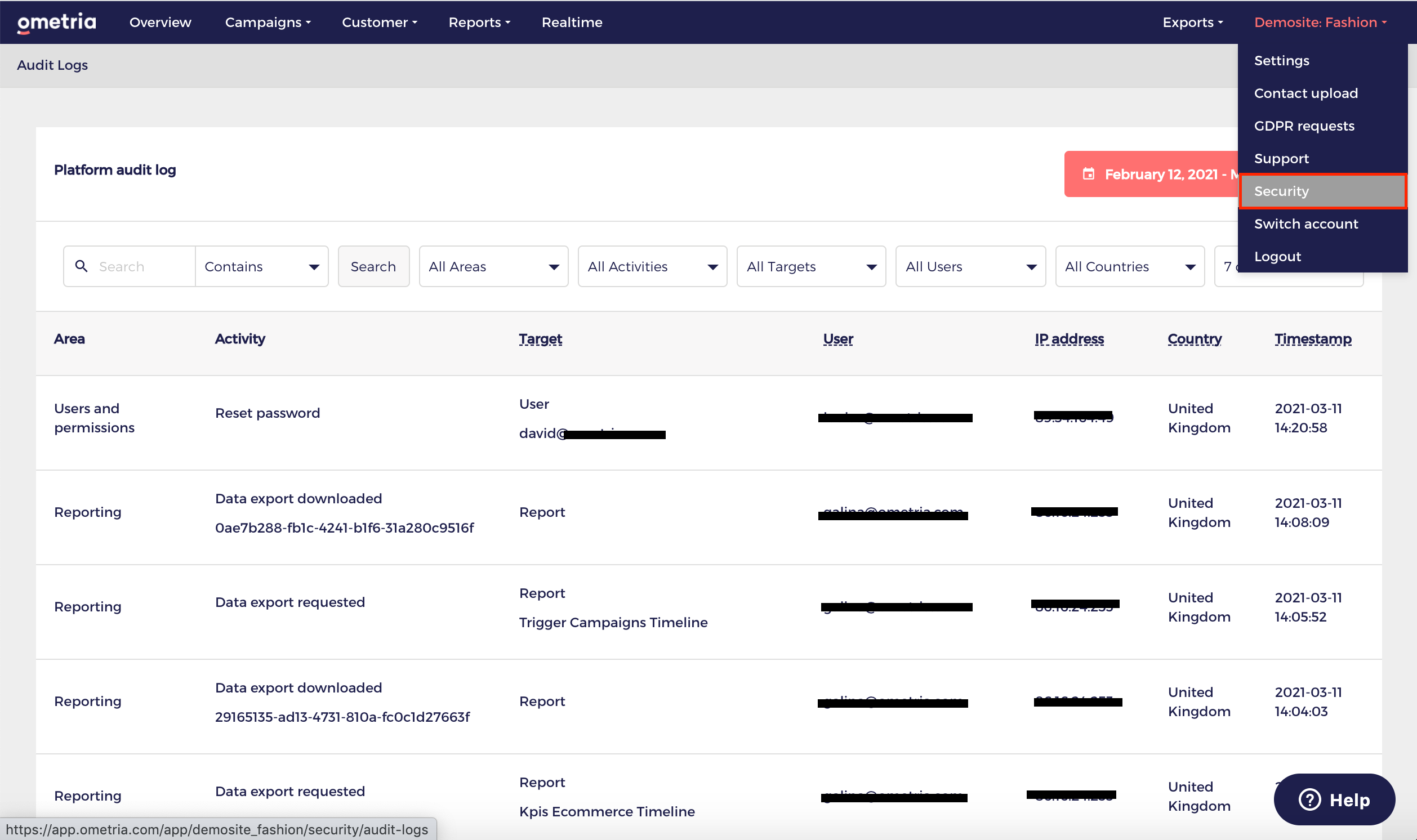 Narrow down your date range using the following filters:
Today
Yesterday
Last 7 days
Last 28 days
Custom range

Note: The Last 7 days and Last 28 days ranges include 'today'.
See also:
Target
The target is the user or component (e.g. report) which has been acted upon by the User.
| | |
| --- | --- |
| Type | Description |
| User | The user affected by the activity e.g removing or adding permissions. |
| Reports | The report which has been either generated or downloaded. |
User
The user is the person who performed the activity.
E.g. If sarah@fashion.com changed bill@fashion.com's user permissions to include 'can export data', Sarah is the user and Bill is the target.
Note:
Ometria users (i.e. Ometria employees) will not display in your audit log.
Click here
for Ometria's privacy policy.
IP address
The IP address from which the activity originated. An IP address is a unique number linked to all online activity for this contact.
Country
The country location of the IP address - either as registered by the ISP or the organisation responsible for the IP address (e.g. your company).
Note: Be aware that there is no way to report the location of a person based on their IP address with 100% accuracy - the value in this field is our best effort to identify the country.
Timestamp
The time and date the activity took place, displayed in UTC.