Product recommendations predict and display products your contacts might be interested in buying.
Ometria has seven recommendation engines for use in your campaigns.
Be aware that some recommendation engines are better suited to automation campaigns, and others are better for broadcast campaigns - these differences are described here.
Recommendations can be restricted by product attributes such as category, or filtered by price range.
You can also blocklist certain products or even remove products your contact has already purchased.
Navigation
Go to Campaigns > Product recommendations
The list of your product recommendation instances displays: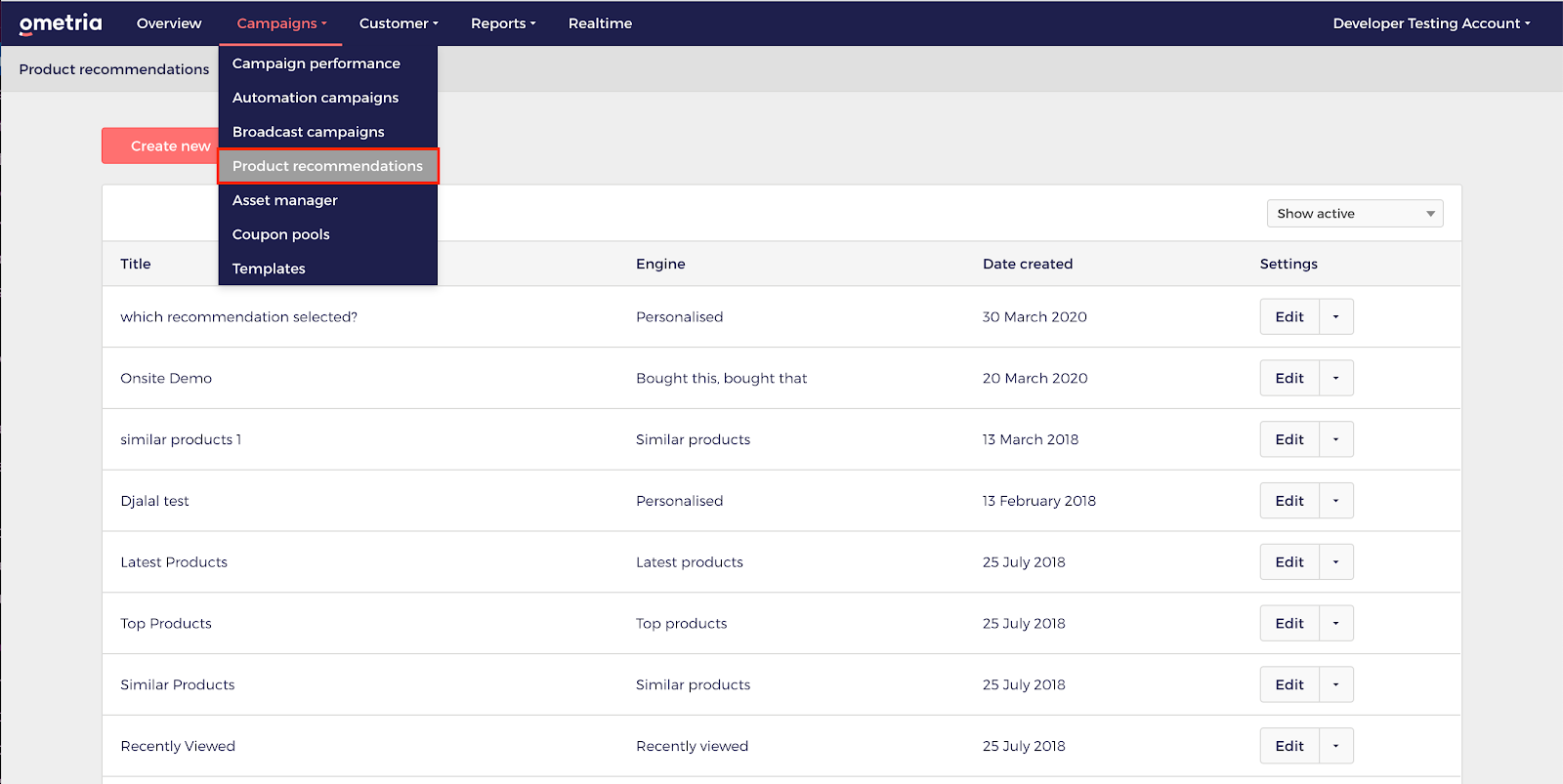 Each instance represents a product recommendation which has been created and configured for your account.
The list shows the following:
| | |
| --- | --- |
| Column | Description |
| Title | The name of the recommendation (as defined by the creator). |
| Engine | The type of recommendation engine used. |
| Date created | The date the product recommendation was created. |
| Settings | Edit, archive or unarchive your recommendation. |
To help you manage your product recommendations you can archive any not currently in use by selecting Archive from the Edit drop-down.
You can find the archived recommendation again by selecting Show archived from the top right drop-down: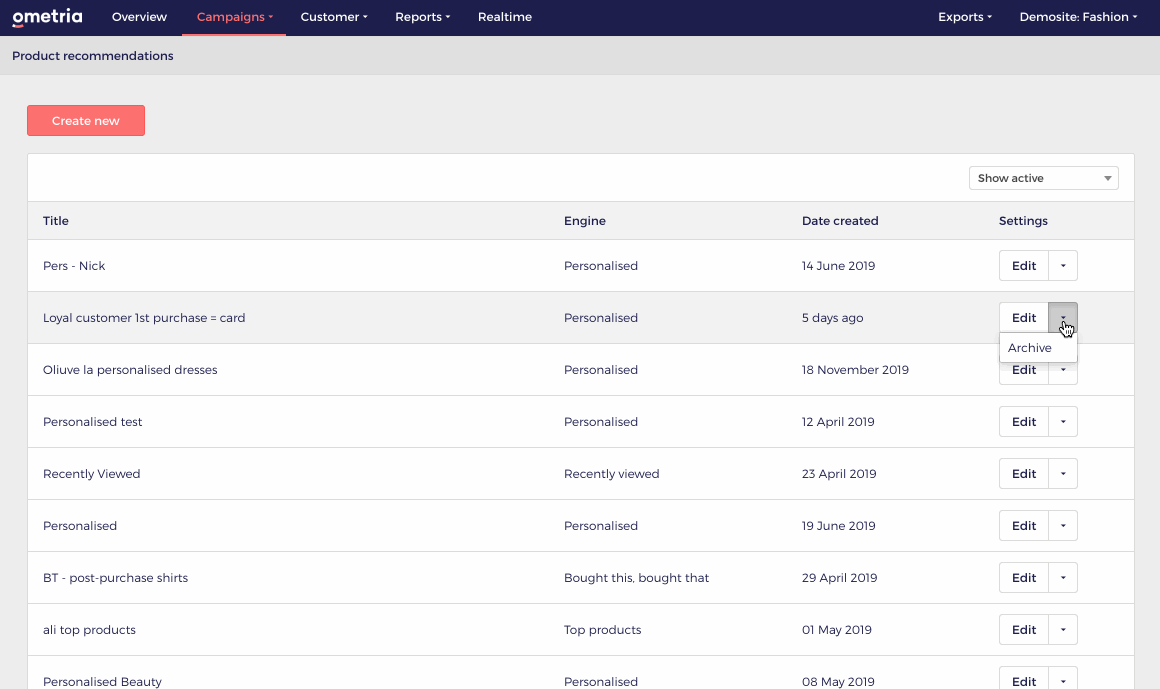 You can select Unarchive at any time to re-activate any of your product recommendations.
Product recommendation criteria
Not all products are available to display in product recommendations.
The following criteria are required for a product to be used in a product recommendation instance:
Ometria only pulls parent products, not variants (a 'parent' product is also known as a 'top-level' product, prime product or configurable product in Magento).

The product must have been sold in the last 28 days.

We don't recommend products without any sales, as they are unlikely to convert. The product recommendation engine exceptions to this rule are:

Recently added products - this only looks for the newest products
Personalised products - in this case, if no sales are found for that set of attributes then the recommendation falls back to products which were most recently added to your site.

The product must be active with the following details defined at parent level:
If you are using a visit to a store as a trigger for your campaign (e.g. contact has placed order in store x), the Store ID must have associated product listings, otherwise Ometria cannot assign the right product to the right store, and no recommendations will display in your email.
See also: Products, product listings and product variants
Out of stock products
For broadcast campaigns, product recommendations generate when your contact opens the email.
Ometria checks whether or not the product is 'In stock' and 'active' at the time of email open.
To include previously purchased, out of stock or inactive products in your product recommendations, see General settings.
Note:
The recommendation engines only takes
active products
into account when making calculations, unless you have changed the default setting in
General settings.
Products displayed based on store
Provided that the key criteria listed above are met, Ometria generates product recommendations based on the following rules:
If...

then...

store is not selected in product recommendations

Ometria uses product details based on the parent product record, e.g. title, URL, active status, price, currency, image, etc.

store is selected in product recommendations

Ometria checks the product listing:

If the listing is found, the title, URL, active status, price, currency, image etc. from the listing is used.

After this check, if the active status is false (i.e. inactive), the product is removed from the returned products and not displayed.