See also: Predictive frequency overview
It's common for retailers to maintain a consistent weekly email frequency, e.g. four emails per week.
Because Ometria only has your current email frequency, our first predictions will be less accurate than if we had data on different email frequencies for your account, e.g. four emails per week vs. six emails per week.
This is why we strongly recommend testing different frequencies based on our initial predictions.
Over time, Ometria's predictive frequency algorithm will learn and develop even better frequency recommendations for you.
How to test email frequency
To achieve incrementally better results in our algorithm, we recommend conducting A/B testing to evaluate the effectiveness of different email frequencies.
The goal is to determine whether the frequency that Ometria is proposing will result in increased revenue and user engagement compared to your existing frequency.
We will be using metrics such as click-through rates and unsubscribe rates to evaluate engagement.
Note: Because of the unpredictable nature of automation campaigns, we recommend focusing on broadcast campaigns to determine your ideal email frequency.
Testing plan
Campaign type: Broadcast
Length of test: Ideally eight weeks, but four weeks at a minimum.
Note: The longer the test, the better your data will be.
There is no ideal time to begin testing, but you might find it simpler to begin your test at the beginning or end of a month.
Create your control groups
Split your contact base by the percentage recommended below:
| | |
| --- | --- |
| Your total subscribed recipient count | Suggested control group size |
| Between 1 million and 3 million contacts | 5% of your total recipients |
| Between 100,000 and 999,999 contacts | 10% of your total recipients |
| Between 30,000 and 99,999 contacts | 15% of your total recipients |
See also: Split segments
Note: Testing with less than 30k subscribed recipients may have less statistical significance, but we still encourage testing different frequencies by increasing the percentage of the test group up to a 50-50 split between tests A and B.
Give your control group a name that will be easy to remember and identify later.
In this example, the active contacts segment has 1 million contacts, so we've applied a 5% split, giving us a control group of 50,000 contacts.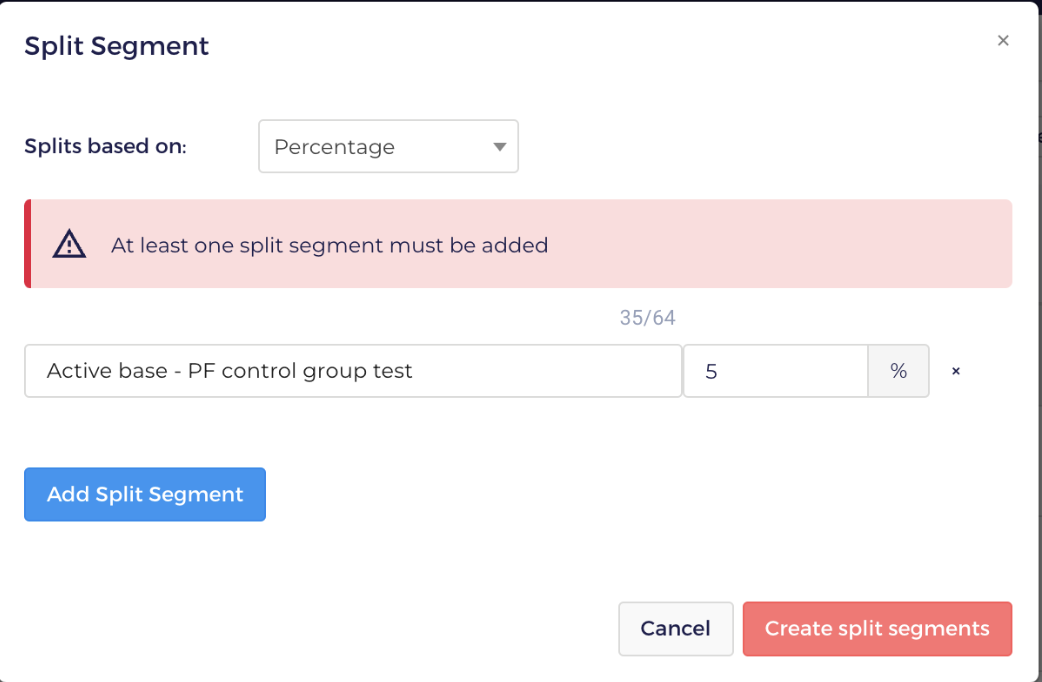 Set up your broadcast campaign
Create a broadcast campaign and create your segments.
See also: Segmenting your broadcast recipients
In our example, the campaign segments are based on average order value (AOV).
Here's an example of a control group filter, which includes high AOV contacts who are also in the control group segment:

When setting up segments, alternate your control groups with your non-control groups.
Your first segment should be a control group so that the segment 'catches' all of the high AOV contacts who are in your test segment, and they're excluded from the non-control group segment: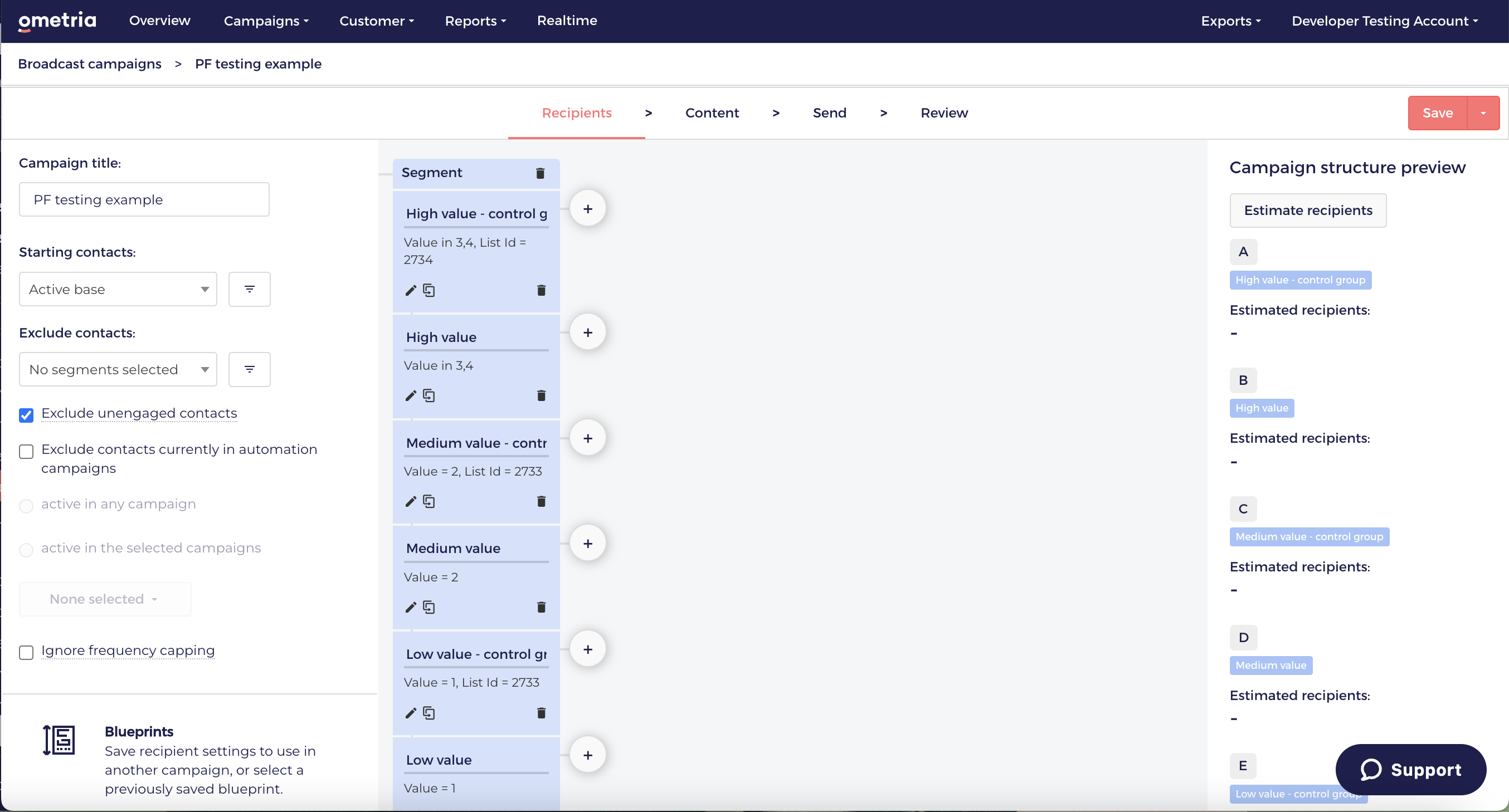 Assign templates to your variants
Each segment creates a variant which you can assign a different template to in the Content tab of the broadcast builder.
In this example we've assigned the same template to the 'High value - control group' and 'High value' segments, the same template to the 'Medium value - control group' and 'Medium value' segments, and so on.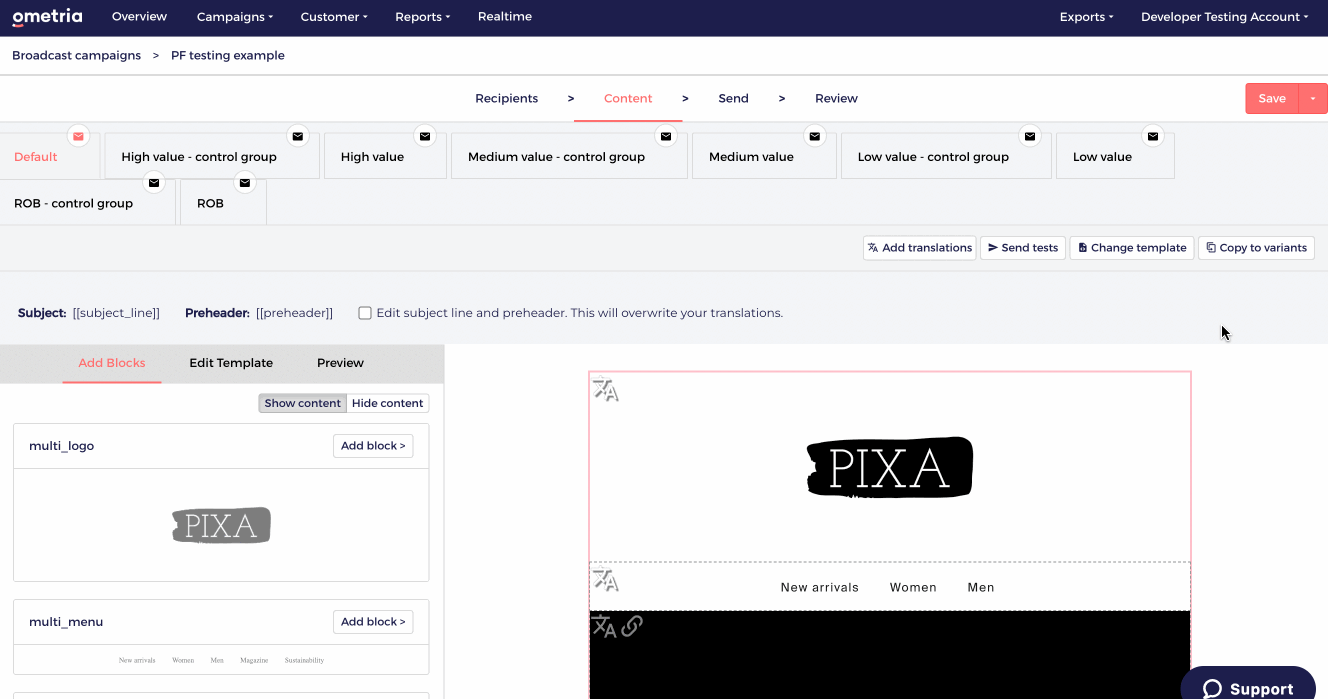 Send your campaign
Schedule and send your broadcast campaign and create further campaigns with the same segmentation.
Schedule these to send at your usual weekly frequency.
In this example, we're testing a recommended frequency of three emails per week against a current frequency of four emails per week. Adjust your testing plan accordingly.
On the day of the fourth send (in this example), come back to the campaign builder and exclude the control group from receiving the final email: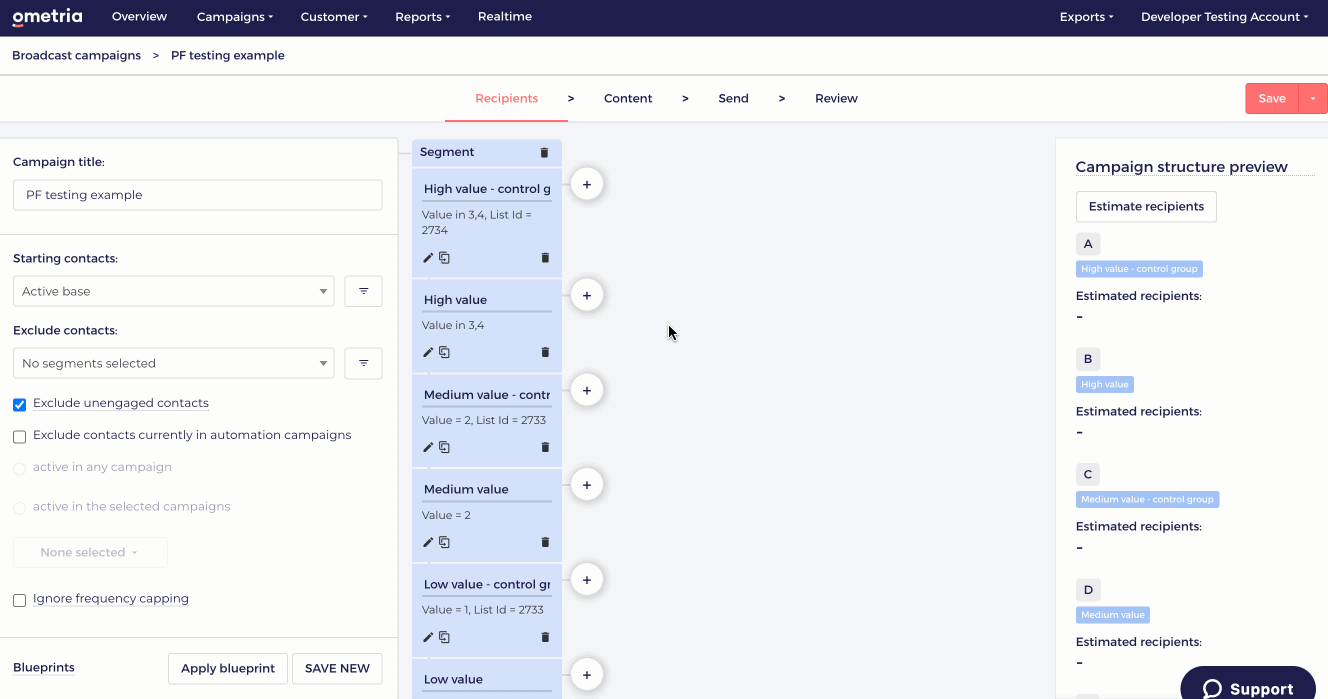 Review your results
Using the broadcast campaign performance dashboard, track and compare the following metrics for each of your control groups:
Click-through rate

Conversion rate

Unsubscribe rate

Revenue per email

AOV
We've created a spreadsheet with all the formulas you need to monitor your test results: