Once you've created a broadcast campaign and tested your variants, you can start scheduling the campaign to send.
Note: The send time is the time Ometria begins sending emails to your contacts - it is not necessarily the delivery time, which can take longer.
Navigation
Go to: Campaigns > Broadcast campaigns > select your campaign > select the Send tab.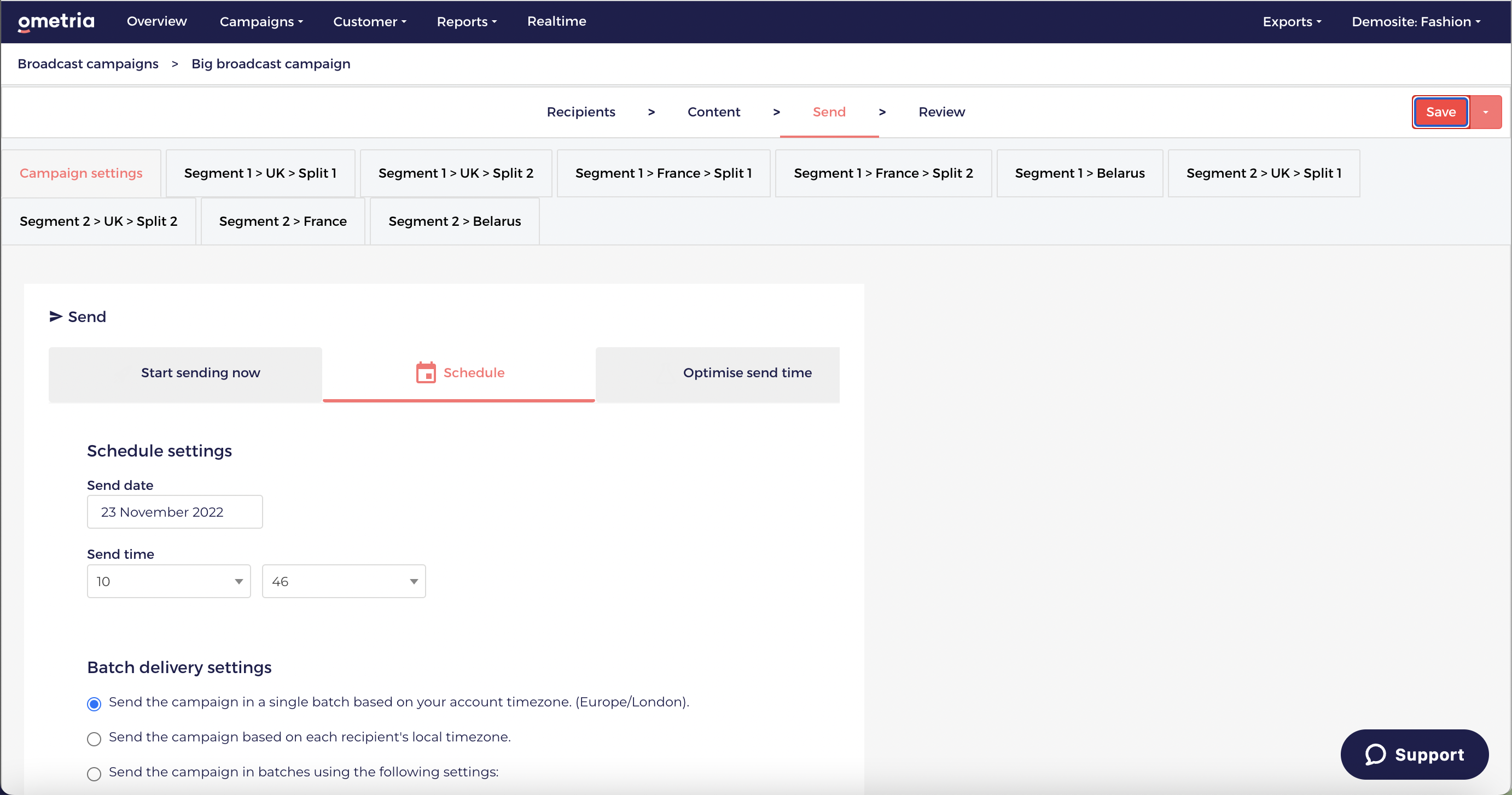 Your send options are:
See also:
Campaign generation
When you schedule a broadcast campaign, Ometria begins generating the emails approximately one hour before the scheduled send time.
Campaign generation is a necessary step which happens behind the scenes to make sure your campaign is sent to the right contacts with the right templates.
Depending on the volume of your broadcast sends this can take up to an hour, which is why it happens ahead of the scheduled time.
You can see which of your campaigns are Generating in the Scheduled screen: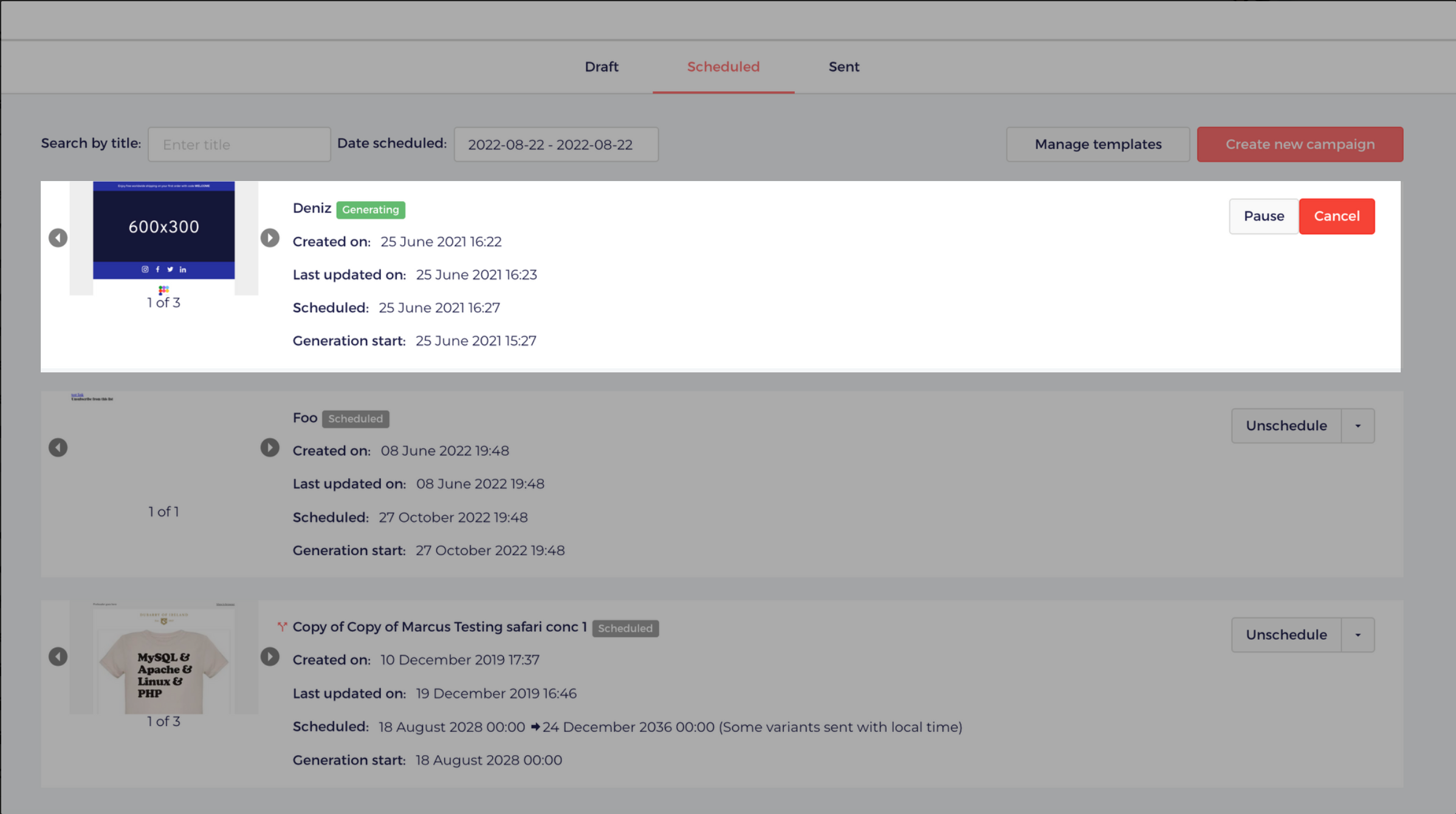 Generation happens approximately an hour before the scheduled send time.
Once your campaign starts sending the status changes to Sending now: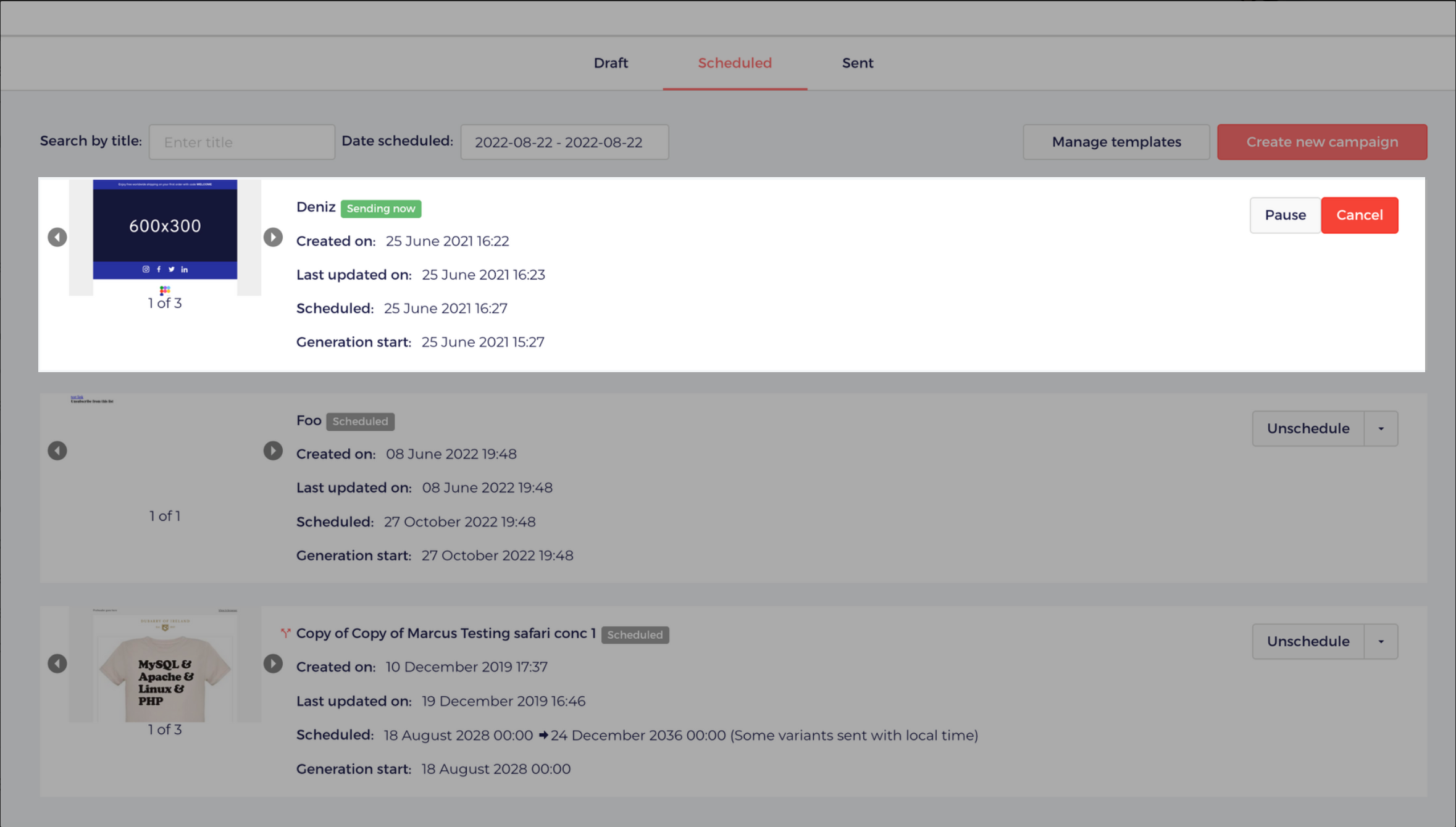 Making changes during campaign generation
If you need to make changes to the campaign after generation has started, you'll need to either cancel or pause the campaign, depending on the changes you need to make.
For changes to the campaign content (i.e. the template, subject line, copy, etc.), the tracking parameters and email settings, you only need to pause the campaign.
If you need to cancel the campaign and duplicate it, e.g. for changes to the segmentation or send method, be aware that your campaign will need to start generating again, which can take up to an hour.
This means that if you create a duplicate campaign and schedule it again less than one hour before the original scheduled send time, the campaign might begin sending later than expected.
Example:
Jane has a campaign scheduled to start sending at 8:00am. The campaign begins generating at 7:00am, meaning it has an hour's 'head start' and will send on time.
Jane needs to make some changes to her template, so she cancels the campaign and creates a duplicate, makes the changes and schedules for 8:00am.
If she finalises these changes at 7:30am and the campaign still needs one hour to generate, the campaign might not start sending until 8:30am.
Schedule
We recommend selecting this option to generate and send the campaign at a later time.
Campaign generation starts one hour before the scheduled send time, so if you schedule a campaign to send at 8:00am, it will begin generating at 7:00am.
If the campaign finishes generating before the send time, e.g. at 7:40am, Ometria will wait until the scheduled time to begin sending.
Review
Once you've set up your schedule/send, select the Review tab.
The Review tab shows all of the important details for your broadcast campaign and its variants.
Campaign Recipients - Who will receive each variation
Campaign Delivery - How and when each variation will be sent
Campaign Details - Content information such as subject line, preheader, from addresses and tracking parameters for each variation
Template Preview - a preview of the template you are sending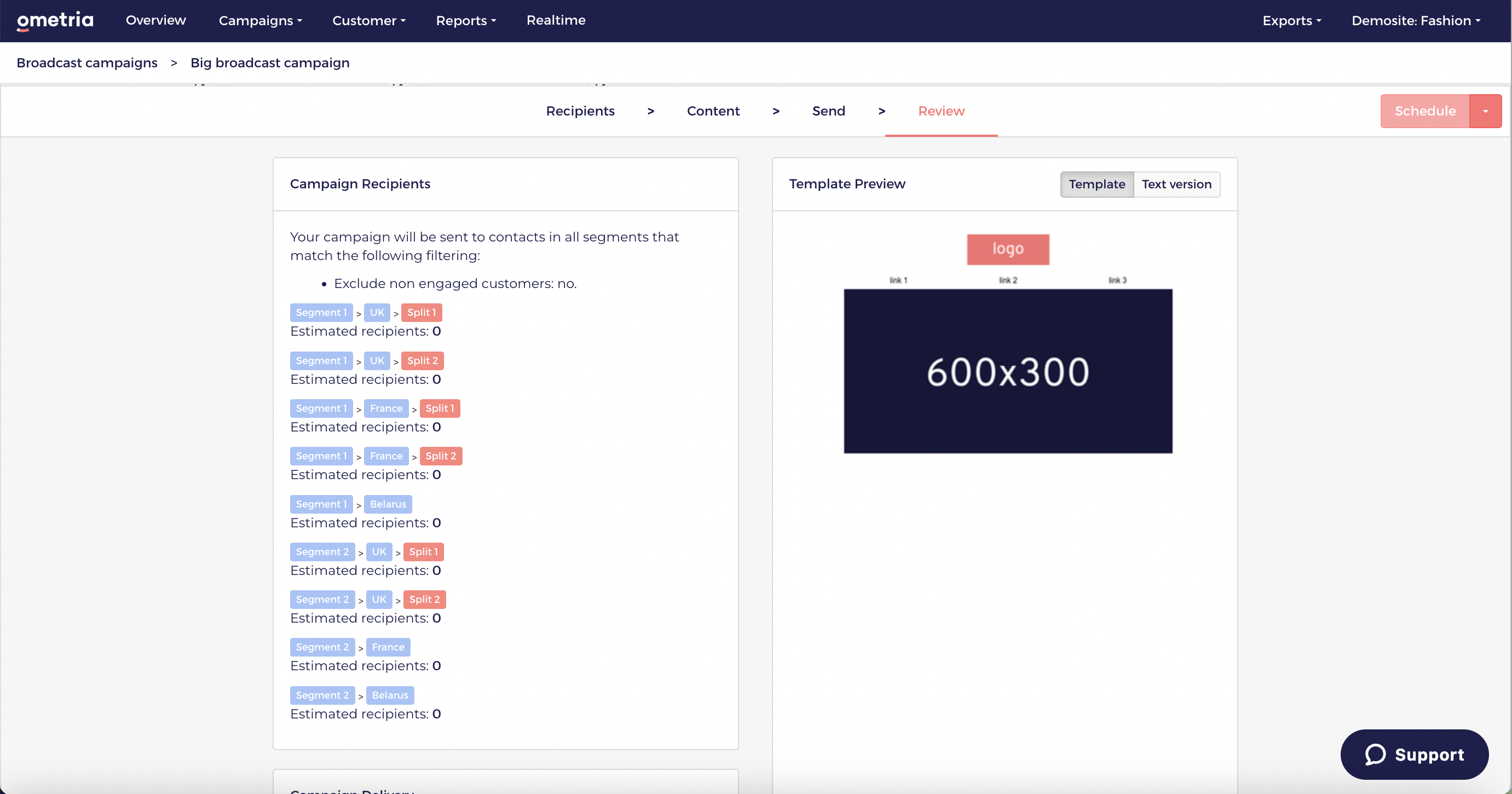 To review each variant in detail, click through the tabs.
If a tab has icon like this:

it means that variant has errors which may prevent it from sending.
Select the tab to review the error: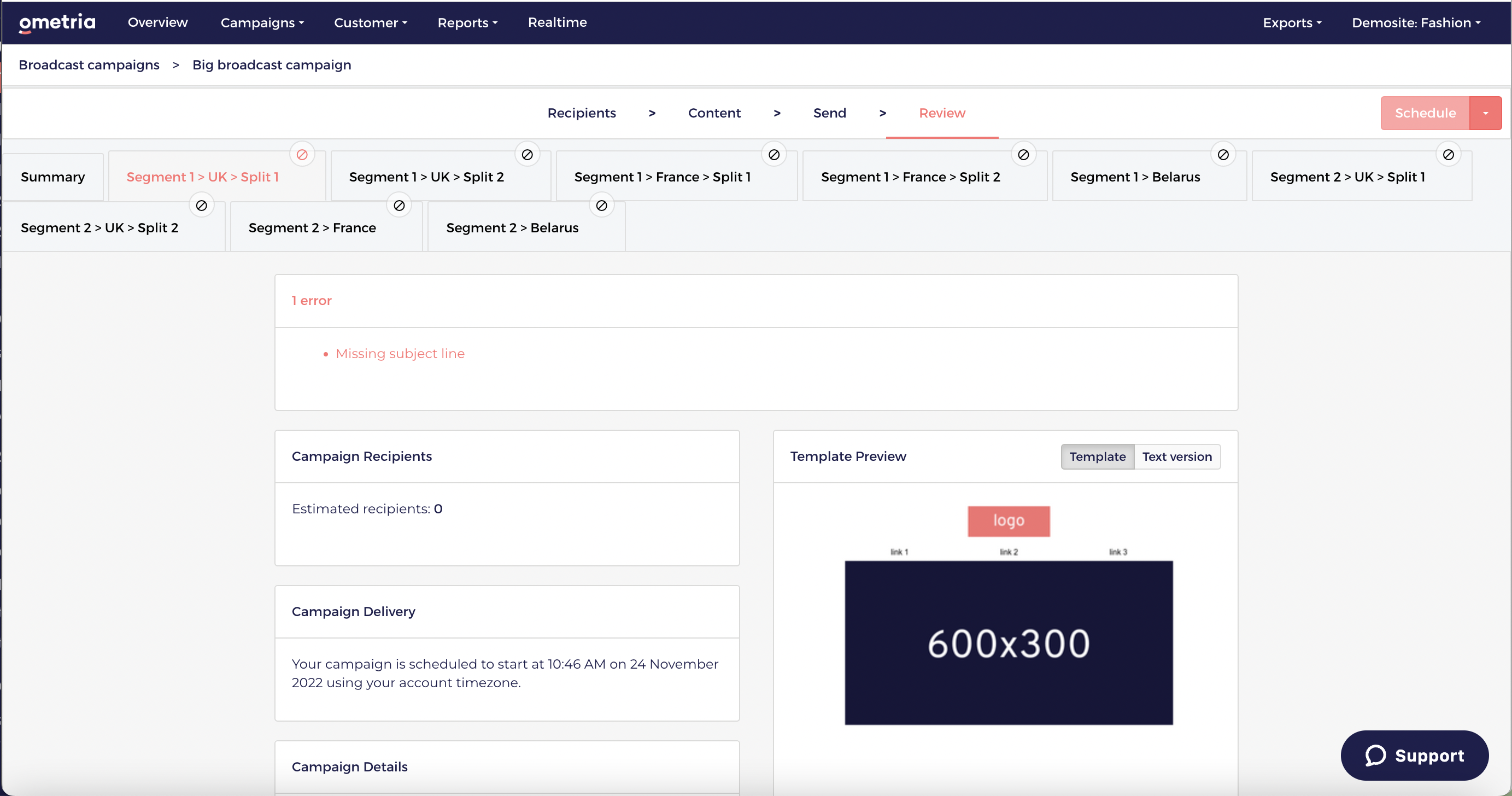 Close any errors and review each variant, then select Schedule to start sending.
Scheduled
The Scheduled screen displays, showing all scheduled campaigns:

From here you can also navigate to draft campaigns and campaigns which have been sent.
Any variants you opted to Start sending now, your campaign starts generating straight away, while Scheduled and Optimised send-time variants send out in their time slots.
You can Pause your campaigns even after generation has started.
See:
When a campaign is paused, generation continues to run in the background; it can't be stopped.
If you used optimise send-time for your campaign, the second date in the Scheduled field indicates the time your final variant will begin sending - not the time that sending will complete.
Note: You can't unschedule the scheduled variants if there are any variants with the Send Now option selected.