Abandoned category campaigns can be used to:
This article explains how to set up a campaign which is triggered when a contact visits a page on your site tagged with a specific category (also known as an 'attribute') - e.g. 'dresses' - and leaves without placing an order or viewing any products.
Note: If you use Shopify as your eCommerce data importer, or have your own custom eCommerce importer (i.e. not Magento) and became an Ometria customer before November 2019, there is some technical setup required before you can use this trigger.
Making 'abandoned category' part of your customer journey
Your priority when building automation campaigns should always be creating the most value for your customers no matter where they are on their journey.
Category abandonment campaigns can help you include some of the most common actions happening on your website in your marketing strategy.
The following campaigns in Ometria are listed in order of priority based on a contact's intention to place an order:
Basket abandonment - greatest intent to place an order

Browse abandonment

Category abandonment - least

intent to place an order
To ensure that visitors who abandon browsing for a specific product get emails about the product rather than the category (which demonstrates less intent to place an order), you can add category abandonment flows to your campaigns as a subset of your existing browse abandonment campaign.
We recommend using a more 'editorial' or content marketing style of messaging for abandoned category emails, telling stories about your brand and highlighting what is special about your product, e.g. sustainability, special collections etc.
Category examples:
Specific materials: what's special about them, how are they sourced (e.g. leather).

Specific collections: new collections, special editions, bespoke products.

High-value products: sofas, luxury products, engagement rings etc.

Special occasions: weddings, Valentine's day, Black Friday, etc.
Before you begin
In order for page attributes to trigger entries, you'll need to update the campaign trigger, then you can create a new Segment node for each attribute you want to trigger.
E.g. one for the attribute 'Sofas' and another for the attribute 'Beds'.
These new segment nodes should be added under your existing abandoned product browse nodes.
Campaign setup steps
Adjust entry trigger
Navigate to your browse abandonment campaign and update the trigger to include page attributes.
Do this by selecting the trigger The contact has visited the website and click +ADD CONDITION in your trigger, then choose:
+ADD CONDITION > 'viewed a product or page with an attribute which is one of'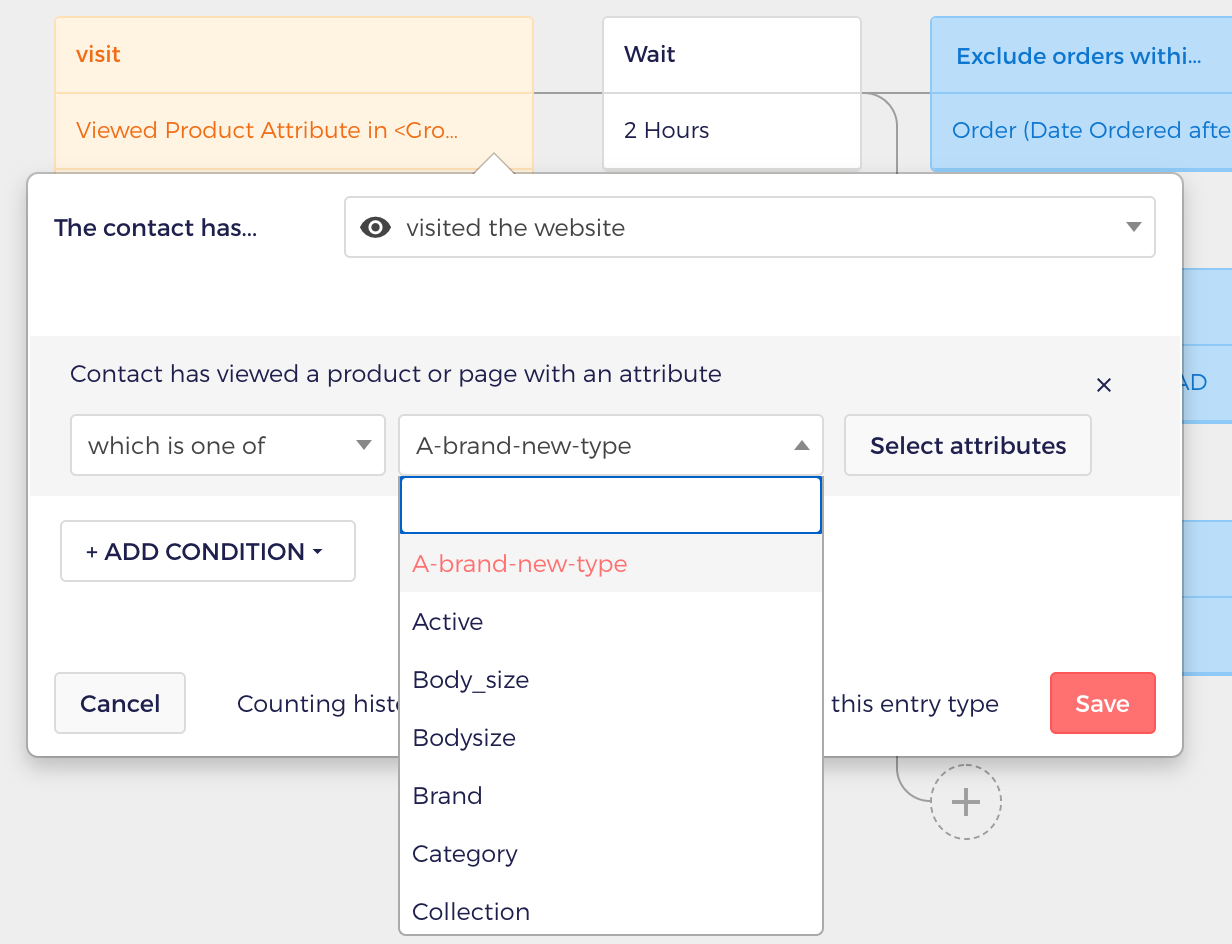 Select your category from the dropdown, then hit Select attributes.
In the Attribute selector, make sure that the entry conditions include the attribute(s) required for your abandon browse and abandon category browse emails.
Note: Shopify users may select Category or Page.
Once you've defined your attributes and clicked Save, you can see a count of how many visits the pages (including product pages) with the selected attributes have had in the past 14 days: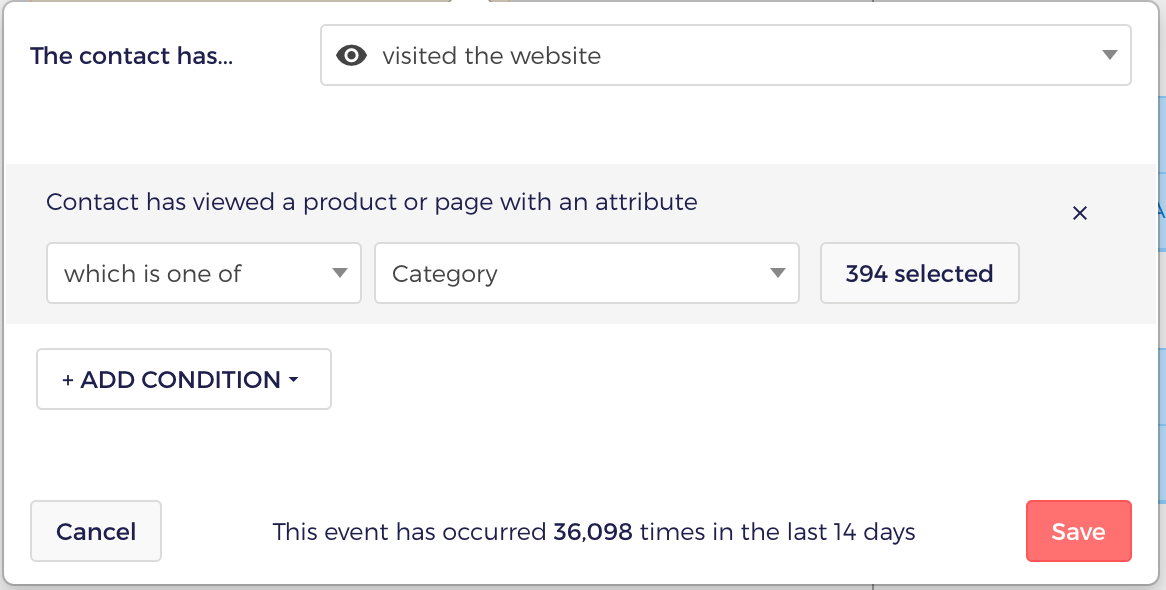 Select Save.
Adjust abandoned product browse segment
Next, edit your abandoned product browse segment as follows:
Contact had viewed a product with an attribute - which is one of - Category
Then select your product attributes:

Now your contacts who visited the site and browsed a product will fall into this segment, and you can send them a template which refers to the specific product they looked at, rather than the broader category it belongs to.
Add abandoned category browse segment
Add a new segment node for the abandoned category below the existing abandoned browse segment nodes: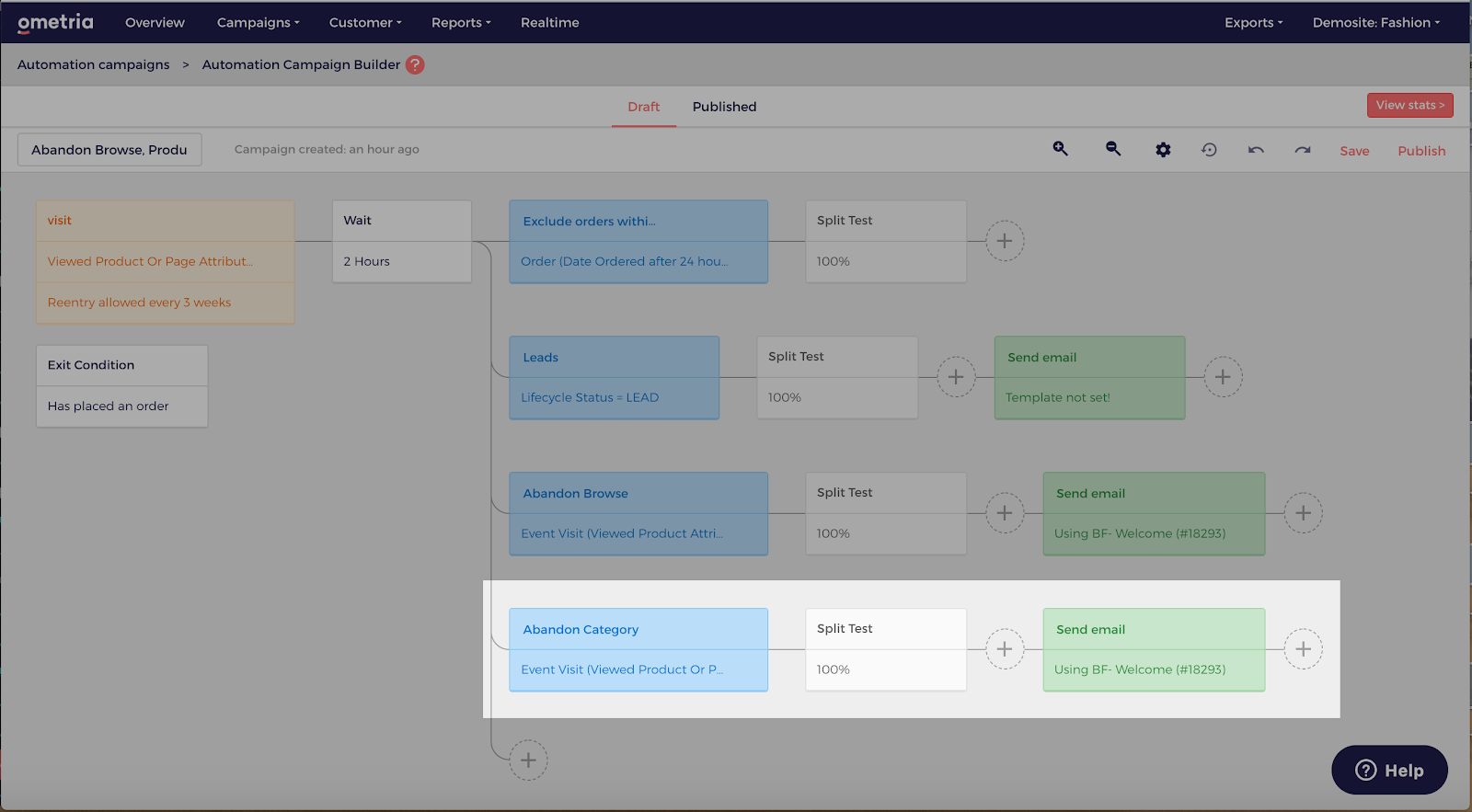 This ensures that only contacts who've abandoned the category browse and not the product browse will receive the email.

To create the category segment node use the following:
Contact had viewed a product or page with an attribute - which is one of - Category
Then select one of the attributes from your entry trigger:

Note: You'll need to create a new segment per attribute.
Add your content and set up the rest of your flow, then Save.
See Automation campaigns overview for more information.