You download your translation file from your template when building a multi-language template or campaign.
Note: Once you've created and published your first multi-language campaign, Ometria will save the content and populate the next translation file you download with previously used content.
Translation file structure
Column A in your translation file (language) is a mandatory column which lists the language variations selected for your template: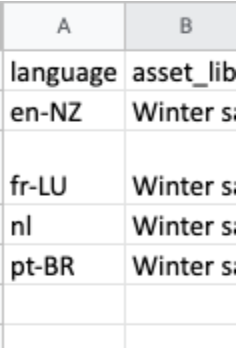 As well as your template blocks with translation tags, the file contains the following headings:
Note: language, subject_line and preheader are mandatory fields. If you don't include them, your file won't be processed.

How to add images to the translation file
To map images to asset manager folders, you'll need to enter the asset manager folder path into the asset_library_folder_path column.
In Ometria, go to Campaigns > Asset manager and select the folder you've uploaded your images to.
Click on file path dropdown and select Copy path link:

Go back to your translation file and paste the path link into the asset_library_folder_path column in the correct language row: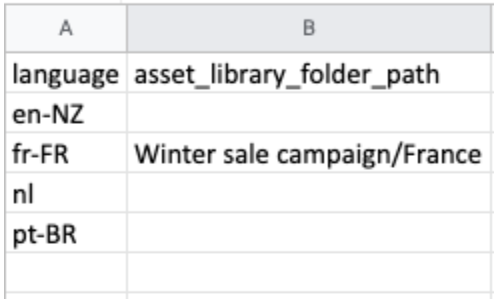 Ometria will check this folder for the right translation when processing your translation file.
Note: The file path format must be: [main folder name]/[subfolder name], e.g. Global campaign images/French translation.
Templates without translation images
You might not have any images with text in your campaign, meaning you don't need to update different translations for your images.
You can remove the asset_library_folder_path from the file if you don't plan to use it.
Be aware that if you don't upload any image folder paths, you'll see a "Content missing" warning after the translation file has been processed. You can still save and publish the template without any problems.