Email block text colour picker
Why?
Last week we released the email block background colour picker, which allows you to choose and customise the background colour of your template blacks in the visual editor.
As part of our continued improvements to block customisation, you can now change the text colour for your blocks too.
What's new?
Choose and customise the text colour for your template blocks in the visual editor.
Note: You can only customise one colour per block, even if the block has multiple elements (e.g. a two column text block).
Simply navigate to the template you want to edit, choose a block with text, then select a colour: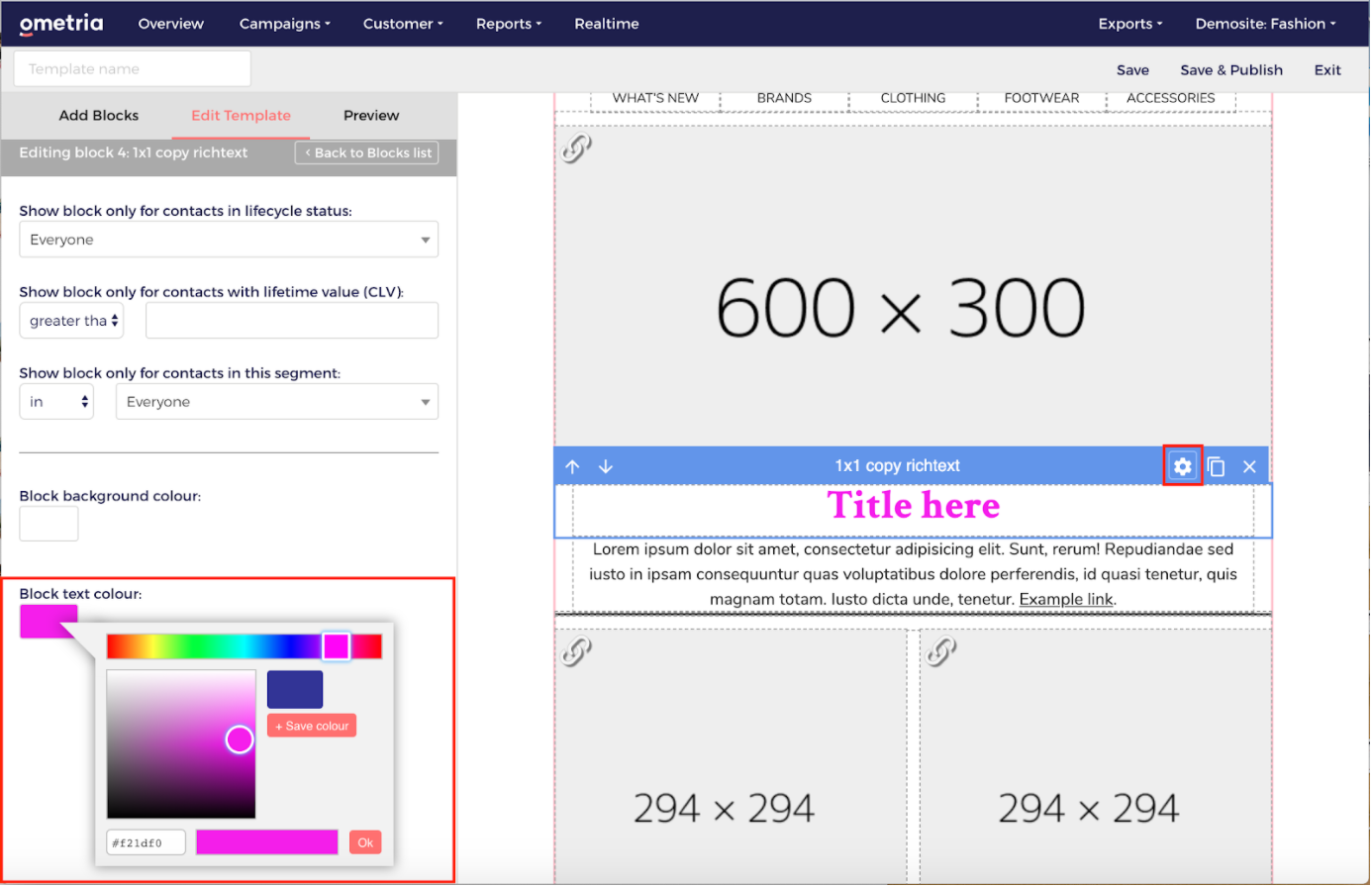 You can either choose an available colour, or enter a hex code.
You can also click +Save colour on any colour you choose and use it for other blocks.
When you save a colour, it will only be available to you (not anyone else on your team) and only as long as you do not clear your cache.
Price drop for automation campaigns
Why?
Price drop campaigns are a great way to let your customers know that products they've viewed on your site before are now available at a discounted price.
What's new?
In Ometria you can now trigger automation campaigns to send when a product a contact has viewed (but not purchased) drops in price.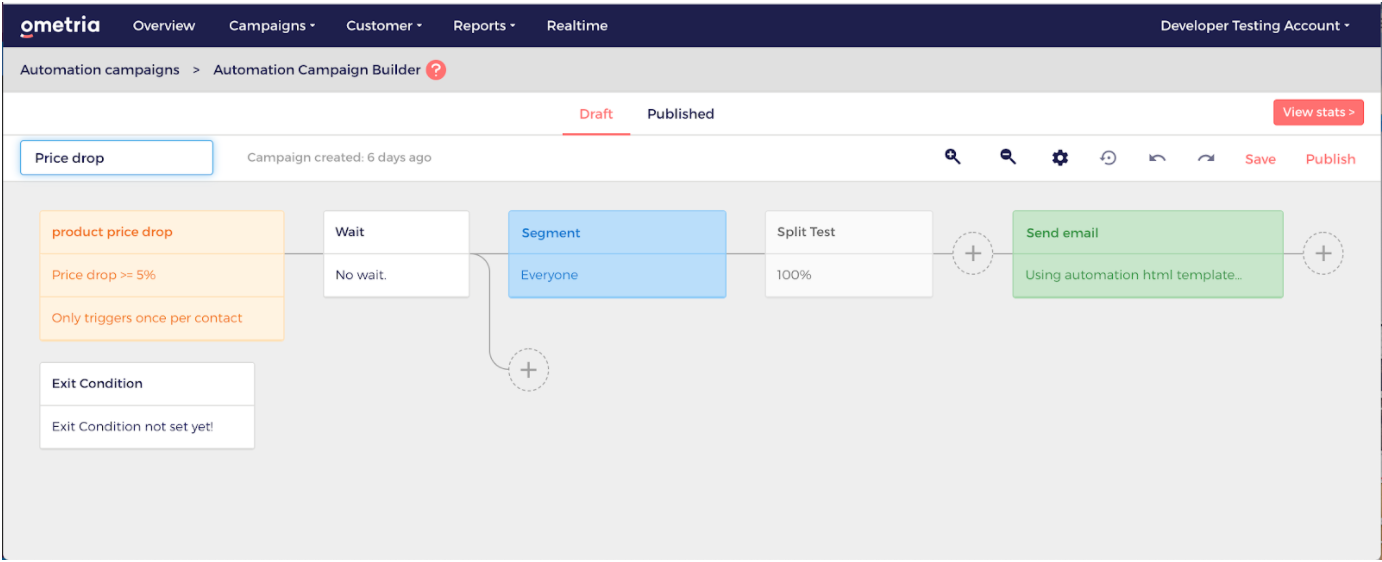 If a recorded change in price meets the minimum percentage price drop set in the campaign trigger, then contacts who have browsed but not purchased the product in the past six weeks will enter the flow.
A contact's entry can only be triggered by one product, and price drop campaigns will only include one product in the email.
If the contact has viewed multiple products without purchasing in the last six weeks then Ometria selects the product which has the highest price after the price drop.
Contacts can be entered into the campaign multiple times for multiple products by using the re-entry condition.
We've also added a new template block and some new merge tags specifically for price drop campaigns.
See also: Create a price drop automation campaign
Automation blueprints
Why?
We want you to be able to start building new campaigns in Ometria right away, whether you are a brand new user, an experienced user looking for inspiration, or simply want a quicker way to start sending.
We also want to ensure you have everything you need to create the core automation journeys to delight and engage your customers.
What's new?
We now offer automation blueprints - out-of-the-box automation campaign templates which you can use as a starting point to create quicker campaigns with less effort.
Use in combination with our powerful segmentation and personalisation capabilities to achieve your retention marketing goals..
Go to Campaigns > Automation Campaigns and select Create new campaign:

The automation blueprints options display: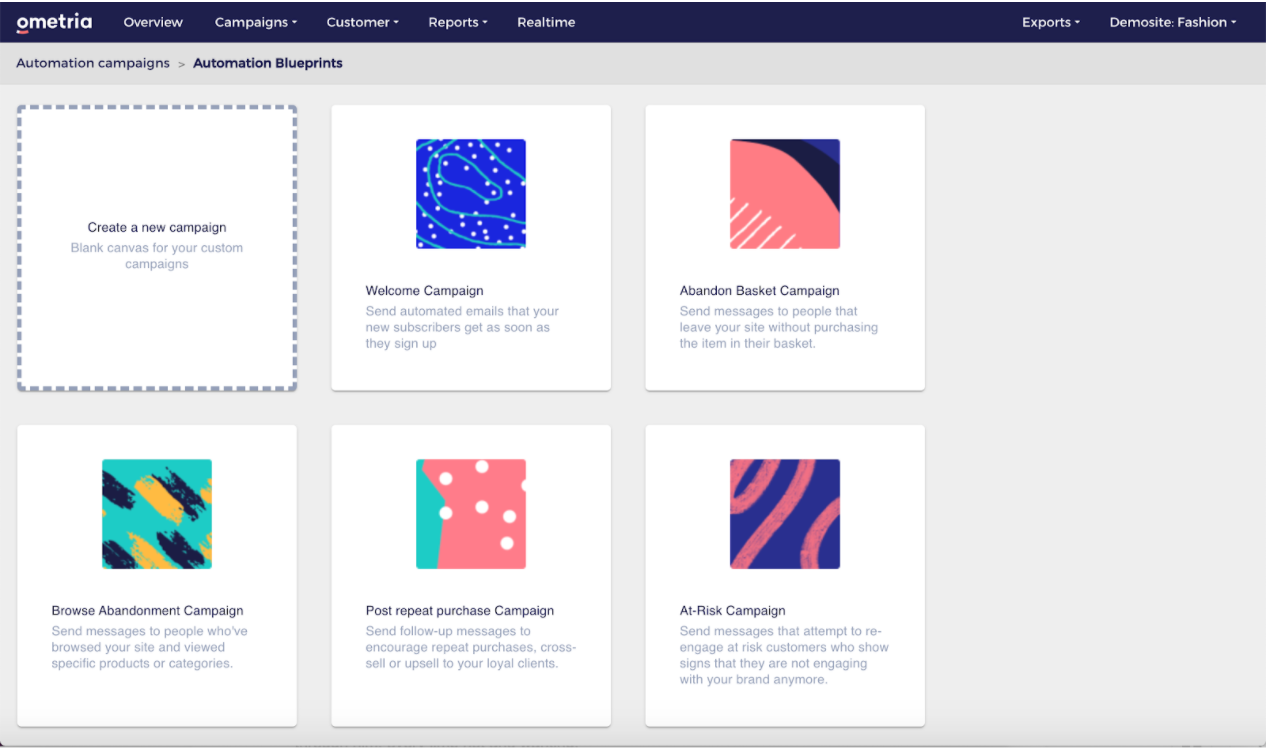 If you want to start building your own automation flow, just click Create a new campaign for a blank canvas to work from.
When using a blueprint, simply select the type of campaign you want to create and customise with your own email templates, add customer segmentation and configure your wait times and re-entry condition (if required).
The following blueprints are available:
Welcome campaigns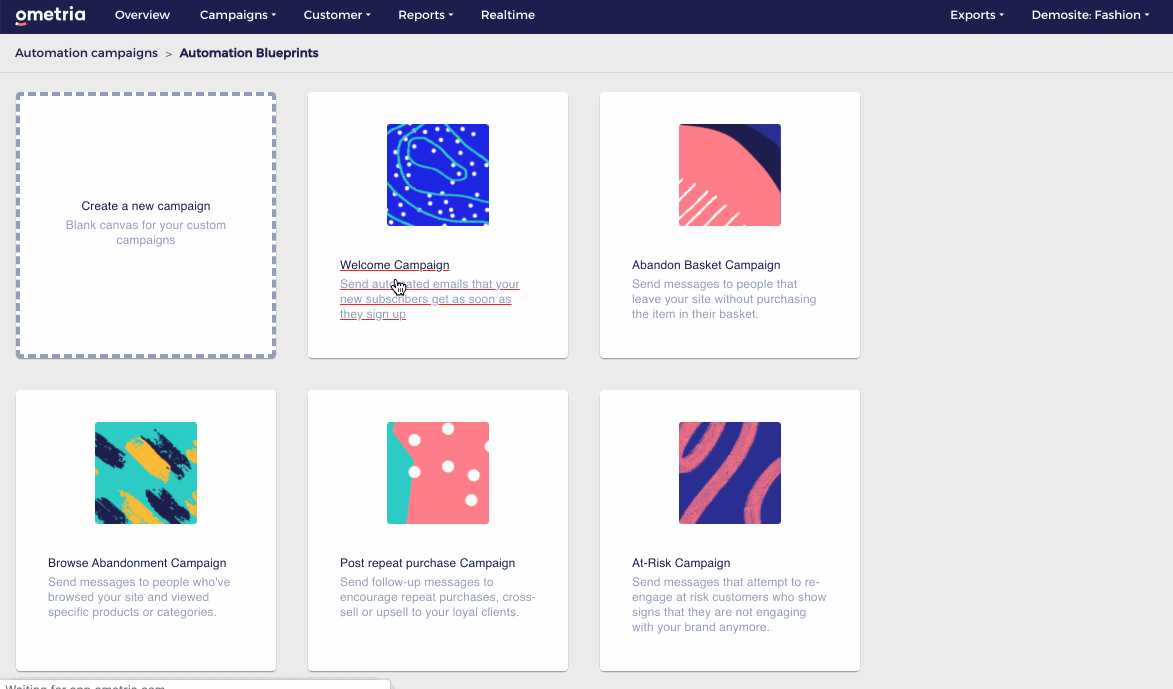 Welcome emails are an opportunity to encourage your customers to align with your brand and its story.
These campaigns introduce new contacts to your core values (key selling points) and can lead them to make the first purchase of many.
Abandon basket campaigns

This type of campaign encourages customers that have left items in their basket before checking out to come back and complete their order with you, and possibly further increase by up-selling or cross-selling an alternative suggestion.
Browse abandonment campaigns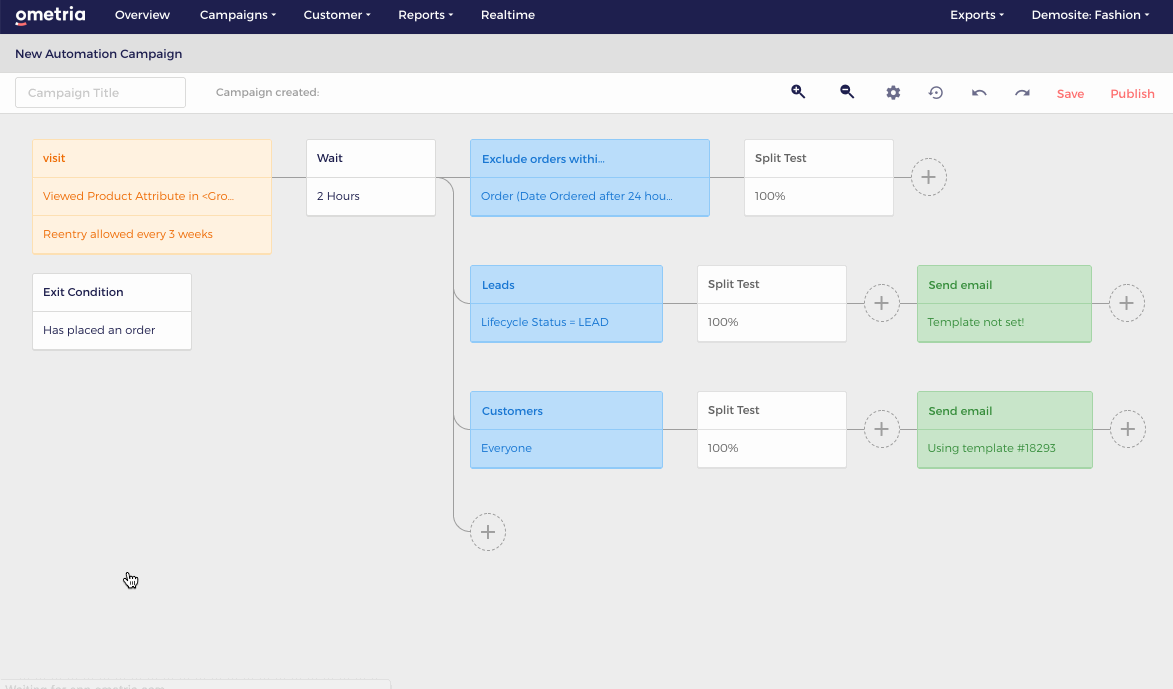 Reach out to customers who have left part-way through their online shopping journey.
This is a simple and effective way to remind customers of what they have been looking at; you can encourage them to make a purchase or continue browsing on site.
Post repeat purchases campaigns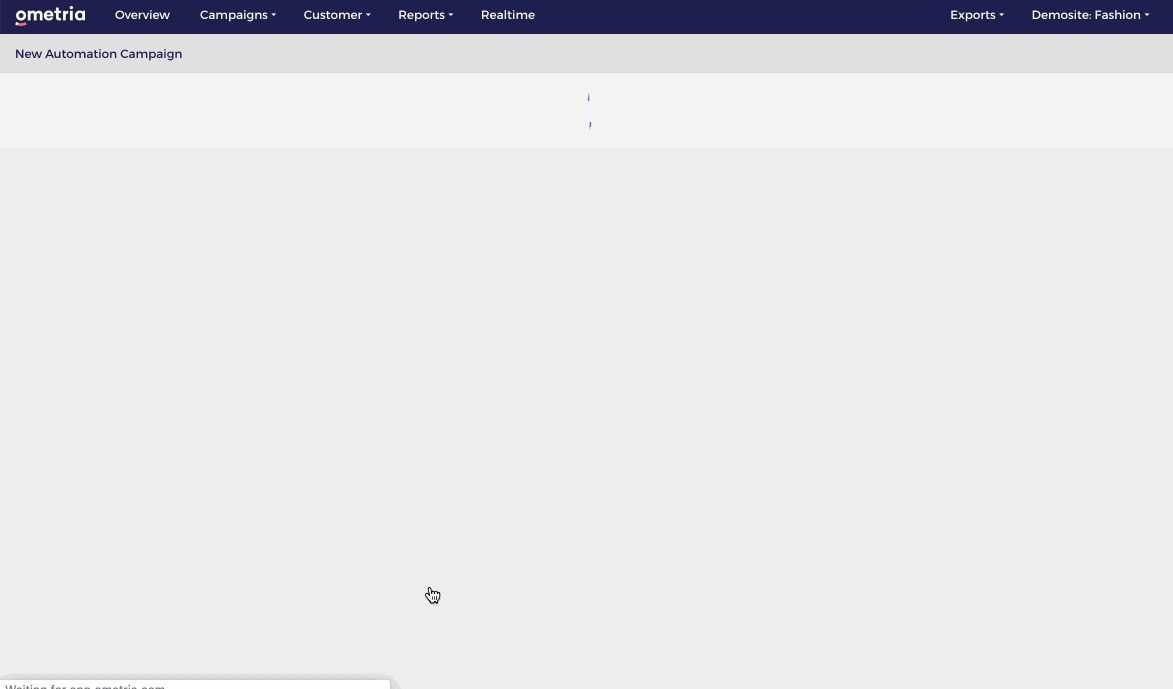 Post-purchase campaigns are an opportunity to keep customers engaged after they've bought something – whether that's encouraging a follow-up purchase, asking them to leave feedback or providing helpful aftercare content.
At-risk campaign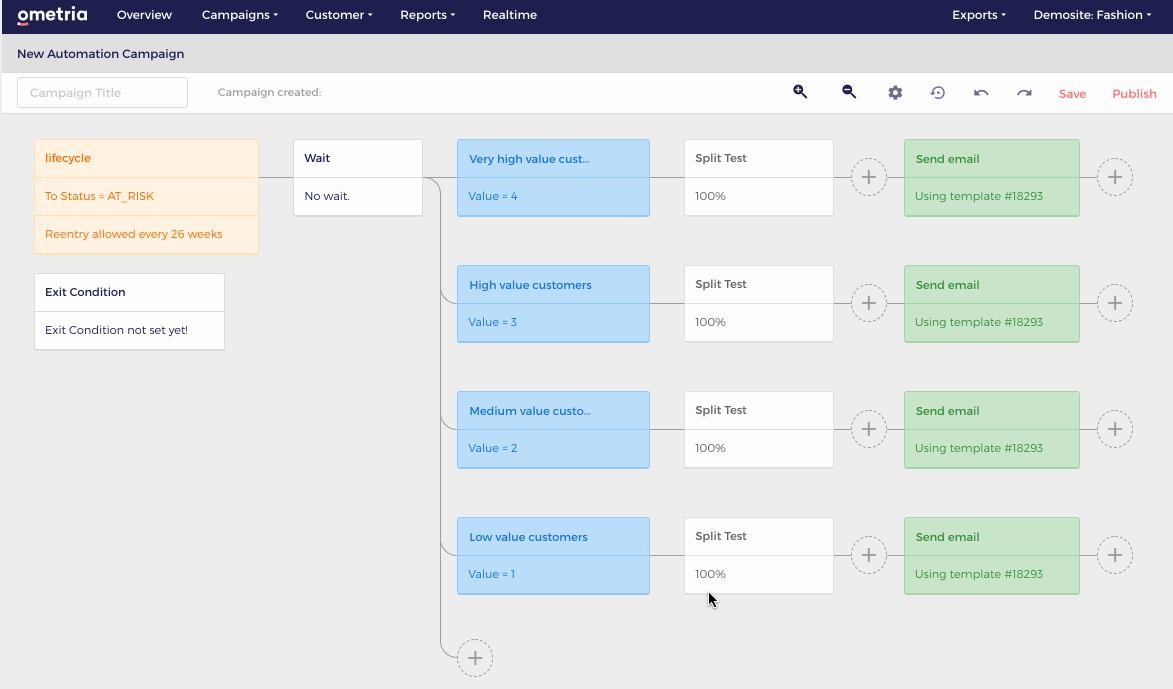 Also known as a 'win-back campaign' - if you have customers at risk of lapsing, this kind of campaign is a great way to revive that relationship.
Try including a perk that is specific to the customer and make them feel valued, encouraging them to spend.