From the Templates screen in Ometria you can manage, clone, archive and edit your campaign templates, as well as create new ones.
Navigation
Go to Campaigns > Templates: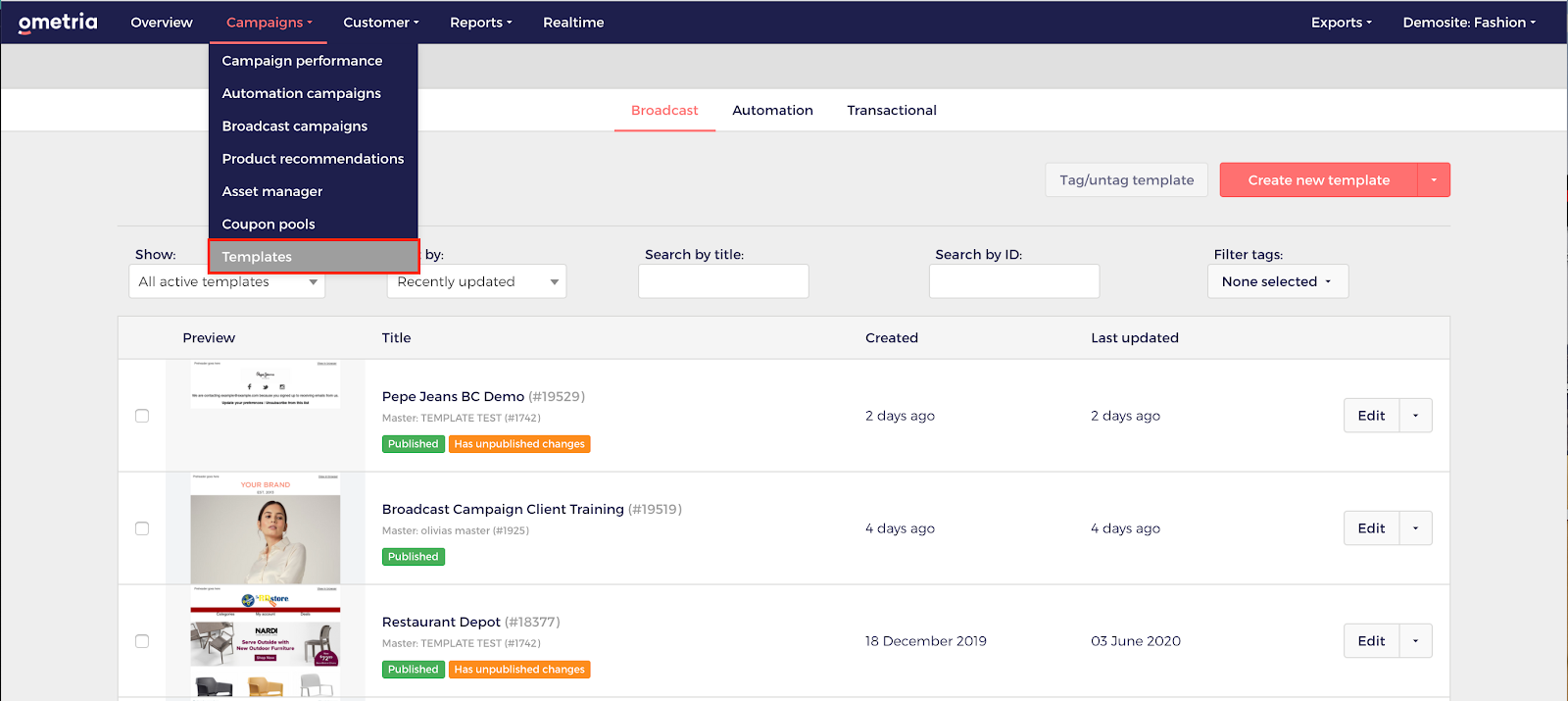 Click through the tabs at the top to see your Broadcast, Automation or Transactional templates: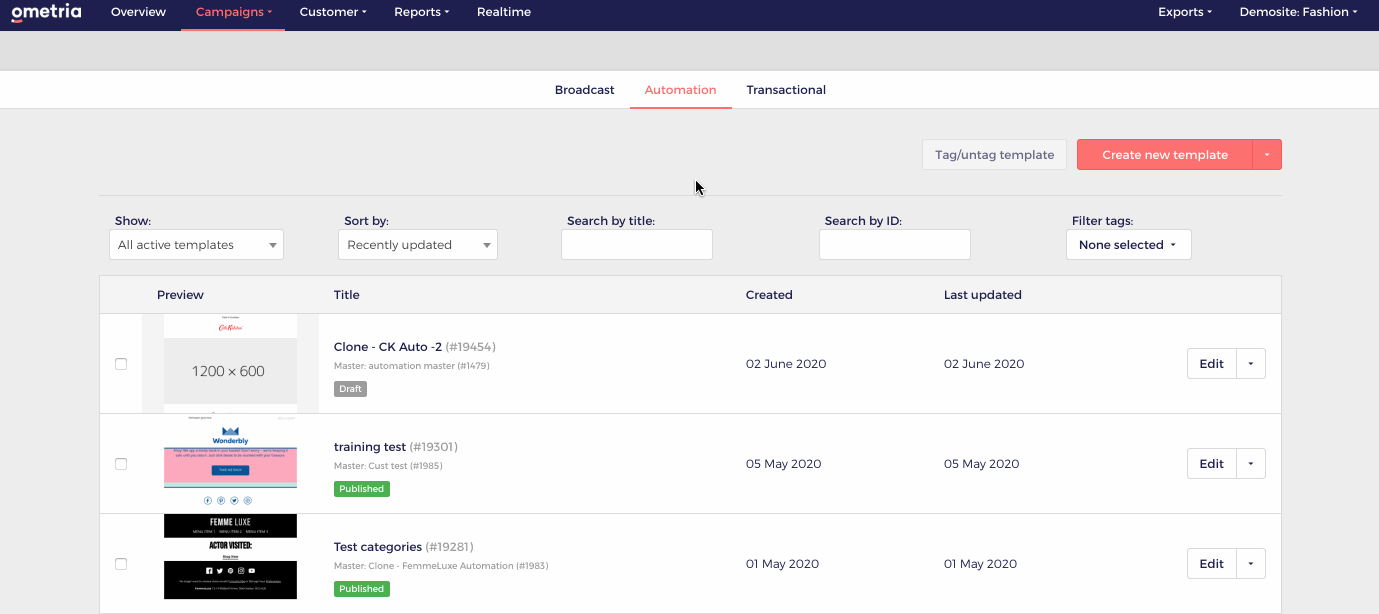 Your existing templates display on this screen in a list which you can sort and filter.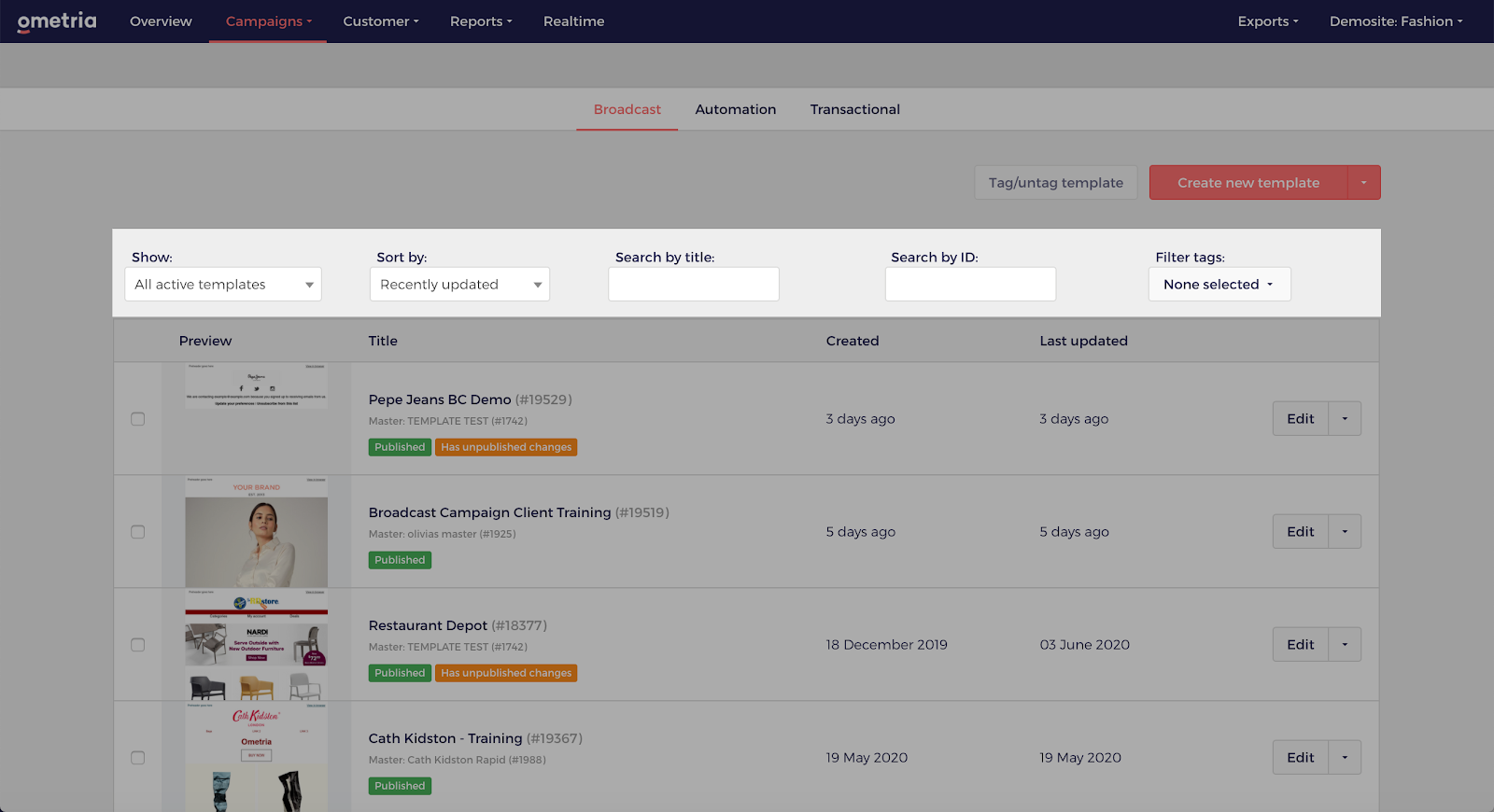 Filter
Description

Show

Select which templates you want to display. Choose from:

All active templates

Archived templates

Published templates

Templates with unpublished changes

Master templates

Archived master templates

Sort by

Select the order in which you want the templates to display. Choose from:

Recently updated

Date created (newest)

Date created (oldest)

Title (A ➝Z)

Title (Z➝A)

Search by title

Enter the title of a template to search for.

Search by ID

Enter the ID of a template to search for.

Filter tags

Filter based on the tags set up for your account, e.g. store.
Select Edit to make changes to a template in the visual editor, or click the dropdown arrow to either Clone or Archive a template.

Archiving templates
When you archive a master template it will no longer be visible in Ometria and cannot be used to create new templates or campaigns.
Archiving a master template will not affect the existing child templates - these will continue working as expected.
We don't recommend editing child templates created from an archived master.
Tagging templates
Tag your templates for quicker filtering.
To tag a template, select the checkbox in the far left column and click Tag/untag template.
You can choose from existing tags or create new ones.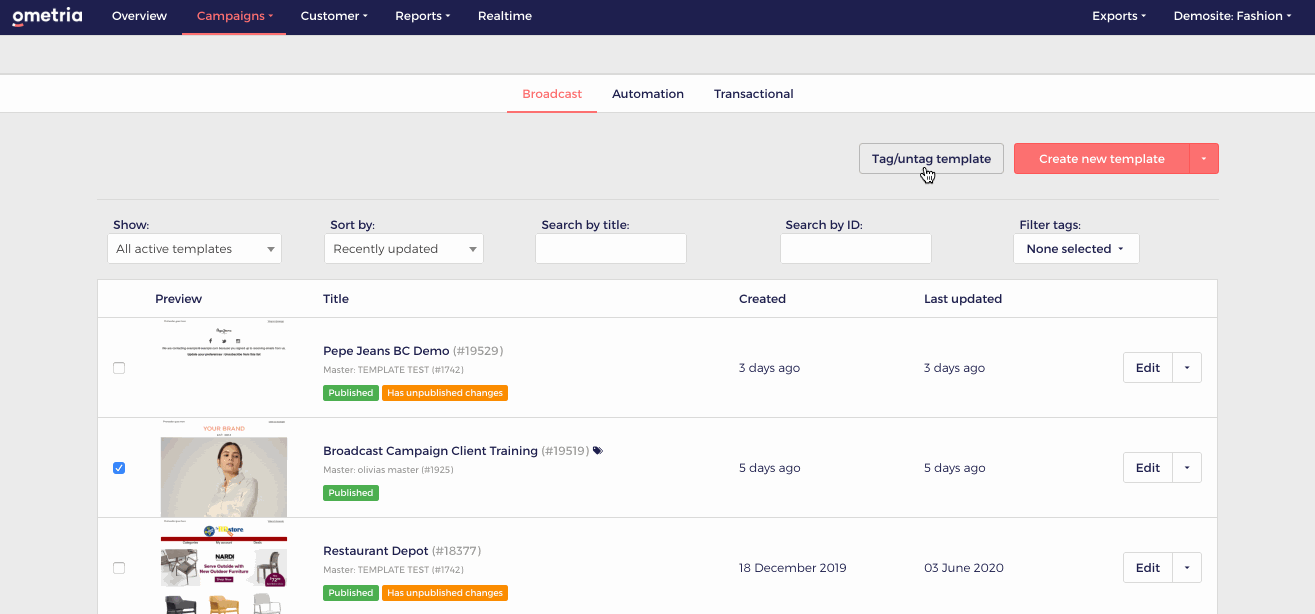 To untag, select the checkbox, click Tag/untag template and uncheck the tags you want to remove.
You can tag and untag multiple templates at once.
Note: If a tag no longer has any templates attached to it, it is automatically deleted.
Template types
Ometria's creative team will create master templates for you during your onboarding (and after onboarding, upon request - speak to your customer success manager).
Template hierarchy:
Template type
Description

Master template

These can only be created in HTML. Master templates contain all of the blocks you need to create standard templates.

There is no limit to how many master templates you can have, but you need at least one for automation campaigns and one for broadcast campaigns.

See: Making changes to a master template

Standard template

These can be created either in the visual editor or in HTML.

If you create a standard template using the visual editor, you can choose any of the editable blocks from the master template.

Template instance

A template instance belongs to a specific automation or broadcast campaign.

For example, if you use a template to create a broadcast campaign and modify the text or images, that will be saved as an instance within the campaign.
You should not rename the blocks in your master templates if you are using the child templates for your campaigns. If you rename a block in a master template, it will be removed from the existing child templates.
Broadcast templates
Broadcast campaign templates are built using blocks and editable regions.
These allow you to add, remove, edit, and reorder content (blocks) inside different areas of the email (editable regions).
This means you can use one template for wide variety of different campaigns without having to hard-code each template prior to sending.
Broadcast templates can be personalised using merge tags.
You can also add template logic to your broadcast templates.
Automation templates
Automation campaigns are triggered by a specific activity (eg. abandoning a basket or subscribing to a newsletter). This means it's not possible to modify your templates prior to each send.
Automation templates will need to be built specifically for each campaign and are personalised using merge tags.
You can also add template logic to your automation templates.
Create or edit a template
Select the correct tab - if you choose Automation, then any template you create will only be available for automation campaigns, and the same applies for broadcast.
Click Create new template and select either From a master template or From HTML: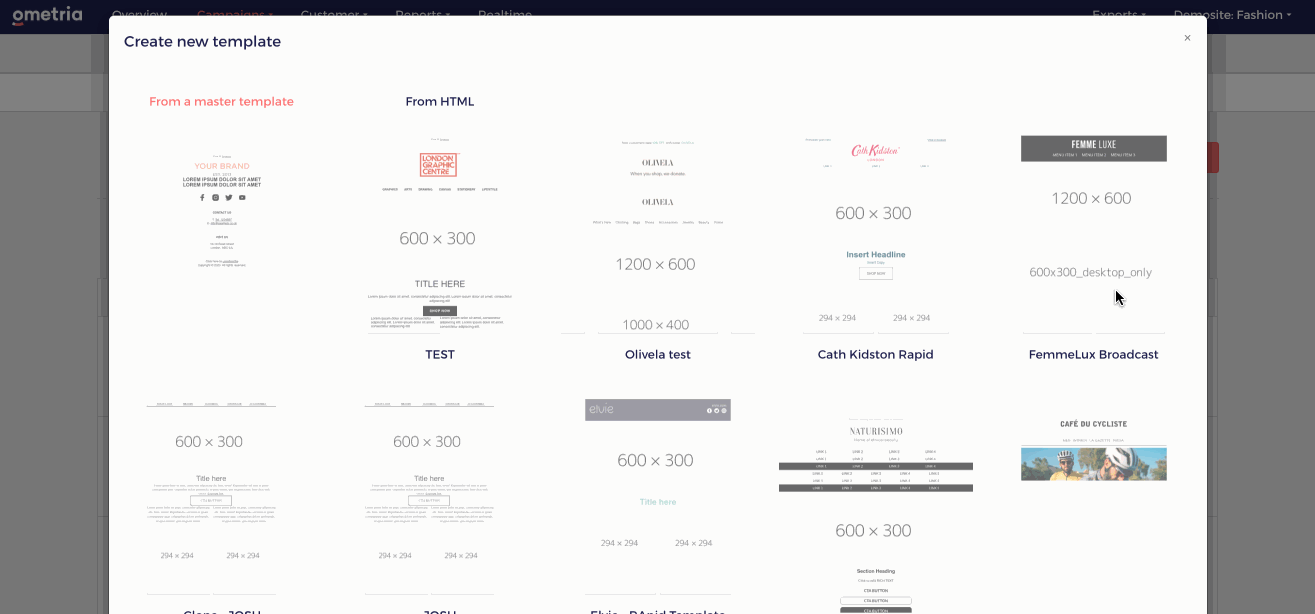 If you select From a master template, choose from your existing master templates. You'll be directed to the visual editor

.

If you select From HTML

, the HTML editor opens.