Dark mode is a display setting for user interfaces such as smartphones or laptops.
When a device is in dark mode, content is presented as light text (white or grey) on dark backgrounds, instead of the default dark text (called "light mode") on light backgrounds.
Dark mode was introduced to reduce exposure to blue light and help prevent eye strain from screen time.
Light mode: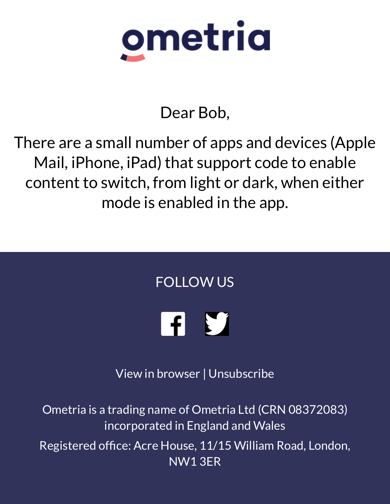 Dark mode: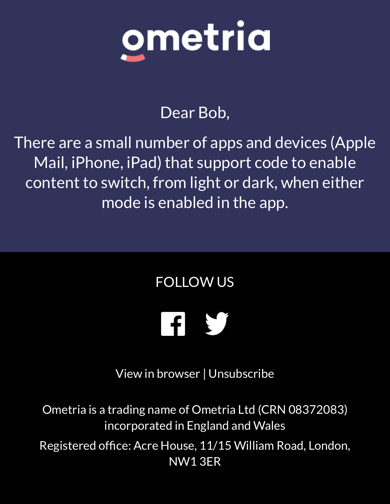 Can I control how my emails display to devices using dark mode?
There are a small number of apps and devices (Apple Mail, iPhone, iPad) that support code to enable content to switch, from light or dark, when either mode is enabled in the app.
All other apps and devices will automatically perform either a full or partial colour invert on the client-side, which cannot be halted or changed by applying code to your templates.
How apps and devices currently handle light/dark mode
App/device
Light/dark mode handling
iOs mail

No changes

Whether the app is in light mode or dark mode your email doesn't change unless code has been added to the template to enable this to happen.

Changes will only be controlled by the code in your templates when light/dark mode is applied.

Apple mail
Gmail Android app

Partially inverted

Apps only automatically detect light backgrounds and dark text.

These are inverted into dark backgrounds and white text.

Dark backgrounds will remain as is.

Changes cannot be halted/affected by applying code to your templates.

Outlook Android app
Outlook iOS app
Outlook 2019 for macOS
Outlook(.com)
Gmail iOS app

Fully inverted

Apps automatically detect both light and dark backgrounds and text.

These are inverted from light into dark and dark into light.

Changes cannot be halted/changed by applying code to your templates

Outlook 2019 for Windows
If you'd like to know more, these email industry articles go into more granular detail: