Ometria allows you to sync your contacts and segments in Ometria with Google Customer Match to use them in Google AdWords ad campaigns, helping you to reach and re-engage the same contacts across multiple channels.
The sync will occur periodically (at least every six hours), but every change will be synced.
This means that all contacts who have entered or exited a segment in Ometria will be added or removed from your Google Customer List.
Which details are synced?
Ometria passes the following contact data fields to Google AdWords via the customer sync:
email address
first name
last name
country code
zip code.
Google only accepts the above fields if they are all defined - if even one field is 'null', Ometria will push only the default field: email address, and no other field.
For example, if a contact's data is stored with the following values in Ometria:
customer.email: jane@fashion.com
customer.firstname: Jane
customer.lastname: Smith
customer.country: UK
customer.zipcode: null
...then Ometria will send only customer.email: jane@fashion.com to Google.
Before you begin
Ensure that you are eligible to use Customer Match according to Google's requirements, and that you have approval for continued usage.
See Google's policy for more information.
You will also need your AdWords Customer ID, which is visible in the top right hand corner of your Google AdWords dashboard. This should be the AdWords account you want to sync your segments to, not the Manager Account ID:

Setup the sync
Go to your account > Settings and select the Connections tab.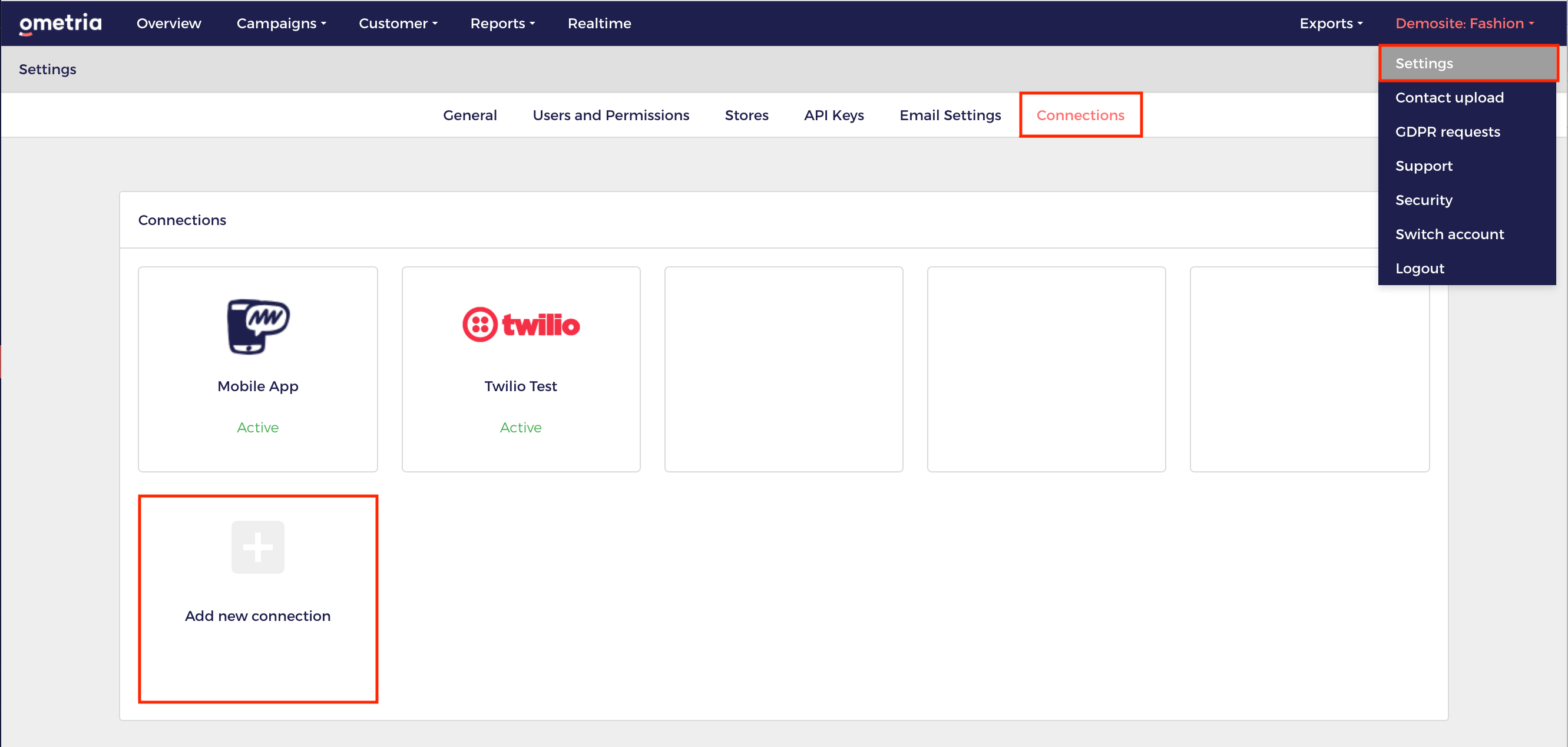 Select Add new connection, and then Google AdWords.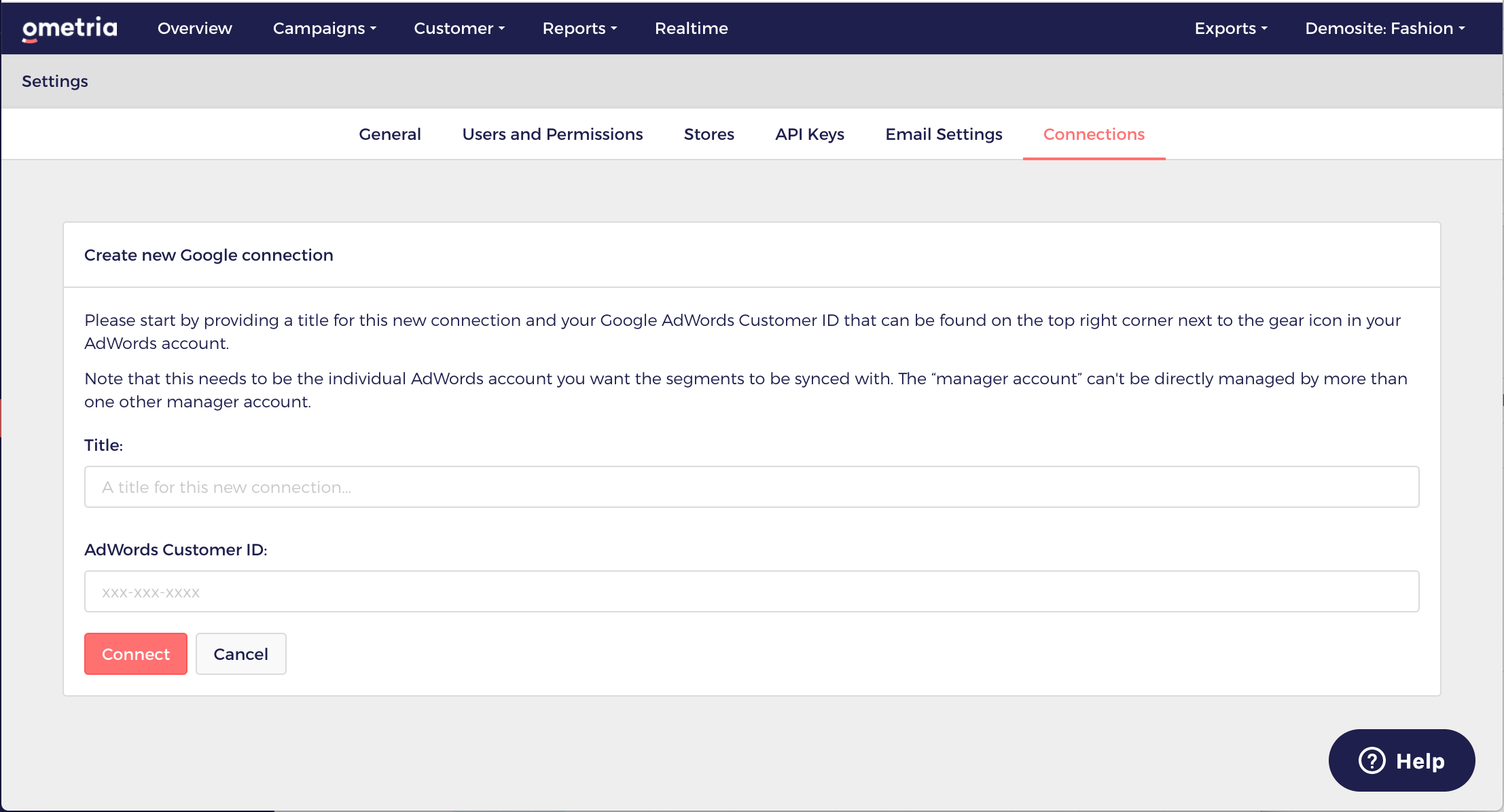 Enter a Title - this can be anything you like, and is only visible within Ometria - then enter your AdWords Customer ID.
Select Connect.
Your connection will be Pending. A request is sent on behalf of Ometria to your Google AdWords account, wish you will need to accept in order for us to be able to push information to your Ometria account.
Note: The only action we can take while your connection is pending is to check the status of the connection - this will tell us if the request has been accepted.
In Google AdWords, go to: Settings (cog icon) > Account Settings > Account Access: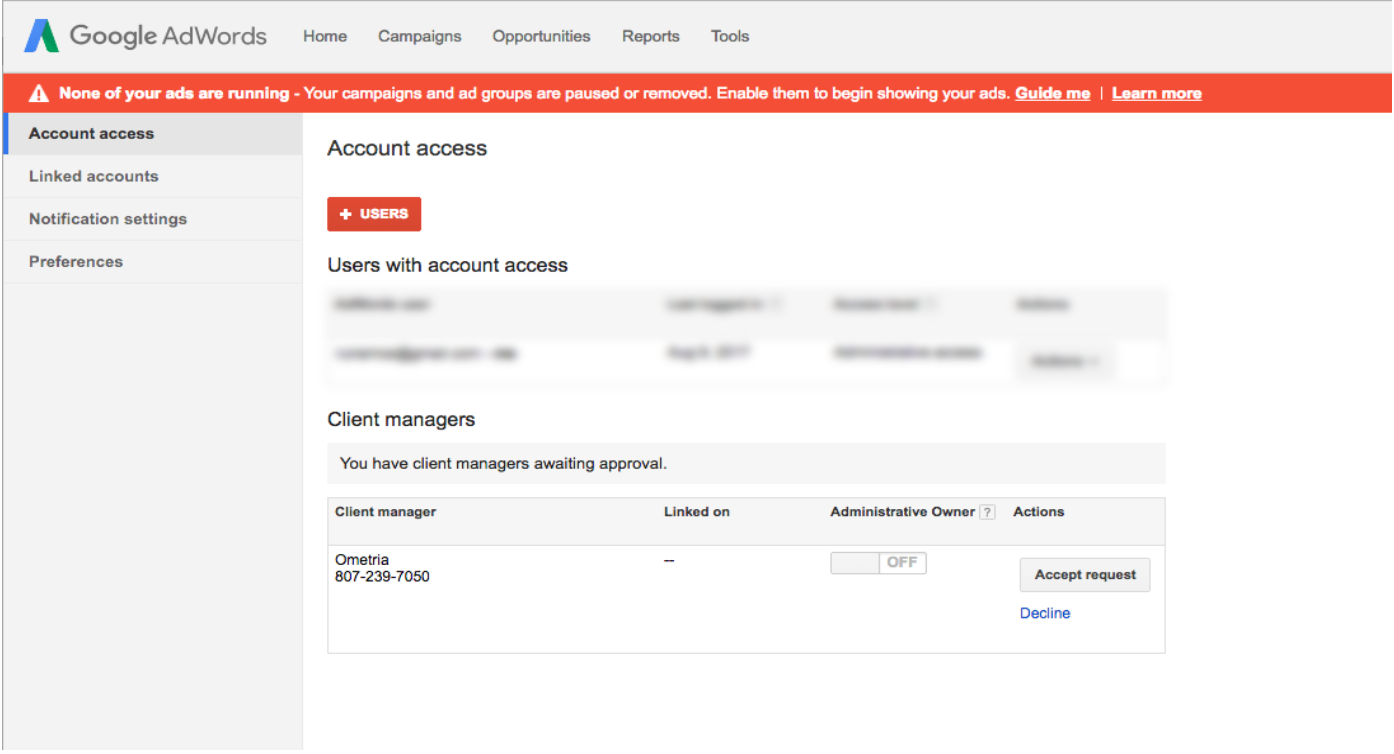 Select Accept request.
Go back to Ometria and click the Check status button to activate the connection.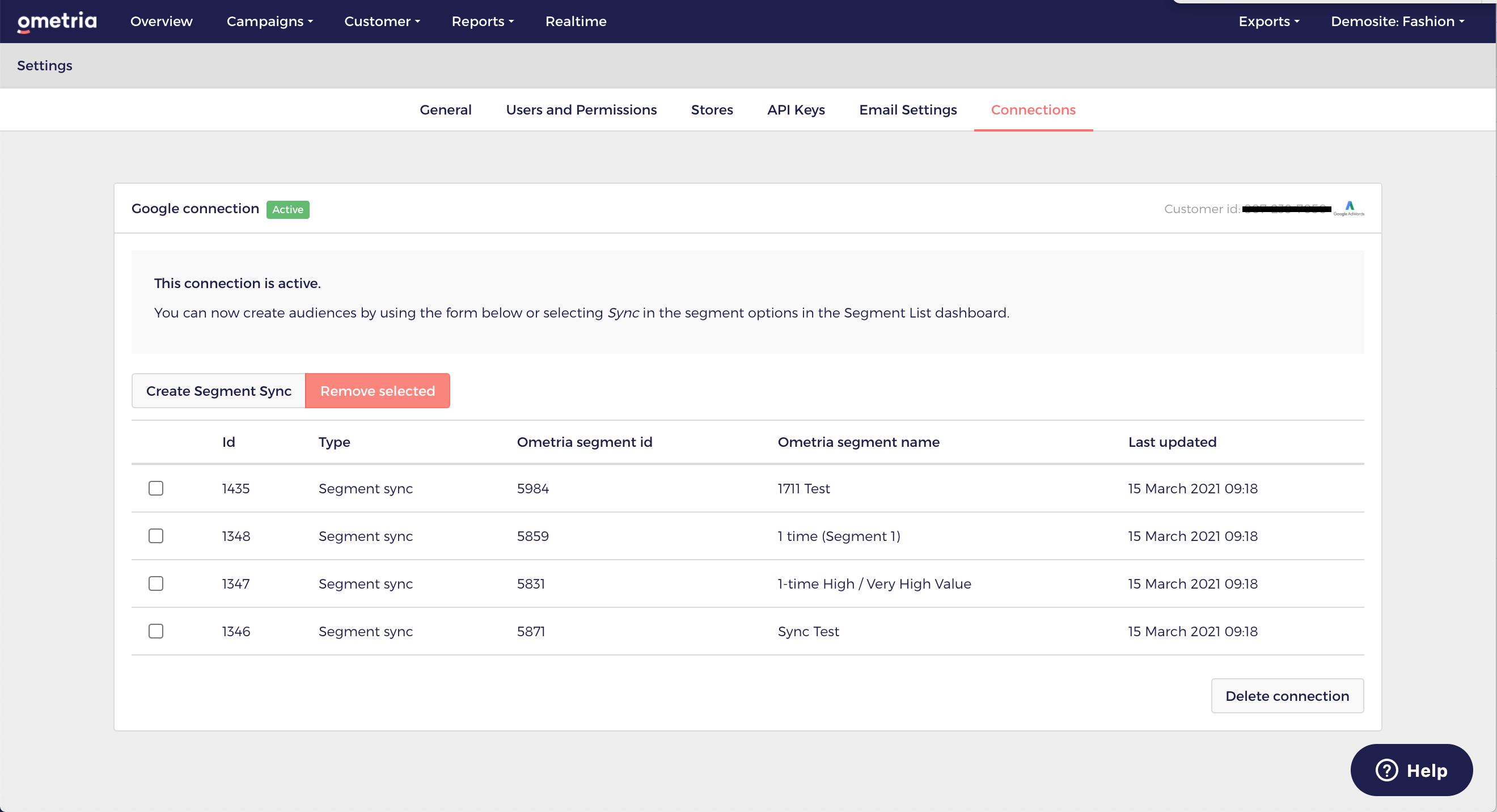 Data from Ometria can now be pushed to Google.
From this screen, you can:
Create Segment Syncs which prompts you to select an Ometria segment),
Remove existing connected segments, or;
Delete the connection.
You can also create segment syncs in the Saved segments dashboard.
Error status
If Ometria's permissions are accidentally removed from the Google AdWords account, the connection might display an Error status in Ometria.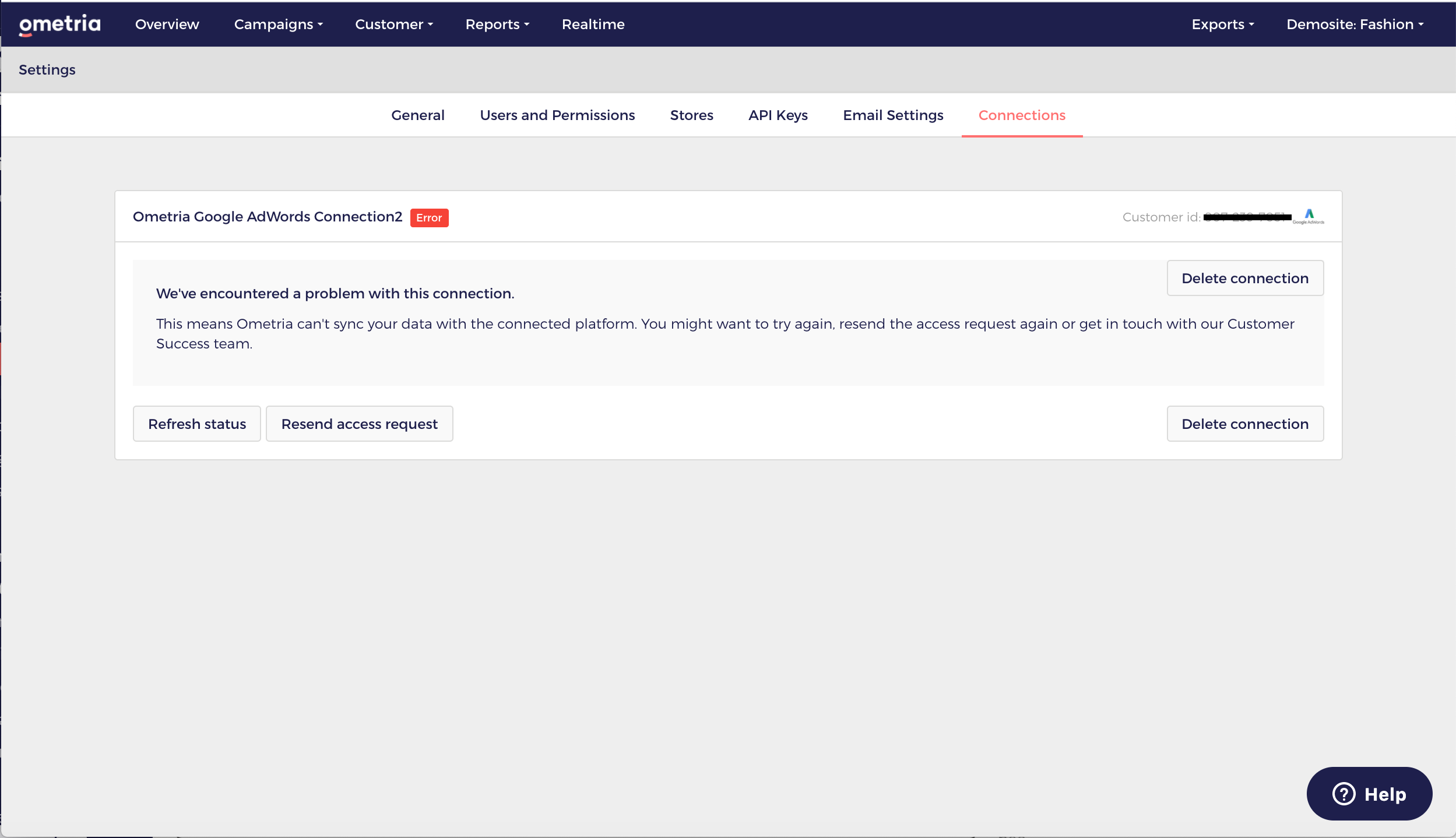 To correct this, you can try:
Refresh status - To update the connection status and see if it changes;
Resend access request - This sends another request to Google. If this succeeds, the connection will move back to the Pending state, and you can go back to your Google Adwords account and Accept request again.
Delete connection to start again.