From the Saved segments screen in Ometria you can view and manage all of your customer segments.
For more information on creating segments, see Segment explorer.
There are two types of segment in Ometria:
Static - Fixed lists which do not update automatically (though they can be updated via automation campaigns or API call), and;
Dynamic - Lists that update over time as contacts are automatically added and removed based on actions and conditions in your campaign flows.
Note: Dynamic segments update every 24 hours, unless they are used in a campaign flow, in which case they update every four hours.
You can also select Refresh to prompt an update.
Navigation
Go to: Customer > Saved Segments: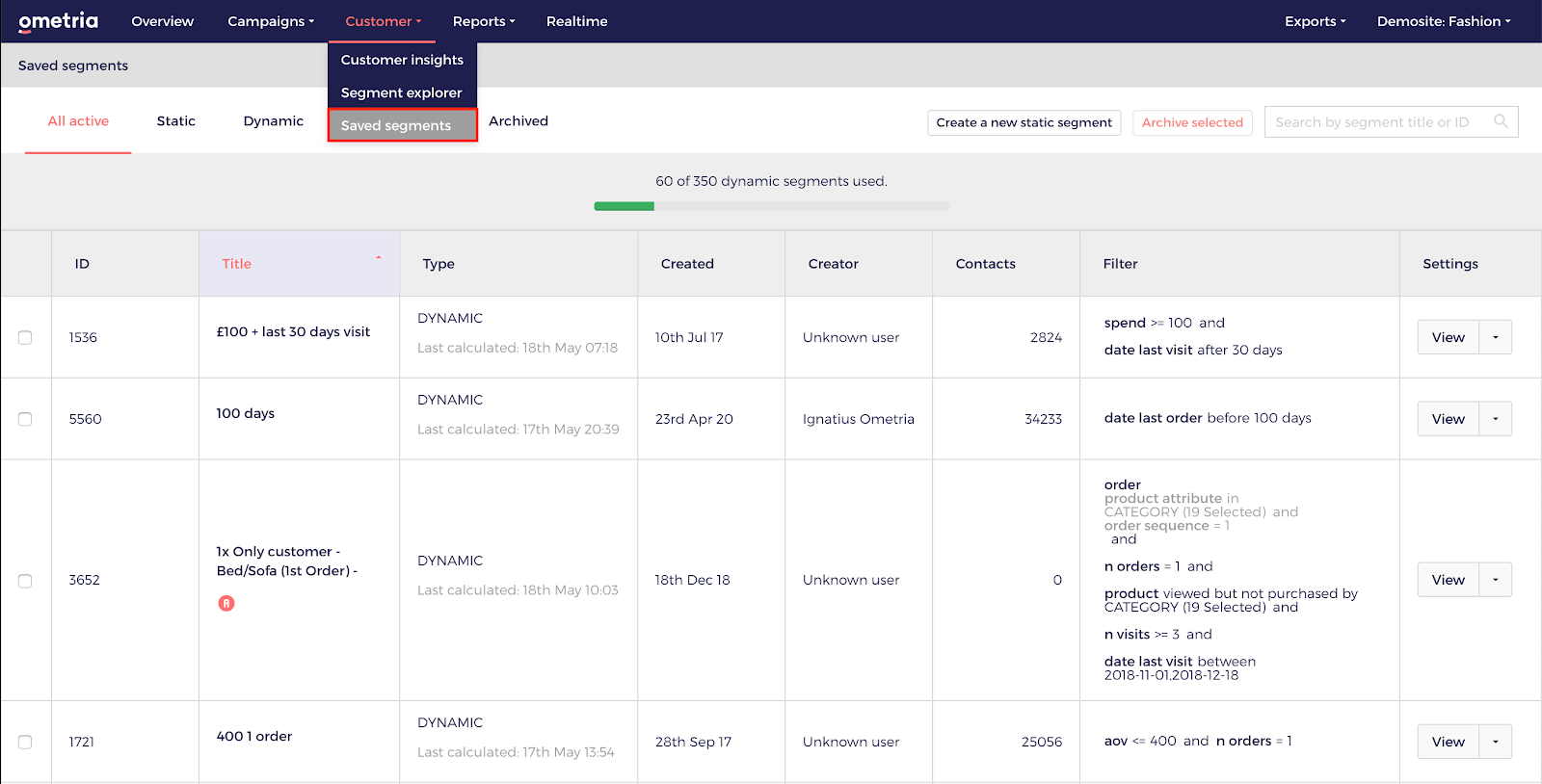 From here you can see all of your saved segments, separated into tabs.

| | |
| --- | --- |
| Tab | Description |
| All active | All your segments, both static and dynamic, that are currently active in Ometria. |
| Static | All of your active static segments. |
| Dynamic | All of your active dynamic segments.There is a limit of 350 active dynamic segments per account. |
| My segments | All of the active segments (static or dynamic) that you (the individual user) have created. This is based on your login credentials. |
| Archived | All of your archived (inactive) segments. |
Search your segments by ID or title using the search bar on the right:

Note: This feature searches only the tab you have selected - e.g. if you are in the Archived tab, the search function will only return archived segments, not active.
You can also see how many dynamic segments you currently have active from the progress bar above the table:

Create a static segment
Quickly create a static segment from this screen by selecting Create a new static segment.
Give your segment a name and a description, then Save.
You can find your new static segment in the following tabs:
All active
Static
My segments
Click View to open the Segment explorer and define your conditions.
Note: Your segment title can't be longer than 64 characters.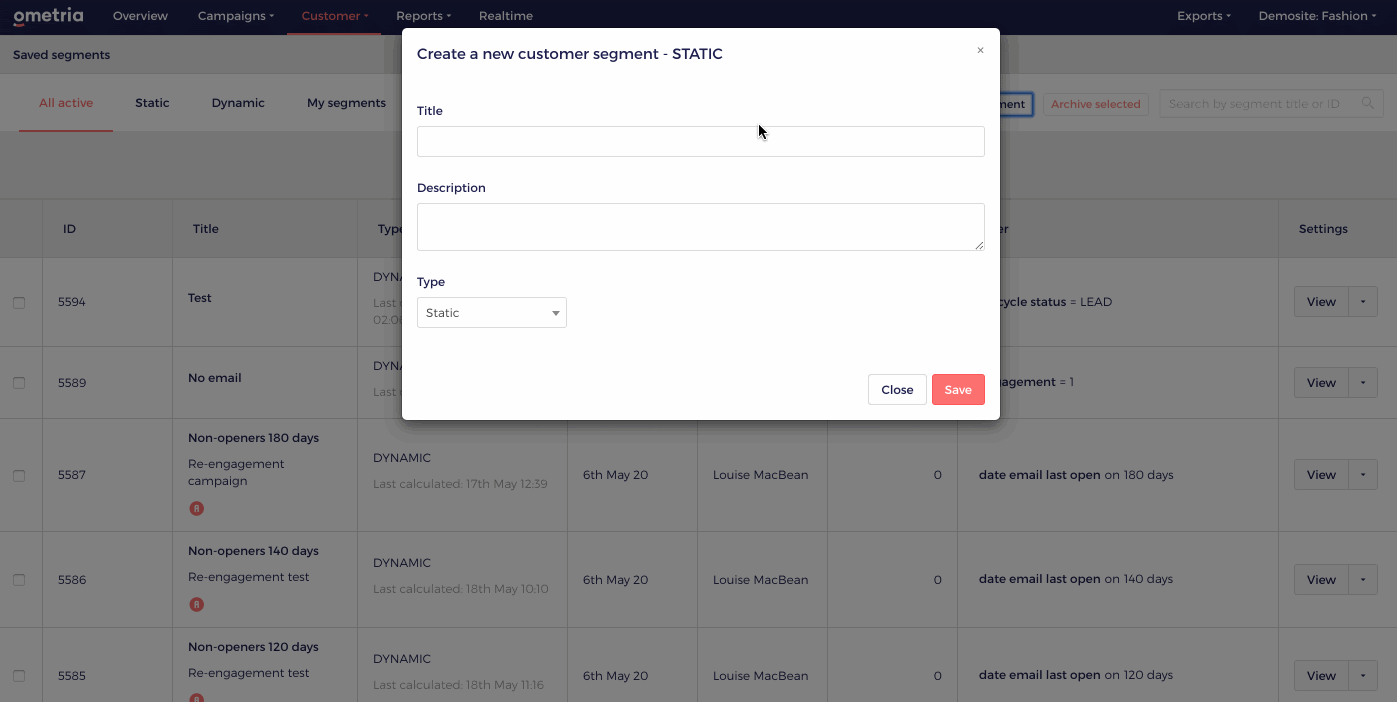 Segment flags
Some of your segments may have icons flagging where they are used or providing more information: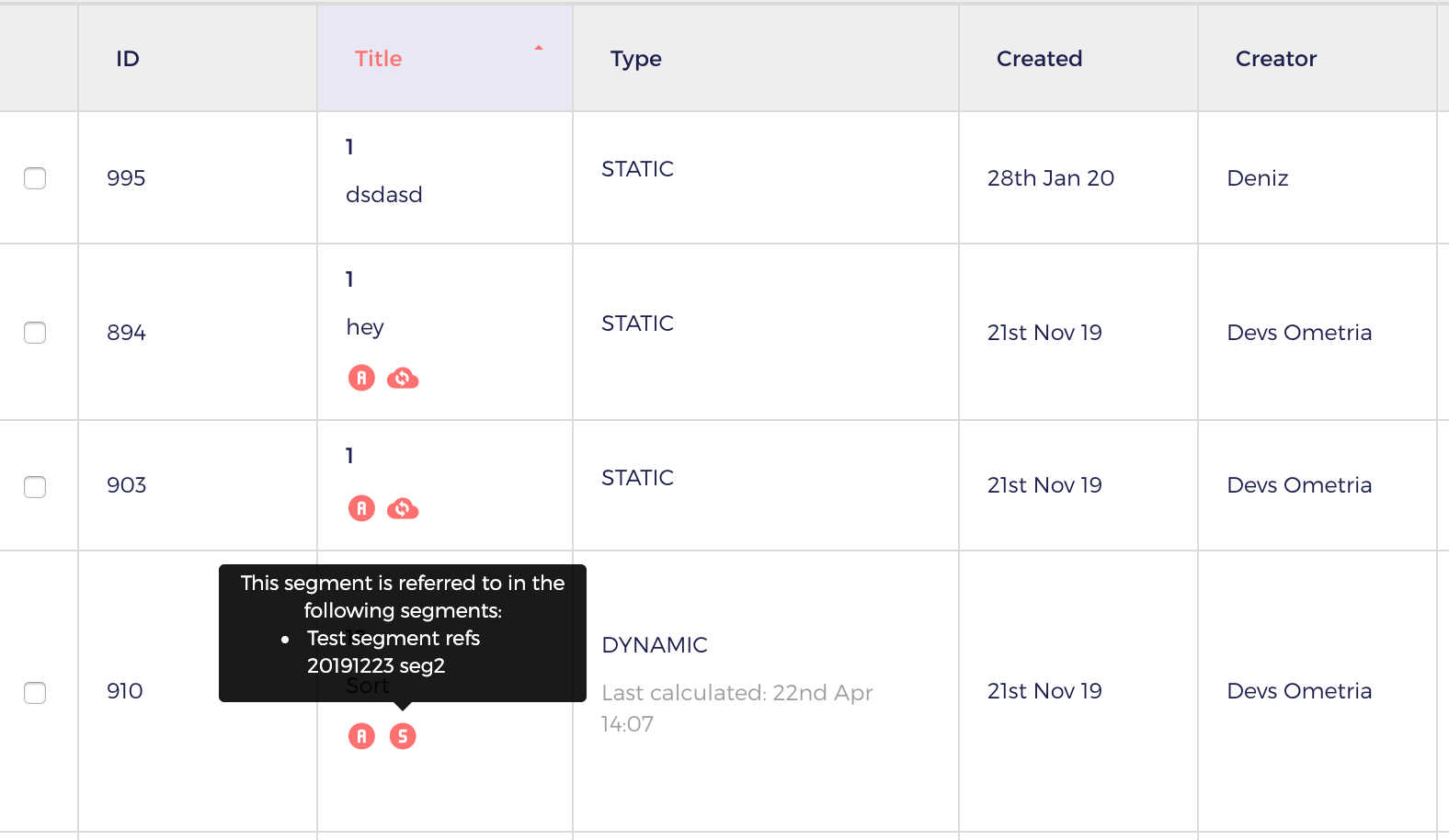 | | |
| --- | --- |
| Icon | Description |
| | Segments with an A are referred to in active automation campaigns. Mouseover to see which campaigns. |
| | Segments with a B are referred to in broadcast campaigns in the past three months. Mouseover to see which campaigns. |
| | Segments with an S are referred to in other segments. Mouseover to see which segments. |
| | Segments with a cloud icon are synced with third party apps. |
Each tab contains a list of segments with the following headings. You can click any of the headings to sort in ascending or descending order: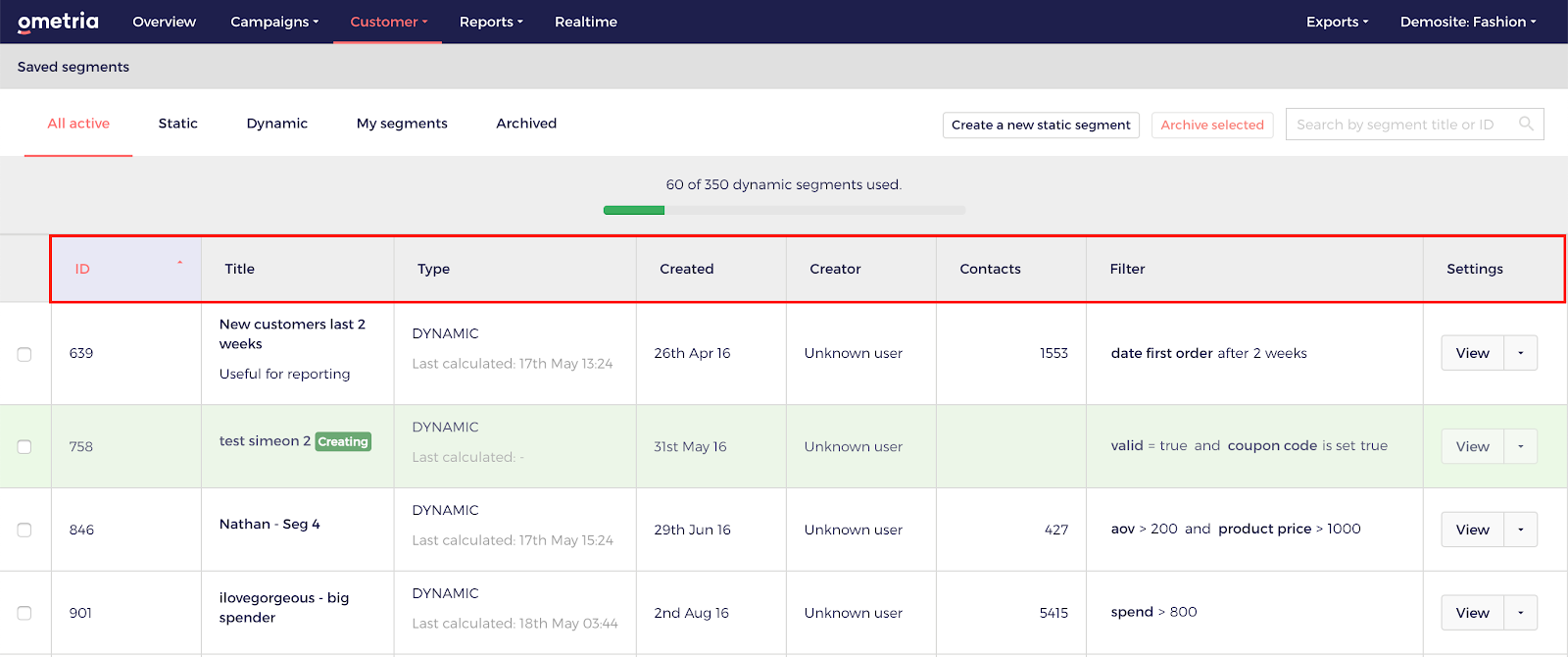 | | |
| --- | --- |
| Table heading | Description |
| ID | The unique ID for each segment.You can also use the search bar to locate a specific segment. |
| Title | The title/name of the segment. |
| Type | Identifies whether the segment is static or dynamic. |
| Created | The date and time the segment was created. |
| Creator | The name of the user that created the segment. |
| Contacts | The number of contacts currently in that segment. |
| Filter | The condition(s) which filter contacts into this segment. |
| Settings | Perform actions such as refresh, split, archive etc.See Segment management. |
Segment management
The following options are available for managing your saved segments:
These options are all available from the Settings column.
See also: Removing contacts from static segments

View segment
To see the details for a segment, click View: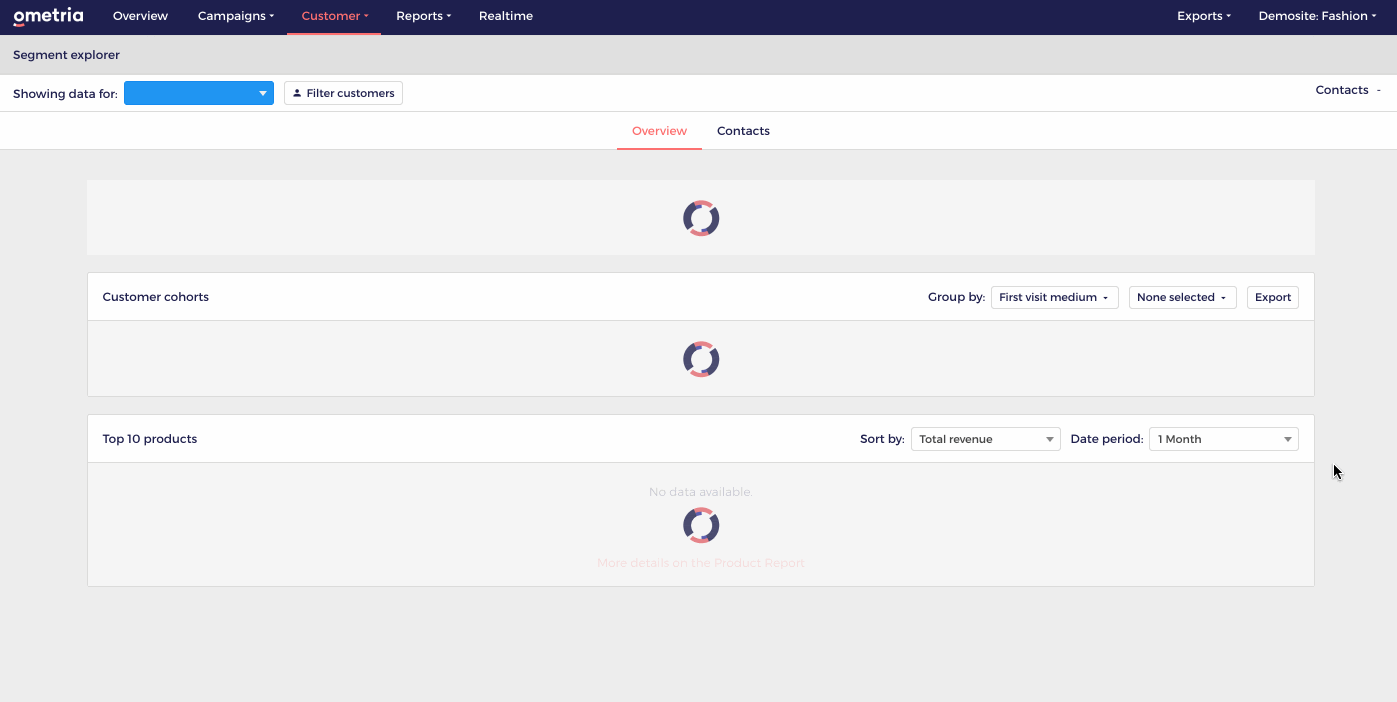 This opens the Segment explorer screen for your selected segment.
Refresh
Note: Static segments cannot be refreshed.
To refresh a dynamic segment, select Refresh from the View drop-down: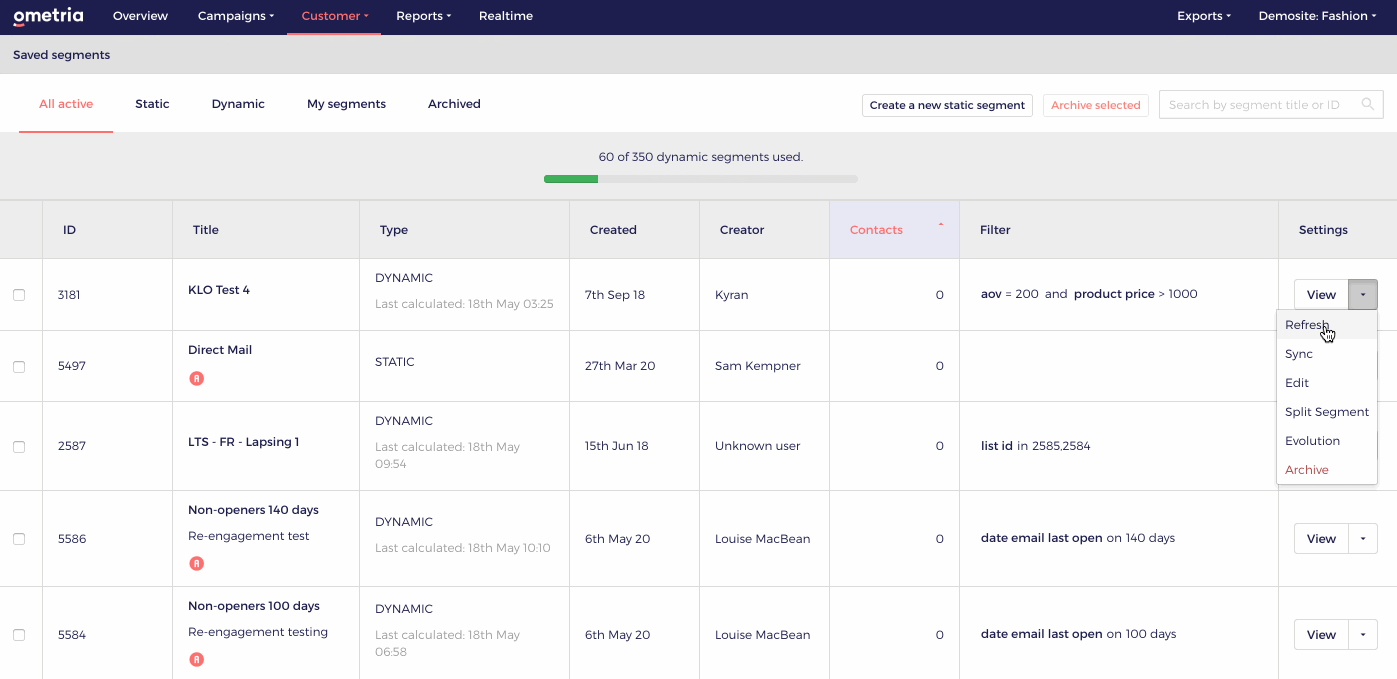 Once once the segment has finished updating the Updating tag will clear, and the Last calculated date (in the Type column) updates:

Dynamic segments refresh automatically every 24 hours (or every four hours if referenced in an automation flow), but you can select Refresh from this screen at any time to prompt an instant update.
Sync
This action synchronises (or 'pushes') contacts from a segment to a third party provider, e.g. Facebook, Google Adwords, etc.
Syncing contacts means you don't have to manually export contact lists in CSV files from Ometria and enter them in a third party portal.
Note: To sync contacts to a third party, you must have that third-party account setup.
To see which third-party accounts you already have setup, go to Accounts > Settings > Connections.
Select Sync from the View drop-down.
The Sync segment pop-up displays. Select Sync against the connection you want to use.
The red OFF icon means that the segment is not currently synced with that connection: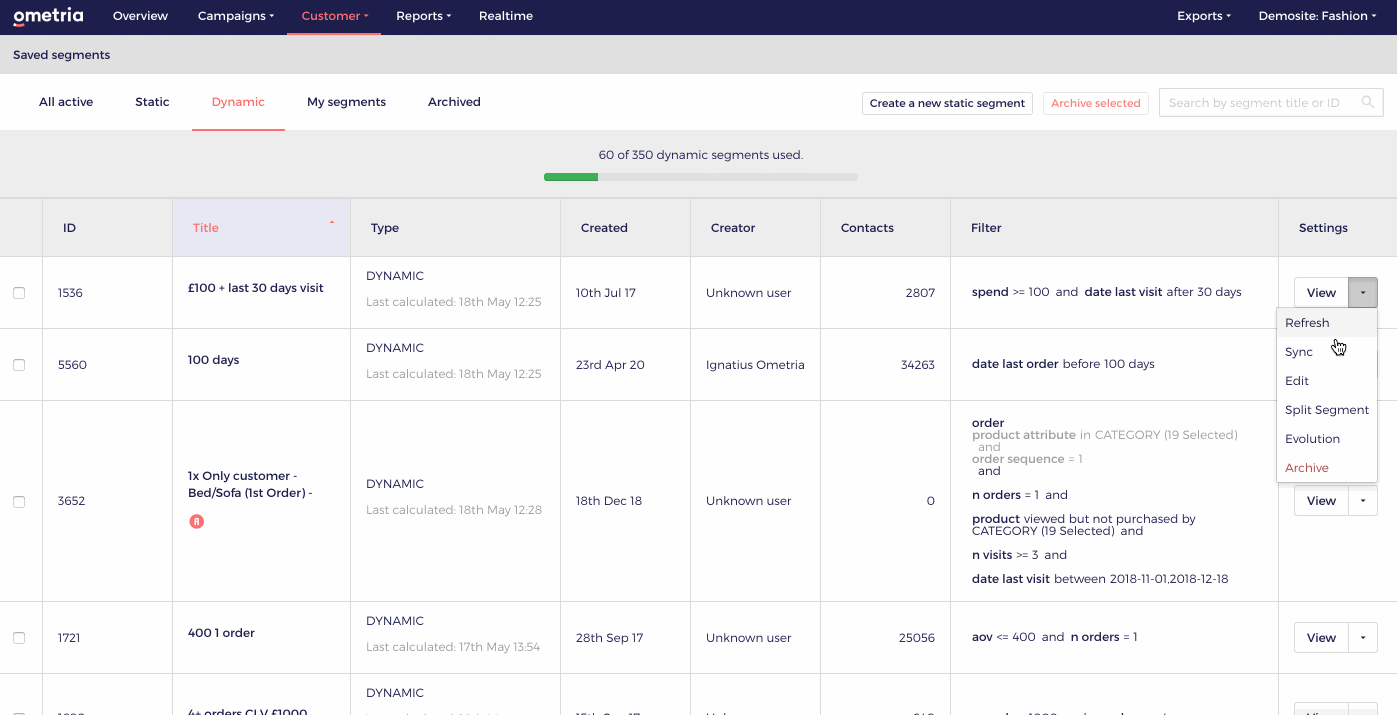 If you want to use your synced segment in an automation campaign (i.e. contacts in the automation flow who meet the conditions are added to a synced segment) you need to create a static segment, not dynamic.
Once you've selected Sync your contacts are dynamically synced whenever they meet the segment conditions, so your third party lists are constantly updated.
Any contacts added to or removed from your Ometria segment (i.e. when the segment updates) are also added to or removed from the corresponding third party list.
Important: From October 2018, Google's Customer Match Policy has changed and could affect your ability to sync data if you use Customer Match for advertising.
See the Google Support page for more information.
Edit segments
Make quick changes to your segments by selecting Edit from the View drop-down list.
This opens the Customer filter.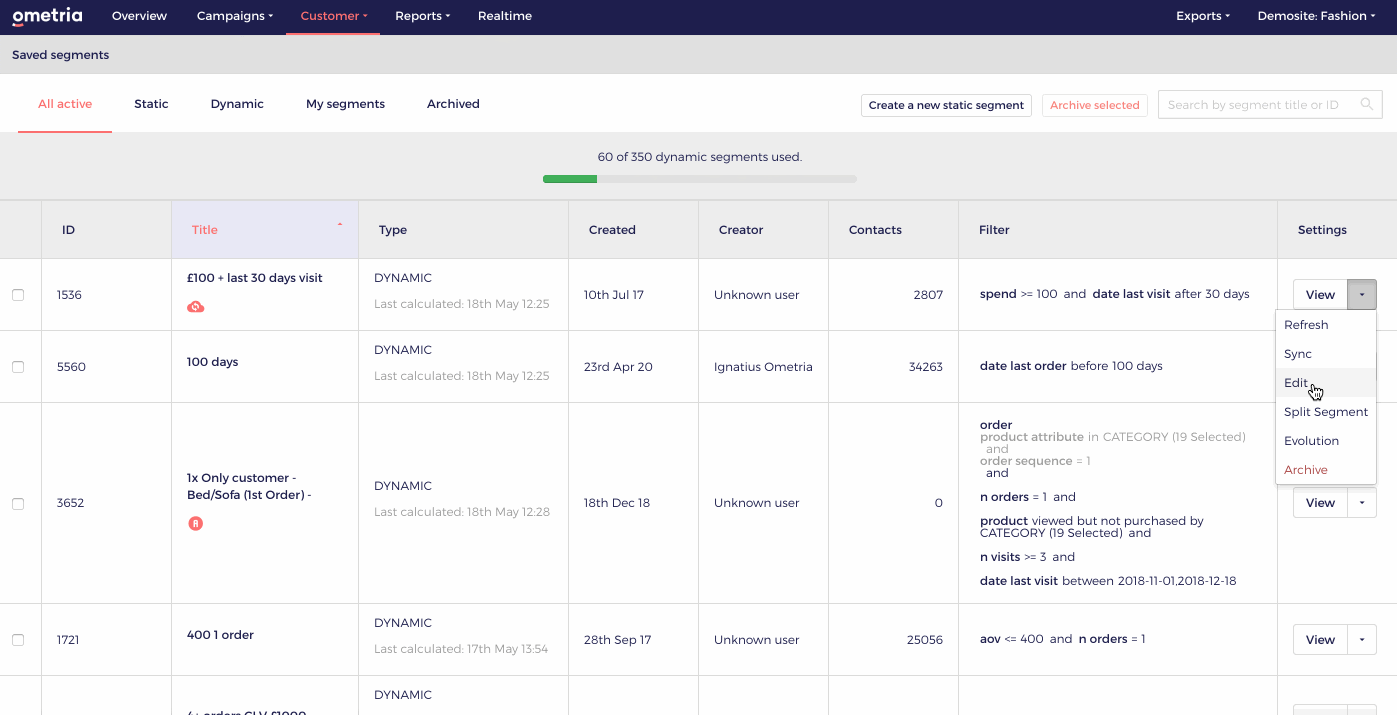 From the Editing pop-up you can:
Edit the segment's filters and/or conditions (see Customer filter for more information).

Add new conditions and filters.

Save as new segment to create a new segment using your updated filters, or;
Save list to save your changes to the existing segment.
You can also select Edit segment to edit the Title and Description for a dynamic segment.
Edit a static segment
The editing options for static segments are limited. You can only change: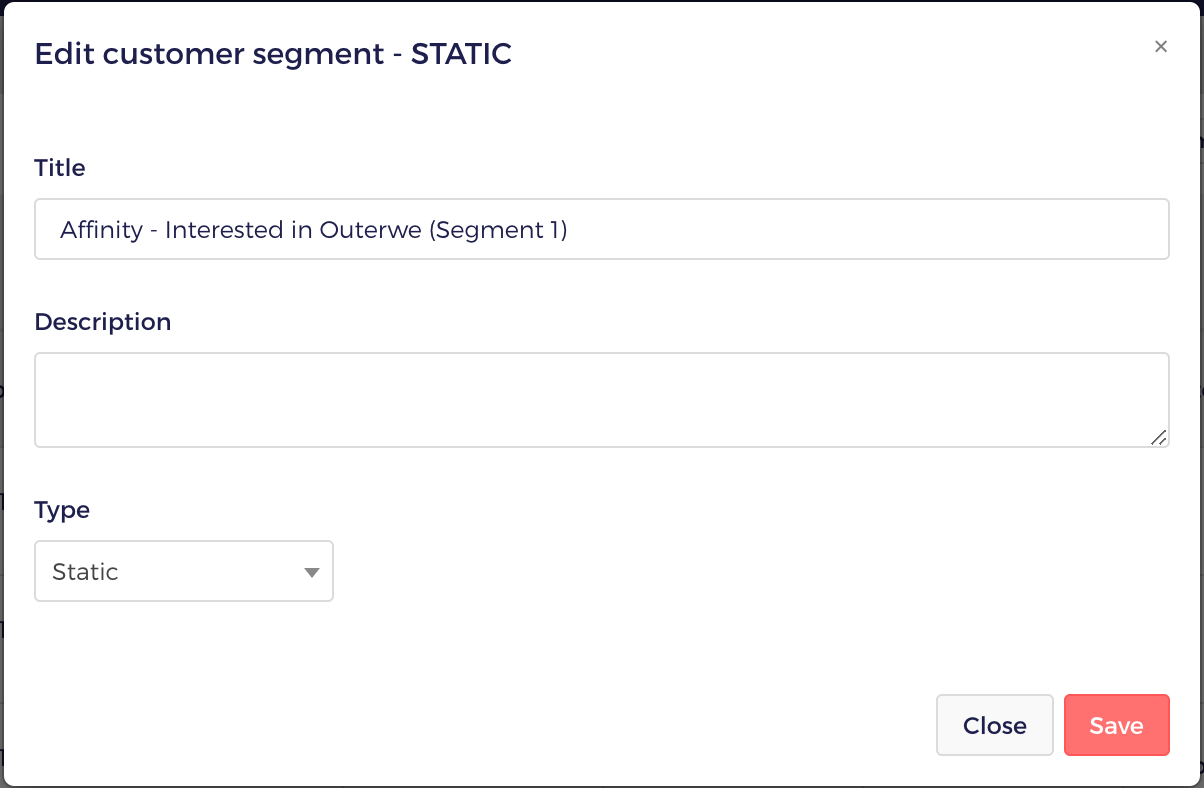 Split segments
You have the option to split the contacts in your segments into sub-segments with the same conditions as the parent segment, for example to create control groups.
The splits are done by percentage (%), e.g. 50% of your contacts in one sub-segment, 50% in another, or by an absolute number, e.g. 800 contacts in one segment, 600 in another.
This can be useful for testing your campaigns.
Select Split Segment from the View drop-down, then choose either Percentage or Absolute number and define your split: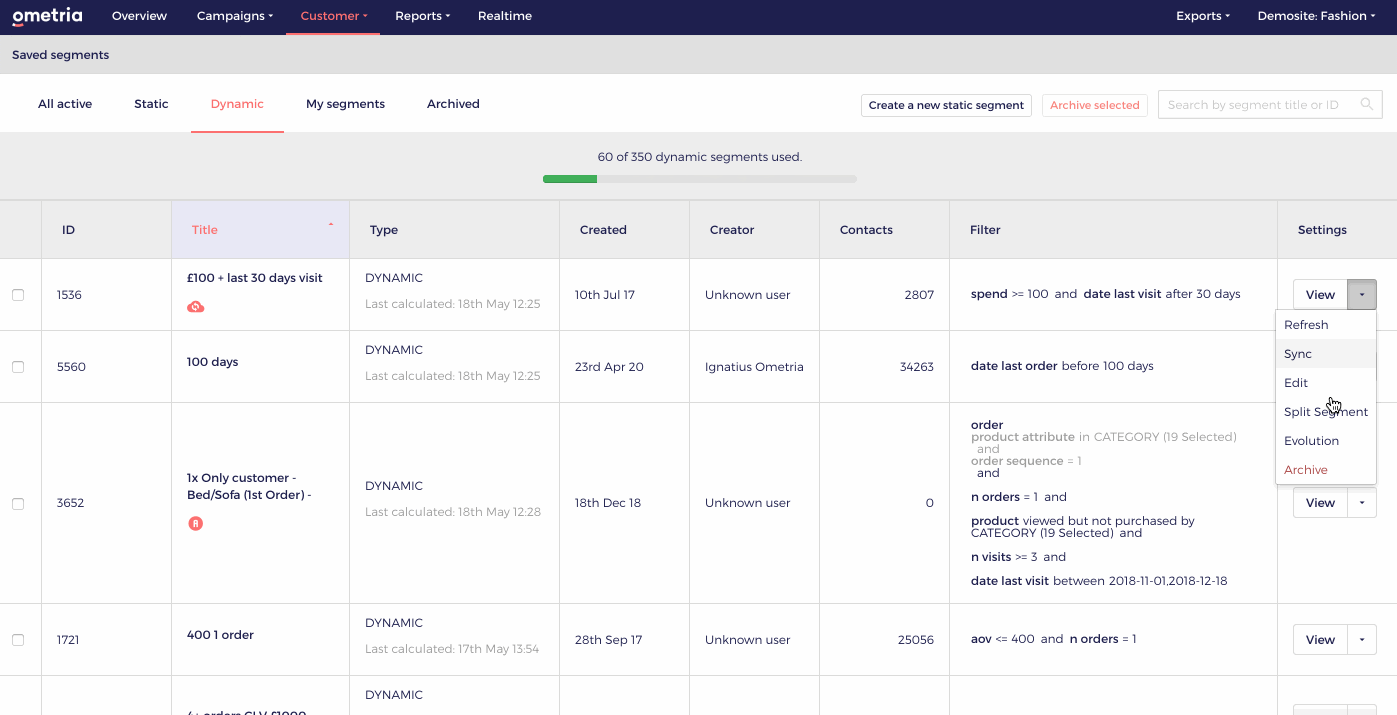 Important: Even if you split a dynamic segment the sub-segment is always static.

Evolution
Select Evolution from the View drop-down list to navigate to the Segment evolution dashboard.
The Segment evolution dashboard demonstrates how a segment's size evolves over time.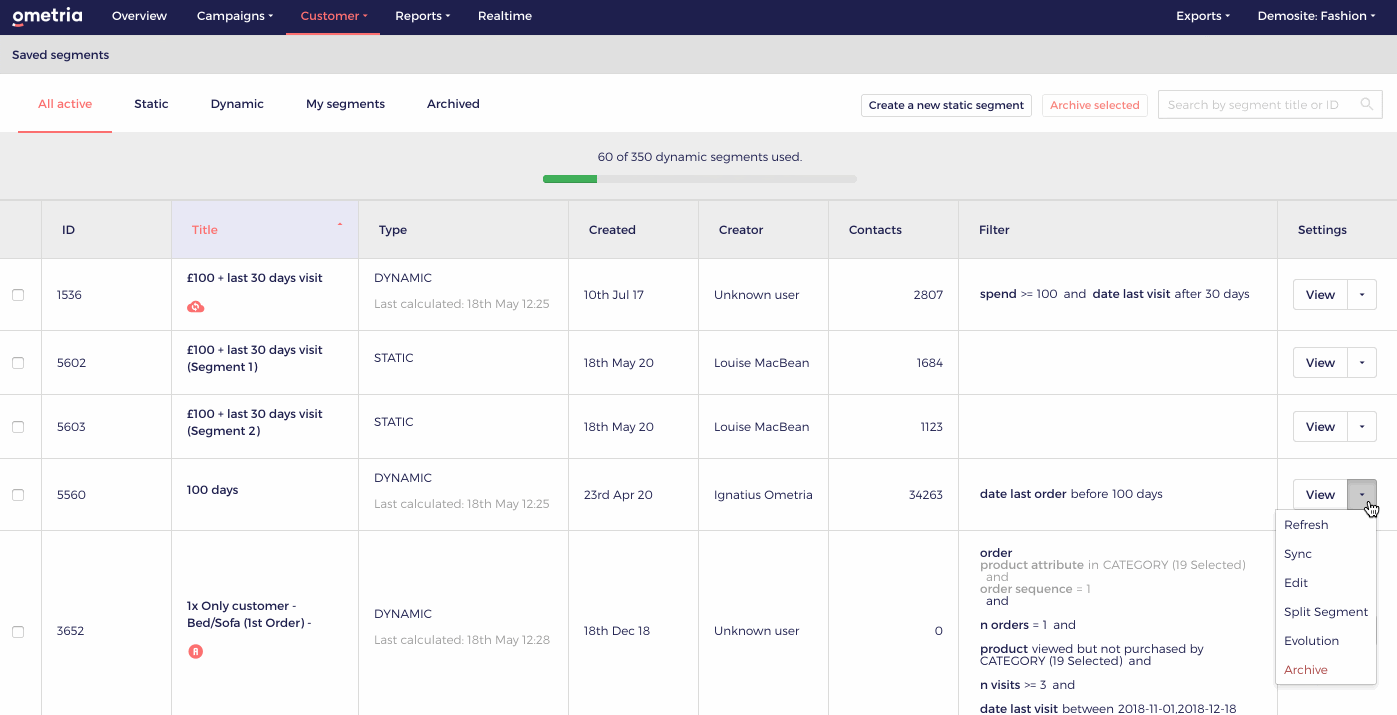 Archive
When you archive a segment in Ometria, you are effectively making it 'inactive' - you are not deleting the segment, and you can 'unarchive' at any time.
You should make sure to remove a segment from all campaigns before archiving it.
We recommend archiving dynamic segments in particular when they are no longer being used in any campaign to ensure the best possible performance.
Archive single segment
To archive a single segment, select Archive from the View drop-down list: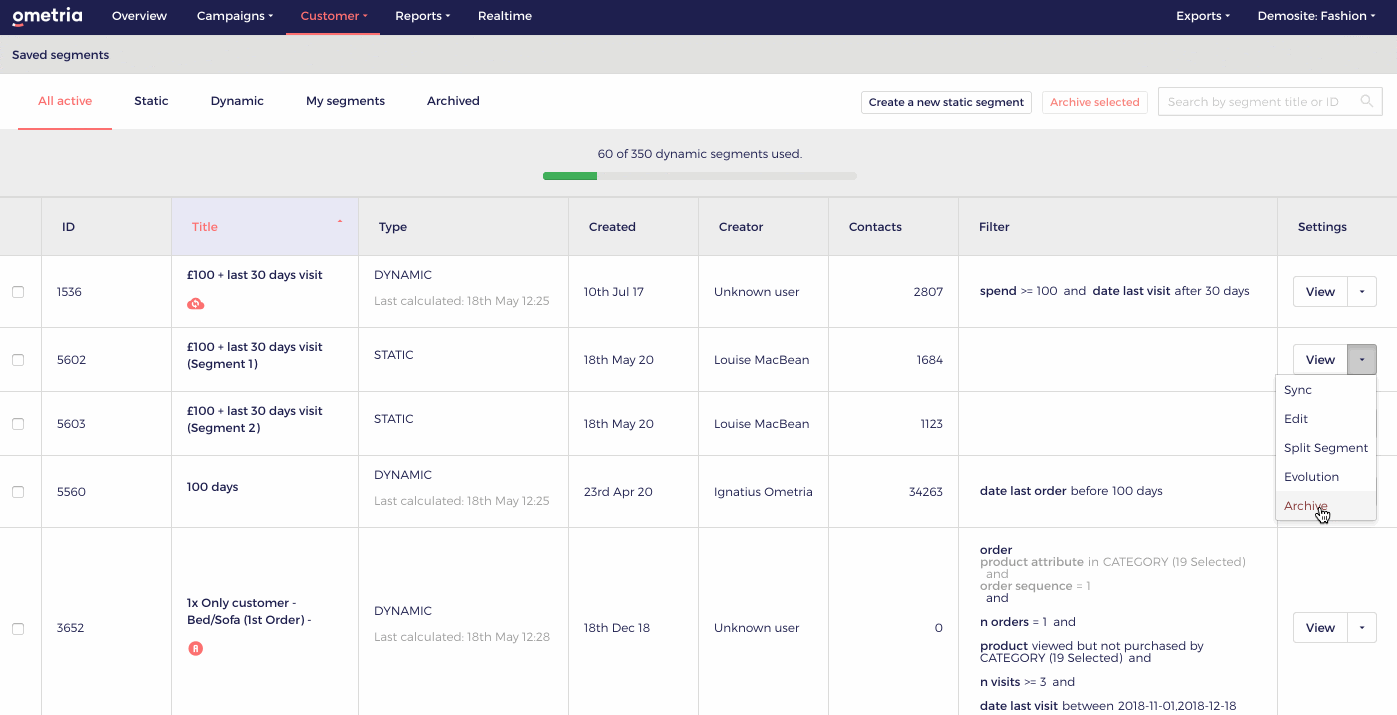 You can find your archived segment in the Archived tab, where you can also choose to Unarchive individual segments.
Bulk archive segments
To bulk archive segments, select the checkboxes in the left-most column and then click Archive selected: