Ometria passes the following fields to Facebook through our sync:
email
first name
last name
country
city
postcode/ zip code
gender
To use your Ometria segments in Facebook ads, you need to sync your segments with Facebook's Custom Audiences feature.
Once it's been set up, the sync occurs roughly every hour, though sometimes it may take longer.
Any contacts that are added or removed from a segment in Ometria will be added or removed from the Facebook Custom Audience as well.
Before you begin
To complete the steps described below, you must be a user who manages the Ad Accounts for your company. You will need to choose one of these accounts to connect with Ometria.
Navigation
Go to: Account > Settings > Connections
If you have an existing Ometria connection with Facebook that was authorised by our customer support team, you only need to renew your token.

If you have no existing connection with Facebook, you will need to set up a new connection.

Renewing your token
If you have an existing Ometria connection with Facebook, all you need to do is renew your token:
1. Review your existing account and select Renew token.
2. Select Authorise with Facebook, and log in, then select an Ad Account from the drop-down menu.
3. Select Update connection.
Setup a new connection
1. Select Add new connection and choose 'Facebook'. The 'Create new Facebook connection' screen displays.
2. Enter a title for your connection and then click Authorise with Facebook. Log into your facebook account.
3. Choose an Ad Account from the dropdown list, which is populated with all of the accounts you manage.
4. Select Connect.
An active Facebook connection looks like this: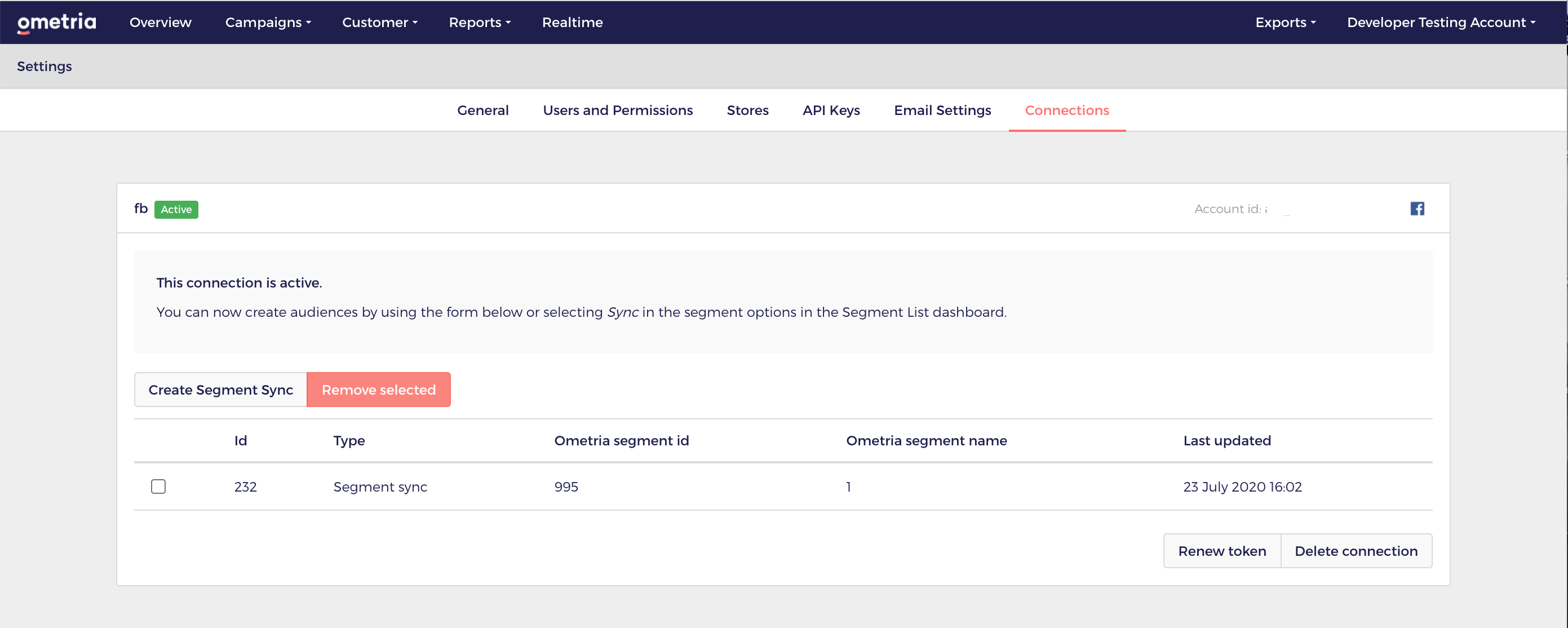 From here you can easily create segment syncs, remove existing connected segments or delete the Facebook connection.
Segment sync
Segment syncs can also be created in the Saved segments dashboard, by clicking the down arrow next to the View button, choosing Sync and then enabling them on the following modal: