From the General tab in the Settings screen, you can change your timezone, the default URL of your store and the currency formatting for your email campaigns: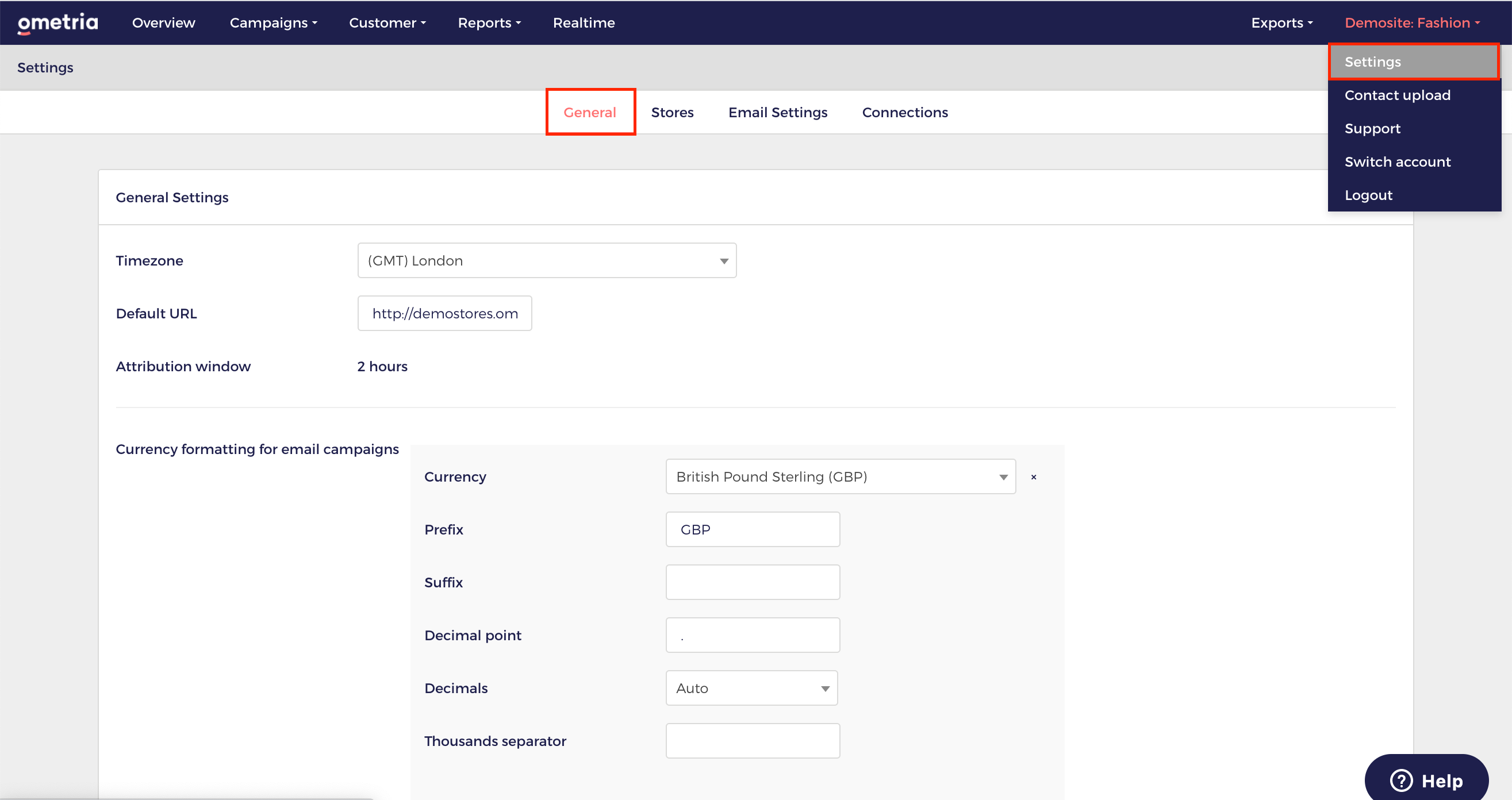 Navigation
Go to: Your account > Settings
Note: The Settings option only displays for users with administrator access.
Settings
Field

Description

Timezone

Select your timezone from the drop-down menu, e.g. (GMT) London.

This sets the timezone for all reports in Ometria, as well as your scheduled sends for email and SMS.

Default URL

Enter the default URL address for your online store.

Attribution window

This is your time window of attributing orders to Ometria campaigns.

If a contact clicks through a campaign email and places an order within the two hour time window, Ometria assigns the order to the campaign.

See Order attribution for more information.
Currency formatting for email campaigns
These fields are for customising the way currency displays in your email campaigns.
The formatting you define here will not affect the reports in Ometria.
Field

Description

Currency

Select a currency from the drop-down list, e.g. British Pound Sterling (GBP).

Prefix

Enter a prefix (if required), e.g. £, $, €, etc.

Suffix

Enter a suffix (if required), e.g. GBP, EUR, etc.

Decimal point

Enter the decimal point you prefer, e.g. . ,

Decimals

Determines how decimal places display in your email campaigns. Select from:

Auto - If the value is round, Ometria will use 0 decimals (e.g. £5), otherwise two decimal places (e.g. £5.99)
0 decimal places
2 decimal places

Thousands separator

Enter a separator for amounts over 1000 (if required), e.g. 1,000.
Select Save to preserve your changes.