It's best practice to maintain a delivery rate of >98% and best in class senders should aim for a delivery rate of >99%.
This guide shows you how to troubleshoot a high bounce rate.
Identify the bounce type
In the campaign performance screen for broadcast add the Email hard bounces and Email soft bounces columns to the Campaign List if you do not currently have them selected.
You can now see if the bounces are mostly hard bounces:

Or if they are mostly soft bounces:

Hard bounce issues
Hard bounces are emails that bounce and the recipient is identified as invalid. High numbers of hard bounces indicate either:
an issue with data collection at point of sign up, or;
an issue with segmentation such as mailing old or less engaged contacts.
If the issue is with data collection at sign up, there are several ways to improve the data quality. Here are the most common:
Create a welcome campaign if you do not currently have one. Hard bounces will be suppressed after the first bounce and so not end up in your segments for broadcast sends.
Use an email validation service to validate emails at the point of sign up.
Install domain verification at the point of sign up - this will help cut down on the number of addresses with bad domains but can't prevent addresses with mistakes before the " from being subscribed.
Use double-opt in confirmation.
If the issue is with segmentation and sending to old or less engaged contacts consider:
Sending only to contacts who have opened or clicked on an email in the last 180 days.

Implementing a re-engagement strategy and suppressing contacts that do not re-engage.
Soft bounce issues
Soft bounces are emails that have been temporarily rejected and bounce for various reasons, this can include:
Mailbox full

DNS failure

Auto-reply
You can investigate whether the bounces are coming from multiple mailbox providers or a single mailbox provider using the Deliverability report and filtering by Broadcast campaigns: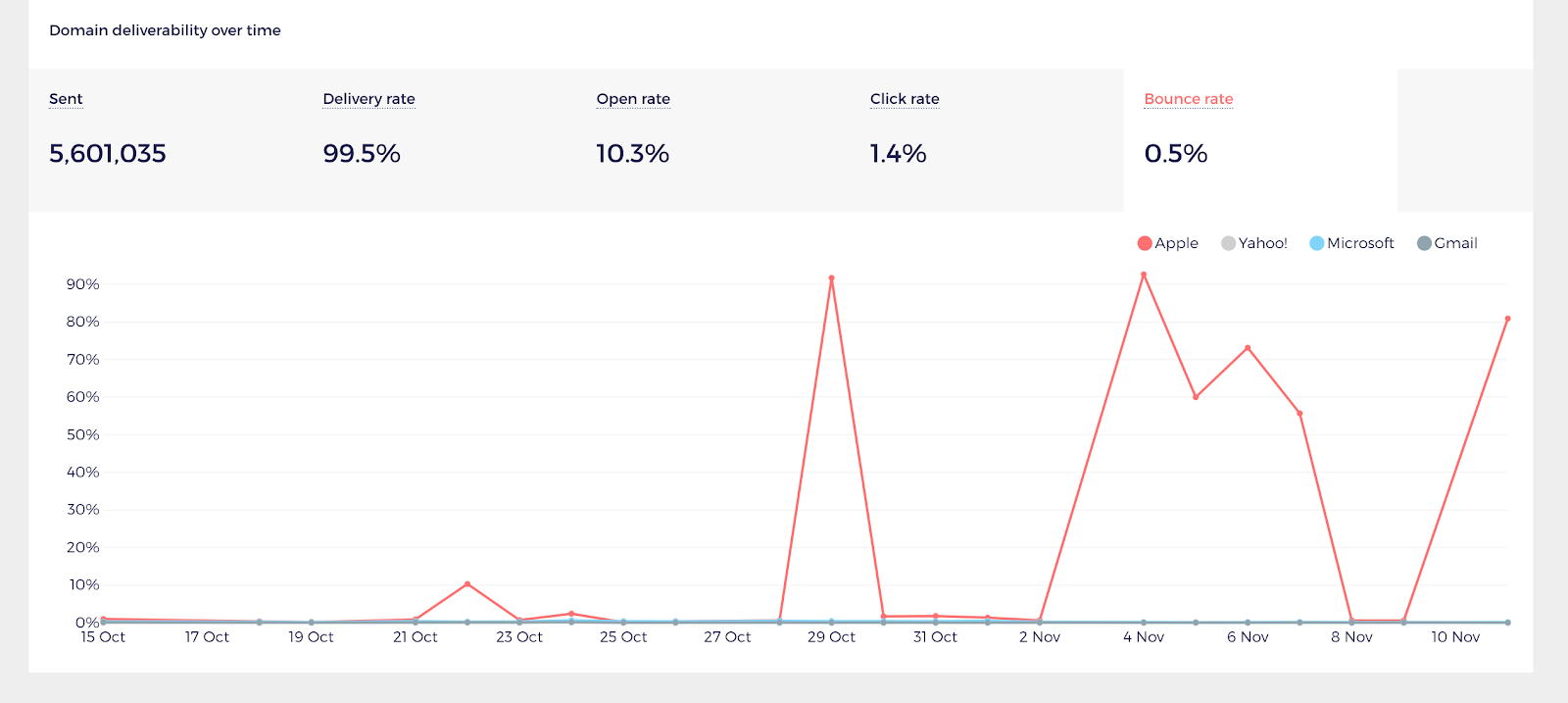 If a contact's emails soft bounce frequently, they might not be a 'good' contact any more.
Because of this, Ometria adds contacts to your suppression list after they return three soft bounces within two months.
See also: Bounce management in Ometria
If you experience a sudden increase in soft bounces or frequently high soft bounces, you should raise a request to the Deliverability Team for help.