The Variants tab is the fourth screen you see when monitoring the performance of an individual broadcast campaign:
This tab contains the Variants report for the selected broadcast campaign, allowing you to analyse the performance of your variants.
Each variant represents a customised campaign (including split tests).
You can also preview the campaign template from this tab: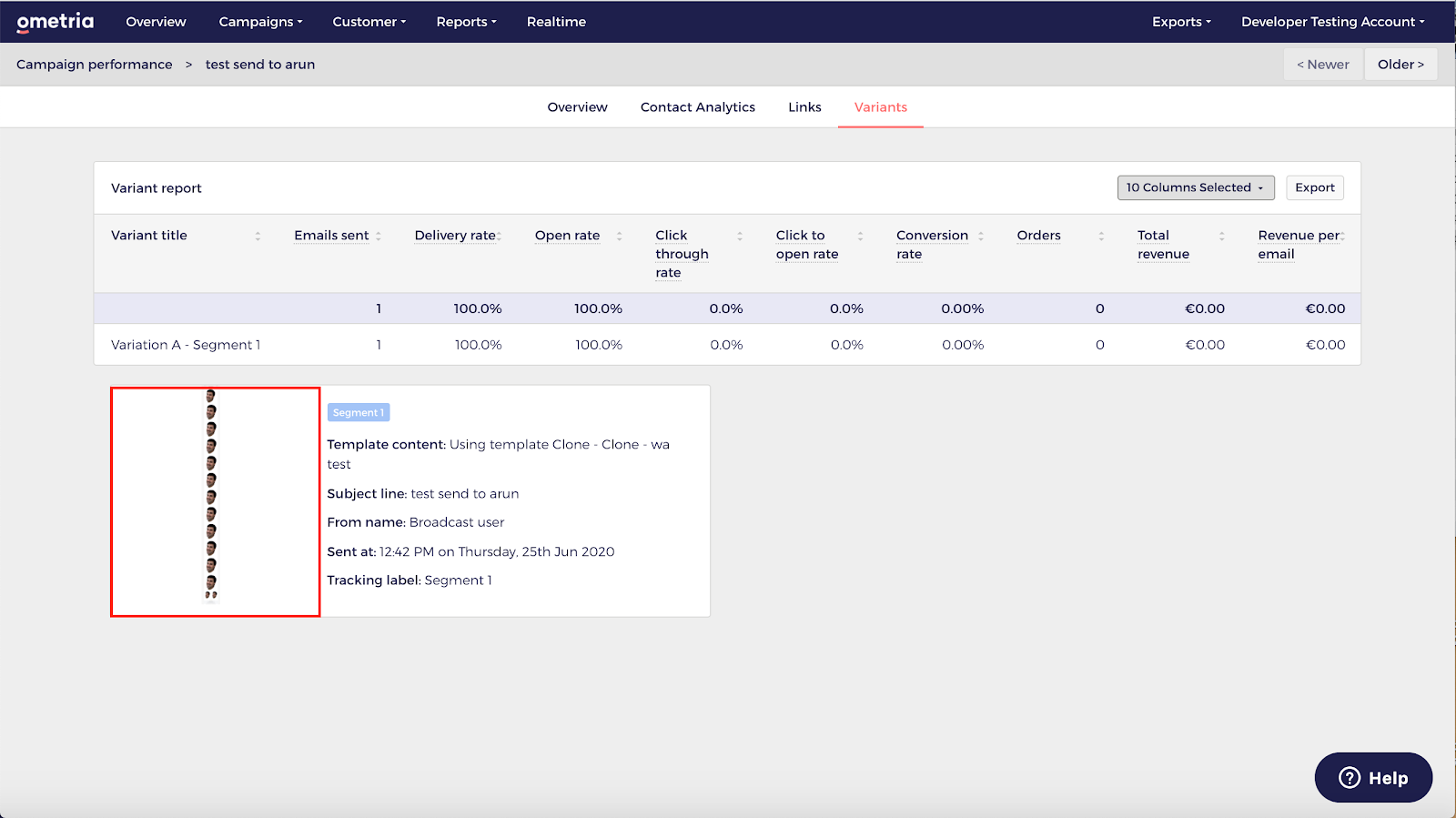 Select the KPIs you wish to report on from the Columns dropdown in the top-right of this tab.
| | |
| --- | --- |
| KPI | Description |
| Variant ID | The variant's ID number at campaign level. |
| Variant title | The name of the variant as defined in the broadcast campaign builder. |
| Variant letter | The letter (e.g. A, B, C) used to identify this variant. |
| Contacts targeted | The number of contacts that met the entry conditions for this variant. |
| Emails sent | The number of emails sent to this variant. |
| Emails delayed | The number of emails in this variant that were delayed. |
| Emails delivered | The number of sent emails that were delivered (i.e. that reached the recipient's inbox). |
| Email opens | The number of unique opens in this variant. A unique open means that an individual contact opened the email at least once. If the same contact opens the same email more than once, this counts as one unique open. |
| Email clicks | The number of unique clicks in this variant of the campaign. |
| Email bounces | The number of emails in this variant that bounced. |
| Email hard bounces | The number of emails in this variant that have hard bounced. |
| Email soft bounces | The number of emails in this variant that have soft bounced. |
| Number of unsubscribes | The number of contacts in this variant who unsubscribed after receiving the email. |
| Delivery rate | The percentage of emails in this variant that were delivered (i.e. that reached the recipient's inbox). |
| Open rate | The percentage of delivered emails in this variant that have been opened at least once. |
| Click through rate | The percentage of delivered emails in this variant that have been clicked at least once. |
| Click to open rate | The percentage of opened emails in this variant that have been clicked at least once. |
| Order to click rate | The percentage of clicked emails in this variant that resulted in a valid order. |
| Bounce rate | The percentage of sent emails in this variant that bounced. |
| Conversion rate | The percentage of delivered emails in this variant that resulted in a valid order. |
| Unsubscribe rate | The percentage of contacts in this variant who unsubscribed after receiving the email. |
| Complaint rate | The percentage of emails in this variant that led to a spam complaint. |
| Orders | The number of valid orders attributed to this variant. |
| Total revenue | The total gross revenue from valid orders attributed to this variant. |
| Average order value | The average revenue per valid order attributed to this variant. |
| Revenue per email | The average revenue per delivered email in this variant. |