This article explains how to check order attribution in the orders report.
Go to Reports > Orders report
In the Orders list tab, the following columns describe your order attribution:
Column
Description

Attribution

Describes the channel through which the order originated, displayed as source medium/name.

Examples:

Ometria/Email - for orders attributed to Ometria

cpc/google - for cost per click via a search engine

search/google - for direct searches

social/facebook - for social media clicks

Not provided or Not tracked - when neither the visit medium or name are known.

Ometria campaign

The name of the campaign the order is attributed to (if any).

Ometria campaign type

Either automation or broadcast (if attributed to an Ometria campaign).

Visit medium

The medium the contact clicked through before placing an order, based on UTM parameters. E.g. social

This field is blank for contacts who don't have any visits tracked in Ometria, or whose order entered Ometria more than one hour before their first visit.

Visit campaign

The campaign this order is attributed to - if this cannot be found based on UTM parameters, this column will read 'Not provided'.

Visit domain

The domain name of the medium the contact clicked through before placing an order, based on UTM parameters. E.g. facebook.com
Visits - 'Not provided' and 'Not tracked'
The Visit medium, Visit campaign and Visit domain columns all rely on UTM parameters to report back information.
In some cases these parameters are missing, and you'll see the status 'Not provided' or 'Not tracked'.
Status
Description

Not provided

There was a visit associated with the order, but the UTM parameters:

didn't exist in the first place,

were stripped out by a third party provider and cannot be found, or;

are not recognised by Ometria.

So that Ometria couldn't attribute the source. This status also includes direct visits, as no parameters would be passed with the event. Direct visits can still be attributed by coupon attribution or time window attribution.

Not tracked

Ometria did not get the tracking information for the visit for a variety of reasons for example, the contact was using private browsing (i.e. Incognito mode), or an ad blocker.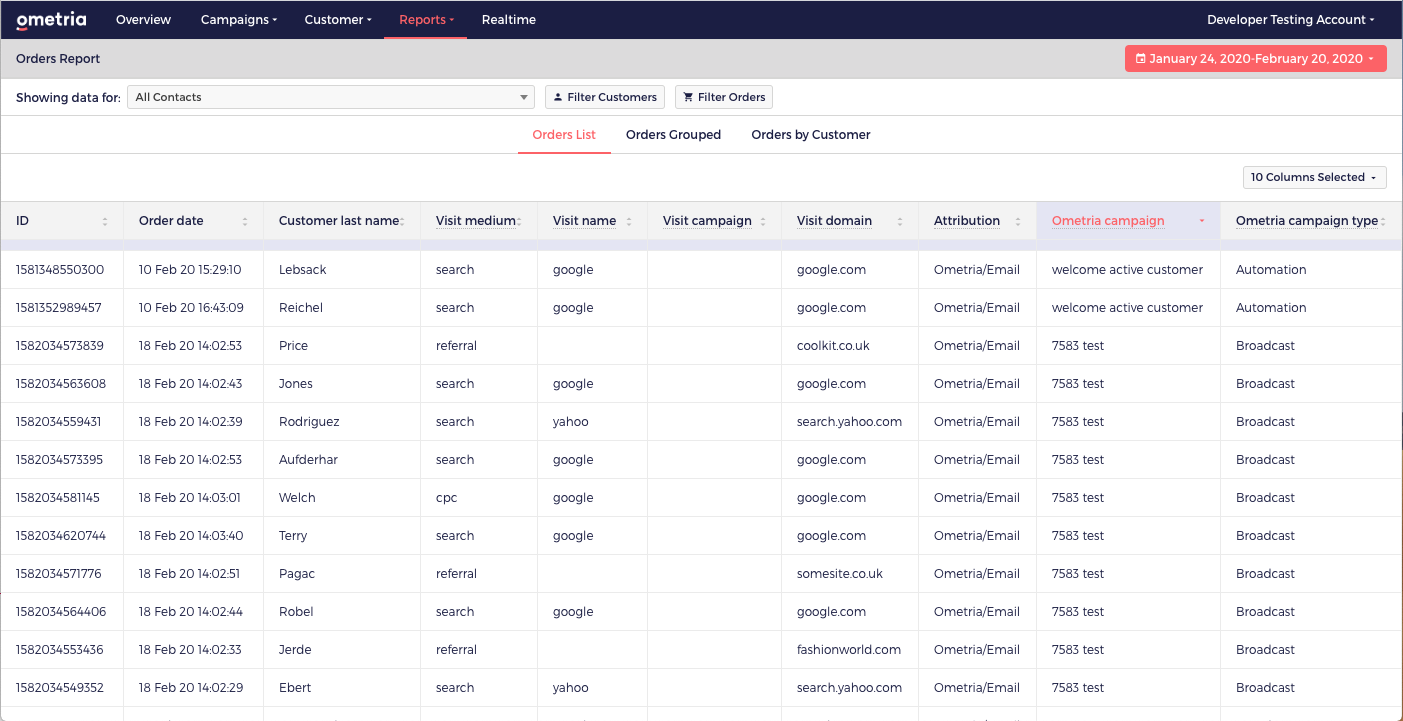 Select the Orders grouped tab and group your orders by:
Group by
Description

Visit medium

The medium the contact clicked through before placing an order, based on UTM parameters. E.g. social.

This column is useful if you are primarily interested in last click attribution.

Visit campaign

The name of the Ometria campaign the order is attributed to (if any).

Visit domain

The name of the medium the contact clicked through before placing an order, based on UTM parameters. E.g. facebook

Visit name

The domain name of the medium the contact clicked through before placing an order, based on UTM parameters. E.g. facebook.com