Reputation repair is necessary whenever one or more mailbox providers is either:
Continually either placing your mail in the junk folder, or;

rejecting it.
These are signs that you have a poor reputation and need to take steps to improve it in order for your mail to be delivered to the inbox.
Why is my reputation poor?
Sender reputation is made up of a number of factors.
Sometimes the reason for a poor reputation is easy to identify, e.g. having a high number of contact complaints or having sent to a higher volume of contacts than normal.
However, often a poor reputation is developed over time due to not keeping up with best practices as mailbox providers evolve their filtering and contacts' expectations of email programs change.
Understanding the reasons why your reputation is poor is the first step in repairing it.
The most common issues seen with senders with a poor reputation are:
Poor data collection practices

- collecting high numbers of invalid addresses and spam traps

Poor list hygiene practices

- failing to remove invalid, inactive or chronically unengaged emails from your database

Sending to unengaged contacts

- the definition of 'unengaged contacts' varies. Some mailbox providers view contacts who haven't engaged with an email in six months as being unengaged, while others might view a contact who hasn't engaged in 30 days as being engaged

Sending too high a frequency of mail to less engaged contacts
Things to keep in mind
Opens and engagement
Opens should not be considered a reliable sign of engagement.
This is because a high number of "false opens" come from mailbox providers pre-fetching images.
You should prioritise other engagement metrics over opens such as:
Clicks

Website visits

Orders placed
You can use opens to measure campaign success for reputation repair.
Opens are still useful as a proxy for placement as in most cases pre-fetching only happens when the email is delivered to the inbox not the spam folder.
Investigating your contact engagement
Understanding which of your contacts are not engaging will help you to make decisions on segmentation and strategy changes.
The easiest way to do this is to use broadcast variants to break down your existing campaign segments.
See our articles on segmenting your broadcast recipients and Broadcast campaign performance: Variants for more information.
Areas to investigate include:
Leads vs. customers

Recency of engagement

Recent subscribers v long term subscribers

Contacts by mailbox providers, e.g Gmail or Microsoft
Variant example - segmented by mailbox providers:

Variant example - segmented by engagement recency: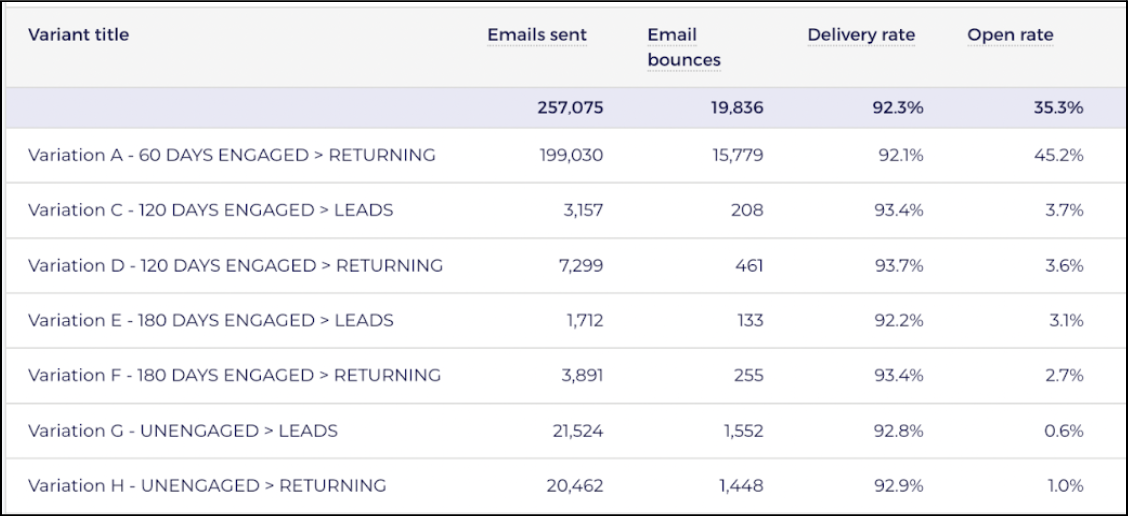 List hygiene
If poor reputation is the result of poor data collection and list hygiene, you can consider the steps in our article on list hygiene.
Reputation repair techniques
There is no 'one size fits all' plan for reputation repair.
You might need to use a combination of the techniques detailed below in order to repair your reputation.
You will need to be patient when working on repairing your reputation.
While you might see improvement within a few weeks for some mailbox providers, for others it could take four to six weeks before you see improvement.
Halo technique
The halo technique helps to make sure mail is delivered during busy periods such as Black Friday, but it can also help improve your deliverability.
This involves creating a broadcast campaign with your contacts segmented from most engaged to least engaged and sending each campaign to them in that order.
Starting with the most engaged segment, each subsequent segment should be scheduled to start sending just after the previous segment has completed.
We recommend setting 30 minutes or an hour between segments.
You can do this in the campaign in Ometria by using variants, and staggering the start time of the variants.
Recommended implementation
Based on a sender sending to 180 day engaged contacts.
Segmentation:
Variant 1:

engaged in the last 30 days

Variant 2:

engaged in last 90 days

Variant 3:

engaged in last 180 days
Schedule these variants to send with 30 minutes between each.
Re-ramping
This technique involves cutting down the size of your segments and sending to only the most active contacts.
This allows mailbox providers to see you sending to a highly engaged audience, then slowly building back up to your normal engaged audience.
As you increase the audience size you should keep the contact number increases to less than 2x the previous volume.
We recommend increasing audience engagement in increments of 15 or 30 days.
| | |
| --- | --- |
| Phase | Segment |
| 1 | Contacts last clicked after 15 days OR opened after 15 days. |
| 2 | Contacts last clicked after 30 days OR opened after 30 days. |
| 3 | Contacts last clicked after 45 days OR opened after 45 days. |
| 4 | Contacts last clicked after 60 days OR opened after 60 days. |
| 5 | Contacts last clicked after 75 days OR opened after 75 days. |
| 6 | Contacts last clicked after 90 days OR opened after 90 days. |
You will also need to establish a benchmark open rate for good performance.
Once this benchmark is being regularly achieved or exceeded for one segment you can move onto the next segment.
During re-ramping you might find that you are not able to ramp back to your previous full volumes.
For example, you might find that performance is good for 90 day engaged contacts but severely declines when sending to 120 day contacts.
If this happens, go back to the previous segment used while you investigate why the older contacts may be causing issues.
At this stage you should also consider frequency management for the older contacts.
Frequency management
You should consider frequency management if:
re-ramping is not effective, or;

for continuing to send to less engaged contacts when re-ramping has only been partially effective.
Mailbox providers consider how often contacts are engaging with mail.
This technique allows mailbox providers to see you sending more regularly to highly engaged contacts than not while also making sure that even low engaged contacts still have an opportunity to see and interact with your campaigns.
This is also an effective method for continuing to contact less engaged contacts even when deliverability issues are not seen.
Example:
Brand sends three broadcast campaigns a week.
Frequency management broadcast segmentation:
Highly engaged contacts:

3x a week

Medium engaged contacts:

2x a week

Least engaged contacts:

1x a week
Creating base segments by mailbox provider
Where only one or a small number of mailbox providers are affected you can create a specific segment to use whilst working on repairing your reputation.
To do this create a dynamic segment based on 'Accepts mail' and 'Email Contains' using the domains or main domain parts for the relevant mailbox provider.
Microsoft segment example: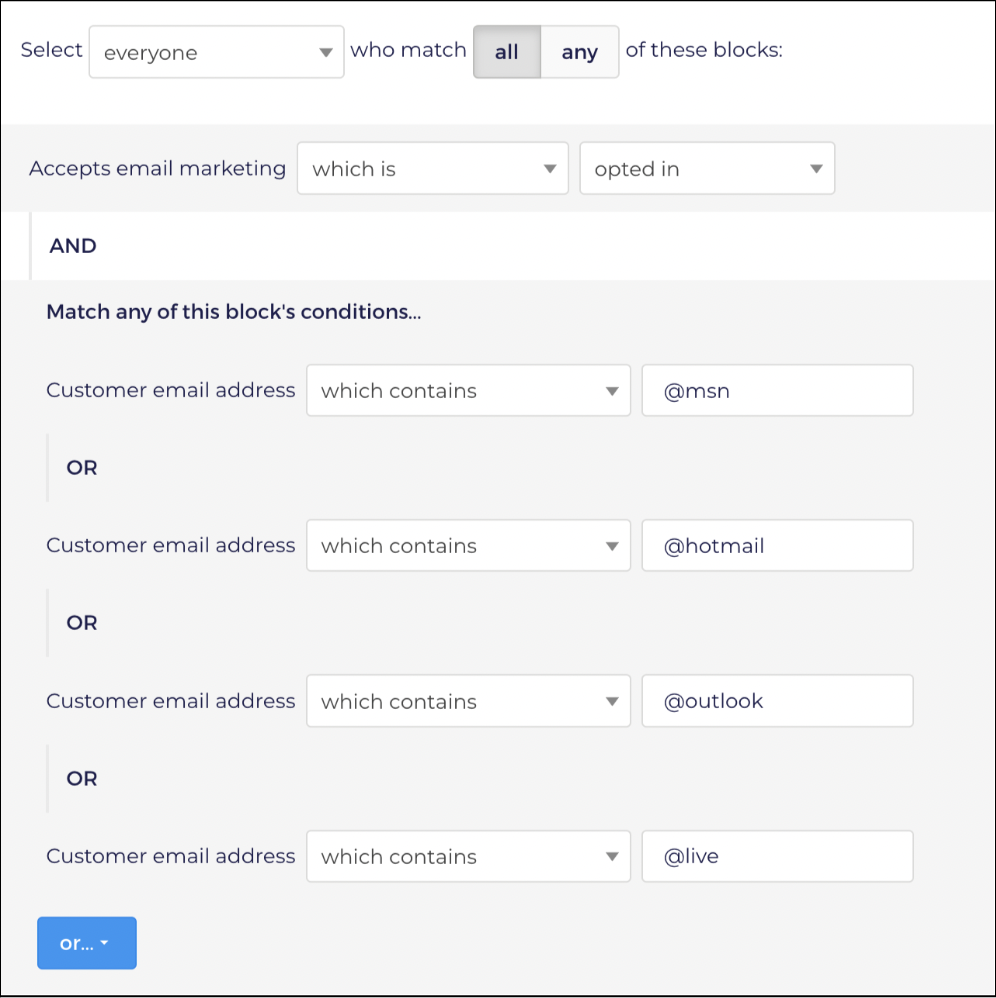 Broadcast variants
You can create broadcast variants using the customer filter when selecting Recipients in a campaign.
See also: Broadcast campaign performance: Variants
Variant segmentation example: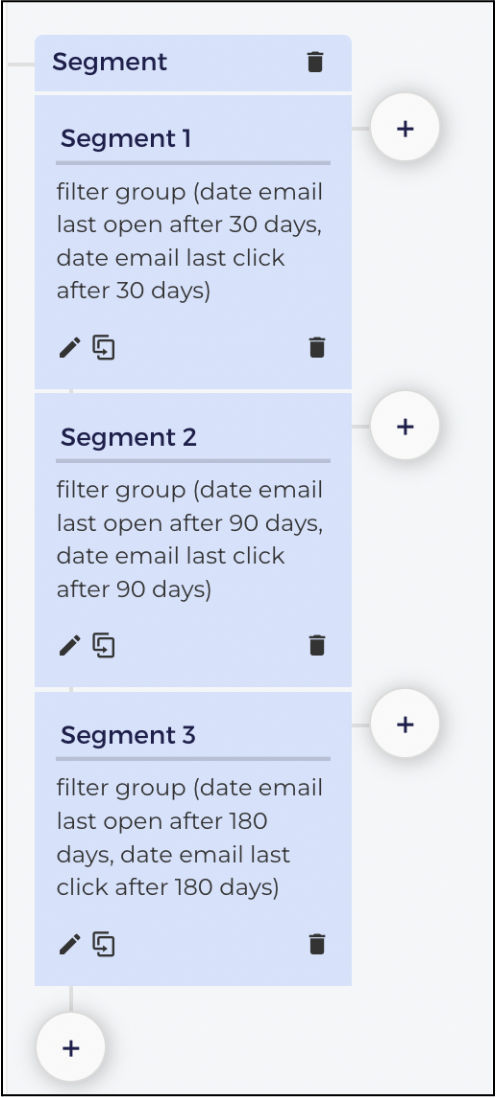 Scheduling example: