Navigation
Go to: Campaigns > Broadcast campaigns > select your campaign > select the Delivery tab.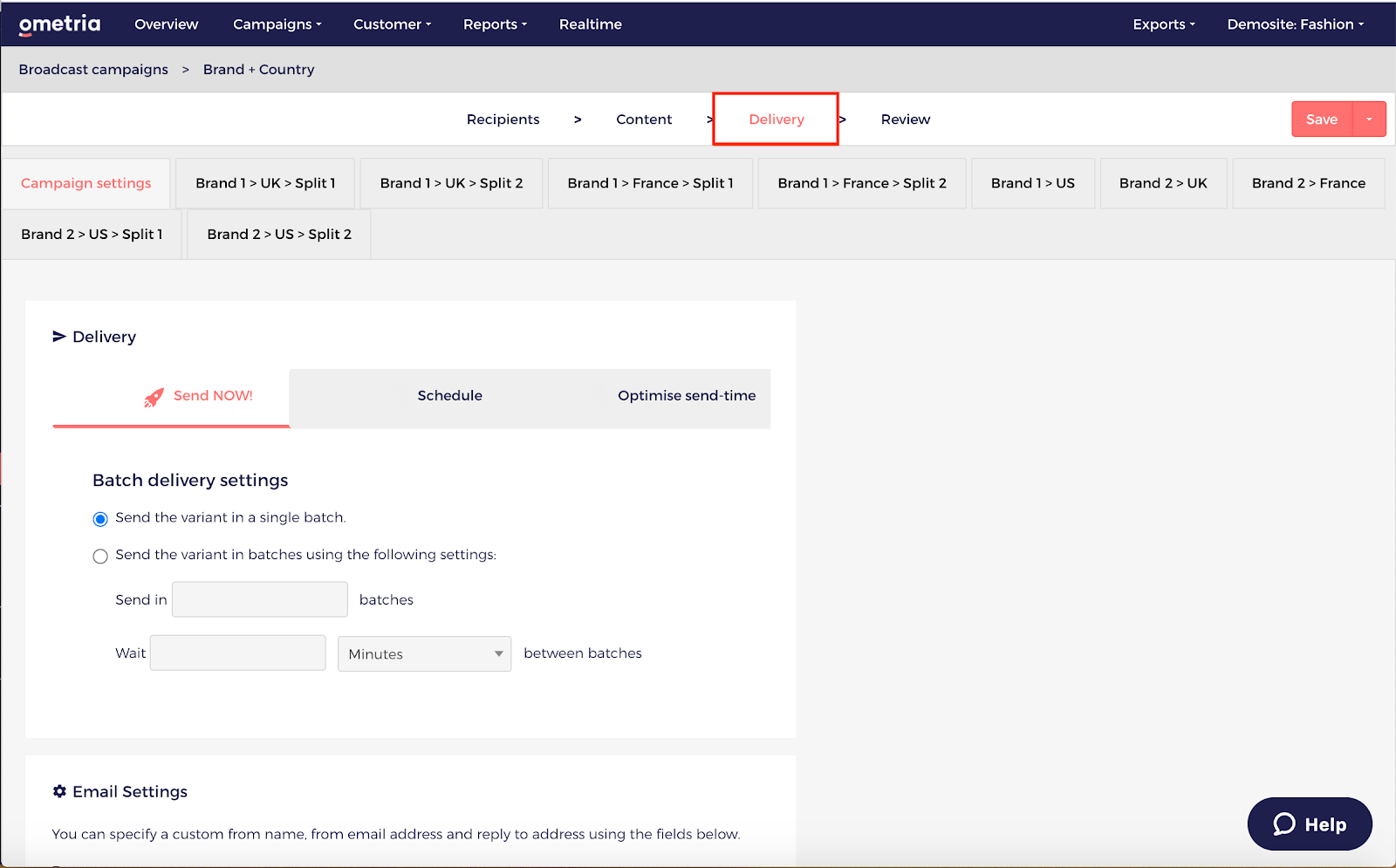 Your delivery options are:
Send NOW!
This generates the campaign straight away. The timezone for this option is your timezone.
If you select the Send Now option for a particular variant, all emails for that variant will generate as soon as you click the Save and Schedule button after reviewing all variant settings in the Review tab.
Note:
You can't
unschedule
the scheduled variants if there is
even one
variant with the
Send Now
option selected.
Schedule
To generate the campaign at a later time.
Optimise send-time
See also: Optimise send-time
Be aware: You can't use the optimise send-time option if you have a split test with winner node in your campaign flow.
The send time optimisation feature sends all the emails in the selected variant at different time slots.
Based on the open time of each email, optimise send-time iteratively optimises your send times so that emails are sent at the time each recipient is most likely to engage with it.
Batch sending
Be aware: You can't use the batch sending option if you have a split test with winner node in your campaign flow.
You can also choose to send the campaign in multiple batches with a specified delay between each batch.
This is typically used to control the number of visitors from a campaign.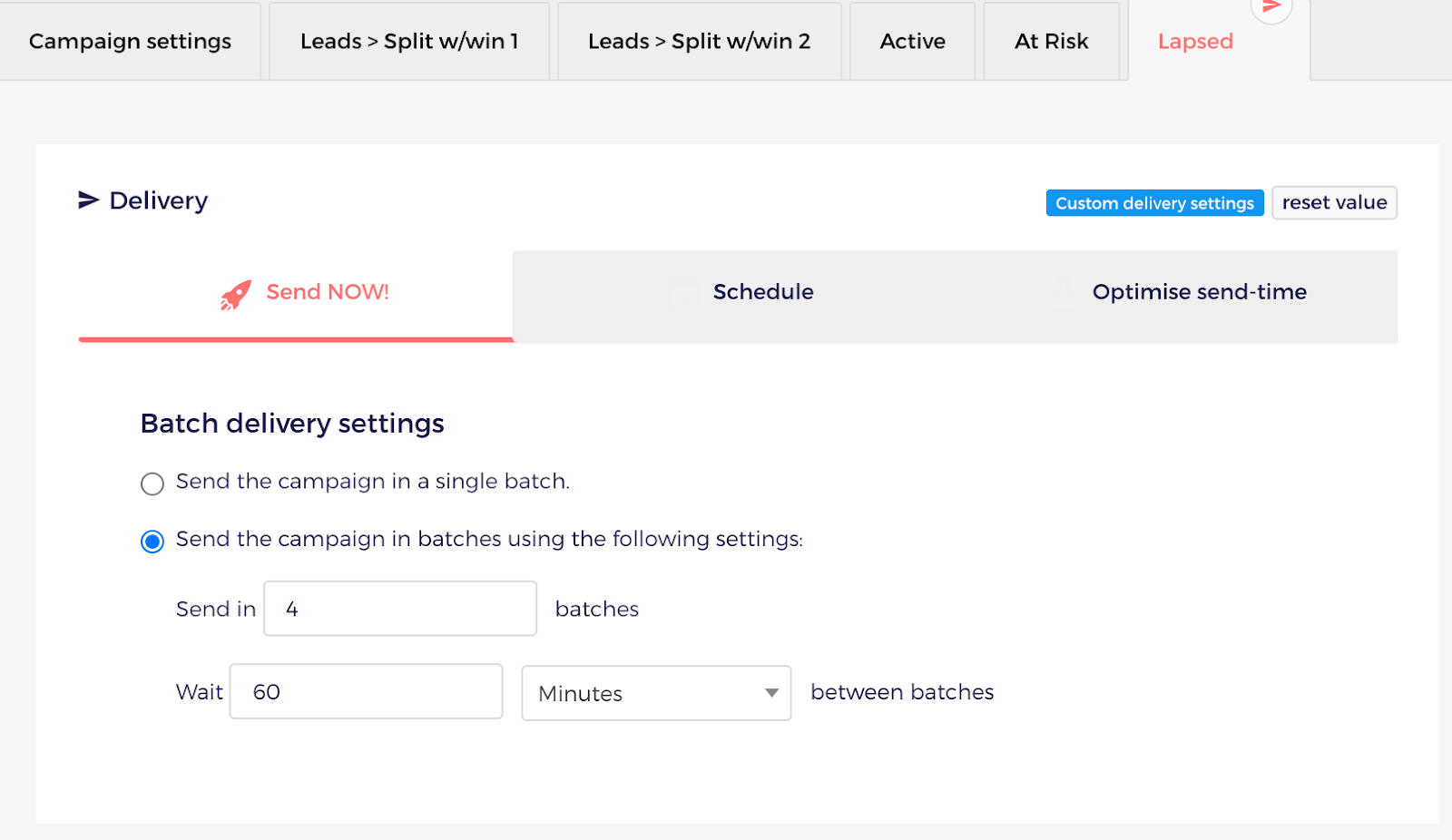 The Batch delivery settings are different when the campaign is scheduled, with different options: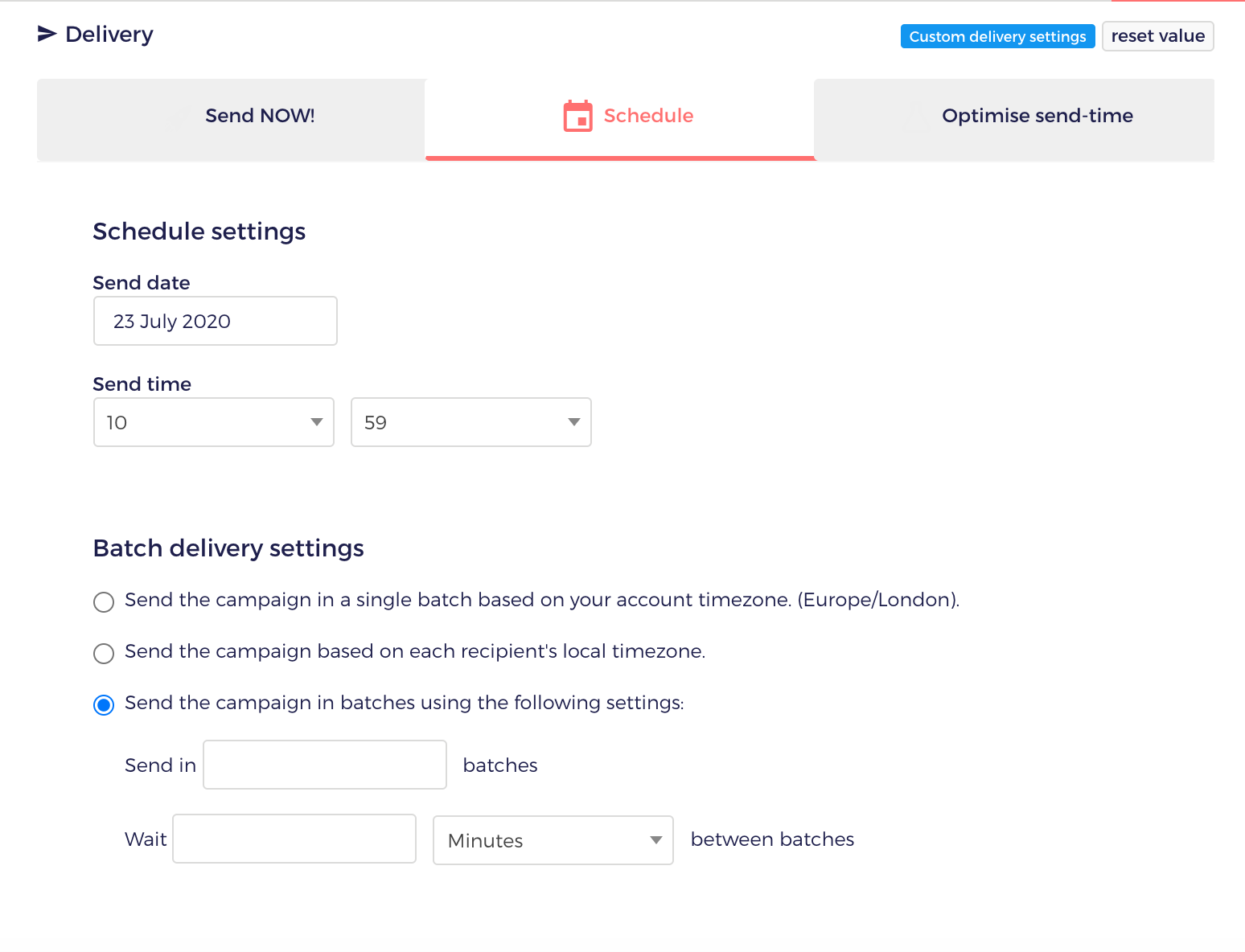 Your options are:
Option
Description

Send the variant in a single batch based on your account timezone

This sends to all the subscribed contacts in your variant at the same time, regardless of their location.

E.g. If you schedule it for 13:00 tomorrow UK time, US recipients will receive it at 09:00 local time.

Send the variant based on each recipient's local timezone

This sends to all the subscribed contacts in your variant based on their individual/local timezones.

E.g. If you schedule it for 13:00 UK time, US recipients will receive it at 13:00 local time (17:00 UK time).

Be aware that if there is less than 14 hours to go before the scheduled send time, contacts in some timezones will receive your messages immediately.

This is due to UTC timezone offsets (-12 to +14).

For example, 13:00 in the UK is 01:00 the same day in American Samoa, and 03:00 the following day in Kiribati.

Recipient's timezone is defined as:

the timezone ingested via the data API, or;
the timezone in which their last valid order was placed, or if no orders have been placed;
the timezone associated with the IP address of their last visit to your site.

If none of this information is available, the default timezone for your account is used.
Note: If for any reason one of your batches is delayed, this won't affect the send times of subsequent batches. E.g. If batch A is scheduled to send at 12:00 and batch B at 13:00, but batch A is delayed by 10 minutes and sends at 12:10, batch B will still start sending at 13:00.
Email settings
For each different variant of the same broadcast campaign you can select a different:
From name

From email address

Reply to addresses
Note: If you leave any of these fields blank for a variant the default will apply.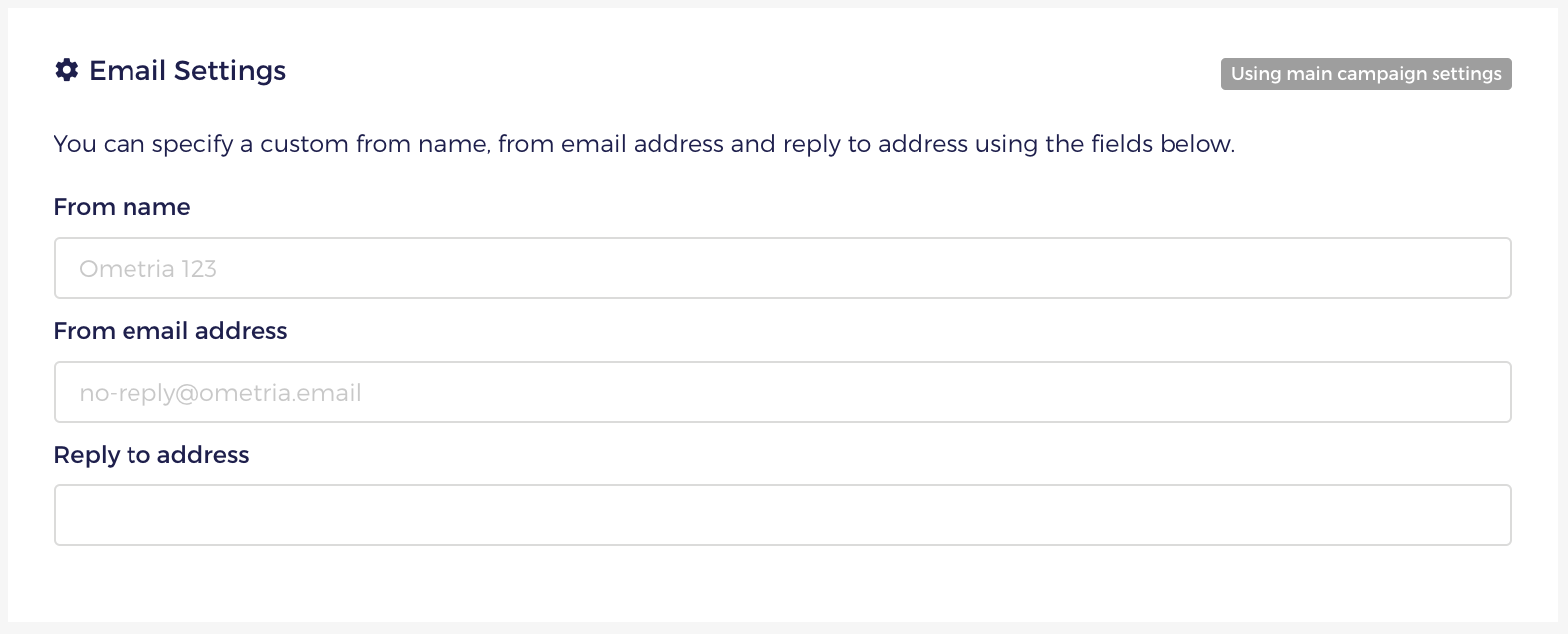 Tracking parameters
You can also add your tracking parameters for your broadcast campaign here.

See: Adding tracking parameters to broadcast campaigns
Review
Once you've set up your schedule/send, select the Review tab.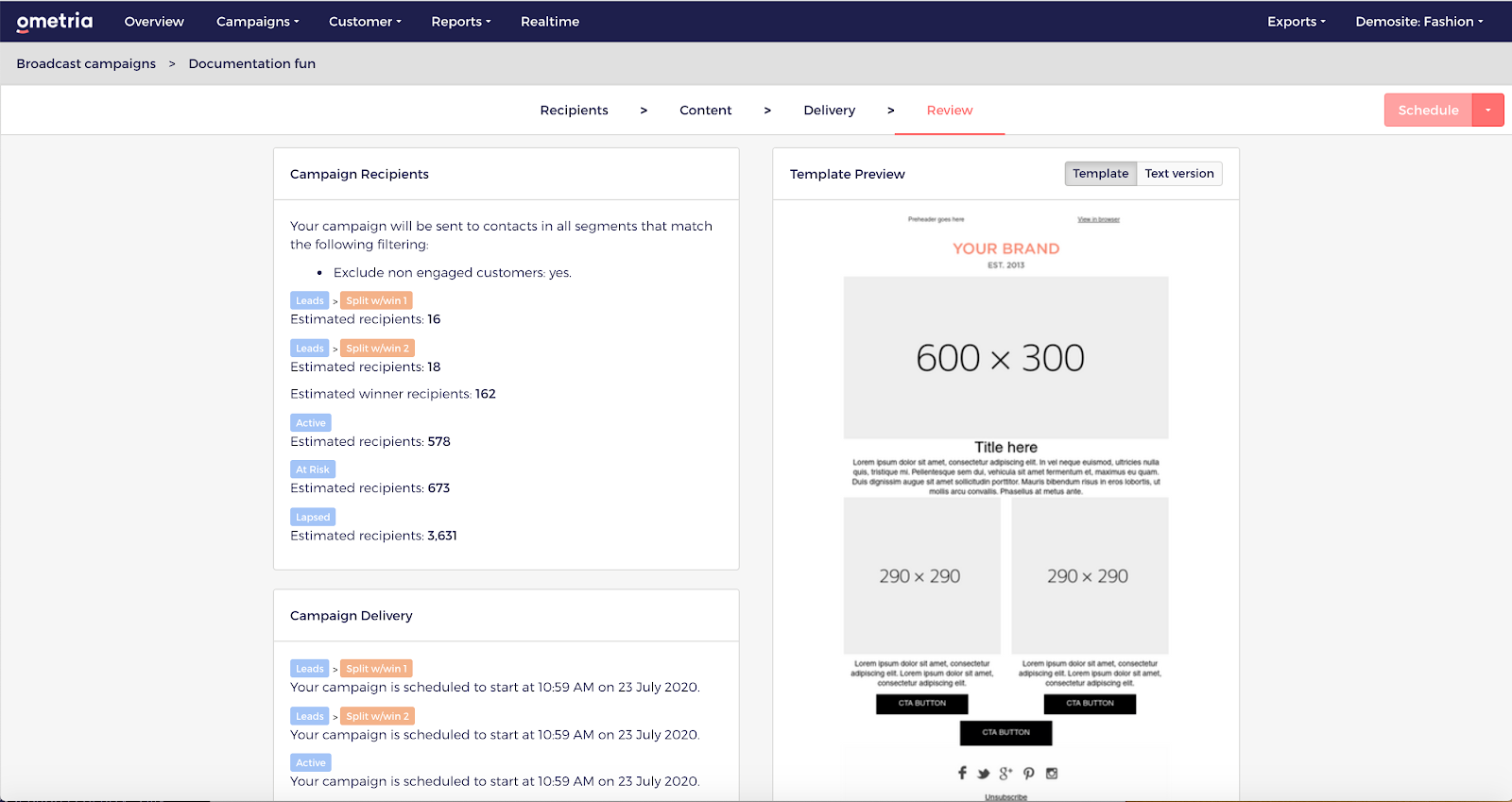 To review each variant in detail, click through the tabs.
If a tab has icon like this:

it means that variant has errors which may prevent it from sending.
Select the tab to review the error:

Close any errors and review each variant, then select Schedule to start sending.
Scheduled
The Scheduled screen displays, showing all scheduled campaigns:

From here you can also navigate to draft campaigns and campaigns which have been sent.
Any variants you opted to Send Now will generate straight away, while Scheduled and Optimised send-time variants will send out in their time slots.
See more in Delivery.
If you used optimised send-time for your campaign, the second date in the Scheduled field indicates the time your final variant will begin sending - not the time that sending will complete.
Note: You can't unschedule the scheduled variants if there are any variants with the Send Now option selected.