Overview
In Broadcast campaigns you can create and send personalised broadcast emails to different mutually exclusive segments at the same time.
Broadcast campaigns makes it easy to:
Separate your audience into several mutually exclusive segment variants
Create personalised content for each variant
Select independent delivery options for each variant
Navigation
Go to: Campaigns > New Broadcast Campaigns > select Create new campaign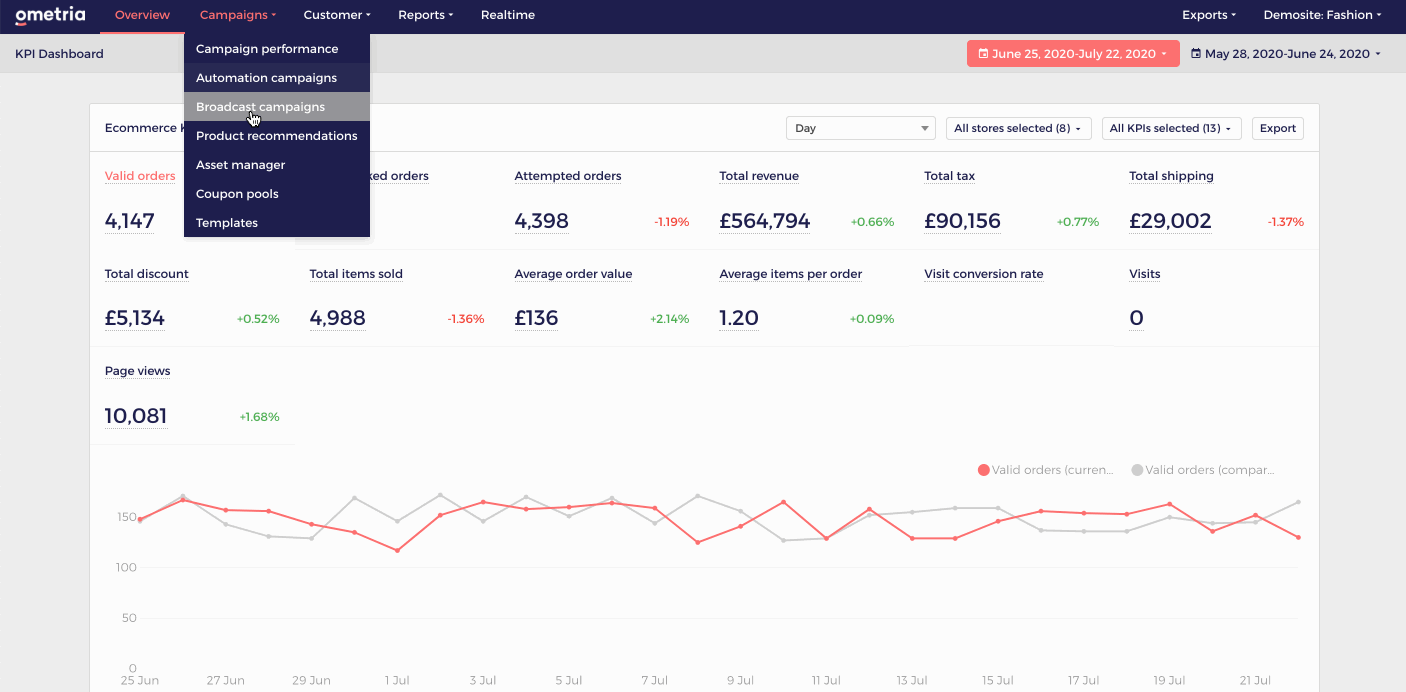 Recipients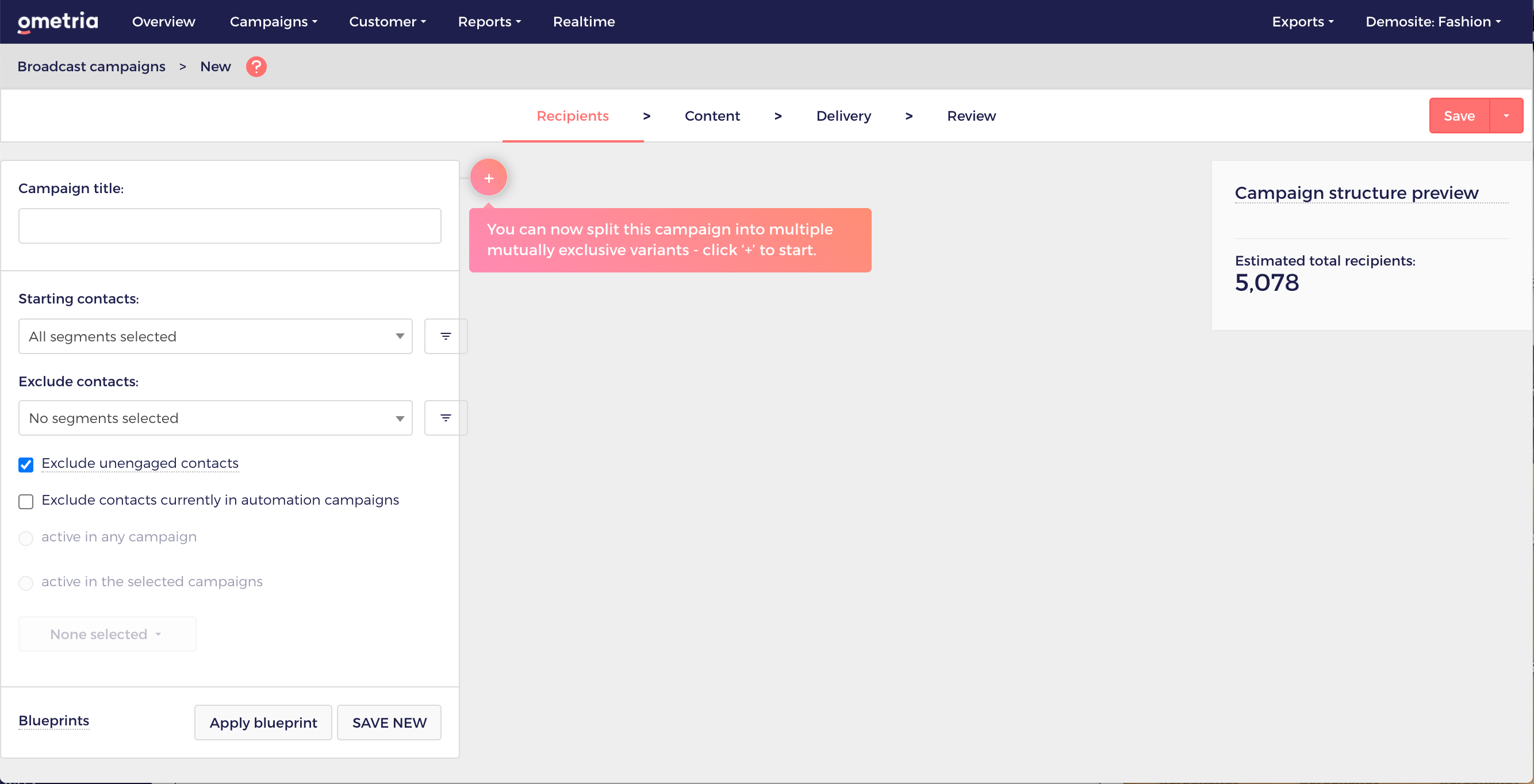 Give your campaign a title, then define who you want to send your campaign to.
Select a base segment of recipients from the Starting contacts field and define any segments who should not receive this campaign using Exclude contacts.
You can also create a contact filter for your segment by selecting the drop-down button:
Then define your segment as required.
We don't recommend using dynamic segments for broadcast campaigns as they won't refresh at the point of sending. Instead, create your segments directly in the broadcast builder.
Click here for more help on segments.
Note: By default, the recipients list only includes opt-ins, and excludes contacts on suppression lists.
If you want to send less emails, but only to customers who are engaged, select Exclude unengaged contacts.
For more information on what it means for a contact to be unengaged, see Email Engagement.
If you don't want to send your campaign to contacts who are already receiving triggered emails, select 'Exclude contacts currently in automation campaigns'.
You can exclude contacts that are active in any campaign, or in specific campaigns: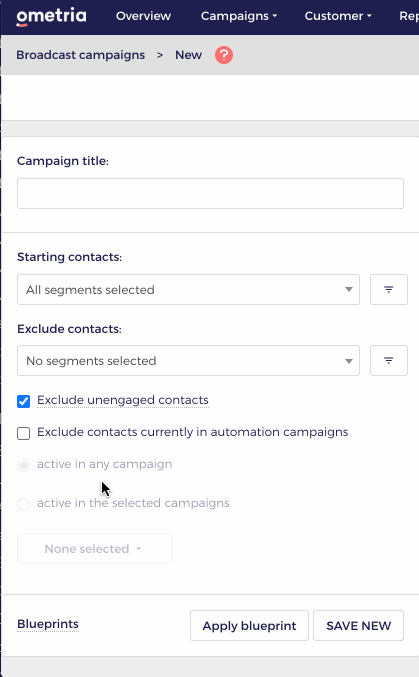 Blueprints
You can use an existing blueprint for your recipients by selecting Apply blueprint or otherwise create a new blueprint by configuring your recipient segments and then selecting SAVE NEW: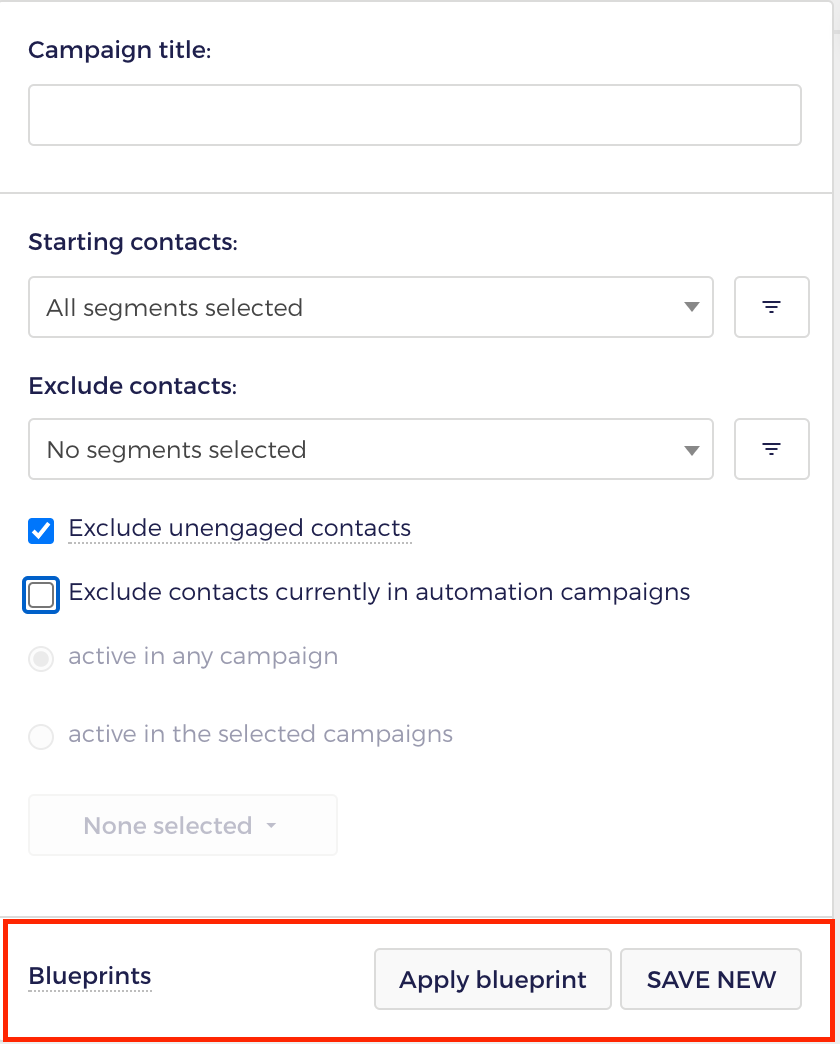 Be aware:
You cannot make changes to a blueprint after you've saved it - only create a new one.
If you delete a blueprint (by selecting the delete icon ) the blueprint is permanently removed and cannot be retrieved.
Ometria blueprints
If you're new to Ometria's broadcast campaigns, you can save time and get started as quickly as possible by using our three ready made blueprints to segment your contacts and create instant variant waterfalls: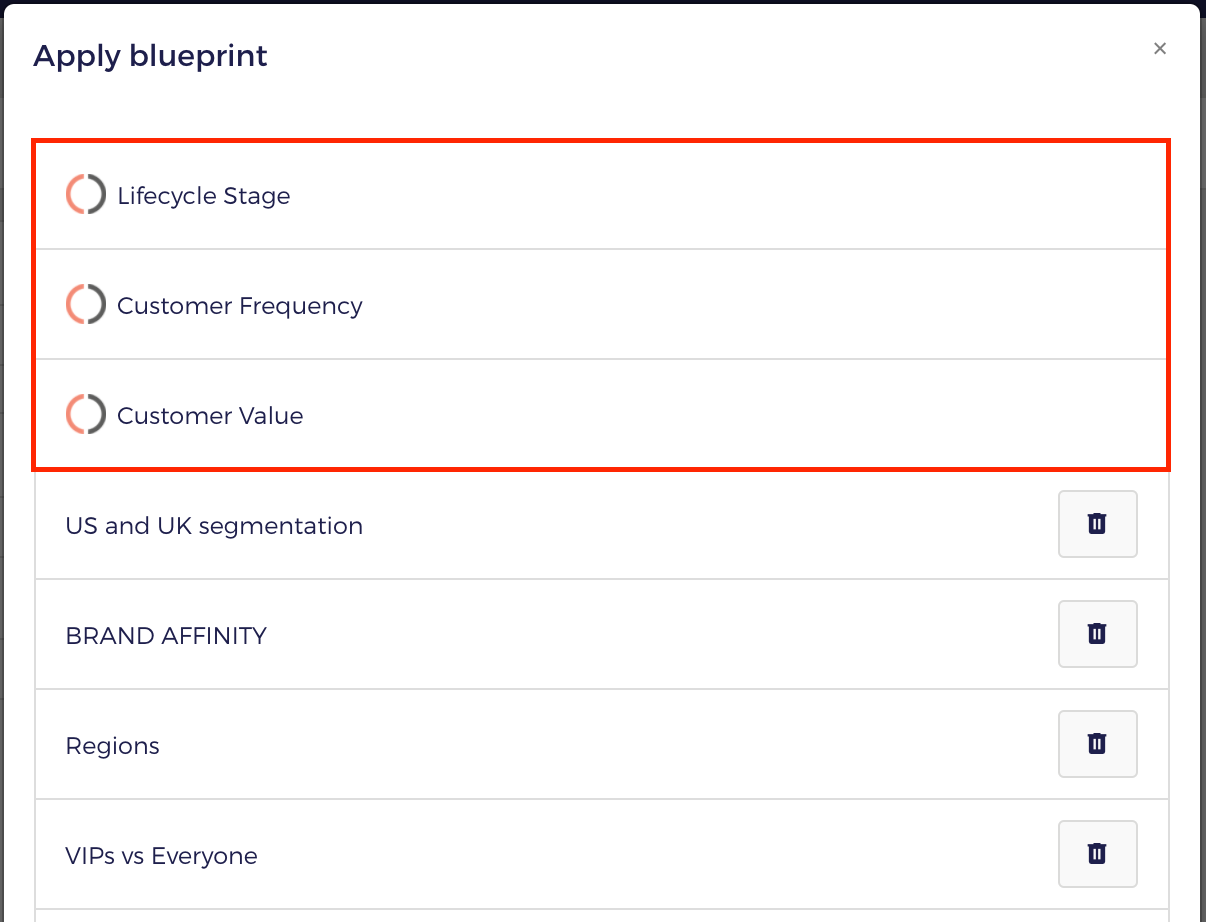 Our ready made blueprints are:
Lifecycle Stage - Great for reactivation campaigns, launching new products and identifying and targeting your leads.
Customer Frequency - Useful for reporting - for example, if you launch the sale of a new product you can identify whether you're getting more interaction from your one-time shoppers or loyal customers.
Customer Value - See if your VIPs are interacting with campaigns for your new product lines.
The Ometria blueprints cannot be deleted, but you can make changes to the segments/conditions of an Ometria blueprint and then save it for future use by clicking SAVE NEW.
Creating variants
You're now ready to start creating variants.
Click the
icon to start.
Use the Filter customers option to define your customer groups for different campaign variants:
Example: You could create a filter for customers who have shopped in your French store and another for customers who have shopped in your English store - this means you can create two campaign variants - French and English.
Split your recipient base by selecting Split Test With Winner to test different content and delivery strategies.
Example: A 50/50 split or a 33/33/34 audience split.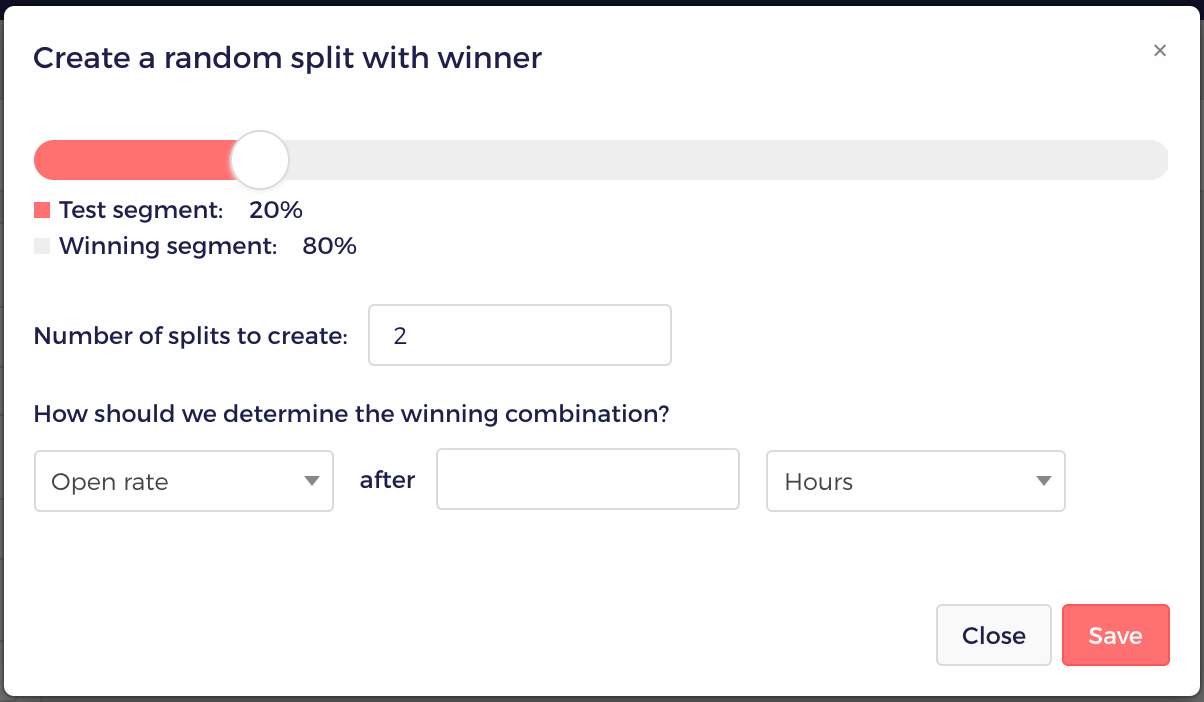 You can also split existing variants by selecting the (+) icon to the right of the variant.
Name each split as you go, e.g 'UK SL split test 1'.
As you add more variants and/or splits, the Campaign structure preview panel on the right of the screen dynamically updates with your predicted recipients for each variant: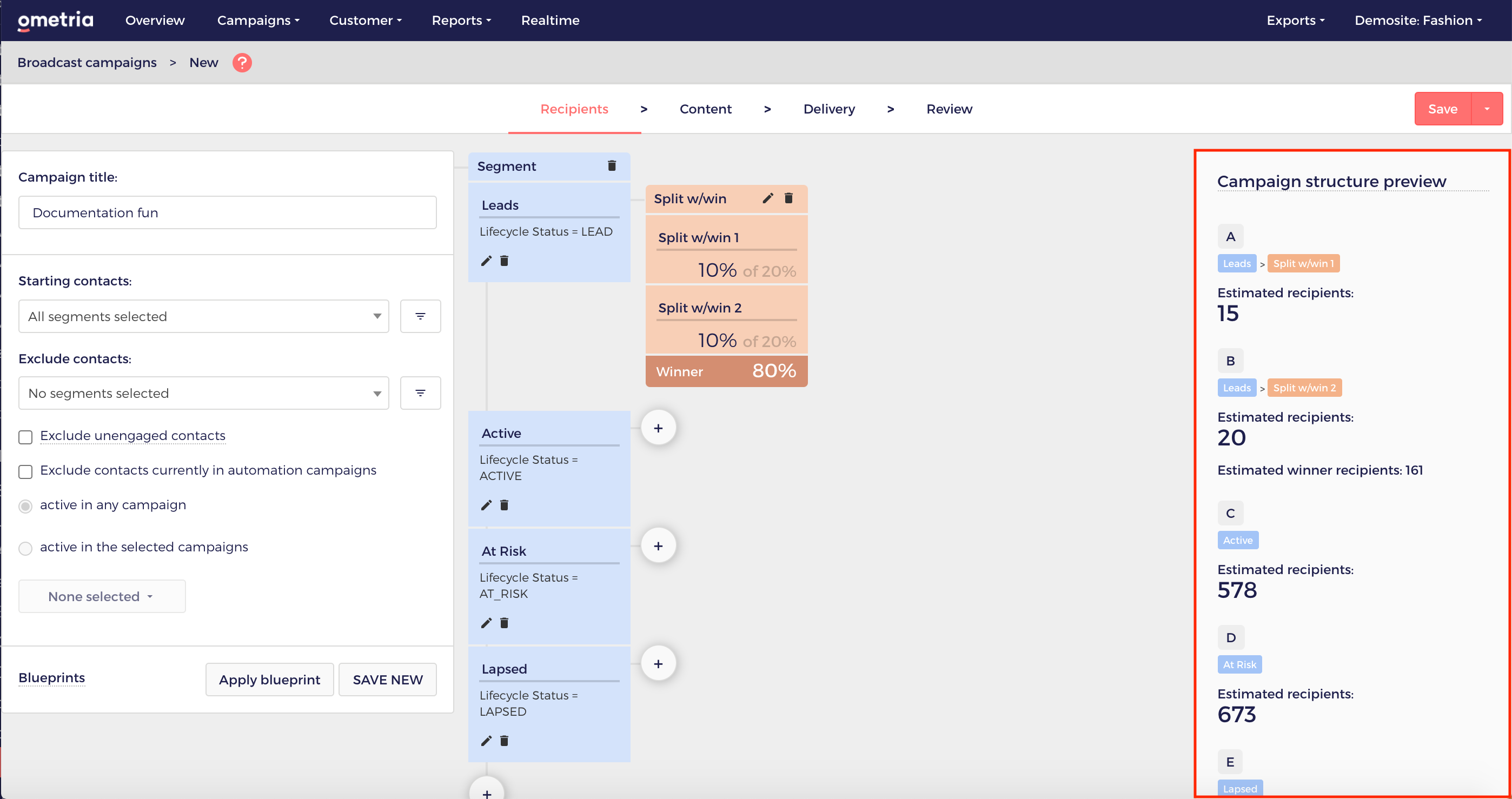 The number of recipients is estimated, because your contacts for each variant are calculated at the point of send, not at the point of scheduling.
We recommend using no more than 15 segments for a broadcast campaign.
Note: You may notice that when you split your contacts the estimated recipient numbers vary slightly, even for an equal split. This is expected behaviour, and is to ensure the smoothest and quickest possible performance.
When you're happy that you've defined your recipients for this campaign, select Save and continue to Content.
Content
From the Content screen, you can edit all of the content for your campaigns, as well as each variant.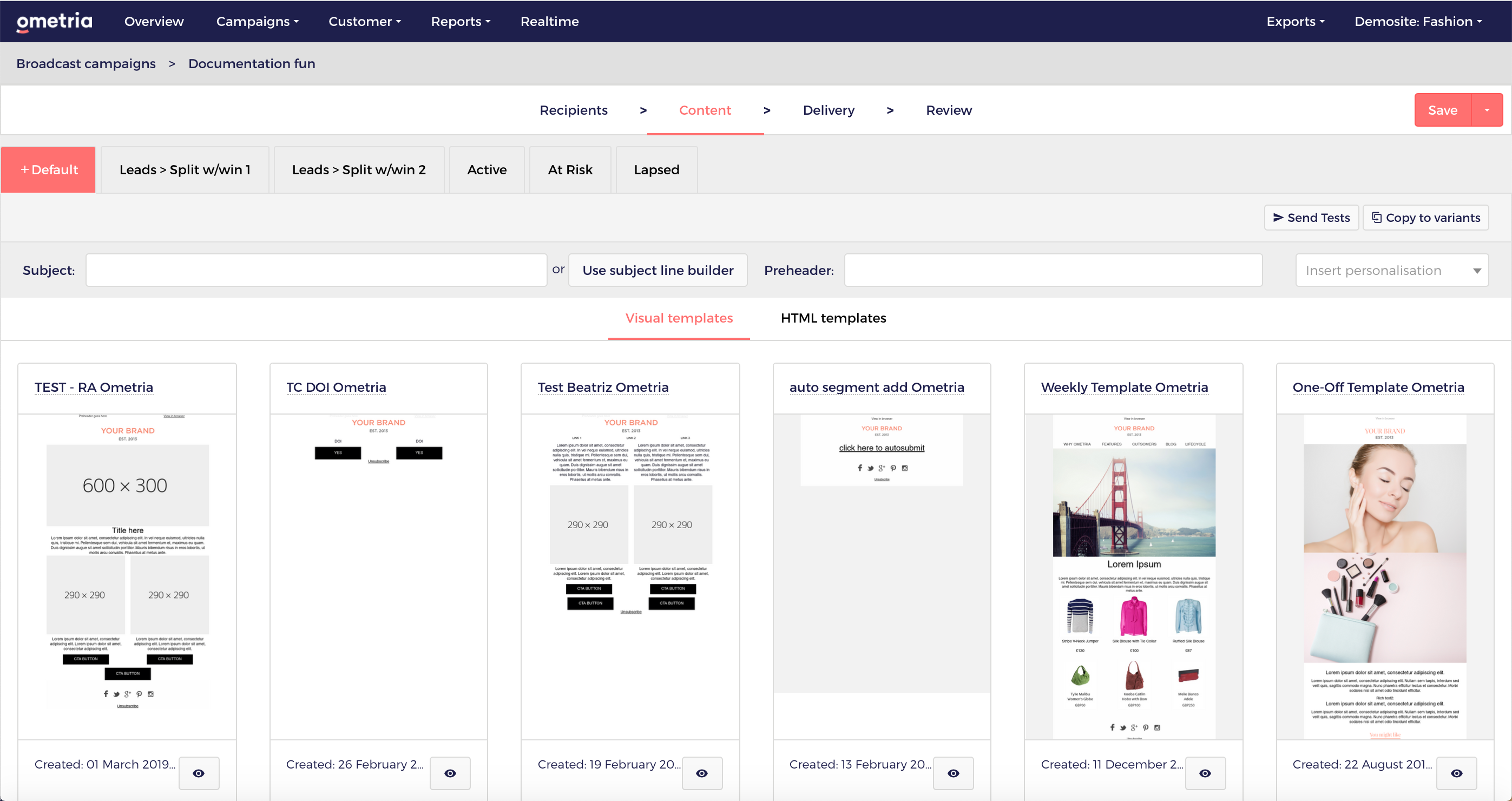 Note: You can't edit the template itself from this screen, only the campaign contents. See Templates for more information.
Your variants display in tabs along the top of the screen.

The +Default tab applies to all variants - so you can select a template in Default and apply it to all.
You can use either a visual template or select an HTML template from this screen.
Send the same template to all variants
In the Default tab, select a template to use and edit the content as required.
Once you're happy with you work and are ready to replicate the content to all your variants, click COPY TO VARIANTS from the top right.

You're given the option to select the variants you'd like to copy your default campaign to. You can also choose to copy the subject line and preheader.
Select as many or as few as you like, then click Apply: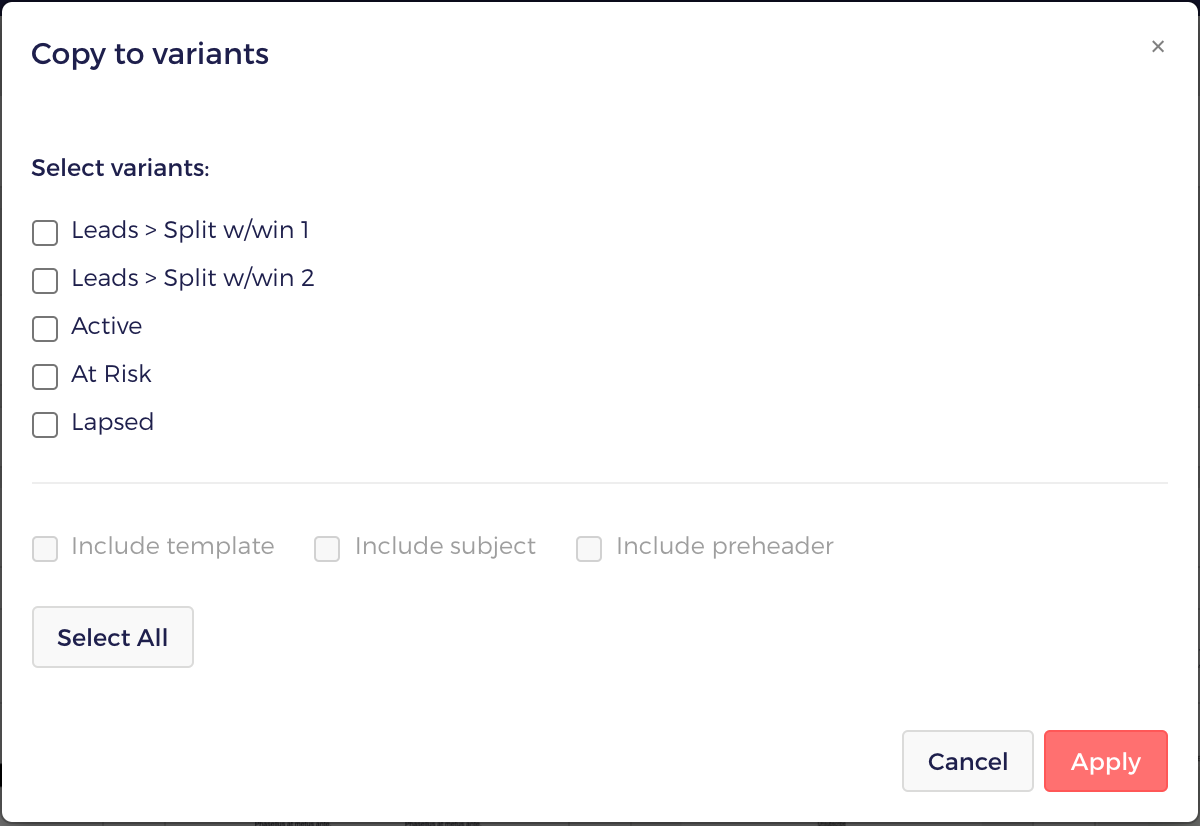 The default template and any content you added applies across all of your selected variants, as indicated by the envelope icon which displays against the tabs:

Now you can open each variant tab and make custom tweaks to the content, without needing to start from scratch each time.
Send different templates for each variant
If you want to use different templates for one or many of your variants, simply select that variant's tab and choose the template.
Tests
There are two ways to send test campaigns:
Send Tests - the best testing method, allowing you to send tests for multiple (or all) variants at once, and;
Preview - useful for testing campaigns with personalised dynamic content.
Send tests
Select SEND TESTS from any tab:

You're given the option to select which variants you want to send.
Enter as many email addresses as you need, separated by commas: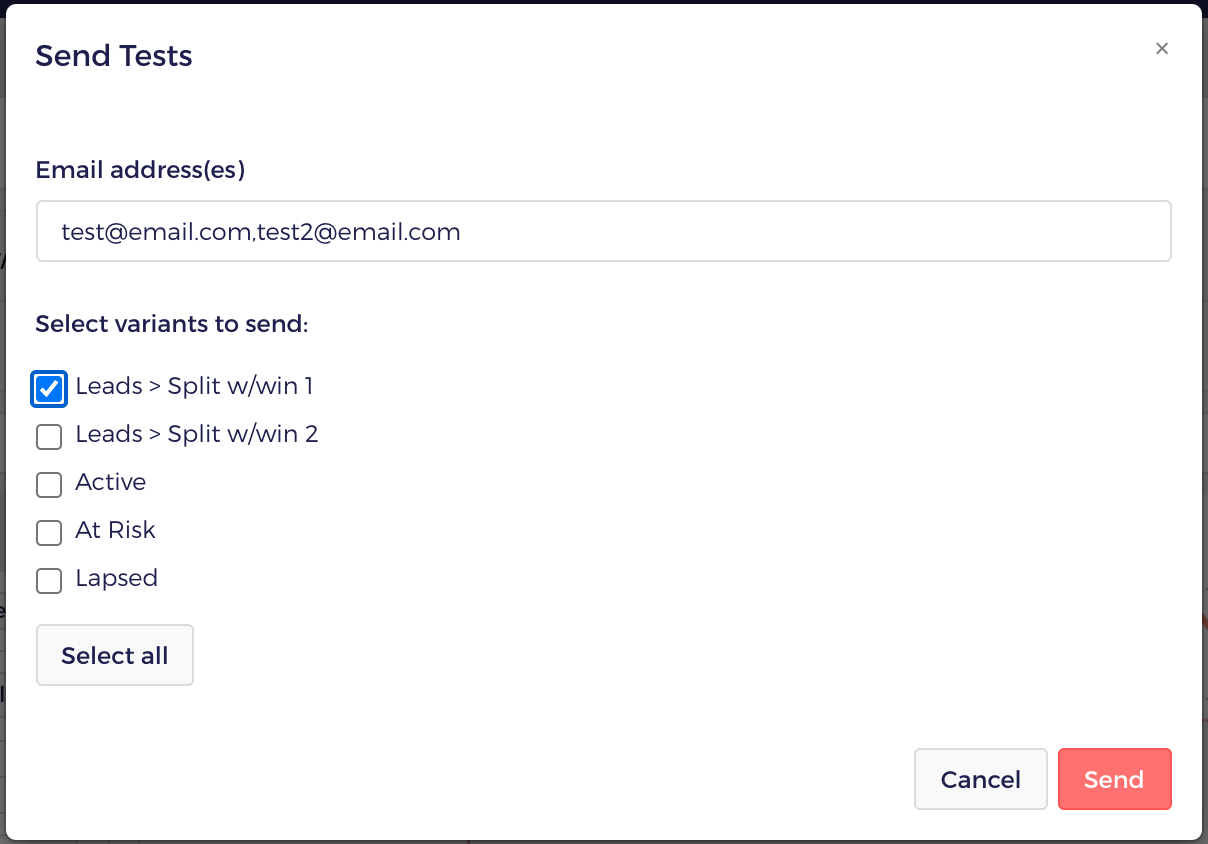 Preview
In the Content screen, select the tab for the variant you wish to test, then go to Preview in the content panel on the left.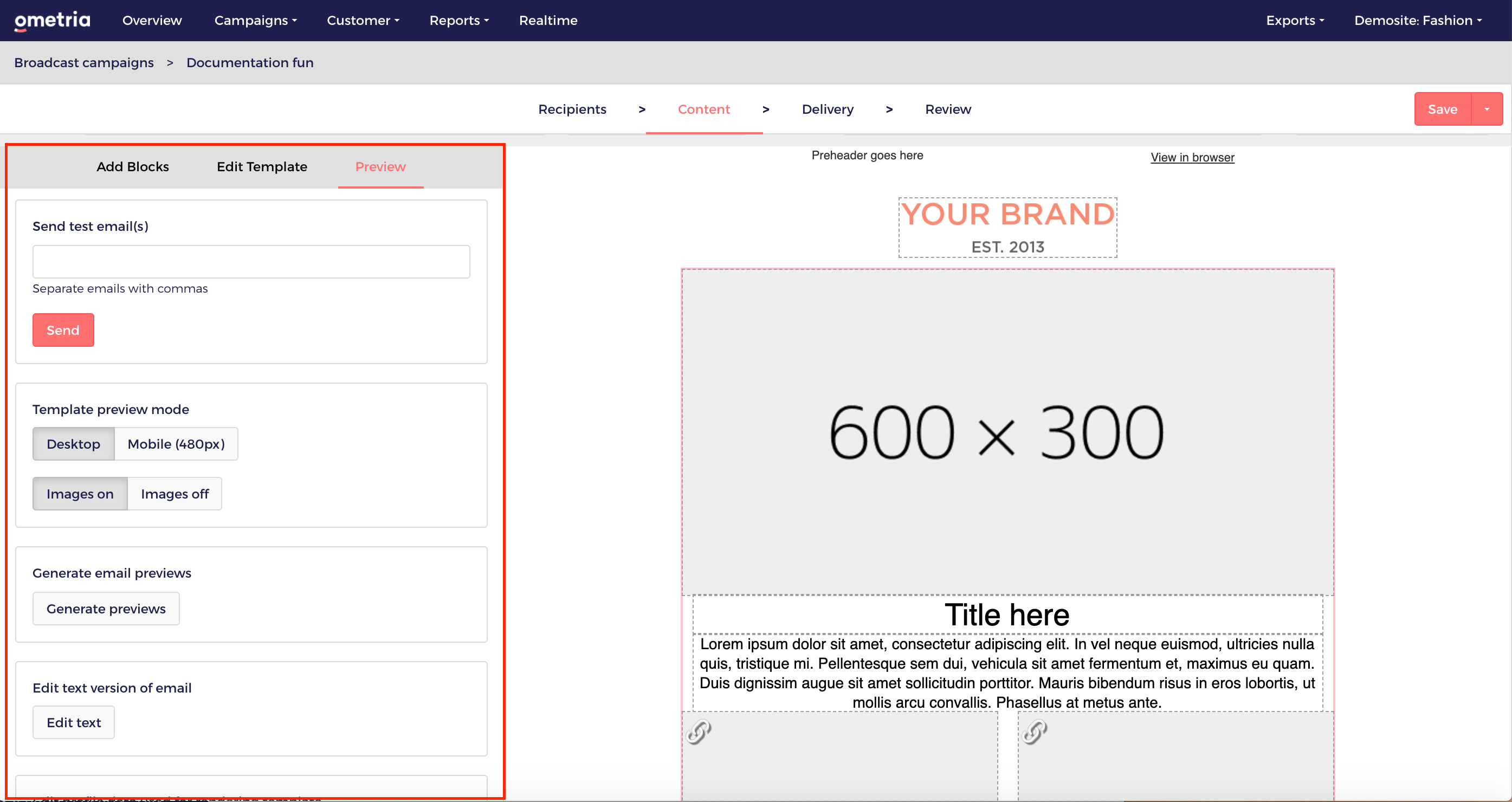 Enter as many email addresses as you need, separated by commas: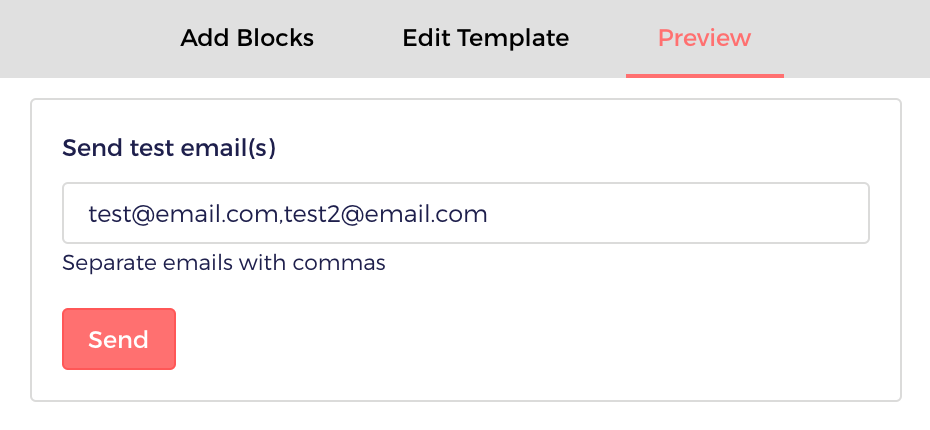 When you are ready, click Send.
Note: To send tests for other variants, repeat this step in each tab. Unless you are testing specific personalised dynamic content in your campaign, it's much more efficient to use the Send tests option.
Delivery
Once you're happy with your content and the results of your testing, you can schedule your campaign delivery.
Just like the Content screen, you can select a different delivery option for some/each of your variants.
Open each tab and configure as required.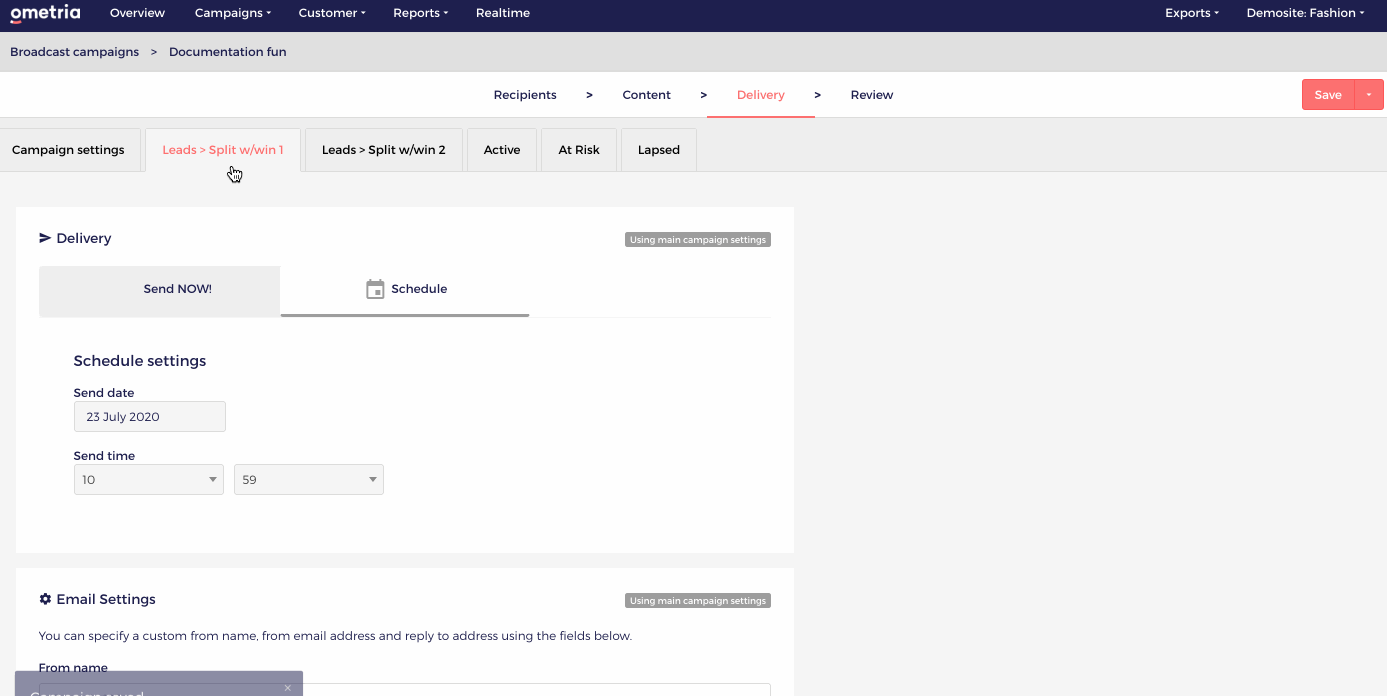 Your delivery options are:
Send NOW!
To generate the campaign straight away. The time zone for this option is your time zone.
If you select the Send Now option for a particular variant, all emails for that variant will generate as soon as you click the Save and Schedule button after reviewing all variant settings in the 'Review' screen.
Schedule
To generate the campaign at a later time.
Optimise send-time
To send via the 'send time optimisation engine', which sends all the emails of that variant at different time slots, and based on the open time of each email, iteratively optimises your send time so that maximum emails are sent at a time that maximum recipients will interact with it.
Note: If you are interested in Ometria's send time optimisation engine, contact your customer success manager for more information.
Batch sending
You can choose to send the campaign in multiple batches with a specified delay between each batch.
This is typically used to control the number of visitors from a campaign.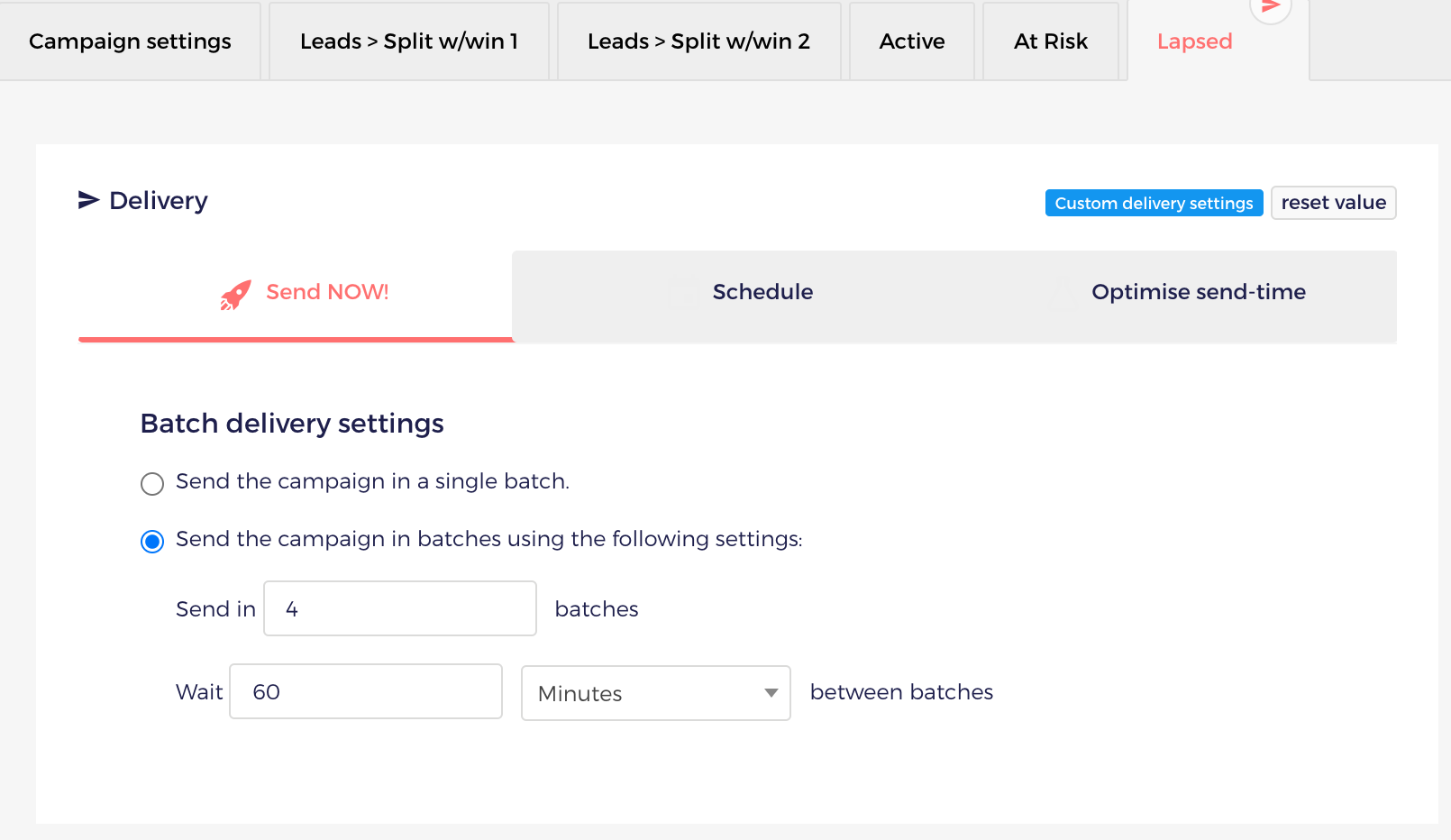 The Batch delivery settings are different when the campaign is scheduled, with different options: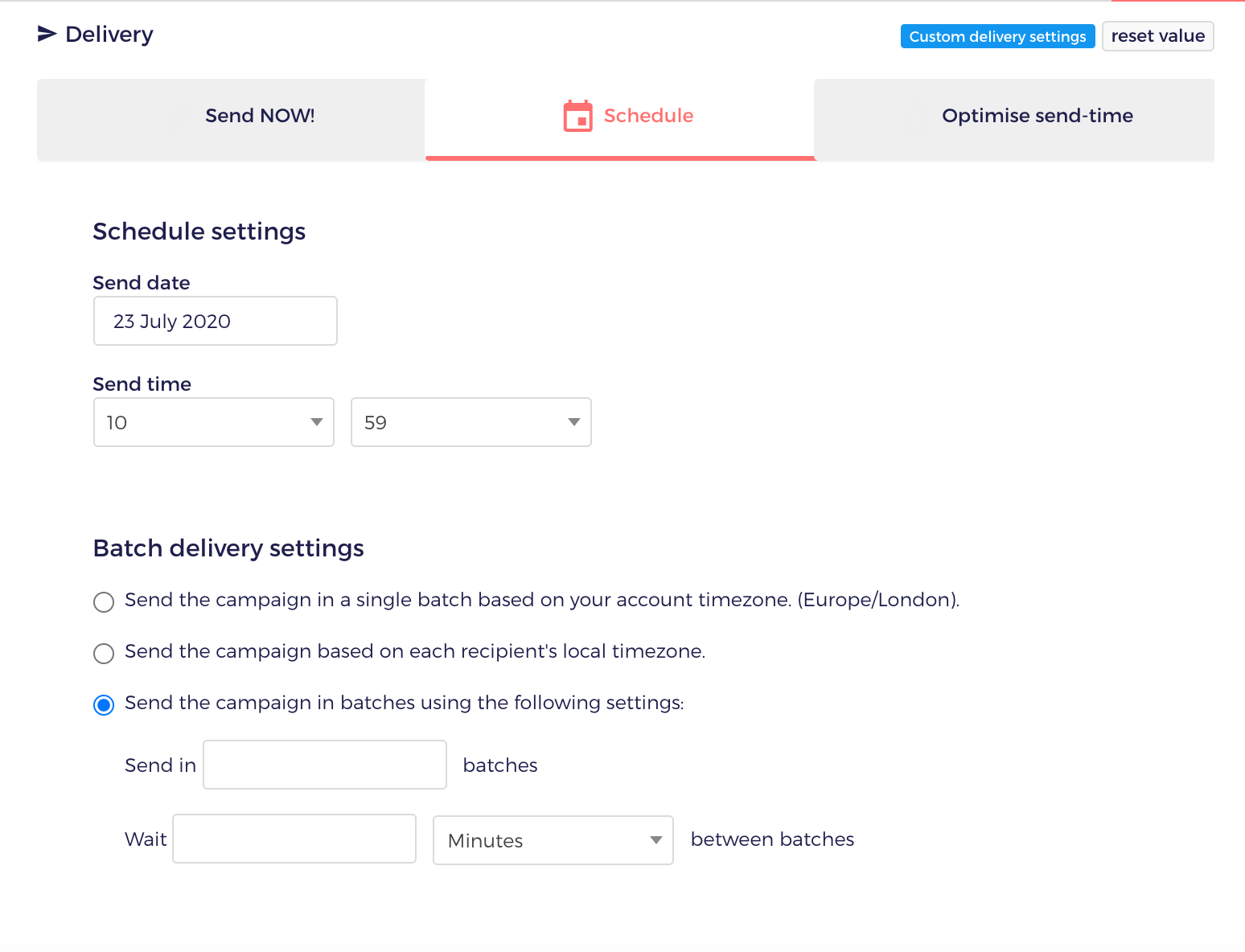 Your options are:
Option
Description
Send the variant in a single batch based on your account timezone
This sends to all the subscribed contacts in your variant at the same time, regardless of their location.


E.g. If you schedule it for 13:00 tomorrow UK time, US recipients will receive it at 09:00 local time.

Send the variant based on each recipient's local timezone

This sends to all the subscribed contacts in your variant based on their individual/local timezones.

E.g. If you schedule it for 13:00 UK time, US recipients will receive it at 13:00 local time (17:00 UL time).

Be aware that if there is less than 14 hours to go before the scheduled send time, contacts in some timezones will receive your messages immediately.

This is due to UTC timezone offsets (-12 to +14).
For example, 13:00 in the UK is 01:00 the same day in American Samoa, and 03:00 the following day in Kiribati.

Recipient's timezone is defined as:

the timezone ingested via the contact API, or;
the timezone in which their last order was placed, or if no orders have been placed;
the timezone associated with the IP address of their last visit to your site.

If none of this information is available, the default timezone for your account is used.
Email settings
For each different variant of the same broadcast campaign you can select a different:
From name
From email address
Reply to addresses
Note: If you leave any of these fields blank for a variant the default will apply.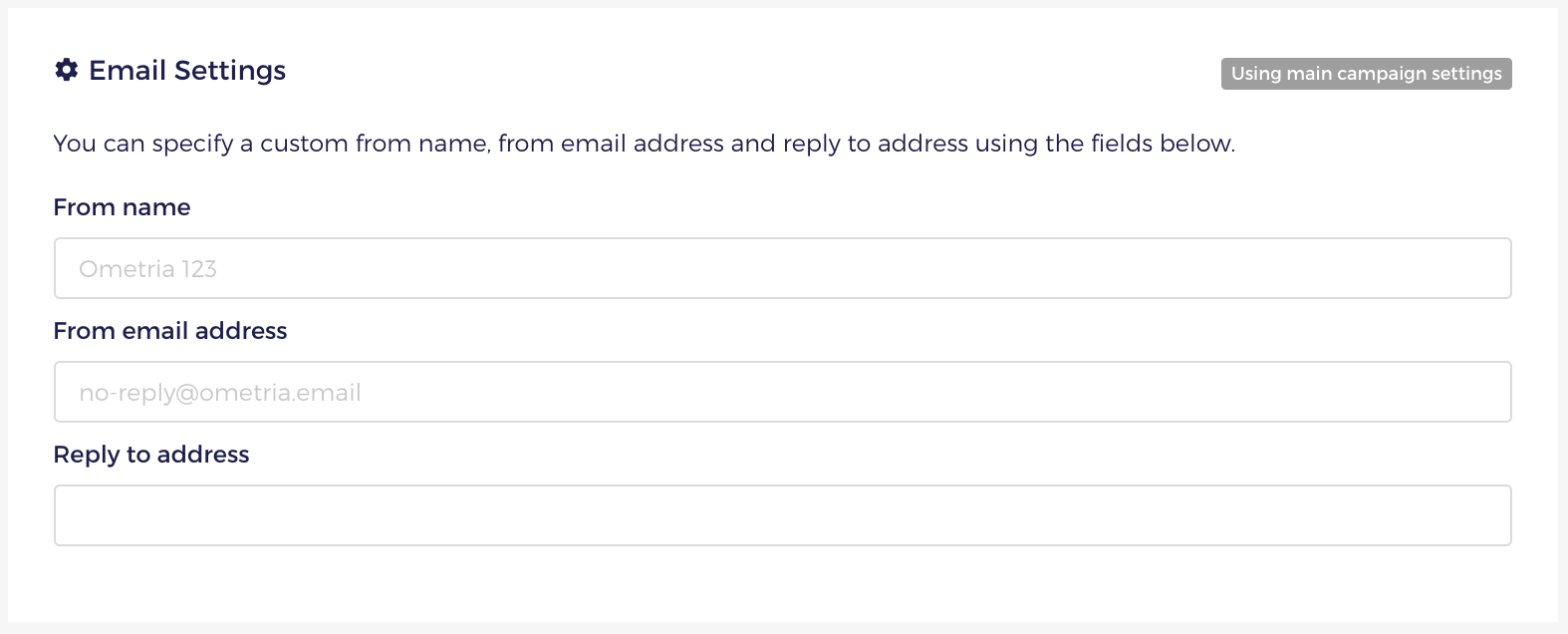 Tracking parameters
You can also add your tracking parameters for your broadcast campaign here.

See: Adding tracking parameters to broadcast campaigns
Review
The 'Review' screen presents an overview of all of the important details for your broadcast campaign and its variants.
The first tab provides a summary. Information in this tab includes:
Campaign Recipients - Who will receive each variation.
Campaign Delivery - How and when each variation will be sent.
Campaign Details - Content information such as subject line, preheader, from addresses and tracking parameters for each variation.
See: Adding tracking parameters to broadcast campaign variants.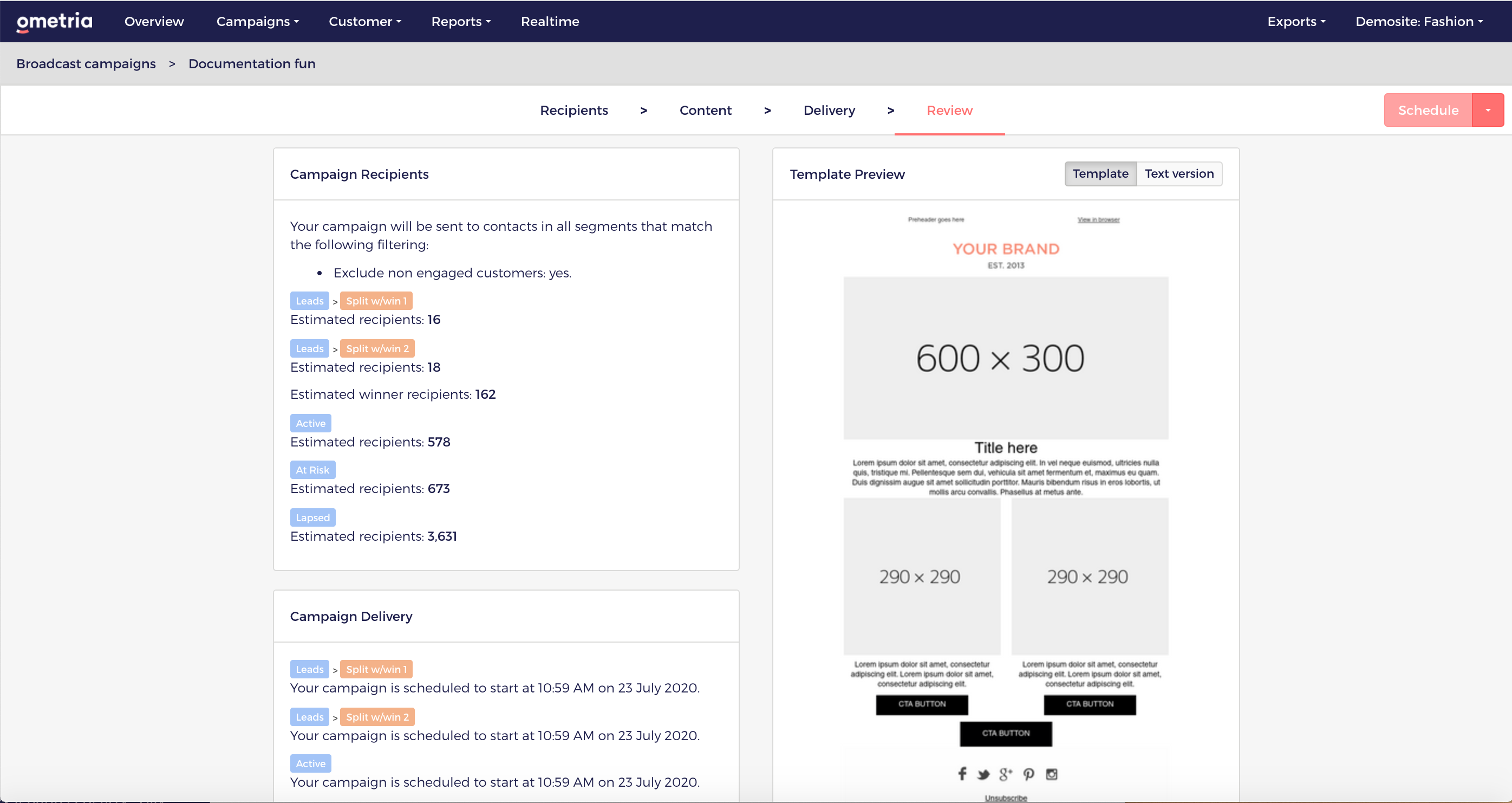 To review each variant in detail, click through the tabs.
If a tab has icon like this:
this means that variant has errors which may prevent it from sending.
Select the tab to review the error:

When you have closed any errors and reviewed each variant, you can select Schedule to start sending.
Scheduled
The Scheduled screen displays, showing all scheduled campaigns:

From here you can also navigate to draft campaigns and campaigns which have been sent.
Any variants you opted to Send Now will generate straight away, while Scheduled and Optimise send-time variants will send out in their time slots.
You can't unschedule the scheduled variants if there is even one variant with the Send Now option selected.
See more in Delivery.