In Broadcast campaigns you can create and send personalised broadcast emails to different mutually exclusive segments at the same time.
While automation campaigns send emails automatically based on a contact's behaviour, you can schedule broadcast campaigns to send at a specific time, e.g. an email alerting customers to a sale.
You can create variants of each campaign to target different segments with different content.
See also:
Note:
You can only send broadcast campaigns to contacts who are
opted-in
to email.
Go to: Campaigns > Broadcast campaigns
The Broadcast campaigns dashboard displays:

You can see all of the current broadcast campaigns for your account.
You can Search for campaigns by title, or navigate between the three tabs to see:
Draft

- Broadcast campaigns which have been created and saved but not scheduled yet.

Scheduled

- Broadcast campaigns scheduled for sending in the future.

Sent

- Broadcast campaigns which have already been sent.

In the Sent tab, you can click View stats to see the statistics for each individual campaign.
Click Duplicate to create a duplicate copy of the selected campaign (automatically titled 'Copy of' etc.) and you can also Delete draft or scheduled campaigns.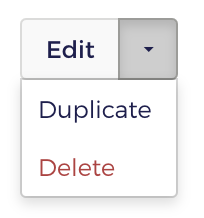 Manage templates opens the Templates screen for broadcast campaigns.
Select Create new campaign to start working on a new campaign - you can also Edit existing campaigns.