Ometria's broadcast campaign builder allows you to create multiple custom variants of a single broadcast campaign in one place (including split tests).
As you add variants, the segments cascade down and right across the screen, like a waterfall:
This means you can segment your recipients in the campaign itself, rather than creating segments separately in the segment explorer.
Note: We don't recommend using dynamic segments for broadcast campaigns as they will not refresh at the point of sending. Instead, create your segments directly in the broadcast builder.
Mutual exclusivity is ensured, meaning that a contact cannot appear in more than one variant.
See also: Excluding multiple segments from broadcast campaigns
Navigation
Go to: Campaigns > Broadcast campaigns > click Create new campaign > Recipients tab
Set up your basic recipient information (starting contacts, exclude contacts etc.) and apply a blueprint if you like.
Now you can start segmenting your broadcast recipients.
Adding new broadcast variants
Each tile you create in the broadcast builder represents a variant broadcast email sent to a segment of contacts.
In the example below, the following broadcast variants are visible:
Contacts with 'Lead' lifecycle status - Men

Contacts with 'Lead' lifecycle status - Women

Contacts with 'Lead' lifecycle status - NB/Other

Contacts with 'Active' lifecycle status

Contacts with 'At Risk' lifecycle status
Add new variants by clicking the + icon either to the right of a tile (to segment the recipients in that tile) or below (to segment the recipients in the preceding tile).
We recommend using no more than 15 segments for a broadcast campaign.
Note: If you have a contact that qualifies for multiple variants, they will enter the first one (or top variant) that they qualify for - this means it's best to order your variants by priority from top to bottom.
Select from:
Filter customers - opens the customer filter to segment your recipients.
Create test - Create a random split test based on recipient percentages, e.g 50% - 50%
Split test with winner - Create a random split test with a winner - see below:
Split test with winner
Be aware:
If you choose to include a split test in your broadcast campaign, you can't use the batch sending or optimise send-time options when scheduling your campaign to send.
Split your recipient base by selecting Split Test With Winner to test different content and delivery strategies.
Example: A 50/50 split or a 33/33/34 audience split.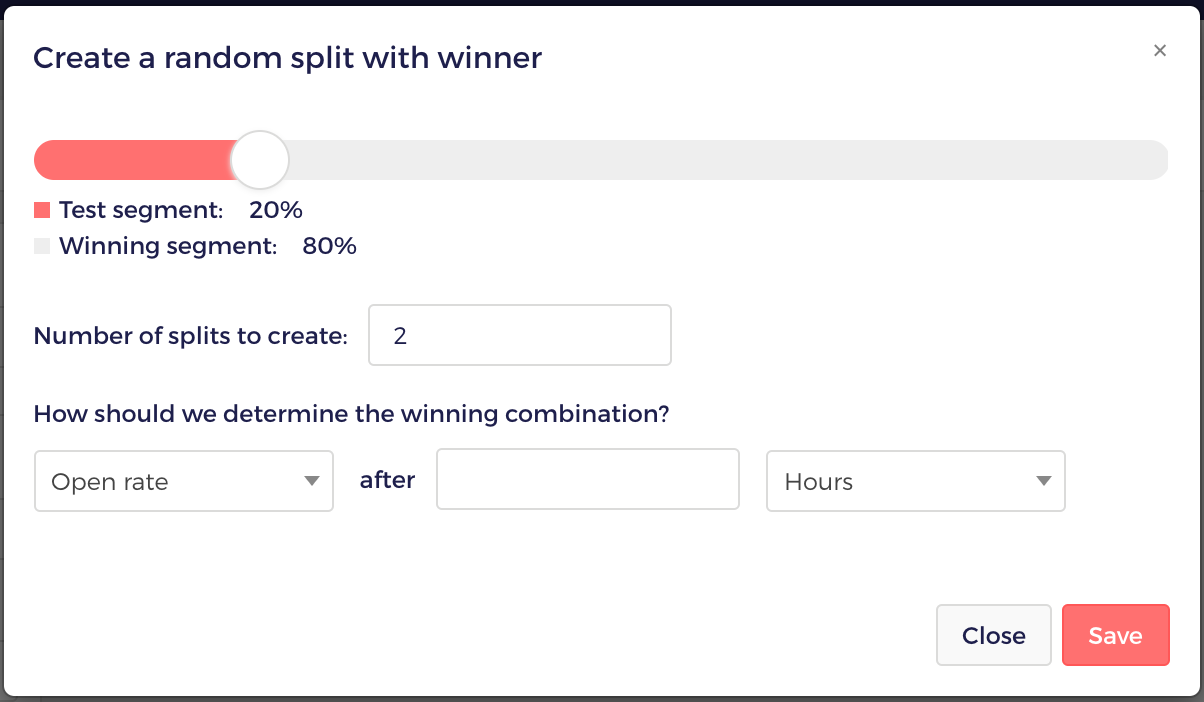 In the example above, 20% of contacts will be included in the test, and the remaining 80% will receive the winning segment, based on the conditions you select (e.g. open rate after 8 hours).
Name each segment and split as you go.
Note:
You might notice that when you split your contacts the estimated recipient numbers vary slightly, even for an equal split. This is expected behaviour, and is to ensure the smoothest and quickest possible performance. See
Split tests
for more information.
Estimate recipients
Select Estimate recipients at any point to see how many recipients are estimated to receive each variant you've created:
The number of recipients is estimated because your contacts for each variant are calculated at the point of send, not at the point of scheduling.
Due to caching in the broadcast builder, your estimated recipients might be different from the number of contacts you can see in the segment explorer.
Broadcast segmentation examples
Send variants based on gender
Use the broadcast builder to create variants based on the gender of your recipients:
Add a segment tile for each gender; men, women and 'other' (or non-binary/NB).
Add split tests as you like, and name each tile as you go.
Once you're happy with your variants, move on to the Content tab:
Your variants display as tabs at the top of the screen and you can customise each template as you go.
Send to customers based on purchase behaviour and country location
Target your campaign at customers who have purchased specific brands, and then further segment them based on their country, e.g. UK, France, US.
Set up your first segment as follows:
Everyone who match all of these blocks
+ ADD CONDITION > Purchase Activity: Has placed an order that matches…
+ ADD CONDITION > Order includes product with attribute > Which is one of: Category
Select your attributes (i.e. brands to include).
Click Apply filter.
Create another segment for another brand by duplicating the first segment and apply that too:
You now have two customer segments which display as tiles.
Start segmenting by country.
Select the + icon to the right of the segment and filter based on the following:
Everyone who match all of these blocks
+ ADD CONDITION > Customer Attributes: Is from country which is: UK
Name this segment then select the + icon below that and repeat for as many countries as you like:
Any contacts who purchased from your selected brand and were from the UK will enter the first variant. Those from France in the second, etc, etc.
Repeat this segmentation for your second brand, then add split tests if you like:
Once you're happy with your segmentation and your splits, Save and continue to the Content tab.