There are four key tabs in the Broadcast campaign builder: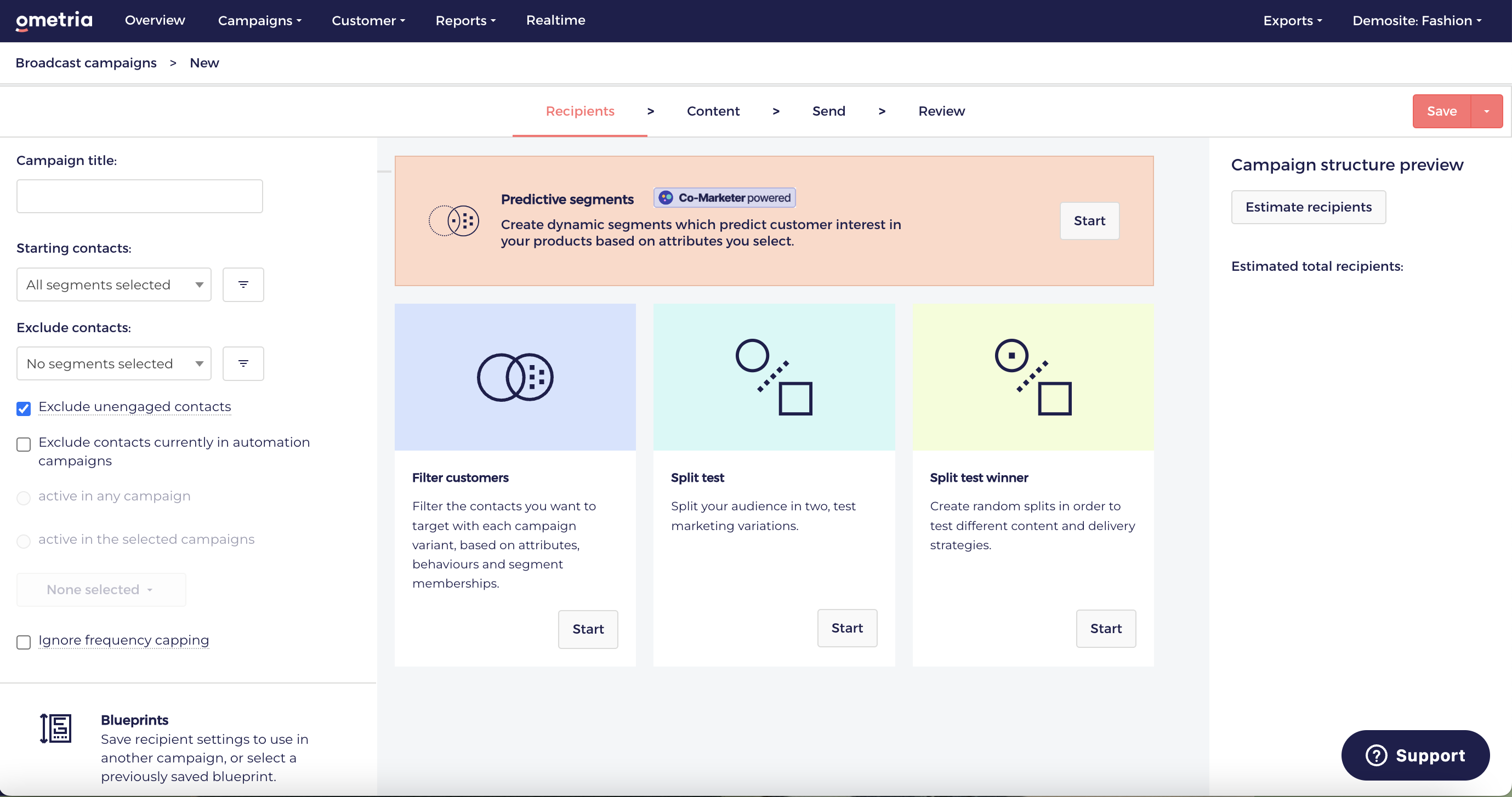 Recipients
In the Recipients tab you can define your contact segments and variants - i.e. which contacts will receive which campaigns.
Only contacts who are opted-in to email will receive the campaign.
Campaign title
Give your campaign a unique name.
You can't save your broadcast campaign until it has a Campaign title.
Starting contacts
Select a base segment of recipients, or leave as All segments selected to start with all of your contacts.
You can also create a contact filter for your segment by selecting the drop-down button:

Exclude contacts
Define any segments who should not receive this campaign.
You can also create a contact filter for your segment by selecting the drop-down button:

See: Excluding multiple segments from broadcast campaigns
Note: By default, the recipients list only includes opt-ins, and excludes contacts on suppression lists.
Exclude unengaged contacts
Select if you want to send less emails, but only to customers who are engaged.
See: Email engagement bands in Ometria
Exclude contacts currently in automation campaigns
Select if you don't want to send your campaign to contacts who are already active in automation campaigns.
You can exclude contacts that are active in any campaign, or in specific campaigns.
Contacts are considered 'active' in an automation campaign after they have passed through the entry wait node and reach the first segment condition.
So if a contact meets the conditions to enter an automation campaign which has a two hour entry wait, they will not be considered 'active' until those two hours are finished and they will not be excluded from receiving this campaign.
To ensure that contacts active in an automation campaign are excluded from this one, we recommend using a wait node after the segment condition to delay sending, rather than using an entry wait.
Blueprints
Broadcast blueprints are like templates for segmenting your recipients in the broadcast builder.
See: Broadcast blueprints
Segmenting your recipients
You can create complex customer segments and splits which display as multiple broadcast variants in this screen - see Segmenting your broadcast recipients for more information: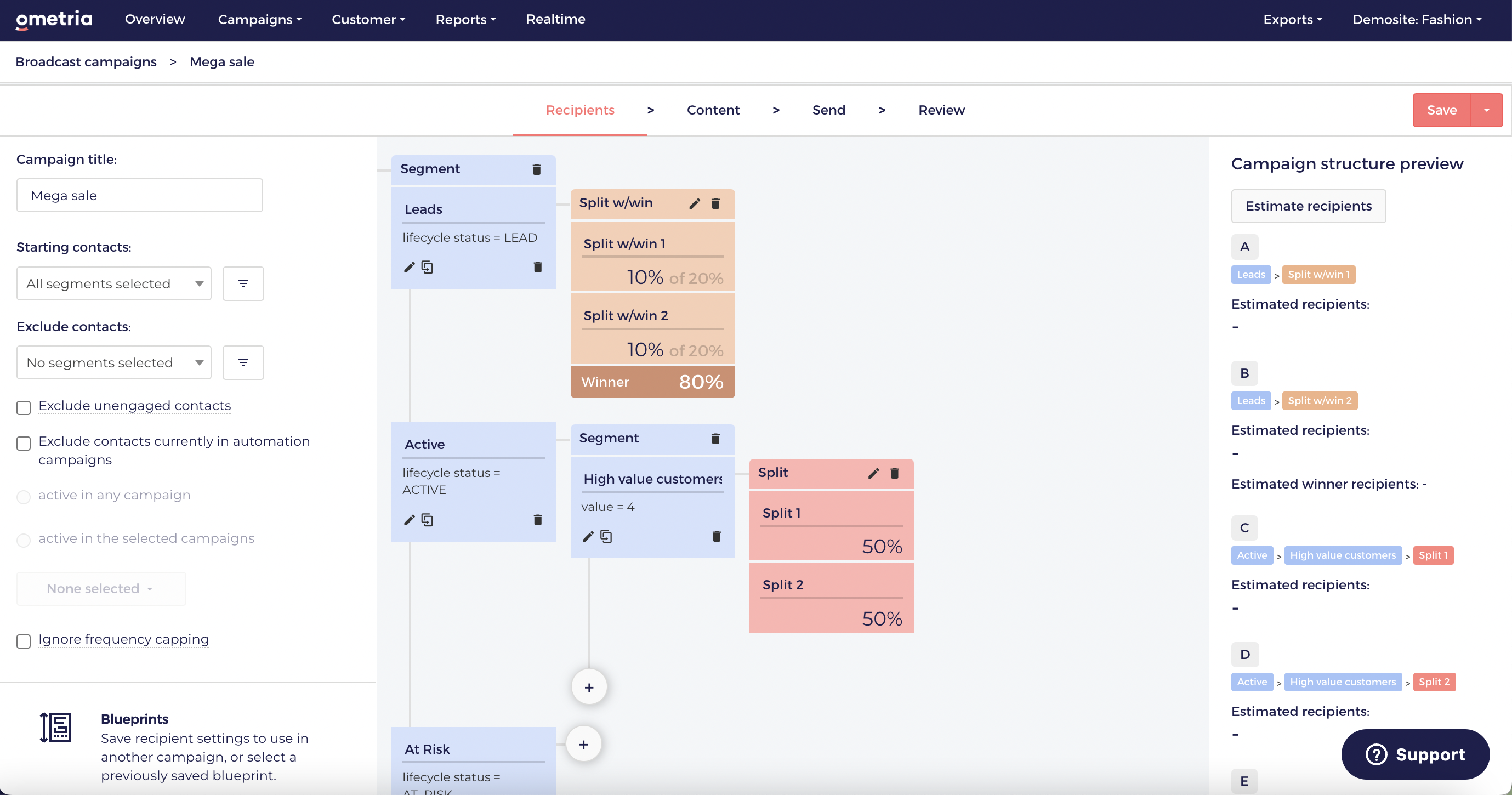 Content
From the Content tab, you can edit all of the content for your campaigns, as well as each variant.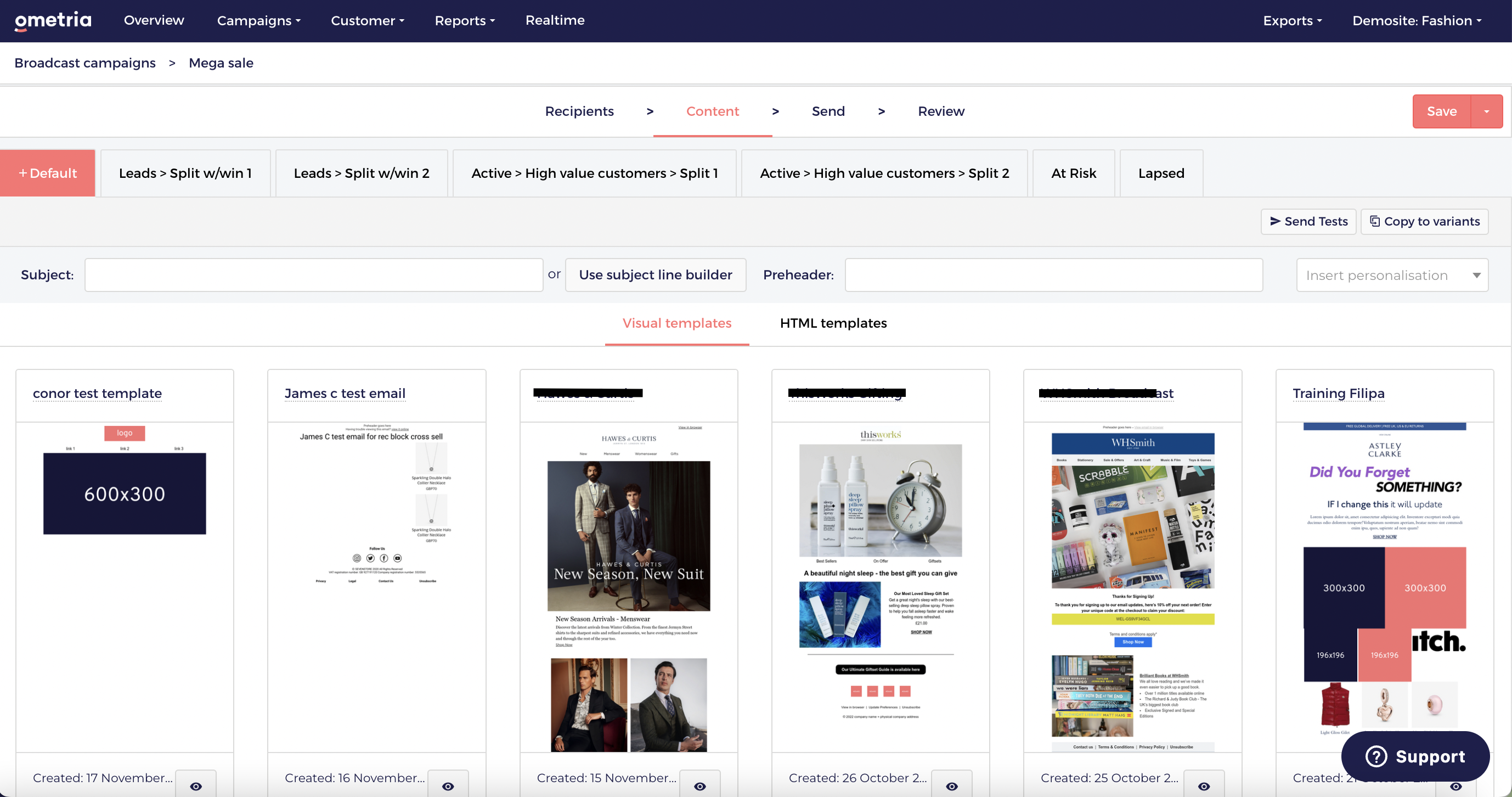 Note:
You can't edit the template itself from this screen, only the campaign contents. See
Templates
for more information.
Your variants display in tabs along the top of the screen.

Click Use subject line builder to create personalised subject lines.
You can preview and test your campaign from the Content tab.
See: Test and preview broadcast campaigns
Send the same template to multiple variants
The +Default tab applies to all variants - so you can select a template in Default and apply to all by selecting Copy to variants: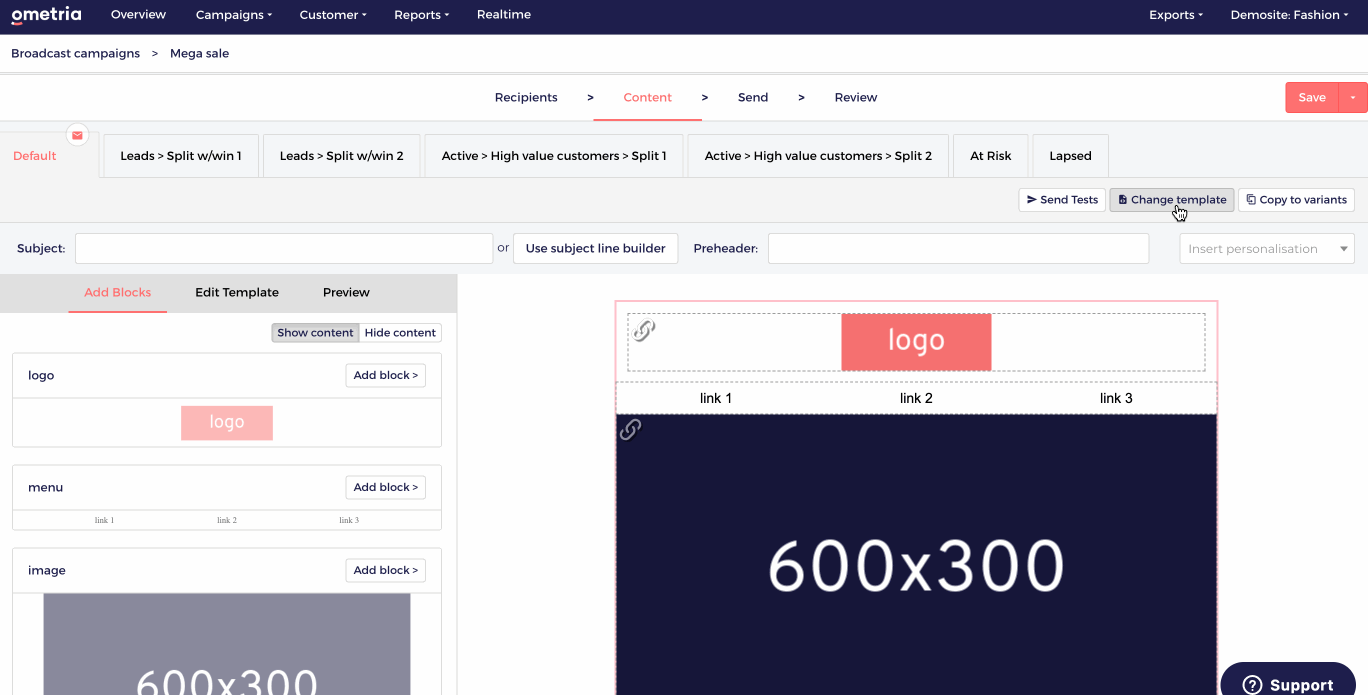 You can use either a visual template or select an HTML template from this screen.
The default template and any content you added applies across all of your selected variants, as indicated by the envelope icon which displays on the tabs: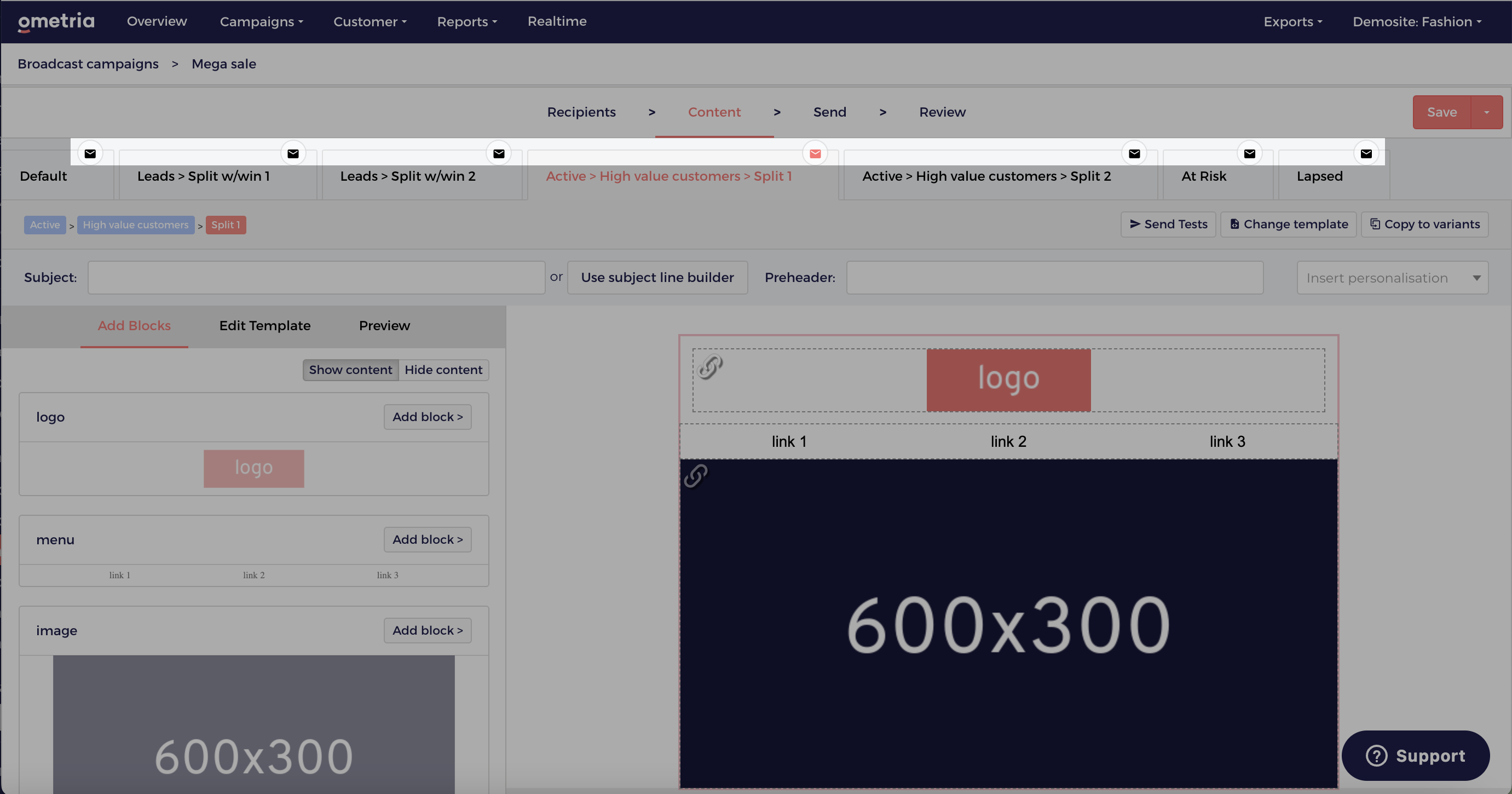 Now you can open each variant tab and make custom tweaks to the content of each template without needing to start from scratch each time.
Send different templates for each variant
If you want to use different templates for one or many of your variants, just select that variant's tab and choose the template.
See: Test and preview broadcast campaigns
Send
Once you're happy with your content and the results of your testing, you can schedule your send.
Just like the Content screen, you can select a different send option for some/each of your variants.
Open each tab and configure as required: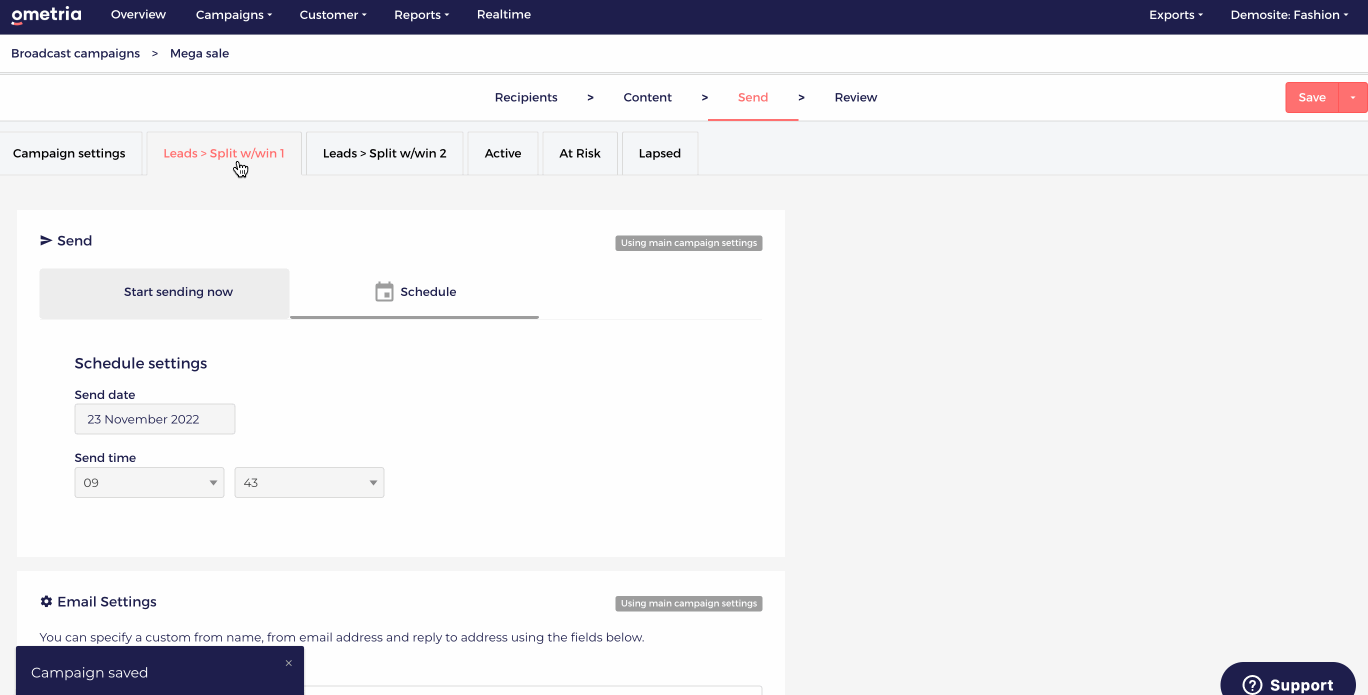 Your send options are:
See: Scheduling and sending broadcast campaigns
Review
The Review tab shows all of the important details for your broadcast campaign and its variants.
Campaign Recipients - Who will receive each variation.
Campaign Delivery - How and when each variation will be sent.
Campaign Details - Content information such as subject line, preheader, from addresses and tracking parameters for each variation.
Template Preview - a preview of the template you are sending.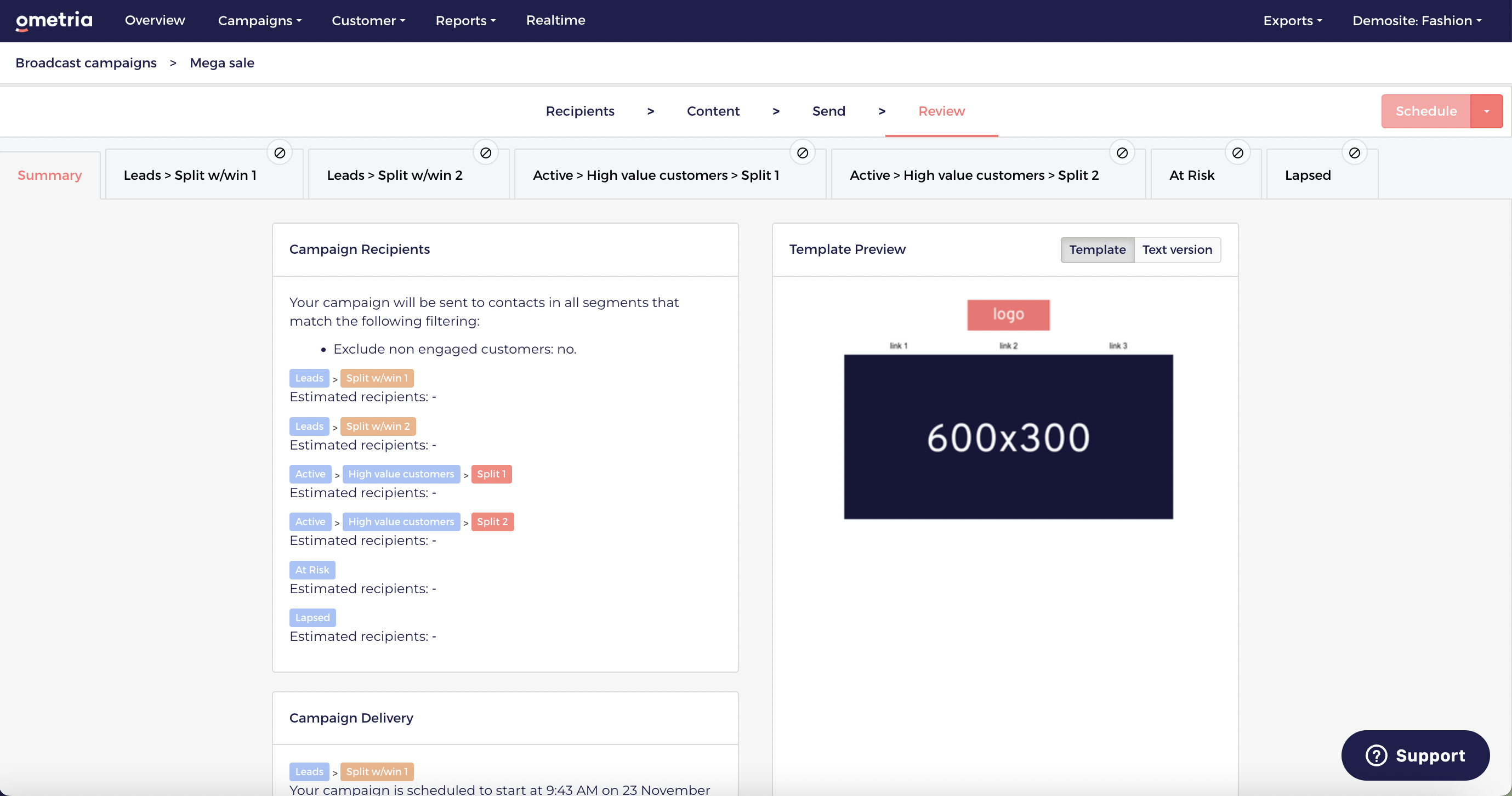 See: Scheduling and sending broadcast campaigns
Scheduled
The Scheduled tab displays all scheduled campaigns:

From here you can also navigate to draft campaigns and campaigns which have been sent.