You can pause automation campaigns in Ometria for as long as you want, and then resume again when you are ready.
This is a useful feature when you have small changes to make to the automation flow or the campaign template after the campaign is already live.
You might also want to pause some specific campaigns during special promotions via other campaigns and newsletters.
When you pause a campaign, all contacts currently active in the flow stay where they are - this is usually a wait node, as contacts typically do not stay very long in other nodes (e.g. send actions).
How to pause an automation campaign
Go to: Campaigns > Automation campaigns and select Paused against any of your Active or Testing campaigns: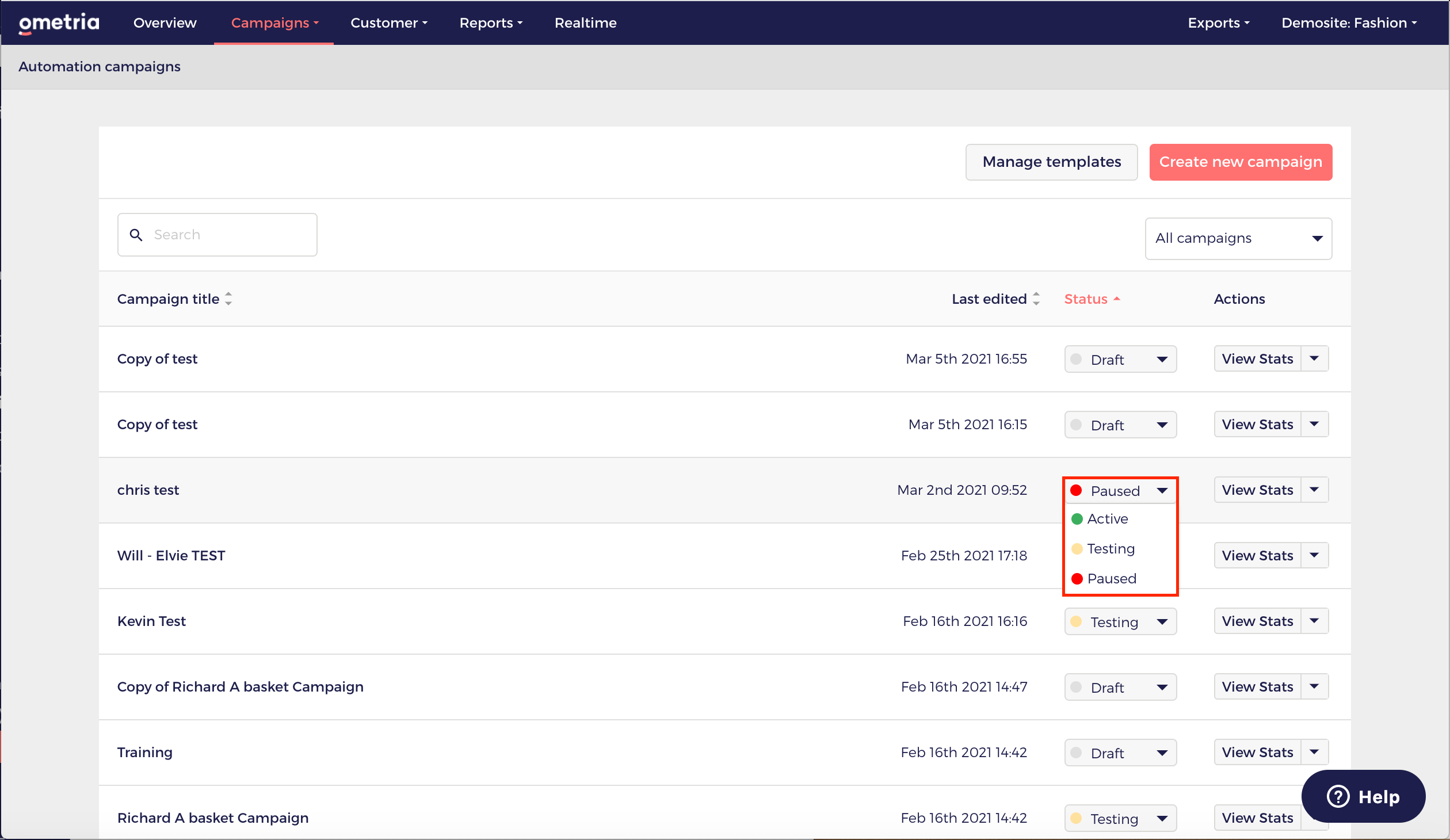 You can now complete any of the following:
Active

Description

Edit the campaign by selecting it and making any required changes as usual.

Set the campaign to Testing mode.

If you choose to test the campaign, contacts paused in the flow will not be affected.

Select View Stats to see the campaign performance report for this campaign.

Select Duplicate to create a copy of the campaign.

If you duplicate a paused campaign, the new campaign will also be paused.

Select Archive to archive the campaign.

You can unarchive your campaign at any time by filtering on Archived campaigns using the drop-down at the top right of the screen, then selecting Unarchive against the campaign.

Unarchiving moves the campaign to Paused.

Note:

When you archive a campaign all of the contacts are removed from the campaign flow and no more contacts can enter it. Any

mutual exclusivity

settings which include the archive campaign are ignored. You will still be able to access

Stats

.

Set the campaign back to Active by either resuming or restarting.
If you create a new version and then put your automation campaign into Testing mode before publishing your latest version, the whole campaign will enter testing mode.
This includes any previous versions which are still active.
Note:
While test campaigns do not send emails to contacts, they behave as live campaigns otherwise. This means that if you apply
mutual exclusivity
rules to a test campaign, it has the potential to impact your live flows - e.g. a contact being excluded from a live campaign because they are included in a test campaign.
Changes to the campaign flow
You can add and remove nodes from the flow while the campaign is paused.
Be aware:
Be aware that if you add extra nodes after the final wait node, the contacts in that wait node will continue to exit the campaign from where they are; they won't continue through to the new nodes.