In Automation campaigns you can create and send personalised, cross-channel marketing experiences.
For example, you can create a reactivation campaign flow to target customers who last purchased a specific product 6 months ago.
You do this by setting up a campaign in the Automation Campaign Builder that is segmented by product, with different wait times based on the product order gaps. Then you can send a personalised email with product-related content, and build a list of contacts to re-target via Facebook as a follow-up action.
See also:
Navigation
Go to: Campaigns > Automation Campaigns
The Automation Campaigns dashboard displays:

Use the dropdown to filter the campaigns you're viewing:
All campaigns shows all of your automation campaigns, regardless of status.
Active automation campaigns are currently sending, i.e. the flows and templates are live and emails are being generated to contacts in those flow.
Draft campaigns are unpublished automation campaigns.
Paused campaigns are paused for sending. When you publish a draft campaign it automatically becomes paused.
Testing campaigns are in test mode.
Select Stats to see the statistics for each individual campaign.
Alternatively, select Create new campaign to start working on a new campaign.
Select Duplicate to create a duplicate copy of the selected campaign (automatically titled 'Copy of' etc.)
Manage templates opens the Templates screen for automation campaigns.
Archive and Unarchive your campaigns at any time: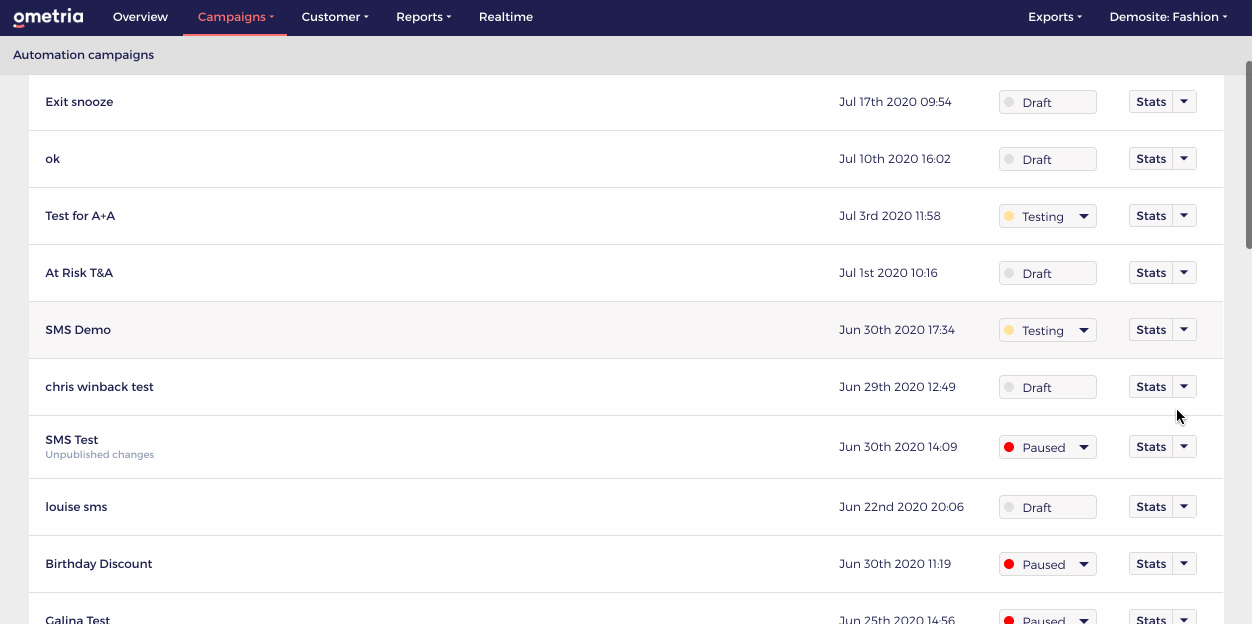 New Automation Campaign
See also: Edit an existing Automation Campaign
The Automation campaign builder allows you to create specific and comprehensive flows for your automated marketing activities.
From this screen you can define campaign's entry conditions, as well as:
which emails to send to which contacts,

which tags to assign to them, and;

the campaign exit conditions.
See Automation Campaigns: conditions and actions for more information.

Navigation
Icon
Description

Campaign Title - enter a name or title for this automation campaign.

You can change this at any time.

Campaign Created - auto-populates with the date the campaign was created.
Zoom - select either icon to zoom in (+) on your flow for more detail or out (-) to see all of the flow.

Settings - opens the Edit Campaign Settings pop-up.

Note:

Edit Campaign Settings is only available once your campaign has been saved.

Revert - re-sets the flow to the last time it was saved (i.e. before all of the changes made in your current edit.)
Undo and Redo - erases the last change made, or re-applies the last change undone.
Save - preserves any changes you have made.

Publish - publishes your saved changes and sets the status to Paused.

Note:

Published campaigns are not active.
Edit Campaign Settings
In the Edit Campaign Settings pop-up you can define some of your key email settings for this campaign, including the From email address and name.
You can also add your tracking parameters (UTM parameters) and set Mutual exclusivity (i.e. excluding contacts already active in other automation campaign flows), if desired.
Note:
These fields are optional and specific to the automation flow you are working on. If you leave any of these fields blank, the default data in Email Settings will apply.

Field
Description

Mutual exclusivity

Ensure that contacts active in other automation campaigns are excluded from this one.Select as many as you require from your live campaigns.

See Mutual exclusivity for more information.

From email name

Set the email name to display in the 'from' field of your emails.

From email address

Set the email address to display in the 'from' field of your emails.

Reply to email address

Set an email address contacts can reply to.

Tracking parameters

Set any tracking parameters you require for this email.

See Tracking parameters in Ometria for more information.