Custom fields in Ometria are properties unique to your account. These can be anything from a customer's loyalty points to their brand preferences.
Custom fields host bespoke information about your contacts, which is passed into Ometria via your eCommerce importer (e.g. Magento, Shopify), API, CSV upload or a third party connection.
You can then use these fields to segment your contacts (contact fields only), generate reports and send customised emails.
Note: You can only have custom fields set up for contacts and orders, not for products. Custom fields for orders cannot be used to segment contacts, only to personalise emails with merge tags.
You can create up to 100 custom fields per custom field type.
If you'd like to increase the custom field limit please get in touch with your Customer Success Representative.
This total includes archived custom fields.
Exceptions
If you require custom fields for any of the following, please raise a support request instead of following the process below:
If you are setting up custom fields for Shopify tags or your Magento importer, you can use the process below, and once the fields are created you should raise a support request so our team can help you complete the required mapping.
Permissions
Only users with the permission Can create and modify custom fields enabled in their settings can create custom fields: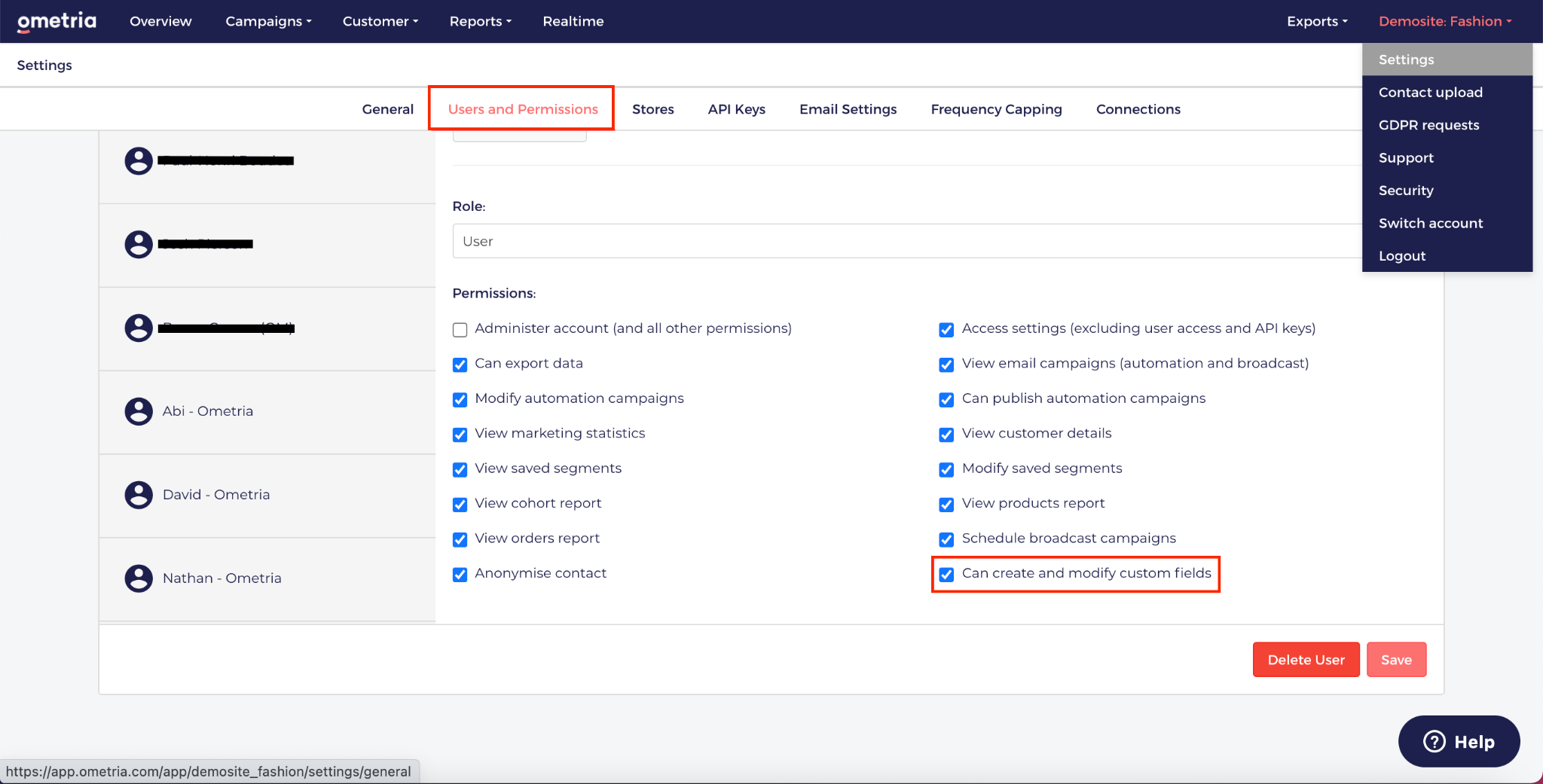 Creating custom fields
In Ometria, go to Settings > Custom fields: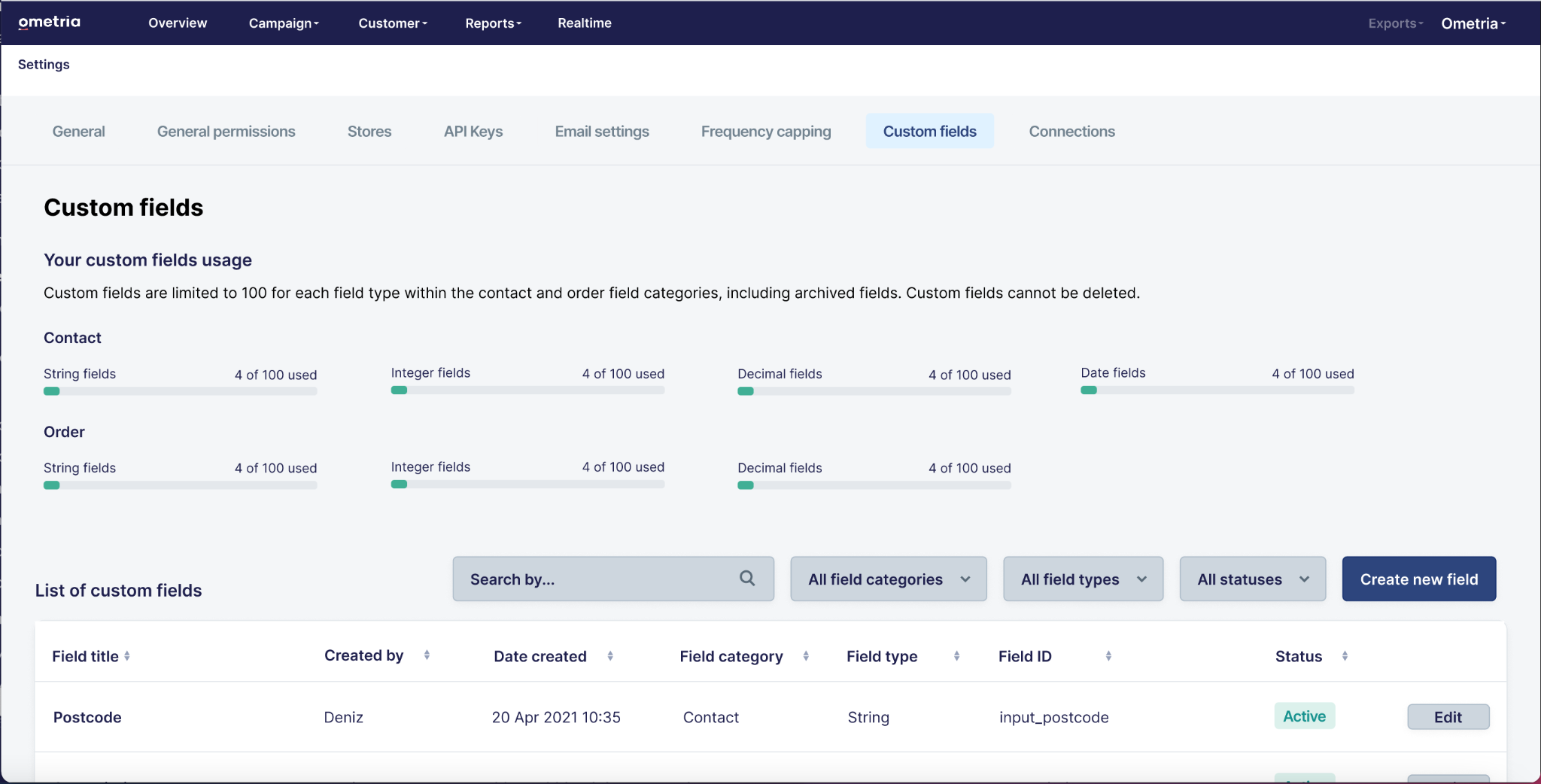 Select Create new field and complete the fields as required: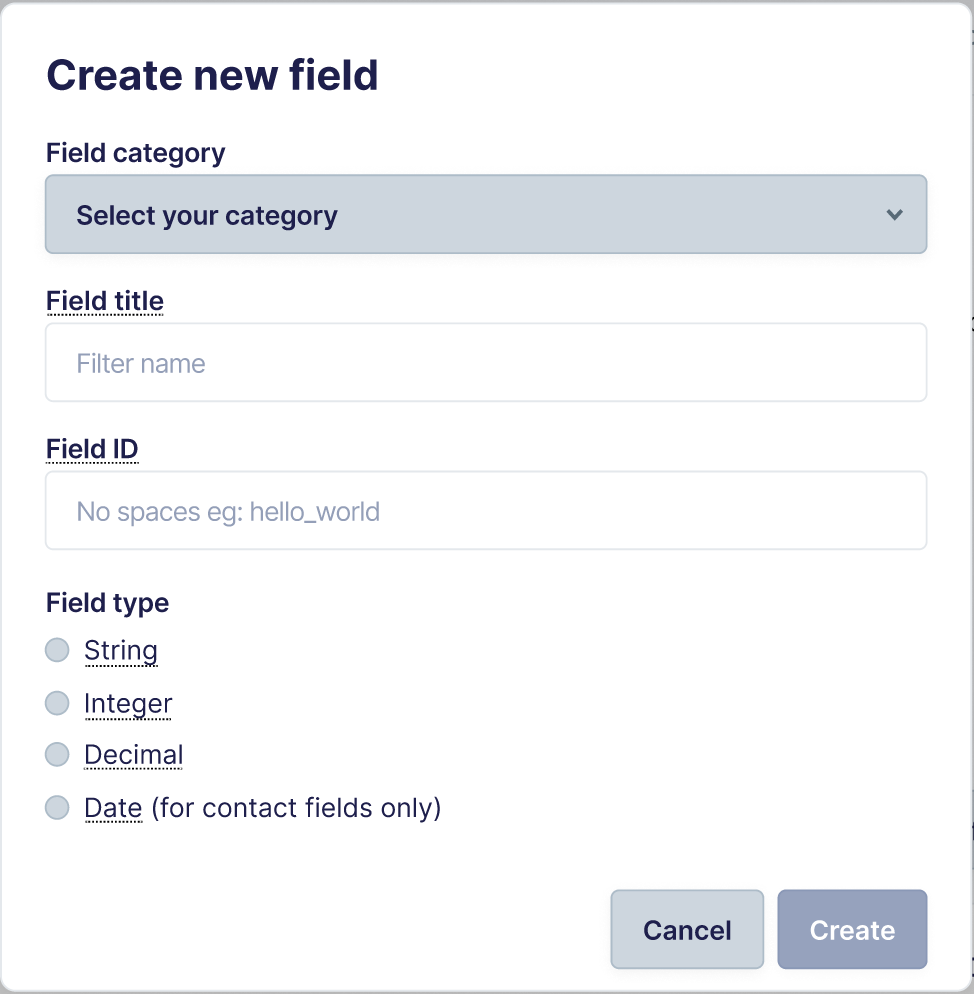 Field
Description
Field category
Select from:

Remember, Order fields can only be used to personalise emails with merge tags - you can't use them to segment contacts.

Field title

The name of your custom field, e.g. Loyalty tier

This is the title you and your team will see in the platform, e.g. in the segment explorer, so make sure it's easily recognisable.

Field ID
The ID for your custom field. This must not contain spaces, e.g. loyalty_tier
Field type
Select your field type:

Integer - any whole number, e.g. 100
Decimal - ​​Any number with a decimal place - can be used for percentages, e.g. 0.25
String - Any characters permitted, including accents and other character symbols. String fields have a 255 character limit.
Date - Date format YYYY-MM-DD. This is for contact fields only.

You can create up to 100 fields per type, per category.
Once you have created a field, you won't be able to delete it, only archive it.
Select Create once you're happy with the setup.
Note:
If your custom fields are for
Shopify tags
or your
Magento
importer, you should
raise a support request
so our team can help you complete the required mapping.
Custom field security
Every time someone creates or archives a custom field in your account it is reflected in the audit logs.
See also: