The Contacts tab in the Segment explorer presents all of the contacts in your selected/filtered segment as a list: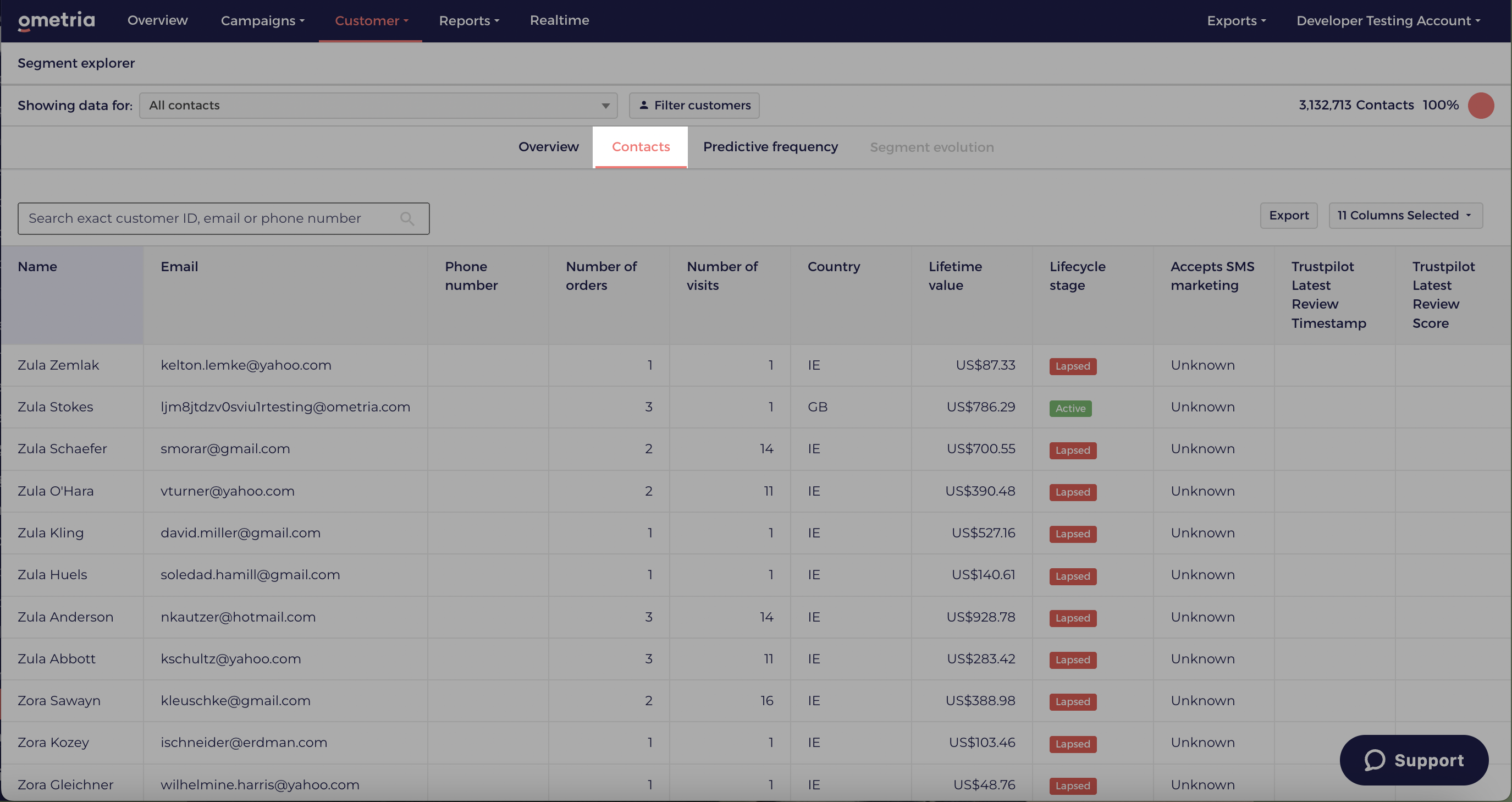 You can also Export segments from this tab.
As in the Overview tab, you can select a segment using the Showing data for field, and/or you can filter your contacts using the Customer filter.
The number of contacts in the segment you are viewing displays in the far right of the screen, as well as the percentage of total contacts this number represents.
Click on any contact to see: Contact details: Single customer view.
You can search for a contact in this segment by entering their full email address, customer ID or phone number into the search bar on the left.
There are also additional columns available in the drop-down list on the right: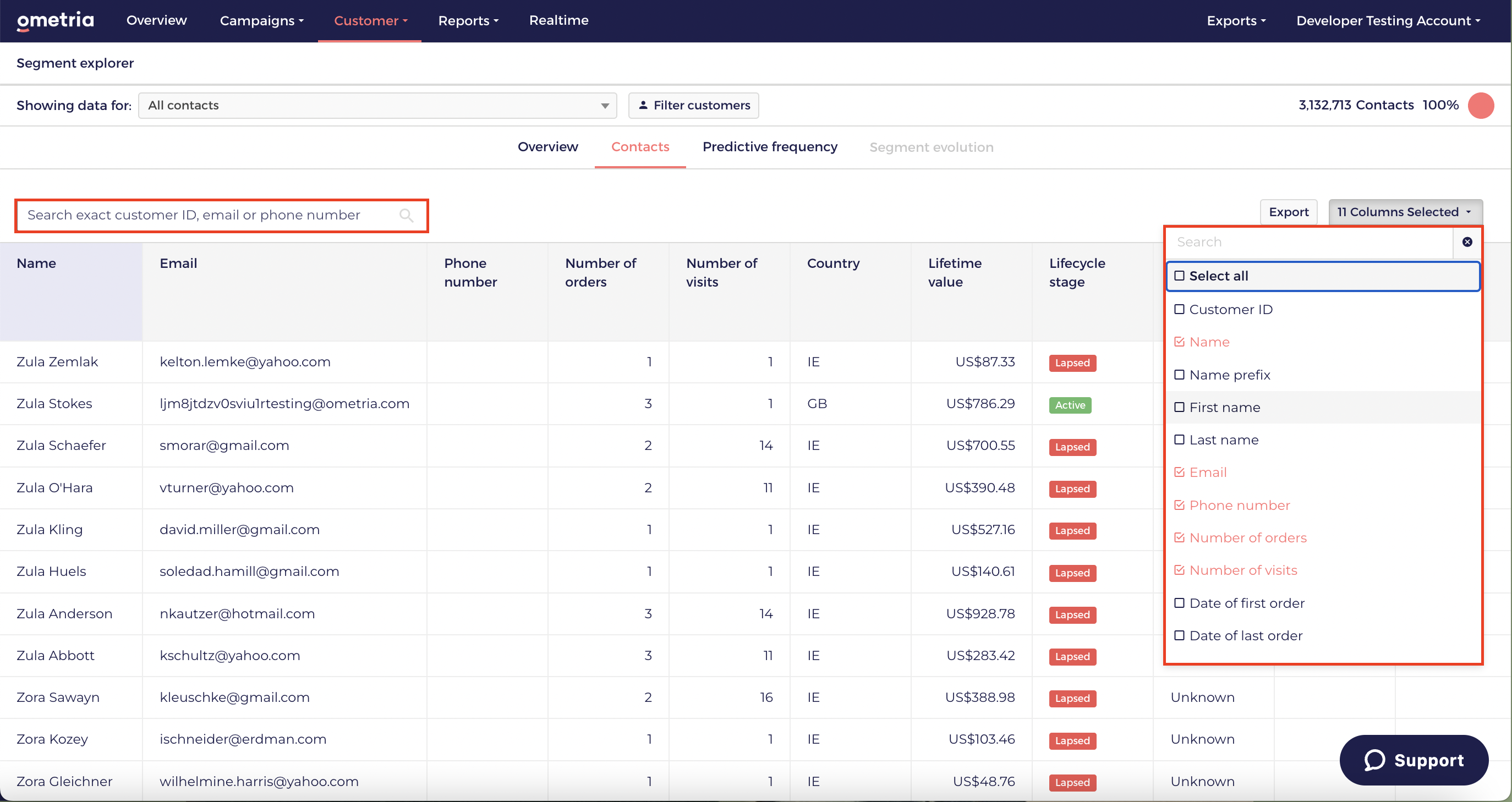 Choose from any combination of the following column headings:
Column

Description

Customer ID

The ID number optionally assigned by you as the 'customer_id' field.

Name

The contact's full name.

Name prefix

The contact's title, e.g. Mr, Ms, Dr etc.

First name

The contact's first name, e.g. Jane

Last name

The contact's last name, e.g. Smith

Email

The contact's email address.

Phone number

The contact's phone number.

Number of orders

The number of orders that contact has placed.

Number of visits

The number of tracked visits the contact has made to your site.

Date of first order

The date of the contact's first order.

Date of last order

The date of the contact's last order.

Date acquired

This date is the first time any record of the contact's profile existed in any data point, i.e. the first time the contact's email address entered your database.

This includes the earliest listing or order from your historic data.

Country

The country the contact lives in.

Average order value

The contact's average order value (AOV).

Lifetime value

The total revenue from valid orders placed by this contact.

Lifecycle stage

The contact's lifecycle stage.

Accepts SMS marketing

Whether or not the contact has opted-in to receiving SMS marketing.

Subscription updated (SMS)

The date the contact last updated their marketing preference for SMS.

Accepts email marketing

Whether or not the contact has opted-in to receiving email marketing.

Date subscribed email

The date the contact subscribed to receive email marketing.

Date unsubscribed email

The date the contact unsubscribed from email marketing.

Accepts push notifications

Whether or not the contact is opted in to receiving push notifications from you.

Date first subscribed (push)

The date the contact first opted in to receive push notifications from you.

Date first unsubscribed (push)

The date the contact first opted out of receiving push notifications from you.

Date last subscribed (push)

The most recent date the contact opted in to receive push notifications from you.

Date last unsubscribed (push)

The most recent date the contact opted out of receiving push notifications from you.

Date of birth

The contact's date of birth.

Gender

The contact's gender, as defined by you.

Defaults:

M (men)
F (women)
O (other)

First store

The first of your stores the contact shopped in.

Last store

The most recent store the contact shopped in.

Last order - city

The city from which the contact made their last order.

Last order - state

The state from which the contact made their last order.

Last order - postcode

The postcode from which the contact made their last order.

Last order - country

The country from which the contact made their last order.

Store ID

Numeric ID for the contacts' 'home store', i.e. the first store the contact visited, added a listing to, or ordered from.

Store Name

The name of the store above.

Language