In the Recipients tab of the broadcast builder you can define your contact segments and variants - i.e. which contacts will receive which campaigns.
Only contacts who are opted-in to email will receive the campaign.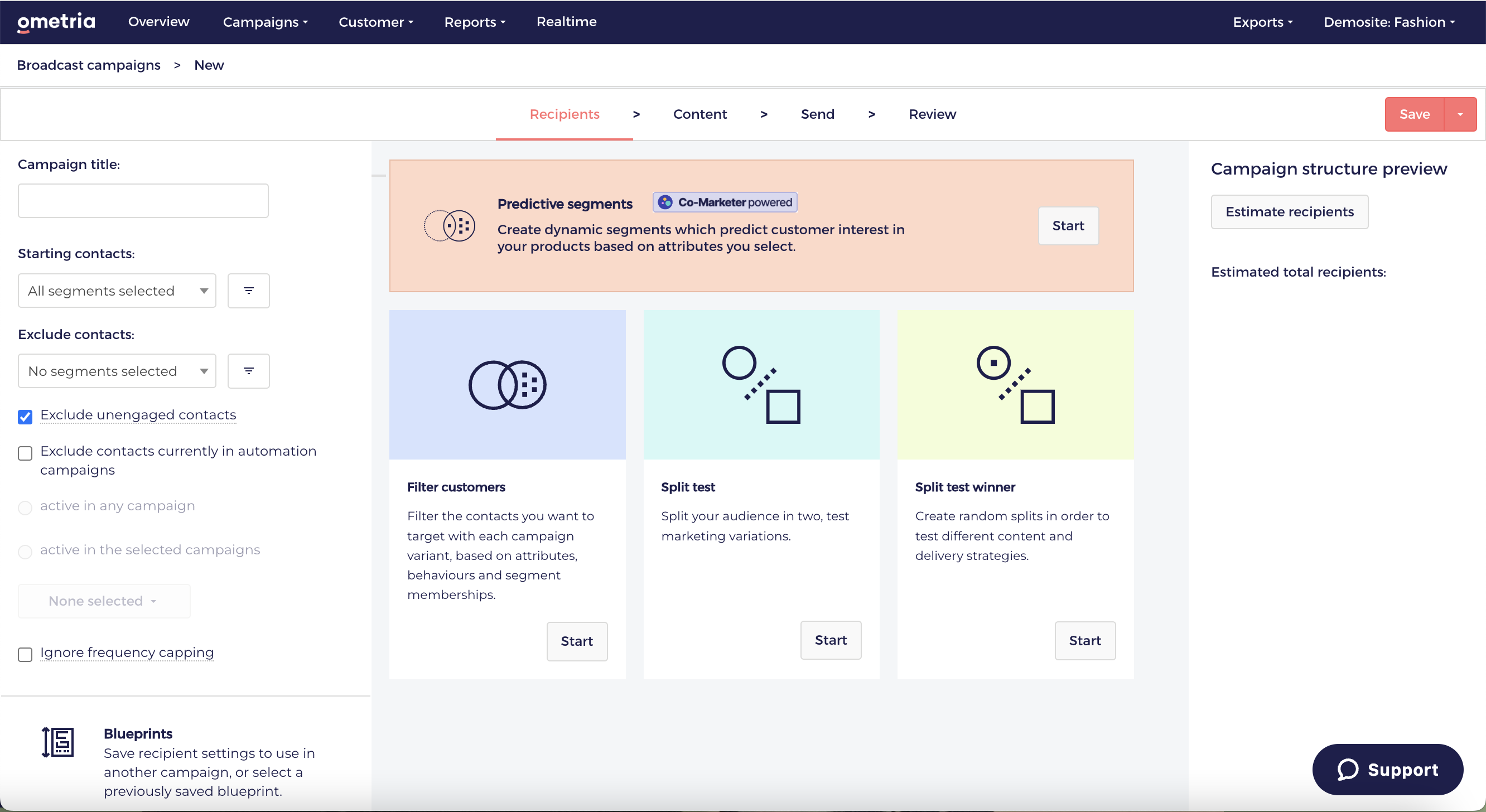 Campaign title
Give your campaign a unique name.
You can't save your broadcast campaign until it has a Campaign title.
Starting contacts
Select a base segment of recipients, or leave as All segments selected to start with all of your contacts.
You can also create a contact filter for your segment by selecting the drop-down button:

Exclude contacts
Define any segments who should not receive this campaign.
You can also create a contact filter for your segment by selecting the drop-down button:

See: Excluding multiple segments from broadcast campaigns
Note: By default, the recipients list only includes opt-ins, and excludes contacts on suppression lists.
Exclude unengaged contacts
Select if you want to send fewer emails, but only to customers who have opened an email in the past 180 days.
If you select this, you are excluding contacts in the No engagement band, as these contacts have a score of 0.
Contacts with an 'unknown' engagement band (-) are still included, as they do not have a score yet.
Exclude contacts currently in automation campaigns
Select if you don't want to send your campaign to contacts who are already active in automation campaigns.
You can exclude contacts that are active in any campaign, or in specific campaigns.
Contacts are considered 'active' in an automation campaign after they have passed through the entry wait node and reach the first segment condition.
So if a contact meets the conditions to enter an automation campaign which has a two hour entry wait, they will not be considered 'active' until those two hours are finished and they will not be excluded from receiving this campaign.
To ensure that contacts active in an automation campaign are excluded from this one, we recommend using a wait node after the segment condition to delay sending, rather than using an entry wait.
Blueprints
Broadcast blueprints are like templates for segmenting your recipients in the broadcast builder.
See: Broadcast blueprints
Segmenting your recipients
You can create complex customer segments and splits which display as multiple broadcast variants in this screen - see Segmenting your broadcast recipients for more information: