From the Saved segments screen in Ometria you can view and manage all of your customer segments.
For more information on creating segments, see Segment explorer.
There are two types of segment in Ometria:
Static - Fixed lists which do not update automatically (though they can be updated via automation campaigns or API call), and;
Dynamic - Lists that update over time as contacts are automatically added and removed based on actions and conditions in your campaign flows. Create a dynamic segment using the customer filter to set up your conditions, then Save as new segment.
Note: Recently created dynamic segments and segments with significant changes update every 24 hours, unless they are used in an automation campaign flow, in which case they update every four hours.
You can also select Refresh to prompt an update.
See also: Create a static segment
Go to: Customer > Saved Segments: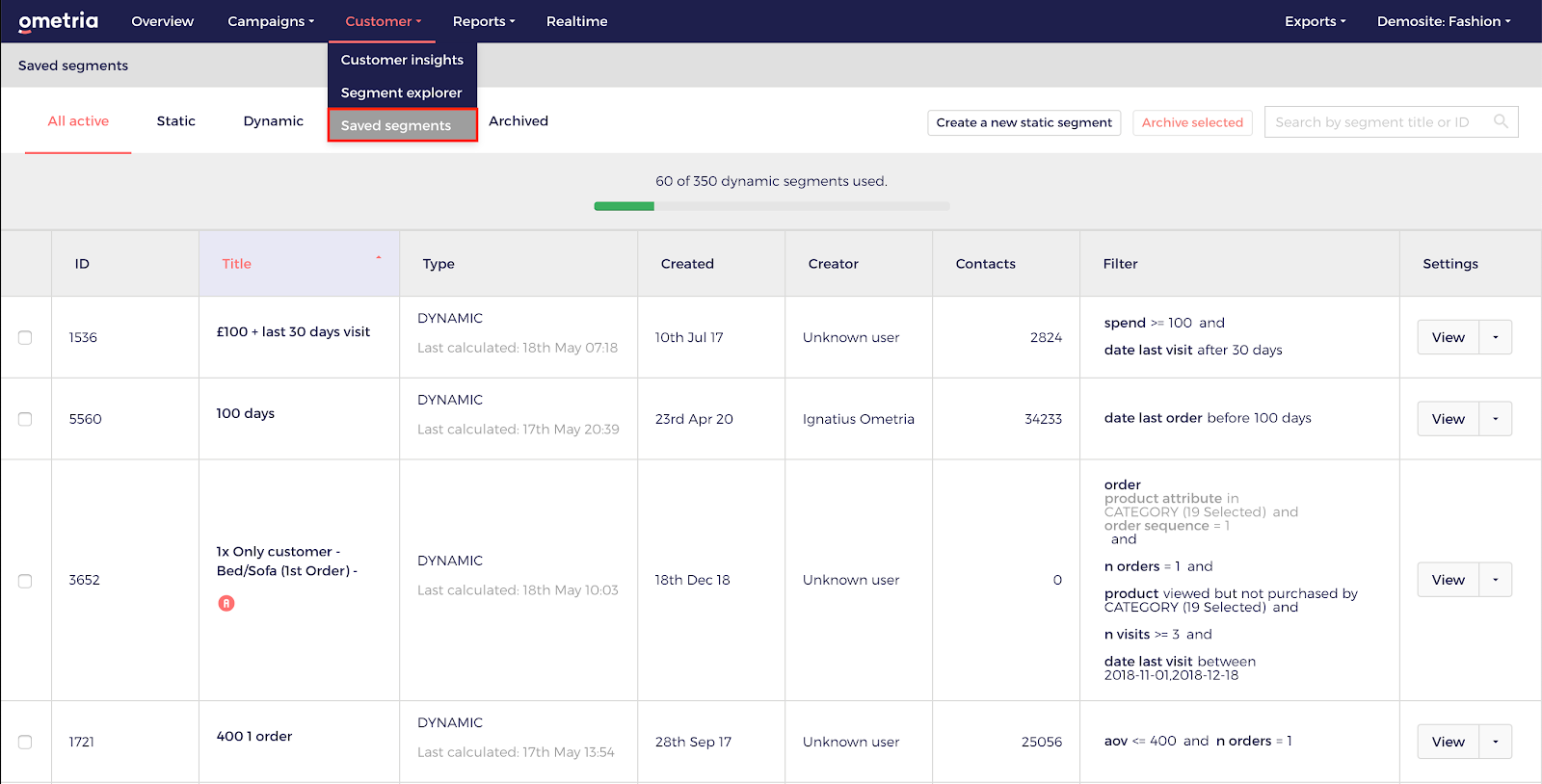 From here you can see all of your saved segments, separated into tabs.

| | |
| --- | --- |
| Tab | Description |
| All active | All your segments, both static and dynamic, that are currently active in Ometria. |
| Static | All of your active static segments. |
| Dynamic | All of your active dynamic segments.There is a limit of 350 active dynamic segments per account. |
| My segments | All of the active segments (static or dynamic) that you (the individual user) have created. This is based on your login credentials. |
| Archived | All of your archived (inactive) segments. |
Search your segments by ID or title using the search bar on the right:

Note: This feature searches only the tab you have selected - e.g. if you are in the Archived tab, the search function will only return archived segments, not active.
You can also see how many dynamic segments you currently have active from the progress bar above the table:

If you'd like to increase your dynamic segment limit please get in touch with your Customer Success Representative.
See also:

See also: Removing contacts from static segments
Evolution
Select Evolution from the View drop-down list to navigate to the Segment evolution dashboard.
The Segment evolution dashboard demonstrates how a segment's size evolves over time.