Rebranding occurs when a business changes its name and develops a new identity in the market.
You might choose to rebrand for a number of reasons, and whether you've acquired a new business, been acquired, or your company is going in a new direction, it is important to plan out how this change might impact your email program.
When rebranding, updating your campaign templates and sending domain is only the first step.
You also need to carefully consider how to roll this out to your email program and take into consideration:
the impact to your contacts, and;

how your mail will be perceived by mailbox providers under the new brand.
Note: If your business is not changing its name, but instead organising a major content overhaul then there should be no deliverability implications.
If you are going to undertake a rebrand, please contact your Customer Success Representative to discuss. This should be done with a minimum of eight weeks notice.
Mailbox provider considerations
You should update the following to match your new brand:
Your sending domain

Your click tracking domain

Your bounce domains
Once these have been set up it's not as simple as switching from Brand A to Brand B.
Whenever a sender changes part of their email setup such as changing sending domains, it has an impact on their sender reputation.
This is because mailbox providers such as Gmail and Microsoft need to evaluate the new setup to determine that it is still the same business and not a spammer pretending to be the same business.
In order to make sure that your new sending domain is set up for success, you will need to perform a domain warm-up for the new brand.
Domain Warm-up
Warming-up is the process of gradually increasing the number of emails you send from your new sending domain, starting with your most engaged subscribers.
This helps to build your reputation with mailbox providers like Gmail and Microsoft.
Once you've warmed-up, you can start sending your typical volume at the frequency you are used to.
Ometria's deliverability team can work with you to provide a domain warm-up plan.
Depending on your sending volumes, this could take several weeks. You will also be provided with the DNS records for the new domain, which need to be set up and verified before you can use the new domain for sending.
Broadcast campaigns
During the sending domain warm-up you will need to be sending using both your new and old sending domain.
To manage this:
Create your broadcast campaign

as normal and save it

Duplicate

the broadcast campaign

Set one campaign to use the

new

sending domain and warm-up segment based on the warm-up plan provided by the deliverability team

Set the other campaign to use the

old

sending domain and your normal segmentation, excluding the warm-up segment
Depending on your switch-over date from the new brand, it's possible you will be mailing content using your new branding from your old domain during the new domain warm-up.
During the domain warm-up, monitor your campaign results.
You are aiming for your contacts to be as engaged with the new brand, if not more engaged, than with the old brand content.
Keep an eye on negative metrics such as increasing complaints or unsubscribes, as this may suggest contacts are not clear about the rebrand and don't recognise the new brand.
Updating individual broadcast campaign settings
To change the email setting for individual broadcast campaigns, edit the email settings in the Send tab for the campaign: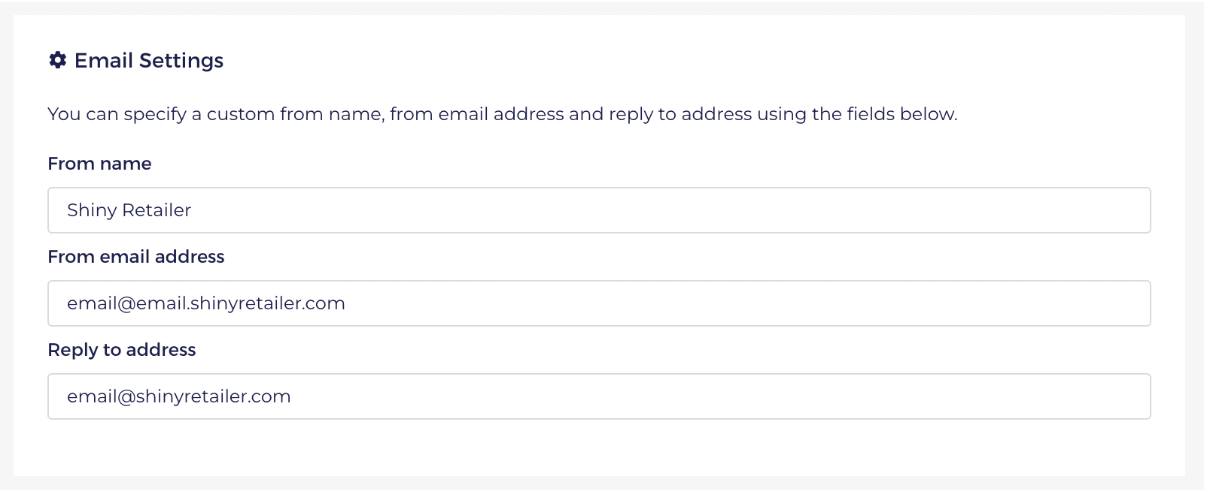 Once you've completed the new domain warm-up, go to Email Settings and update your:
Default from name

Default from email address

Default reply to address
For your broadcast campaigns.
Automation campaigns
For automation campaigns you'll need to plan a gradual switch over to your new sending domain.
If your automation volumes are

small

(i.e. less than 2000 a day) this can be done either before your broadcast domain change or afterwards.

If automation volumes are

higher

then we recommend waiting until the broadcast sending domain switch is complete before updating your automation campaigns.
We recommend that automation campaigns are switched over in the following order:
Welcome campaigns

Abandoned basket/abandoned browse

Loyalty and lead optimisation campaigns

Win back/re-engagement campaigns
Note:
As win back and re-engagement campaigns are targeted at less engaged contacts, we recommend these are the
last campaigns
to be switched to the new domain.
Updating individual automation campaign settings
Edit your Campaign settings in each of your automation campaigns by updating the following:
From email name

From email address

Reply to email address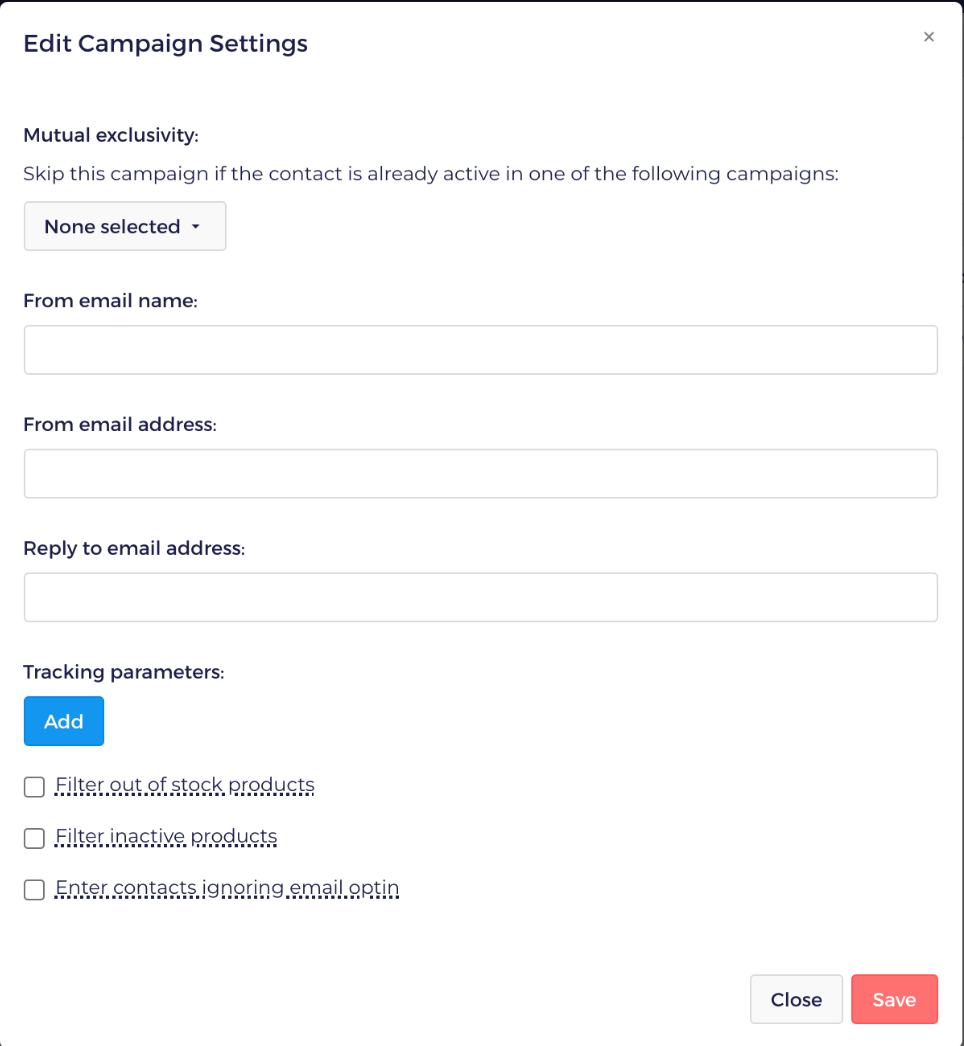 Once all of your automation campaigns are using the new settings, you can go to Email Settings and update your:
Default from name

Default from email address

Default reply to address
For your automation campaigns.
Contact considerations
Your contacts should be given as much notice of the rebrand as possible so that they get used to the new brand and learn to recognise it.
Not doing this risks contacts not recognising the new brand and disengaging or reporting campaigns sent from the new brand as spam.
As well as losing subscribers this could lead to mail from the new brand being delivered to the spam folder or blocked.
There are a number of ways you can introduce the new brand in your campaigns.
Be mindful of who you mail to
Tempting as it can be to use rebranding as an opportunity to re-engage contacts, this should be avoided.
During the rebrand you will need to establish a good reputation for your new sending domain and adding in higher numbers of less engaged contacts at this stage could lead to a poor reputation and emails being delivered to the spam folder.
Instead, during the transition from your old brand to your new brand you should concentrate on sending to your usual contact segments.
Where you have a legal obligation to contact non-opted in or non-engaged contacts, treat this as you would with any other service messaging.
Inform your contacts as early as possible
Rebranding is a great opportunity to reframe expectations with your contacts.
It can also be used to generate excitement about the new brand and so ensure that you continue to have strong brand engagement both during and after the rebranding.
To achieve this you can start dropping hints to your contacts that something is going to happen - for example:
"We have a big announcement coming up on x date, make sure to check your emails then."

"We are working on something new. Keep an eye on your inbox for news."
Create a dedicated campaign introducing the new brand
Create a campaign to introduce your new brand.
This campaign should be sent out using the old sending domain and branding.
This is your first chance to set the tone of the contact's relationship with the new brand so be clear about what is and is not going to change.
If the rebrand is simply a name change, state explicitly that nothing will be changing other than the website branding and that emails will be coming from the new brand in future.
If your customer experience might change, e.g. they're required to reset accounts/logins, or the website will change significantly, letting contacts know in advance will help prepare them.
Example subject lines:
We are changing our name

Goodbye ACME, hello ShinyRetailer!

We are now part of the ShinyRetailer family!

Say hello to ShinyRetailer.
Let your contacts know how they can unsubscribe
Even if your services and the customer experience will continue as normal under your new brand, some contacts may not want to receive mail from the new brand.
Making it clear how these contacts can unsubscribe can prevent them damaging your new brand's reputation by either not engaging or marking future emails as spam.
Introduce new brand banners and content
Once you've started introducing the new brand to your contacts, use the new branding alongside the old branding where possible.
This will build recognition of the new brand with your contacts and get them used to it.
This can be done by directly incorporating the new brand into campaigns, or through the addition of banners or blocks in campaigns reminding contacts about the upcoming brand change.
Use your 'from name'
Your 'from name' is one of the most important parts of your branding within an email - it is the first brand identifier contacts look for in an inbox to find out who an email was sent by.
You can change your 'from name' in the email/campaign settings of your individual campaigns.
Changing your 'from name' has no impact on deliverability as long as contacts can recognise who sent the email.
Be careful about changing your 'from name' straight from old brand to new brand without warning, as contacts may not recognise who the email came from and mark the email as spam.
Each mailbox provider has a different number of 'from name' characters that show in the inbox, so use 'from name' changes in combination with informative subject lines and pre-headers to provide the contacts with the maximum context possible.
Don't forget your pre-header text!
Pre-headers are valuable extra space in the inbox that can be used to supplement subject lines.
During a rebrand these can be used in addition to or instead of subject lines to inform contacts of your brand change.
This can help to reinforce the brand change.
Brand change examples
Gmail view:

Microsoft view: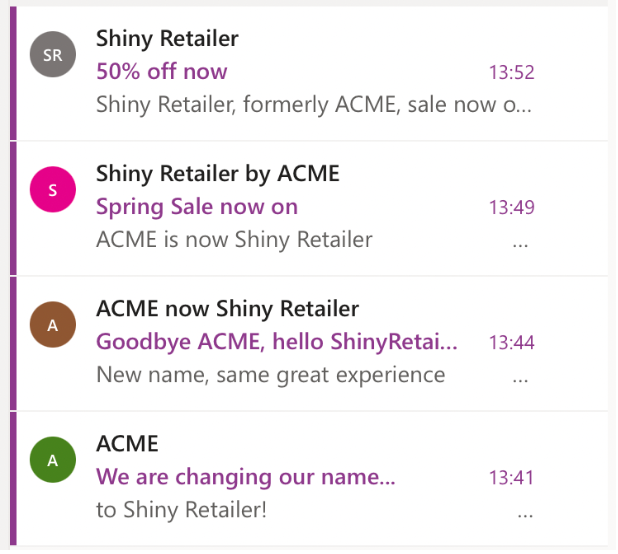 Update your reply-to address
Don't forget to update your reply to address to ensure any replies go to a valid, working address that matches your new brand.