AI subject line generator
Why?
Save time coming up with original subject lines and instead focus on tasks which generate more value for you and your team.
What's new?
Generate suggested subject lines fast with our AI-powered subject line generator in the broadcast campaigns builder.
Set up your campaign as usual by segmenting your contacts to define your audience.
In the Content screen, select the sparkly suggest subject lines icon:

Enter some key phrases for your campaign, e.g. "Summer sale dresses", "Halloween chocolate", "Mother's Day bouquets" and hit enter.
You can separate your keywords by either commas or spaces.
The subject line generator suggests five different options using the key words you choose: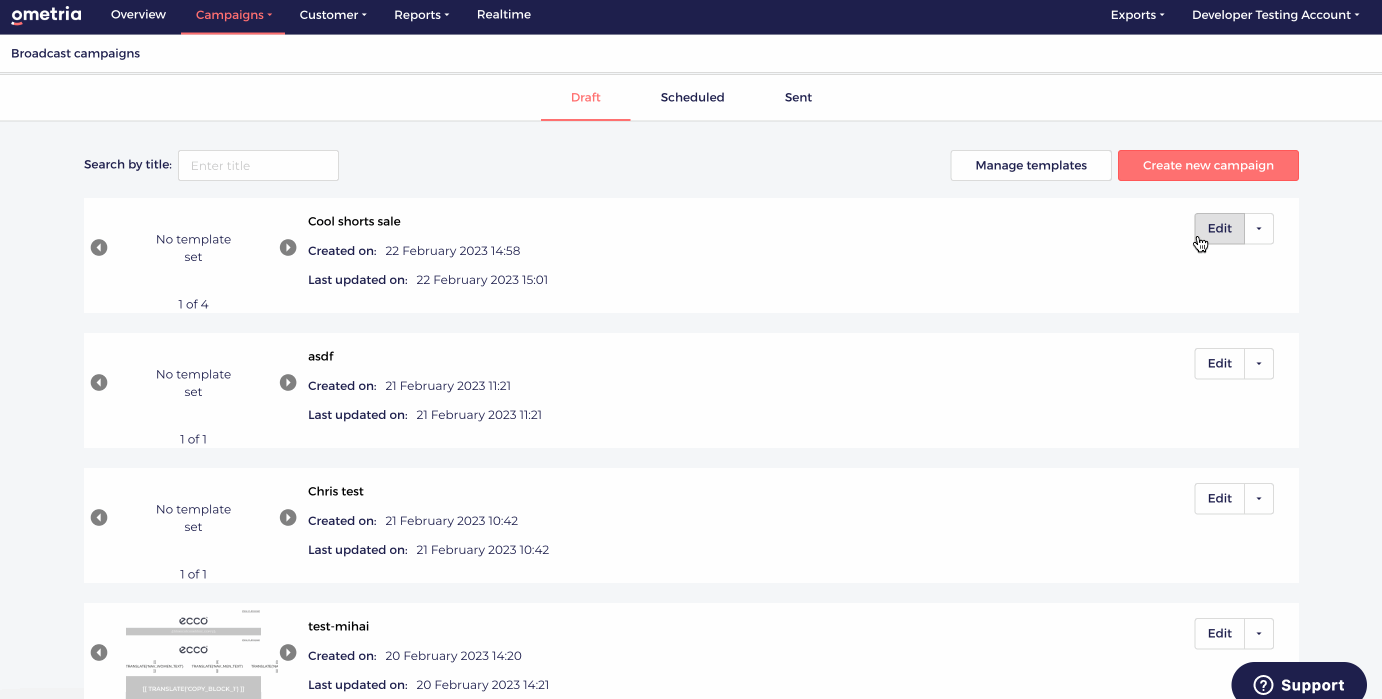 See: AI subject line generator
Assign a preferred language to your contacts
Why?
In preparation for our upcoming feature supporting email templates in multiple languages, we're recognised the need to define a preferred language for each of your contacts.
What's new?
You can send a preferred language for your contacts to Ometria via:
This should be supplied in ISO 639-1 format.
See: Contact language
You can see the Language field in the single customer view: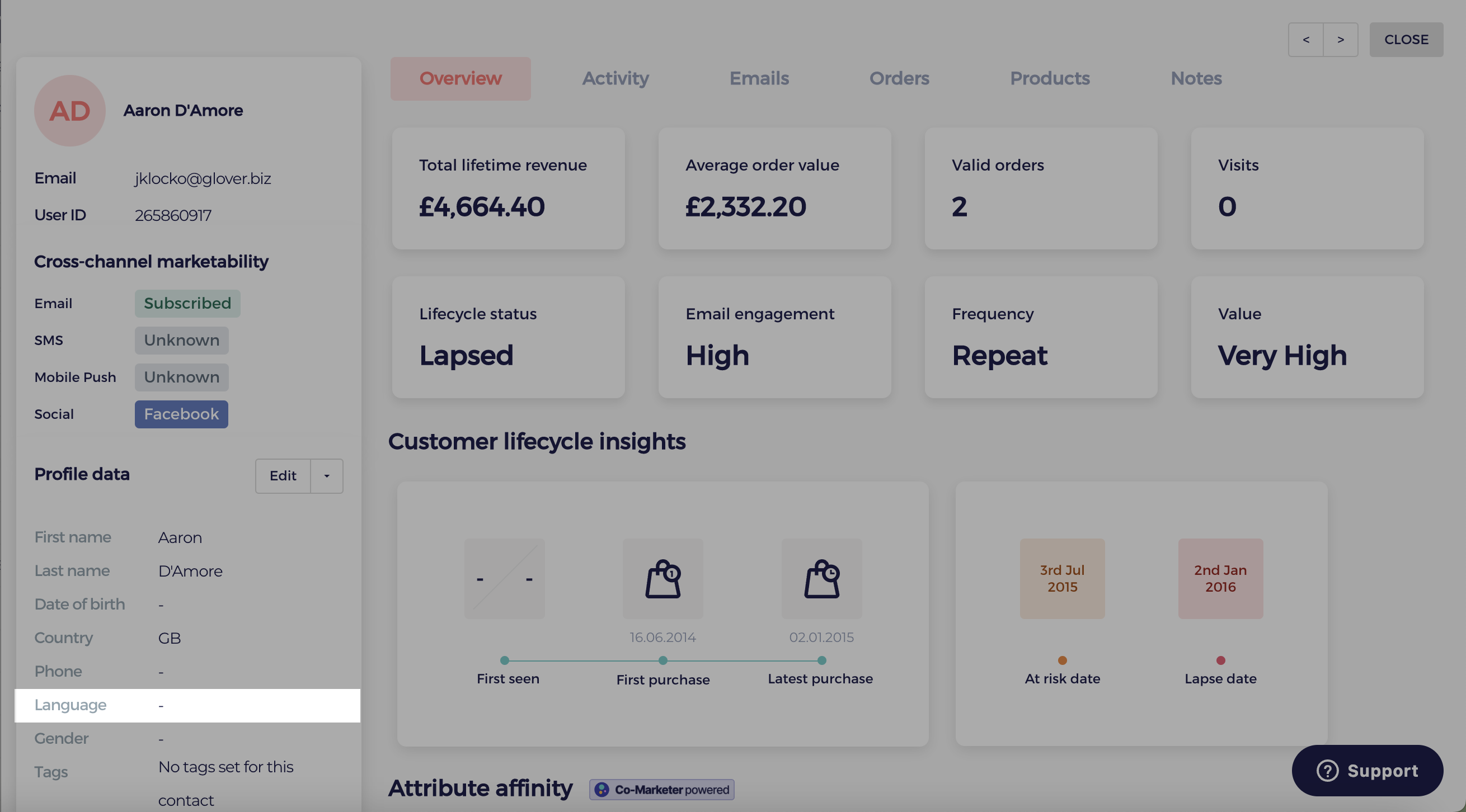 Delete contact segments
Why?
'Bot' contacts can impact your reporting metrics, making it difficult to understand the effectiveness of your campaign strategy.
Until now, the only way to remove contacts completely from Ometria was to raise a support ticket.
What's new?
You can now delete static segments of contacts, removing all data relating to them from the system.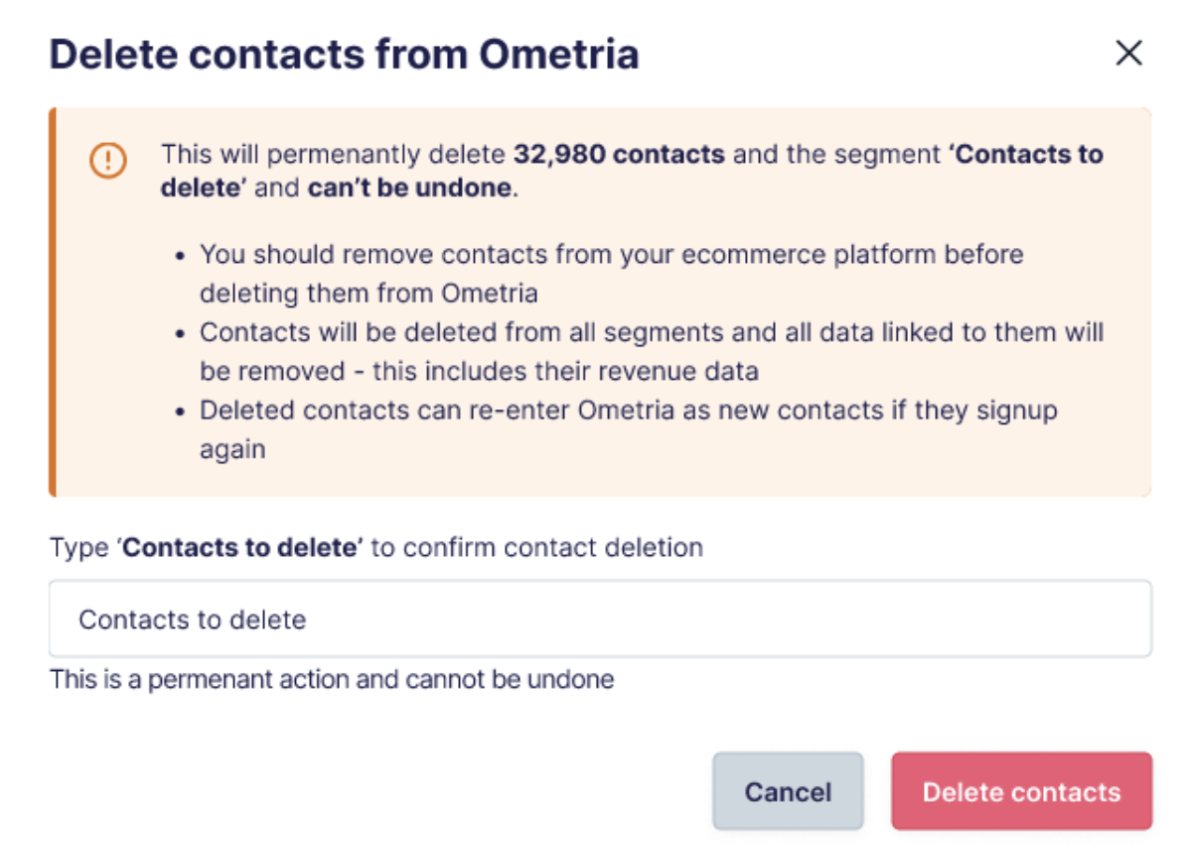 Only users with admin permissions can use this feature.
Note: When you delete a contact, their entire profile will be deleted from Ometria and data cannot be retrieved - this includes revenue data from that contact. Before deleting, you should consider how this might affect any reports you maintain outside of Ometria.
Contacts who are deleted from Ometria can re-enter if they sign up via subscription form again.
Note:
For GDPR purposes, you can anonymise specific contacts rather than delete them -
anonymising contacts
removes all personally identifiable information (PII data) from Ometria without affecting other metrics, e.g. number of orders, number of visits, revenue, etc.